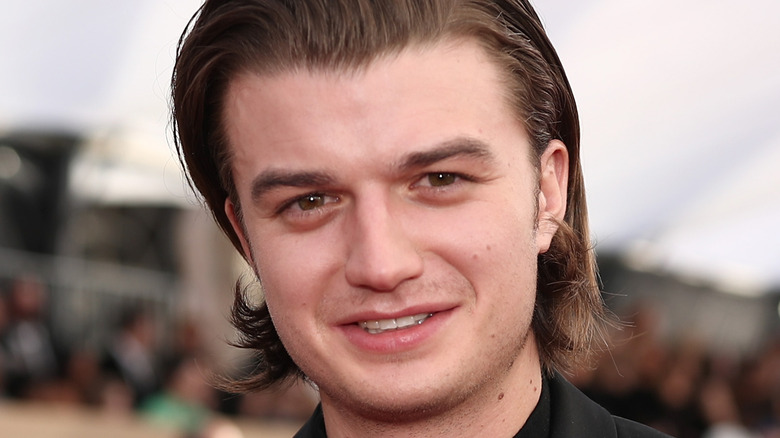 You might know him as the Hawkins hunk Steve Harrington from "Stranger Things," or maybe you know him as "that guy with the big hair," but regardless, there's a lot more to Joe Keery than meets the eye. Before he distinguished himself as the leading man he is today, Keery dabbled in many other forms of artistic expression, eventually becoming an accomplished actor, producer, and musician. His talents range from comedy and musical theater to psychedelic indie music, proving that Keery possesses a wide range of talents.
Thanks to the massive success of the Netflix sci-fi series "Stranger Things," Keery catapulted to international fame and has since branched out into more prominent projects and more difficult acting challenges. Having already worked alongside icons like Winona Ryder, Jessica Chastain, and Ryan Reynolds, he's clearly honing his craft every single day. Despite his celebrity status, Keery keeps a lot of his life pretty private, but we've still managed to compile some lesser-known facts about the actor. Read on to discover the untold truth of Joe Keery.
Keery is a classically trained actor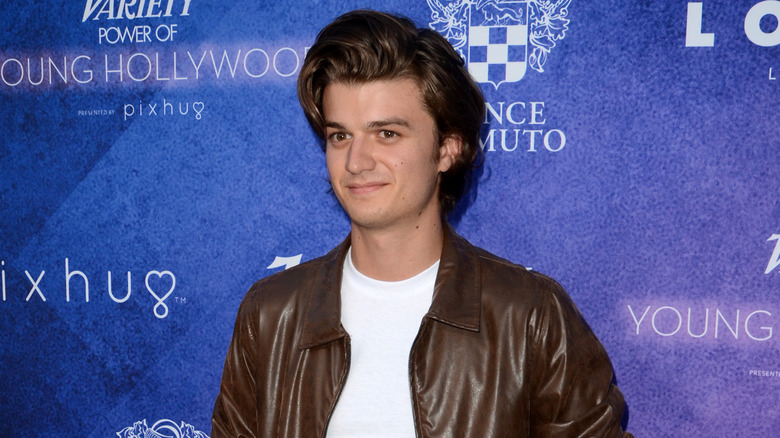 A fact that most people probably don't know about Joe Keery is that he was actually classically trained as an actor. He graduated in 2014 with a Bachelor of Fine Arts in acting from The Theatre School at DePaul University in Chicago — one of the oldest and most prestigious in the country (per Backstage). According to the school's official website, the DePaul BFA acting program "develops actors who are imaginative, skillful, expressive and vibrantly alive," while emphasizing "physicality, truth in action, communication, collaboration and spontaneity."
Some other notable acting alumni from DePaul who went on to have successful careers include John C. Reilly ("Step Brothers"), Judy Greer ("13 Going on 30"), Lisa Robin Kelly ("That '70's Show"), and Monique Coleman ("High School Musical.") Clearly, the school has had its share of success stories, and Keery became one of them when he got his big break in "Stranger Things."
He once played Ferris Bueller
Hollywood moves pretty fast. If you don't stop and look around once in a while, you could miss it. Back in 2017, Joe Keery starred in a Domino's commercial as none other than a spoof of Ferris Bueller, and we just have to say, he nailed it. The commercial follows Keery's character as he rushes home in order to catch his pizza delivery. The ad is modeled directly after the final scene in "Ferris Bueller's Day Off," where Ferris runs through different neighbors' backyards to make it home before his family.
The commercial was such a faithful recreation of the '80s classic that fans created a side-by-side comparison video of the two, and the detail is pretty impressive. The ad even features an appearance from Alan Ruck, who plays Ferris Bueller's best friend Cameron in the original film. Keery's natural charisma and obvious aptitude for playing '80s characters apparently made him the perfect choice to take over the character after Matthew Broderick.
Keery is quite the musician
Not only does Joe Keery have stellar on-screen talent, but he's also a rock star. As a young performer, Keery started releasing music under the name Cool Cool Cool, before joining the Chicago-based band Post Animal, in which he sang and played guitar (per GQ). However, his time with Post Animal was short-lived, as he began to gain mainstream recognition with his role as Steve Harrington in "Stranger Things." In a 2018 interview with Bustle, Keery explained the importance of allowing his former bandmates to establish themselves apart from his "Stranger Things" association. "Those guys are such talented musicians," Keery said. "I think it's important that they're hitting the pavement for a while and making a name for themselves and it's not necessarily associated with 'Stranger Things.'"
In 2019, Keery released his debut solo album under the band name Djo and started touring at festivals all around the country. His album debuted to predominantly positive reviews, with NME calling Keery "a musician of very high caliber" who dabbles in "inventive, warped psychedelia." Atwood Magazine described Keery's solo debut as "a more chilled out, relaxed version" of Post Animal's psyche-rock vibe.
His bit with Ben Schwartz
Ever met your doppelgänger? Well, Joe Keery and Ben Schwartz sure have. In 2016, fan theories began to swirl about a relationship between Schwartz's "Parks and Recreation" character, Jean-Ralphio, and Keery's "Stranger Things" character, Steve. Given the striking similarities between their appearances, and the fact that both shows take place in Indiana -– one several decades before the other -– fans began to joke that maybe Steve was actually the father of Jean-Ralphio. The two later chatted together on "The Late Late Show with James Corden," where they fueled the fire by dressing and acting identical throughout the entire interview.
Keery obviously has an instinct for comedy and knows how to keep a bit going. The "Late Late Show" segment includes a montage of Keery acting like a father figure to Schwartz, teaching him how to shave, put on a tie, take a shot, and ride a bike. Schwartz has even floated the idea of a movie starring him, Keery, and Andrew Garfield as long-lost triplets. If you're a fan of any or all of the three stars, keep your fingers crossed.
Keery initially auditioned for Jonathan on Stranger Things
In a 2017 interview with Vulture, Joe Keery revealed that the cast of "Stranger Things" could have looked quite different. When asked about the audition process, Keery shared that he had originally taped for the role of Jonathan Byers, Will's big brother and Nancy Wheeler's eventual boyfriend. It's hard to imagine someone other than Charlie Heaton playing the brooding photographer, especially since the relationship between Nancy and Jonathan led to a real-life romance between Heaton and Natalia Dyer.
To be fair, Keery said that he always had his reservations about playing Jonathan. "Obviously I love the character," he explained to Vulture. "But right away, I was like, I don't necessarily think I have the right look for that character. And then when I did audition for Steve, I felt I had a pretty good understanding of what they wanted the character to be." Keery also said that the final version of Steve is a combination of his own ideas and the Duffer brothers' original plan.
Keery was almost written out of Stranger Things
What would this world be without Steve Harrington playing babysitter to all the kids in "Stranger Things?" What would the show be without the friendship between Steve and Robin (Maya Hawke)? Luckily, we'll never have to know … but we almost did. In a 2022 interview with Rotten Tomatoes, "Stranger Things" co-creator Matt Duffer revealed that the writers had originally planned on killing Steve off in Season 1 until Keery came into the picture. Even Keery himself could see the writing on the wall, explaining to The Daily News of Newburyport that he could tell from the start his character was "monster bait."
"We love Joe," Ross Duffer said in a 2017 interview with The Hollywood Reporter. "Steve was supposed to be this jockey douche bag, and Joe was so much more than that." He credits Keery for being the reason they kept the character around, claiming that the team "fell in love" with him during the making of Season 1. "We knew moving into season two we really wanted to utilize him, but we didn't actually know how to do it," Duffer said. Thus came some much-needed character development, as well as the bromance between Dustin (Gaten Matarazzo) and Steve. Following the beginning of Season 2, Keery was upgraded to one of the primary characters in the series.
He used to be a bartender
We've all got to start somewhere, and Joe Keery's humble beginnings in Chicago paved the way for the Hollywood figure he would eventually become. Back in his early days as an actor, Keery began bartending and waiting tables to make money following his graduation from DePaul. During this time, he was consistently going on auditions, only gaining some success with commercials and small roles in shows like "Empire" and "Chicago Fire" (per The Chicago Tribune).
That is, until he landed his first breakout role in the indie film "Henry Gamble's Birthday Party" in 2015, and the rest, as they say, is history. Per Men's Health, people would often compare Keery to his soon-to-be real-life friend Ben Schwartz when he was bartending, telling him he had "Jean-Ralphio hair." We can only hope that those customers have remained fans of the two buddies in the years since Keery's rise to fame.
Keery is one of five children
Keery might not identify with the egotistical jock that his character was throughout the show's first season, but he relates to Steve in many other ways. Exhibit A: being the 'mom' of the group. As one of five children, Keery needed to stand out in his family to be noticed. Not to mention, he was the only boy in a family full of sisters. As the second oldest, his siblings would often look up to him for guidance, as he spoke about his childhood in an interview with the Newburyport News.
Keery continues to be appreciative of his upbringing in Newburyport, Massachusetts, and the ways in which it helped him focus on his acting. "Newburyport will always be a part of my life. I think traveling away and living in Chicago has only made me appreciate it more. It's a great place to grow up and have a really awesome childhood where I could work toward something that I didn't know I was necessarily going to get to do professionally. I've been able to get work, and that was kind of the goal." The actor actually moved back to his hometown in recent years.
His sister is the reason he is an actor
Keery's four sisters are, of course, a large part of his life. But did you know that they're actually the reason that he is where he is today? During his years at Newburyport High School, his older sister Caroline can be credited for getting Keery into acting in the first place. Caroline was participating in a school production of "The Pajama Game," when she recruited her freshman brother to join the tech crew, as they were in need of some extra people. "Caroline kind of dragged me over," he explained to Newburyport News, "she said, 'no, you're going to do this.' She kind of got me involved in this whole thing and I kept doing it for pretty much the whole time in high school."
Thanks to the experience he gained while participating in Theatre in the Open, the aspiring actor swiftly moved from backstage crew to on-stage talent. He would continue down this path in college, landing roles in "Spring Awakening" and "Angels in America, Part 2: Perestroika." If we've learned anything about Keery, it's that fame is not a driving force for his pursuit of acting. He values the art of the craft over the recognition gained, and he thanks his sister every day for introducing him to the world of acting.
Success didn't come easy to him
You'd think roles would come easily to someone with Keery's legendary locks and instant charisma, but that wasn't always the case. In fact, the actor went on over 100 auditions before landing the part of Steve that changed the trajectory of his career forever. Funnily enough, Keery was actually waiting tables at DMK Burger Bar in Lakeview when he received a call that he got the part. He then went right back to waiting tables. Ah actors, they're just like us.
In a conversation with GQ, Keery joked "I'm pretty good at not getting the things I'm very excited about. So, I try to be as least excited as possible … about the things I really like." Although it might have taken him a lot of trial and error to hit his stride, those closest to him always knew he would make it big. Back in college, one of Keery's professors, Jane Brody, helped him craft a five-year plan; most of which is actually coming true (per Chicago Tribune). "He can command a room without the room knowing he's doing it," she said. "I sat down with him in that junior year and I said, 'You know Joe, you're gonna be a star.'"
He considers Ryan Reynolds to be his role model
Keery has had the pleasure of working alongside a long list of legendary actors. But one who has left a permanent mark on Keery is Ryan Reynolds. When speaking to Exclaim about his "Free Guy" co-star, Keery gushed about the "kind" actor and how he would create a "relaxed vibe" on set and always knew how to make people feel comfortable, which greatly benefited the movie. "Just the way he carries himself," Keery explained. "He takes the time to know everybody's name and to make people feel comfortable… So it's just also really cool being able to watch someone who's such an experienced person in this industry."
Since Keery considers himself just as much of a musician as he does an actor, he also draws musical inspiration from several legends. According to Chicago Tribune, these include ELO, Steely Dan, and Wings — continuously proving that he heavily identifies with 80's culture. But, the actor is not afraid to take risks when it comes to his music. "Just wait till we get to the '90s," Keery joked. "It'll be a riot. I'll get frosted tips."