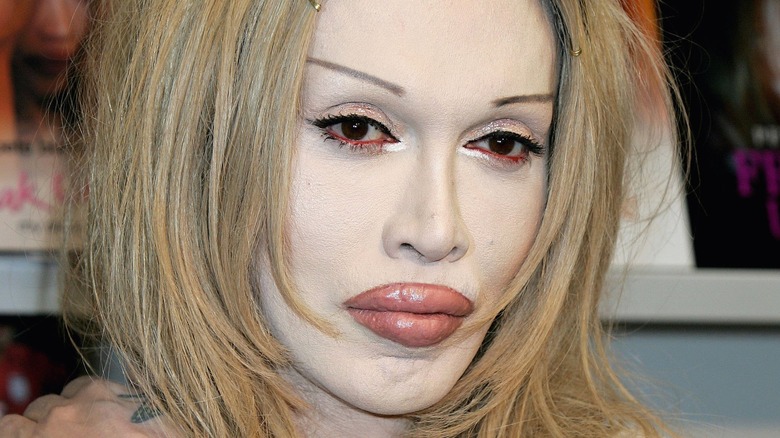 Pete Burns, who founded the band Dead or Alive in the 1980s, had a successful career as a musician, singer, songwriter, and television personality. However, his life was also filled with tragedy that ultimately led to the decline of his mental and physical health.
As reported by Dead or Alive, Burns was born on August 5, 1959, in Port Sunlight, just outside of Liverpool, England. His mother, Eva, was a holocaust survivor, who struggled with mental illness, substance abuse, and self-harm. Mirror reports Burns was acutely aware of his mother's struggles, and at one point came home to find his mother "with her wrists slashed and blood splattered all over the place."
Although he was admittedly devastated by his mother's declining mental health, Burns found inspiration amid the turmoil. According to Salford Now, Burns maintained a close relationship with his mother, and said he "couldn't possibly have wished for a better friend." He said he credits his mother with giving him "the power to dream" and "the power to … go inside [his] head and be somewhere else."
Throughout his childhood, Burns struggled with social interactions. However, he developed a keen interest in artistic and other creative work. In addition to drawing and painting, he began experimenting with changing his appearance using makeup, hair color, jewelry, and unique clothing. As reported by Dead or Alive, his unconventional style drew the attention of his classmates and teachers, who simply did not appreciate his creativity.
If you or someone you know is struggling with mental health, please contact the Crisis Text Line by texting HOME to 741741, call the National Alliance on Mental Illness helpline at 1-800-950-NAMI (6264), or visit the National Institute of Mental Health website.
Pete Burns dropped out of school at 14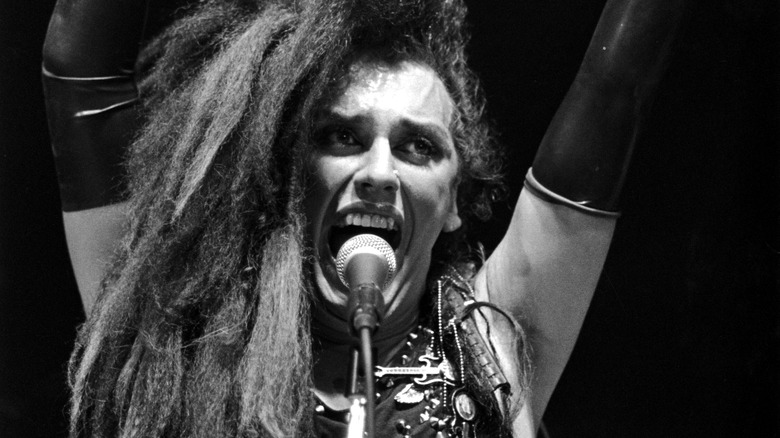 School was even more difficult for Pete Burns, as he grew up speaking German, which was his mother's native language. Legit reports neighborhood children would stand outside Burns' home and yell "Heil Hitler." As reported by Dead or Alive, Burns said he ultimately "dropped out of school because it got to be too dangerous for somebody who looked a little different."
After leaving school at the age of 14, Burns began working at a record store called Probe Records, where he met a number of like-minded local musicians. Legit reports Burns eventually joined a band called Mystery Girls in 1977. However, the band only had one public performance. In 1979, he joined a band called Nightmare in Wax, which would later become Dead or Alive.
In addition to vocalist Burns, Legit reports the original members of Dead or Alive included drummer Steve Coy, guitarist Wayne Hussey, keyboard player Timothy Lever, and bassist Mike Percy. Some of the band's most popular albums were "Sophisticated Boom Boom," "Youthquake," "Mad, Bad, and Dangerous to Know," and "Rip it Up." Dead or Alive is perhaps best known for their single, "You Spin Me Round (Like a Record)."
As reported by Legit, Burns also released a number of solo singles and collaborated with other bands, including Eurodance and Pet Shop Boys. IMDb reports Burns also appeared in a number of television programs, including the reality shows "Big Brother" and "Wife Swap."
Obsessed with changing his appearance
Although he focused heavily on his career in music, Peter Burns' appearance remained a point of controversy and speculation. Despite the fact that he married his stylist Lynn Corlett in 1978, his androgynous style sparked ongoing rumors about his sexuality and gender identity. "[People] always want to know – am I gay, bi, trans or what? I say, forget all that. There's got to be a completely different terminology, and I'm not aware if it's been invented yet. I'm just Pete," Burns said, as reported by Salford Now.
Amid his continued success, Burns sought to enhance his appearance with plastic surgery. As reported by People, Burns became self-conscious about a "bump" on his nose, which was the result of a previous break, when it was pointed out by a photographer. However, the procedure, which was meant to enhance the appearance of his nose, went horribly wrong. As reported by Salford Now, the "botched" surgery caused so much damage that he was unable to wear sunglasses. People reports Burns had another procedure to correct the first. However, he did not stop after those two procedures.
Burns ultimately left the music industry in 2002, but remained seemingly obsessed with altering his physical appearance. The former pop star eventually admitted to having nearly 300 cosmetic procedures, including four nose surgeries, two sets of cheek implants, and numerous lip augmentations. Unfortunately, as reported by People, the procedures caused Burns to develop several serious health conditions.
Serious health issues
People reports Pete Burns developed infections in his face and lips, which required even more surgical procedures to repair. He also developed blood clots in his heart, legs, and lungs, as a side effect of the medications he took during the procedures. Burns also nearly died due to complications following a lip augmentation procedure. In addition to spending 10 days in the hospital, Burns had to take heavy doses of blood thinners. As reported by People, the blood thinners essentially destroyed his teeth, which necessitated even more reconstructive surgery.
Mirror reports Burns was aware that the procedures were potentially dangerous and were causing him health concerns. However, he was simply unwilling, or emotionally unable, to stop. During one interview, Burns said, "I started to develop holes in my skin and if I so much as touched my face there would be an audible hissing and … this yellow fluid" would come out of his skin.
Despite the downfalls, People reports Burns admitted that for him, cosmetic surgery became "a matter of sanity, not vanity." At one point, he said, "I hope when I'm 80 — when I get to heaven that God doesn't recognize me."
According to World News Era, Burns also struggled with depression, which led to a number of suicide attempts. Although he admittedly continued to struggle at times, he later said he found a "fantastic" therapist, and with their help, finally found effective medication.
If you or someone you know is struggling with mental health, please contact the Crisis Text Line by texting HOME to 741741, call the National Alliance on Mental Illness helpline at 1-800-950-NAMI (6264), or visit the National Institute of Mental Health website.
Pete Burns divorced his wife
As reported by The Sun, Pete Burns began seeing Michael Simpson romantically approximately one year before he and his wife of 28 years divorced. Lynne Corlett said Burns was always "very honest" with her, and she clarified that the divorce was not prompted by his relationship with Simpson. In the year leading up to their divorce, Corlett said she and Burns were already separated. As they "just needed a change" and they "had to grow in different directions." Corlett stressed the fact that she and Burns maintained their friendship and remained very close despite their decision to divorce.
The Sun reports Burns and Simpson announced their engagement on February 9, 2006, during an appearance on the British talk show "Richard & Judy." They were united in a civil partnership ceremony on July 6. 2006.
According to Digital Spy, Burns was arrested in 2009 for an alleged assault, which occurred at his home in Notting Hill, England. In 2006, Pink News reported Burns was arrested for physically assaulting Simpson when he saw him at a bar with another man.
Burns and Simpson's civil partnership ultimately lasted 10 months before they parted ways. During a 2009 interview with the Daily Mail, Burns said he was initially "optimistic" about the relationship. However, he was admittedly devastated when he learned Simpson had been unfaithful. Burns suggested the civil partnership ended because "two men naturally are predators" and "gay relationships are a commercial break, not a whole movie."
Pete Burns died in 2016
Although he attempted to revive his career with several talk show and reality television appearances, the last years of Pete Burns' life were increasingly difficult. Daily Record reported Burns was ultimately awarded a settlement of more than $600,000 for the botched surgery to his lips. However, he was still deeply in debt after spending hundreds of thousands on hundreds of cosmetic procedures.
As reported by Salford Now, Burns was forced to file bankruptcy in December 2014. The following year, he was evicted from his apartment for nonpayment of rent. According to reports, he was more than $45,000 in arrears when his landlord filed eviction proceedings. Although they had legally separated, Burns and Michael Simpson eventually reunited, and Simpson remained by his side amid his personal and financial struggles.
Pete Burns died on October 23, 2016. Liverpool Echo reported his cause of death was a massive heart attack, which was caused by a pulmonary embolism. In an earlier interview, Burns explained that the anesthetics and antibiotics, which were necessary during and following his cosmetic procedures, had caused a number of embolisms and blood clots in his heart, legs, and lungs.
During the same interview, Liverpool Echo reported Burns admitted he nearly died on at least one occasion. Burns said, "it was a lovely feeling dying … like a bath of velvet … everything felt so soft."