Creamy, cozy and downright delicious, a bowl of potato soup is the very definition of comfort food. Whether you make it on the stovetop, in the slow cooker or even in your Instant Pot™, we have the kitchen-tested recipes and tips you need to make the best potato soup ever!
What's In This Article
How to Make Potato Soup
With a handful of simple ingredients, you can transform plain old taters into a supremely comforting, hearty meal. If you've never made potato soup from scratch before, it's easier than you think! Our easy recipe for how to make a basic baked potato soup is a great starting point for beginners and bonus, it comes together in one pot.
What You Need:
Fork
Microwave-safe paper towel
Dutch oven
Whisk • Potato masher
Ingredients:
4 large baking potatoes
4 slices bacon
6 cups milk
½ cup all-purpose flour
4 green onions, sliced
5 oz. shredded sharp Cheddar cheese
¾ teaspoon salt
¼ teaspoon pepper
1 (8 oz.) container sour cream
Step 1: Pierce the potatoes with a fork and place on microwave-safe towel or roasting rack in the microwave. Microwave the potatoes on HIGH for 15 to 20 minutes or until tender, turning once halfway through cooking. Allow them to cool slightly.
Step 2: Meanwhile, cook the bacon in a Dutch oven over medium heat until crisp. Remove the bacon and drain the pieces on paper towels. Crumble the bacon and then set aside.
Step 3: Using the same Dutch oven, combine the milk and the flour, and whisk well. Cover and cook the mixture over medium heat for about 15 minutes or until the mixture has thickened and is bubbly, stirring frequently. Remove from heat.
Step 4: Cut the cooked potatoes in half and scoop out the cooked potato from the skins from each and place in a medium bowl. Discard the skins and then mash the potatoes well.
Step 5: Add the mashed potatoes, crumbled bacon, two tablespoons of the onions, one cup of Cheddar cheese, and salt and pepper to the mixture in the Dutch oven. Cook and stir until the cheese has melted. Then add sour cream, cook and stir until the soup is thoroughly thickened.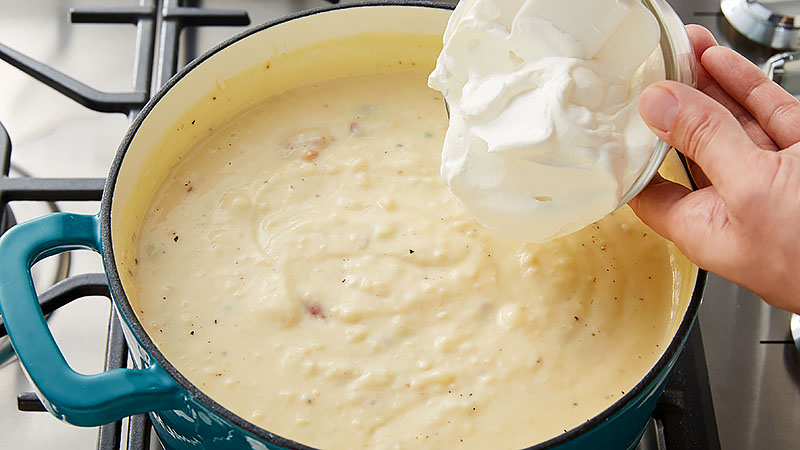 Step 6: To serve, spoon the soup into individual bowls and sprinkle each with remaining onions and cheese.
How to Make Potato Soup in a Slow Cooker
So you already how to make potato soup, but you don't have a ton of time to spend standing over the stove. We get it! That's why we love our trusty slow cookers. For you busy people, this delicious potato soup cooks for eight hours in the slow cooker so you can come home to a five-star meal without putting forth hardly any effort. Here's how to do it!
What You Need:
3 1/2- to 4-quart slow cooker
Cooking spray
Small bowl
Whisk
Ingredients:
1 carton (32 oz) Progresso™ chicken broth (4 cups)
1 ½ cups chopped onions
5 cups diced peeled russet potatoes (about 5 medium)
3 tablespoons cornstarch
2 cups shredded American cheese (8 oz.)
4 medium green onions, sliced (1/4 cup)
Step 1: First, spray a 3 ½- to 4-quart slow cooker with cooking spray. Reserve ¼ cup of broth in a small bowl; cover and refrigerate. In the slow cooker, mix chopped onions, diced potatoes and remaining broth.
Step 2: Cover the slow cooker and cook on the Low heat setting for eight hours. After the eight hours, increase the heat setting to High. In a small bowl, beat cornstarch and reserved broth until smooth. Add this mixture to the slow cooker and stir. Cover and heat until simmering, then cook 10 to 15 minutes longer or until the mixture has thickened.
Step 3: Next, stir in the Cheddar cheese until melted.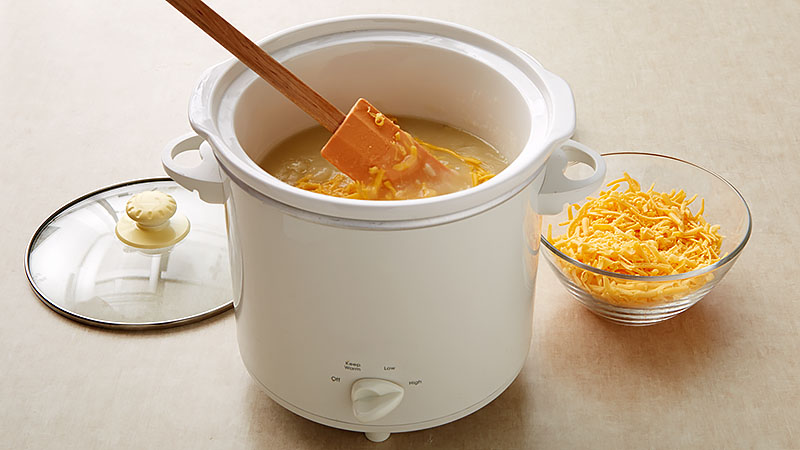 Step 4: Spoon soup into individual bowls and sprinkle with green onions. To round out the meal, serve with a side of bread or a salad.
How to Make Potato Soup in an Instant Pot
The Instant Pot is the latest kitchen gadget we're obsessed with; your favorite meals like potato soup are ready in a flash, thanks to the pressure cooker function, and you won't dirty any additional dishes! That sounds like a win-win to us.
What You Need:
6-quart Instant Pot™ (we used the DUO® 7-in-1)
Slotted spoon
Potato masher
Cooking spray
Ingredients:
4 slices bacon, chopped
4 lb. russet potatoes, peeled and cut into 1-inch pieces
8 green onions, thinly sliced, white and green parts separated
½ teaspoon salt
1 carton (32 oz.) Progresso chicken broth
1 package (8 oz.) cream cheese, cubed and softened
1 cup shredded Cheddar cheese (4 oz.)
Step 1: Spray 6-quart Instant Pot insert with cooking spray. Select SAUTE and adjust to normal. Add bacon to the insert and cook for seven to nine minutes, stirring occasionally, until crisp. Select CANCEL. Using slotted spoon, transfer bacon to paper towel-lined plate.
Step 2: Next, stir in the potatoes, green onion whites and salt into bacon drippings in the insert. Stir in the broth. Secure the lid and set the pressure valve to SEALING. Select MANUAL and cook on high pressure for six minutes. Select CANCEL. Set pressure valve to VENTING to quickly release pressure.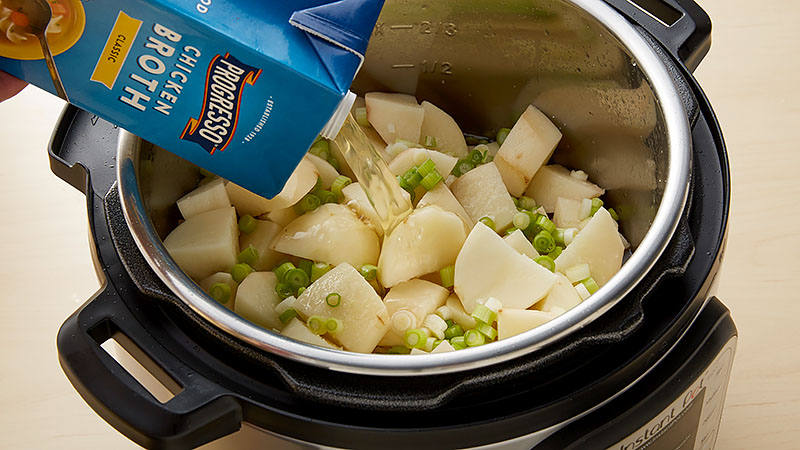 Step 3: Once the pressure has released, open the pot and mash the potatoes. Stir in the cream cheese until well combined.
Step 4: Spoon the soup into bowls and top with Cheddar cheese, bacon and green onions. Craving even more of your favorite potato toppings? Add a dollop of sour cream and some diced ham!
Psst! Are you an Instant Pot newbie? Learn how to use an Instant Pot, and then check out all of our classic dinners you can make with it.
Best Potatoes for Potato Soup
Wondering what kind of potatoes you should buy at the grocery store to make potato soup? This question should give you pause because the potatoes you use to make potato soup matters.
The best potatoes for potato soup are typically russet potatoes. Russet potatoes are starchy and don't hold their shape very well when baked, which is why they are so great for dishes like soup and classic mashed potatoes. You'll want to stay away from waxier potatoes like red potatoes. Red potatoes hold their shape better than russets and are great for dishes like potato salad.
You can even use sweet potatoes to make potato soup! We have a great recipe to help you get started.
How to Thicken Potato Soup
Potato soup is naturally a thick soup due to the starchiness of potatoes. However, based on your personal preference, you may be looking to thicken your potato soup a bit more. There are a few ways to do this!
Add flour or cornstarch: Whisking in a couple tablespoons of flour or cornstarch to the liquid, whether that is broth or milk, can instantly help thicken your potato soup.
Puree some of the soup mixture: After that velvety texture? Instead of mashing the potatoes, try blending a couple cups of your finished soup mixture in a food processor and then add it back into the pot. You can also use an immersion blender!
How to Make Creamy Potato Soup
If an especially creamy, comforting potato soup is what you're after, there are a few kitchen tricks for that, too.
Add cream or milk: If you want a super creamy potato soup, add some heavy whipping cream or sour cream to the soup mixture. If you're watching your calorie count, you can use regular milk too which will still help you achieve some creaminess, but keep in mind your soup will be less creamy if you use skim milk instead of whole milk or 2% milk.
Add yogurt: If you want the creaminess that comes with a bowl of potato soup but are trying to be mindful of your waistline, you can also try adding plain Greek yogurt. It adds a slight tangy flavor to the soup, but acts much like heavy cream or sour cream in texture.
Add more cheese: Is there really such a thing as too much cheese? Go ahead, add a bit more in there than the recipe calls for; we won't tell.
What to Serve with Potato Soup
Potato soup, especially when loaded with ingredients like green onions, cheese, ham and/or bacon tastes great on its own, but serve a salad or freshly baked bread with potato soup and you'll have yourself a full meal. We love a good cheesy bread we can dunk in our soups (this is Pillsbury.com, after all!) and we have a whole bunch of quick recipes for you to choose from to really take your soup up a notch.
Leftover Potato Soup
You and your family may devour potato soup in one sitting (it's THAT good!), but on the off-chance you have leftovers, you can save your soup for later. Like most foods, you can keep leftover potato soup sealed in an airtight container in the refrigerator for about three days. If you want to freeze potato soup, pour it into a gallon-sized plastic bag and lay it flat in your freezer to save space.
Note: If your potato soup calls for milk or cream (which most do!) you can still freeze the soup, but the consistency will be a little different when it defrosts. Soups made with cream or milk tend to separate when they thaw and have a somewhat grainy texture. If you know you're going to want to save some soup for the freezer, add the mixture to the plastic bag before adding the milk or cream. When you let your soup defrost and heat it on the stove, you can then add the milk or cream for better consistency!
Stock up on soups year-round with no-fail, comforting soup recipes.