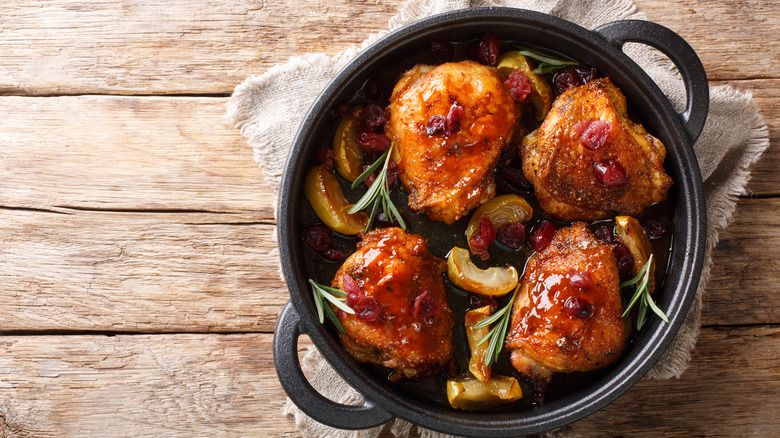 Most meat-eaters probably consume chicken on a regular basis. There are endless ways of using this lean protein in a nutritious and filling meal, whether it's grilling, frying, roasting, or baking. Some home chefs may stick to boneless, skinless chicken breasts because of their perceived ease and overall approachability. That said, chicken breasts are quite pretty and neat, especially when compared to other cuts.
Chicken thighs are clean and don't have any bones or an abundance of fat, making them an easy item to mindlessly throw in your cart and figure out how to use later. Many home cooks are prone to overlooking chicken thighs. The flab of skin, the oddly-placed center bone, and the dark meat aspect can all be intimidating. However, it's these factors, along with the general affordability of chicken thighs that makes this cut of meat so amazing.
Chicken thighs are full of flavor and are just as versatile as breasts. It's important to understand the best way of using chicken thighs and the techniques that yield the tastiest result possible. There are a few mistakes nearly everyone makes when cooking chicken thighs without even realizing it.
Before delving into the world of chicken thighs, it's essential to educate yourself about some of the most common mistakes people make when cooking this protein. Hopefully, this will inspire you to try a new recipe and deviate from your typical chicken dinner to create something delicious and different.
Buying them frozen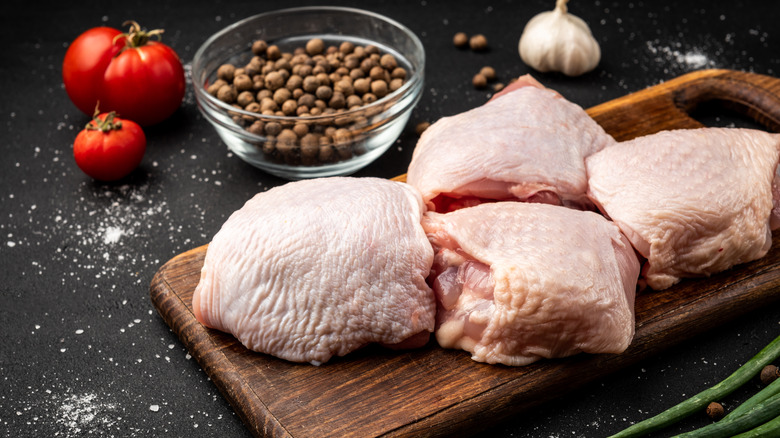 It can be convenient to buy meat in bulk and properly stock your freezer so that you have whatever you need on hand. You may be tempted to peruse the freezer aisle for frozen chicken thighs to save yourself time at the meat counter. However, this almost always leads to dry chicken that is not as juicy as the fresh options, even if you end up freezing it yourself.
Chicken that is frozen for commercial purposes is subjected to saline injections before freezing, making the meat extra salty (via Livestrong). If you decide to purchase fresh chicken and then freeze it, it's important to remember that although chicken can technically last indefinitely in the freezer, a whole chicken is best consumed within a year of freezing (via USDA).
Smaller parts of a chicken, such as giblets, can last up to several months after freezing. If using frozen chicken, it's important to plan your meals and defrost accordingly and safely. It's usually always preferred to season anything that you are cooking to your preferred taste, particularly meat, as this can be an easy way to throw off a recipe and end up with a dish you may not love.
Using boneless and skinless cuts
Not everyone is super gung-ho about butchering meat on their own. Sometimes, the bones and other unidentifiable skin parts may appear unappetizing to some people. If you're going to eat meat, though, it's good to be conscious in all regards, including making it as enjoyable as possible. That's why bone-in, skin-on chicken thighs are the only way to go.
First of all, if you leave chicken skin on, it's perfect for crisping up and adding texture to a meal. Even if fried chicken skin isn't your thing (though it's downright delicious), the skin also protects the meat from burning: The thighs cook completely, stay tender, and the meat falls off the bone upon serving.
Bone-in chicken is also cheaper (via Bon Appétit). Less processing time goes into removing the bone, which affects the overall price. The bones might add slight weight to the total, but a pack of bone-in chicken thighs will be a fraction of whatever you're paying for breast meat.
The bones add flavor to the meat that cannot be replicated with marinades and seasoning. This is because, when cooked, the delicious bone marrow and fat from in and around the bone melts inside and makes the chicken extra juicy. If serving chicken with the bone isn't your thing, it's also very easy to debone the thigh yourself before cooking (via White Kitchen Red Wine).
Washing the chicken
If you're buying chicken parts with the bones, fat, and gristle, you may be tempted to rinse the meat before really starting your recipe. Home chefs all over the world have their reasons for doing this: Some believe it's dirty to not wash off your meat while others do it out of habit. However, in general, washing your chicken actually puts you more at risk for food poisoning, according to the CDC.
Washing chicken can result in the raw meat liquids spreading to other parts of the kitchen like the sink basin, countertops, and cutting boards, which are at risk for cross-contamination. Chicken is one of those proteins that needs to be prepared right or it can easily make you sick. It's better to skip the rinse altogether, especially with skin-on chicken thighs, as it can separate the meat from that protective outer casing.
As long as you ensure that your chicken is cooked to the correct temperature, it will eliminate any bacteria in the meat, giving you a finished meal that is safe to consume.
Forgetting to dry out the skin
If you do decide to leave the skin on, there's a key step to making sure that it's a crispy treat rather than a rubbery mess that you end up sliding to the edge of your plate: Drying out the skin. At the very least, you want to pat the skin of your chicken thighs totally dry with a paper towel before seasoning them or putting them in the pan.
Brining the thighs in salt draws moisture to the skin and it's an even better way of drying out the skin (via Bon Appétit). You can also let your salted chicken thighs sit uncovered in your fridge for at least an hour before cooking to ensure that the chicken attains a juicy flavor inside and a crisp exterior upon cooking.
There are other ways of ensuring that chicken skin turns out crisp, such as Alton Brown's technique of steaming chicken first so that the fat is rendered to the surface. Baking powder can go a long way in giving your chicken the crispiest skin, regardless of the cut.
Not experimenting with recipes
If you're a home chef then there are times when you can get stuck in a rut of cooking the same recipe over and over again. It can happen with any meat, including chicken thighs. Pan roasting chicken thighs with simple ingredients can be transformative; however, it tends to get old very quickly. Thankfully, we live in the age of the internet and there's no excuse for not using new and exciting ways of cooking this cost-effective cut of poultry.
There are numerous chicken recipes that will liven up your meal, such as juicy and flavorful General Tso's chicken or creamy garlic chicken made in an Instant Pot. You can experiment with making slow-cooked butter chicken, oven-fried chicken, sweet bourbon chicken, and other exciting methods of cooking. It's way more fun to play around with the versatility of chicken than to get stuck making the same thing, regardless of your cut of choice.
Putting cold chicken in a hot pan
One major transformative tip that will improve the way that you cook meat, particularly on a grill, is letting it rest at room temperature beforehand. Putting cold meat on a hot pan might be great for searing; however, cooking with cold meat can make the outside of your protein is more prone to burning before the inside is cooked all the way through. As HelloFresh head chef Claudia Sidoti told Eat This, Not That, "Room temperature meat cooks more evenly and fewer juices will leak while cooking."
Unlike a thick steak, you don't want to leave chicken thighs on the counter for 45 minutes before cooking. A quick 15 minutes is long enough to get the meat to room temperature without taking any unnecessary food safety risks. This technique requires a bit of patience, but it will ultimately lead to better-finished dishes and creations.
Overcrowding the pan
It can seem like a time-saver to cook an entire batch of chicken thighs in one massive pan at the same time, but it almost always leads to negative outcomes as far as flavor. When a Reddit user questioned why so much liquid was emanating from the chicken while it was being cooked in a pan, another user posited that the culprit may have been an overcrowded pan.
Adding chicken to the pan tends to bring down the temperature of the oil. As the user wrote, "Water that would normally evaporate right away in a ripping hot pan will now stick around for a bit to steam the chicken. The problem is compounded the more chicken you add – the pan temp is lower, more water is expelled." The solution is to cook chicken in batches so that the liquid can evaporate more evenly and to ensure that the pan is able to reach peak heat in between each batch.
Not using a meat thermometer
The most fool-proof way to perfectly cook any cut of chicken is by using a meat thermometer (via CDC). Chicken needs to reach an internal temperature of 165 F to be considered safe to eat. This means that occasionally, the skin can burn and turn black while the inside isn't quite cooked through. The best way of figuring out the internal temperature is by placing the tool in the thickest part of the meat without touching the bone or any large pieces of fat.
An instant-read thermometer will only take a second to generate a reading while older versions may take longer to tell you the exact temperature (via Clemson University). There are so many legends and hacks to figuring out if meat is cooked through, but nothing beats and tried and true thermometer.
If you're someone who struggles with grilling, this one tool could completely transform your cooking. It's also the simplest way to make cooking chicken thighs less intimidating because it allows you to ensure you won't get food poisoning while also figuring out the best flavors for your chicken.
Being impatient
Patience is pivotal to cooking: This advice is extra useful when it comes to chicken thighs. According to America's Test Kitchen, overcooking chicken thighs leads to meat that is more tender. Dark meat is better when overcooked, as the connective tissue breaks down and seeps into the thigh meat. It's best to remain patient and let the chicken thighs cook slowly, let them reach an internal temperature between 175 F and 195 F, and avoid a direct flame so that the skin doesn't get too burnt.
The thigh meat will fall off the bone and will be bursting with real chicken flavor. However, it's best to not let the internal temperature reach above 210 F as the meat will be stringy and far too overcooked. It's crucial to keep a close eye on your thermometer. That said, an overcooked chicken thigh will not taste the same as an overcooked chicken breast, which should give you more wiggle room in the kitchen, allowing you to cook with increased peace of mind.