David and Victoria Beckham have served us couple goals for over two decades, and we are here for decades more. The British duo first met in 1997, as Victoria later revealed in Vogue, penning a letter to her younger self. "On boyfriends and lasting love: learn more about football, especially the offside rule," she began. "And yes, love at first sight does exist. It will happen to you in the Manchester United players' lounge — although you will get a little drunk, so exact details are hazy. While the other football players stand at the bar drinking with their mates, you will see David standing aside with his family."
If there's one thing that comes up again and again, it's that family is everything for the Beckhams. The meet-cute was the start of something great, and these two married in 1999, per Us Weekly, in a castle. (Yes, a castle. We'll get into more on that later.) The former Spice Girl and the soccer star went on to welcome four children (Brooklyn, Romeo, Cruz, and Harper), start successful businesses, and enjoy ongoing fame that's left the world dazzled and wanting more. And if mindless celebrity gossip starts to speculate about a breakup, both David and Victoria are quick to set things right. But what we like so much about the duo are the charming quirks that have keep things interesting throughout their long-lasting relationship.
Here's a look at some of the stranger things about the Beckhams' marriage.
The Beckhams' mothers had the same career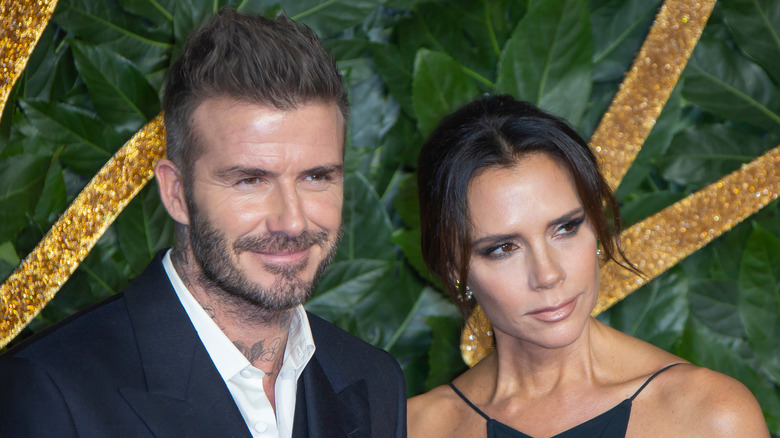 Victoria and David Beckham had the unusual coincidence of their mothers having the same profession, but the former Spice Girls singer's childhood was slightly more glamorous — or posh, if you will. Her mother, Jaqueline Cannon, was a hairdresser before she met Tony Adams. When they met, Andrew Morton noted in his biography "Posh & Beck," she was working as an insurance agent. Shortly after the birth of their three daughters, they started a wholesale electrical business called Gladerealm that became extremely successful. "My dad worked really hard and it was always his ambition to own a Rolls-Royce," Victoria said at the 92nd Street Y (via Glamour). "So when he got his Rolls-Royce, he used to drive us to school in it every day and I was just mortified."
When it came to David's childhood, things weren't as glamorous as his future wife's. His family hailed from the East End of London. His father, Ted Beckham, worked as a gas fitter, per Morton, while his mother, Sandra Georgina West, was also a hairdresser. Amid his humbler beginnings, David showed athletic promise early on. According to Biography, he won the Bobby Charlton Soccer Schools National Skills when he was only 11 — and it was all uphill from there. The Manchester United team encouraged David to toss his hat in the ring for the youth division, and at 16, he was in their training division.
Even though Victoria started out financially farther ahead than David, it wasn't long until both of them became global superstars and multi-millionaires in their own right.
Both were trailblazers when it came to style
David Beckham was a great soccer player from an early age. He signed his first professional contract at the age of 14 — but his soccer skills were only part of what catapulted him to fame. His good looks, as well as that lustrous hair, helped make him a legendary figure in the world of sports.
GQ magazine even did an oral history of his hair, crediting it — and him — with making soccer (football, in United Kingdom parlance) more popular in his homeland. "Nowhere is Beckham's legacy more apparent than on the heads of the players who have since followed in his footsteps," the 2015 article said. The Beckhams have even been named the UK celebrity couple with the best hair.
For her part, Victoria Beckham has admitted she was once a "laughingstock" when it came to style, the Business of Fashion site reports. After the Spice Girls were kaput, she was "shunned," the article noted, by fashion brands who asked her not to wear their clothes because they "did not want to be associated with the perky breasts, pouty poses and over-dyed blonde bob." But Beckham put her head down when it came to developing her fashion lines. She said, "While everybody was busy laughing, what was I doing? I was laying the foundation to what I have in place now." Look who's laughing now!