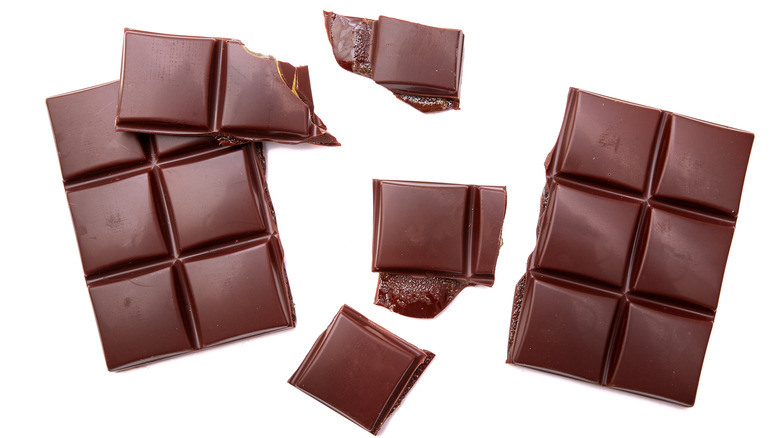 We may receive a commission on purchases made from links.
Back in the early days of chocolate, you had your choice between dark, darker, and gnawing on a cacao pod. Well, it's funny how everything old becomes new again, isn't it? Milk chocolate, first created as a beverage in the 17th century, got a huge boost around the turn of the 20th century when Milton Hershey established his sweet, sweet empire based on those brown-wrapped bars that still bear his name. Even today, milk remains the most popular kind of chocolate candy with the majority of Americans (via YouGov). Still, dark chocolate staged a strong comeback starting in the 1980s when it was first declared to be healthy. Once superfood status was achieved, trendiness was soon to follow. Some might even call dark chocolate overrated, but we think its popularity is well-earned.
Here in the 3rd decade of the 21st century, dark chocolate's popularity means that we now have a plethora of dark chocolate candy bars available to us. Some are filled, some are flavored, and some barely contain anything besides pure, bitter cacao. The thing to keep in mind when choosing your chocolate is that it's meant to be a treat, not a medicine, so the very best kind of dark chocolate is whatever kind you personally prefer.
How we chose these chocolate bars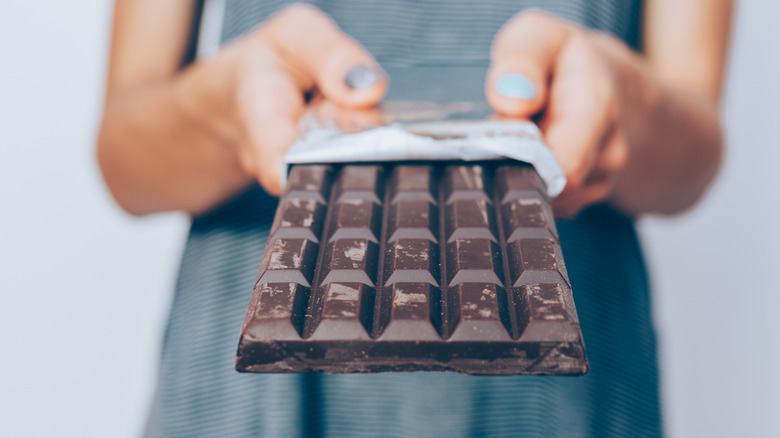 With this selection of dark chocolate candies, we wanted to cover as wide a range as possible. Yes, we have some super, super dark ones, since admittedly chocolate with 70% or more cacao does provide significantly higher amounts of nutrients including magnesium, iron, and even fiber (via "Antioxidants & Redox Signaling"). Still, if what you prefer is old-school dark chocolate with a cacao content no higher than 60%, we've got you covered there, too. In fact, there's even such a thing as dark milk chocolate, and we've included one of those bars on this list (No need to feel guilty! You can always eat your candy bar with a multivitamin or a side of fresh fruit).
We've also included chocolates with a wide variety of fillings and flavors ranging from nuts to fruit to hot sauce, and even a chocolate bar enhanced with mood-boosting hemp extract (nothing illegal, since our picks are meant to be available for purchase throughout the U.S.). While some of these chocolates are on the pricey side, we've also tried to include more affordable picks as well. All prices were accurate at the time of publishing.
Best healthy dark chocolate bar
Cacao percentage alone is not the sole factor that determines how healthy a chocolate bar may be. The provenance of the cacao beans also has something to do with it, and a study in the journal "Antioxidants" found that cacao from Colombia contains the highest amount of antioxidants. Fruition Chocolate Works, an artisanal chocolatier located in upstate New York, makes a bar out of pure Colombian chocolate that is quite high in cacao (85%) but doesn't taste like something that you'd eat just because it's good for you. For such a high percentage chocolate, it's remarkably smooth with a taste that's sweet and somewhat reminiscent of berries rather than being unpleasantly bitter. For that reason, it gets our pick as the bar with the most palatable polyphenols available to purchase. Sometimes you don't have to choose between health and indulgence.
Purchase Fruition Chocolate Works Colombia Tumaco Dark from Amazon for $16.99 for one bar.
Best not-too-dark chocolate bar
If, on the other hand, you're not as concerned with the amount of antioxidants in your chocolate as you are with how it tastes, then dark chocolate that's not so high in cacao might be for you. This dark chocolate bar from Finnish chocolatier Karl Fazer is just 47% cacao, but whatever it lacks in antioxidants, it more than makes up for in flavor. We happen to think this is the best possible reason to be eating chocolate in the first place, and some Amazon reviewers seem to be thinking along the same lines. They're calling this candy bar "Creamy, delicious chocolate" and saying it's the "Best chocolate ever." In fact, Fazer is one of Finland's favorite candy makers, with the milk chocolate bars sold in bright blue wrappers being that country's top sellers (via Her Finland). If the "Fazer Blue" bar is Finland's answer to the Hershey Bar, this dark chocolate version may well be its answer to the Special Dark.
Purchase Karl Fazer Original Finnish Dark Chocolate from Amazon for $11.99 for one bar.
Best single origin dark chocolate bar
While many single-variety bean bars are just plain chocolate, we love the fact that these bars, all of which are made out of cacao beans sourced from Uganda, are available in three different flavors. Each chocolate bar comes in at 73% cacao, which puts them all well within the healthy range, but none of these candies really taste super-dark. What's more, they have more of that rich chocolaty taste that we love rather than that bitter, gritty feel that some single-origin high cacao bars tend to have. Of the three flavors, the orange zest may well be our favorite, but the salted caramel is also delicious. The crispy rice is pretty fun, too, as it's kind of a gourmet version of a Nestle Crunch bar, only with much better (and darker) chocolate.
Purchase Beyond Good Variety Pack Uganda Chocolate from Amazon for $25 for six bars.
Best vegan dark chocolate bar
While in theory most dark chocolate should be vegan, in practice that's often not the case, according to The Conscious Plant Kitchen. Many dark chocolate bars do contain small amounts of milk solids, while others may be made on the same production line where milk chocolate bars are also manufactured. The Endangered Species range of chocolate bars, however, is not only vegan but gluten-free. The company even makes oat milk-based vegan "milk" chocolate.
While the company makes unflavored dark chocolate bars, it also sells many fun flavors, including mint, almonds and sea salt, raspberry, and cinnamon, cayenne, and cherries. Even better, the company has a good mission: It's called "Endangered Species" because it donates 10% of its profits to conservation organizations every year. While we enjoy many of the Endangered Species bars, our favorite vegan option is probably the almonds and sea salt.
Purchase a 12-pack of the Endangered Species Almonds, Sea Salt, and Dark Chocolate for $55 on Amazon.
Best filled dark chocolate bar: Ritter Sport Marzipan
Marzipan, which is a delicious paste made of almonds, egg whites, and sugar, makes for a candy bar filling that is both nutty and creamy. As sweet as it is, marzipan tends to work best with dark chocolate and no one does this combo better than the German chocolatier Ritter. The chocolate used for these bars is of the semi-sweet variety, so it's not too bitter, but is just dark enough to make for a perfect contrast with the delicate almond-flavored filling. Each one of these break-apart bars can make for two or perhaps even three servings since this candy is so rich that even a small amount can satisfy your chocolate craving.
Should you be wondering why these are called "Sport" bars, it's not because they are a traditional refreshment for German sporting events. Instead, Ritter's founders wanted to make a candy bar that would fit into the pocket of a sports jacket circa the 1930s. This explains not only the name, but the compact shape of these bars as well as the rest of the Ritter Sport line.
Purchase Ritter Sport Bars Dark Chocolate With Marzipan from Amazon for $13.99 for four bars.
Best dark chocolate bar with nuts
Ülker Butun Antep Fistikli may have a Turkish tongue-twister of a name, at least for those of us who are hopelessly monolingual. Still, the beauty of ordering online is that you don't have to embarrass yourself with improper pronunciation, which means that you need not miss out on that rarity of rarities: a dark chocolate bar made with whole roasted pistachios. As one Amazon reviewer wonders, "I don't know why only the Turks have thought to combine dark chocolate with whole pistachios, but they seem to be only people in the world to make this amazing chocolate." And amazing this stuff absolutely is, as well as being something you won't easily find elsewhere unless you're lucky enough to live near a Turkish grocer. The savory, slightly bitter roasted pistachios taste wonderful with the bittersweet 60% chocolate.
Purchase Ülker Butun Antep Fistikli Bitter Cikolata Dark Chocolate with Whole Pistachios from Amazon for $21.85 for six bars.
Best dark chocolate bar with coconut
Sometimes you feel like a nut, sometimes you don't. Even if you're not in a nutty mood, you'll still go coo-coo over this coconut cream-filled candy bar. The Lindt Excellence Dark Coconut Bar uses the same delicious dark chocolate and coconut combo as the familiar Mounds bar, but the high-quality Lindt dark chocolate makes for a more luxurious, high-end experience. The bar is also pretty sizable, too, so it can make for two or three servings. The filled chocolate is soft enough that the bar breaks apart easily into bite-sized squares, so you can even DIY your own "fun size" candies. Another fun idea for using these candy bars comes from one Amazon reviewer. While they enjoyed the chocolate on its own, they also said they'd used them to make s'mores. Their verdict: "That was incredible."
Purchase Lindt Excellence Dark Coconut from Amazon for $36 for 12 bars.
Best fruit-filled dark chocolate bar
Apart from coconut, there may be no fruit that pairs better with chocolate — particularly dark chocolate –- than raspberries. Unfortunately, the fruit itself is just too small to dip easily in chocolate, so chocolate-dipped raspberries aren't nearly as prevalent as chocolate strawberries. This Chocolove Raspberries in Dark Chocolate bar, however, may just be the next best thing. The cacao content is a modest 55%, making for a bar of semisweet chocolate that perfectly offsets the tangy dried raspberries. The bar is nice and chunky, too, and just a square or two make for a delightfully satisfying indulgence. These bars are sold by the dozen so you won't run out for a long, long time, but you might want to keep them in the fridge or freezer so they will stay fresh until you finish them.
Purchase Chocolove Raspberries in Dark Chocolate from Amazon for $42.48 for 12 bars.
Best mint-flavored dark chocolate bar
Chocolate and peppermint are a favorite holiday flavor combo, but you don't need to wait for wintertime to enjoy them together. Chocolove, the Boulder-based purveyor of chunky chocolate bars, produces a peppermint/dark chocolate bar that manages to get the balance between these two flavors just right. This chocolate bar is not too strong, not too sweet, and not overwhelmingly minty, but the filling provides the perfect amount of flavor to complement the semi-sweet (55%) chocolate coating. As one happy customer says of this candy, "One little square is the quintessential ending for a good meal," although they go on to admit "it's so good, you will want to eat the whole bar!" Another satisfied customer is even more emphatic in their enthusiasm, insisting that this candy bar offers "the kind of deliciousness that is so overpowering and all consuming that you will wonder why it isn't illegal."
Purchase Chocolove Peppermint in Dark Chocolate from Amazon for $2.79 for one bar.
Best spicy dark chocolate bar
While sriracha chocolate might seem like a holdover from the sriracha-in-everything days of the mid-20-teens, the spicy sauce actually blends quite nicely with the semisweet (55%) chocolate used to make this candy bar. The mildly garlicky flavor from the sriracha really doesn't come through, nor does any vinegary taste, which we are grateful for since not every out-of-the-box flavor combo is a good one. Sriracha, which is a slightly sweet and not-so-hot sauce, already has a somewhat dessert-like quality to it, so it makes for an unusual, yet tasty, chocolate pairing. This particular bar, which is made by Huy Fong Foods, the original "rooster sauce" people, also adds a sprinkling of Himalayan pink sea salt that turns this sriracha chocolate into a spicy/salty/sweet triple threat. It almost reminds us of the complexity of mole sauce.
Purchase Tuong Ot Extra Hot Salted Sriracha from All City Candy for $5.50 for one bar.
Best salty dark chocolate bar
Dietitians are always warning us that we should be watching our sodium intake, but if you enjoy the flavor of salt, it may be better to just have it right out on the surface where you can actually taste it rather than hidden somewhere where it's doing more harm than good. Salted desserts are all the rage these days, but while salted caramel candies are everywhere, it's less common to see a candy bar that simply pairs salt with dark chocolate without all the added fluff. One such bar is Hu's Salty Dark Chocolate: Zs the name implies, it's just plain dark chocolate sprinkled with fleur de sel. What's more, this candy is vegan and even paleo due to the fact that it's sweetened with coconut sugar instead of the cane kind. It has the perfect amount of salt to balance the chocolate sweetness, and the fleur de sel adds a pleasant crunch as well.
Purchase Hu Salty Dark Chocolate from Amazon for $26 for four bars.
Best coffee-flavored dark chocolate bar
If there's anyone who knows how to make a good cup of espresso, it would have to be the Italians. Starbucks' version, though Italian-inspired, doesn't live up to the real deal. It comes as no surprise, then, that Italian Perugina produces such a delicious espresso-flavored candy bar. Perugina, a chocolatier that may be best known for its Baci chocolates (which did not make the list due to being a) milk chocolate and b) technically not bars), is owned by Nestle, and while at one point it was focused more on its European customer base, over the past decade or so it's realized that there's a market for fine Italian chocolates in the U.S., as well (via The New York Times)The chocolate used in Perugina's Espresso bar is dark but not too dark (51%), while the coffee itself is what one Amazon reviewer calls "the magic ingredient." Another satisfied shopper calls this candy bar "the best chocolate we have tasted."
Purchase Perugina Dark Chocolate Espresso from Amazon for $24.99 for 4 bars.
Best dark chocolate bar for breakfast
Yet another mid-20-teens trend was baconing all the things, and even though no food fad lasts forever, some of the tastier products created in order to keep up with the trend have stayed on the market even when they're no longer the flavor of the month. One such item is Mo's Dark Bacon Bar from Vosges Haut-Chocolat, a candy bar that combines chewy bits of real bacon with smoked salt and bittersweet (62%) chocolate. As per one purchaser, this is "High quality chocolate with a great bacon component." Another praises this candy's "marvelous combination of flavors: bitter chocolate, crisp bacon and sea salt!" This chocolate is so good it transcends the bacon gimmick. Should you want an all-chocolate bar breakfast, you could always pair the above espresso bar with this bacon bar for a chocolatey breakfast of champions.
Purchase Mo's Dark Bacon Bar from Amazon for $15 for one bar.
Best nut butter-filled dark chocolate bar
While Reese's may have pioneered the field of combining a nut butter filling with a chocolate coating, there's always room for improvement. Sure, milk chocolate + peanut butter is a pretty solid combo, but you know what's even better? Dark chocolate + cashew butter. And better still? Mix in some raspberry jelly. Nobody does dark chocolate/cashew butter/raspberry jelly bars better than Hu. In fact, as far as we're aware, no other candy manufacturers are even making this combo at all. That's okay, though, since Hu's really nailed the whole CBJ/chocolate thing here. It's like the most luxurious PB and J ever. Apart from the tree nuts they contain, these bars are pretty special diet-friendly, to boot. As per the label, this candy is organic, vegan, paleo, soy-free, gluten-free, non-GMO, and fair trade.
Purchase Hu Cashew Butter and Raspberry Jelly Dark Chocolate from Amazon for $26 for four bars.
Best break-apart dark chocolate bar
While many candy bars come in squares that are supposed to facilitate breaking them apart, in reality it's often difficult to get the bars to break cleanly along the shallow lines. What you may end up with instead is a jagged break that you feel compelled to tidy up by breaking off more chocolate. As a result, you may find yourself eating a lot more chocolate more than you intended. For portion control purposes, there may be no better bar than a Toblerone, as it's really quite easy to detach he exact number of triangles you want from this prism-shaped bar. While Toblerone's signature product is made of Swiss milk chocolate, it also makes a dark version with the same delicious honey/almond nougat filling and that's the one we're nominating here.
Purchase Toblerone Dark with Honey and Almond Nougat from Amazon for $12.50 for three bars.
Best mood-altering dark chocolate bar
Chocolate, in itself, is supposed to have mood-enhancing properties thanks to the theobromine and other endorphin-releasing chemicals it contains. In fact, as any Harry Potter fan can tell you, a few bites of the stuff can even ward off dementors, although J.K. Rowling points out that chocolate is only a temporary quick fix when you're battling joy-sucking demons. If you really want to hedge your bets, though, Couverture 70% dark chocolate also contains hemp extract that is meant to make it the happiest candy you can buy online in all 50 states. While this candy is still no cure for serious mental health issues like depression and anxiety and results may vary depending on how your body reacts to this substance, one Amazon reviewer claims Couverture "really seemed to help me fall asleep quickly." Another says "I do believe it helped me to feel calmer" and adds that "The taste was very good, smooth and creamy."
Purchase Couverture by DiFiori from Amazon for $37.99 for two bars.
Best dark chocolate bar for wine pairing
Want a super-simple dessert for a dinner party? Just pull out a bottle of red wine and a bar of this Brix chocolate that was designed specifically to complement such a beverage. This is just plain chocolate, medium-dark (60%, as per the label) and made with beans from Ghana as well as vanilla from Madagascar. Suggested wine pairings are chianti, merlot, rhone, shiraz, and zinfandel. If you prefer a stronger after-dinner drink, this chocolate also goes well with distilled wines in the brandy family such as cognac and armagnac. For the dessert trifecta, you could even brew a cup of coffee, add a shot of brandy, and break out this chocolate. Okay, so maybe a candy bar by itself isn't really company-worthy, but who says you wanted to share either the wine or the chocolate, anyway?
Purchase Brix Medium Dark Chocolate from Amazon for $16.10 for one bar.
Best dark milk chocolate bar
Dark milk chocolate is a thing? Why yes it is. It's chocolate made with milk solids that contains a cacao percentage higher than is typical for most types of milk chocolate. While it's possible to obtain dark milk chocolate up to the 65% cacao range, we're rather partial to Tony's Chocolonely 42% dark milk. Not only is the Belgian-made chocolate itself incredibly rich and tasty, but it also includes toffee chunks and pretzel bits so you get sweet, salt, and crunch all in one bite. One Amazon reviewer, calling this the "Most delicious chocolate bar ever," admits that they were "torn about giving them such a good review for fear others will catch on and the[re]'ll be a shortage." Well, the cat's out of the bag now, so we'd better all stock up before they sell out.
Purchase Tony's Chocolonely 42% Dark Milk Chocolate Bar with Pretzel and Toffee from Amazon for $31.99 for four bars.
Most budget-friendly dark chocolate bar
One of the real downsides that happen when dark chocolate — or any other product, really — starts to become trendy is that the price seems to go up accordingly. While yes, dark chocolate can be a pretty pricey product, there is one bar that's been around since way before the dark stuff went mainstream: good old Hershey's Special Dark. It made its debut back in 1939 when it appeared under the name of Bitter-Sweet in a bag of assorted Hershey's Miniatures. The great thing about Special Dark minis is that back in the days when milk chocolate reigned supreme, it was fairly easy for dark chocolate-loving kids (or parents) to trade for others' trick-or-treat haul. Even in a market saturated with dark chocolate, Special Dark bars remain a (semi)sweet, simple classic, but the best thing about them is that they're also super-affordable.
Purchase 1 pound of snack-size Hershey's Special Dark from Amazon for $16.95.