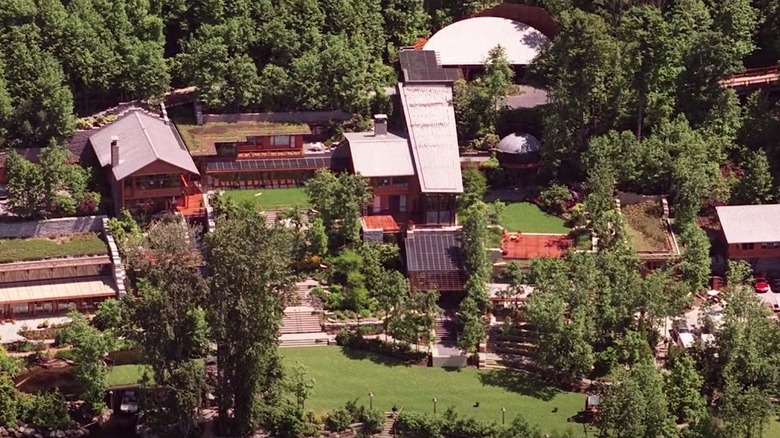 Being a celebrity comes with perks: private jets, fancy Oscar parties, designer wardrobes, luxury cars, never having to worry about money, and of course their incredible mansions. While some celebrities live in relatively "normal" homes, many have veritable palaces in places that include Beverly Hills, Jupiter Island, Malibu, Seattle, Los Angeles, and Manhattan.
The most expensive celebrity homes in the U.S. range from a $36.5 million Holmby Hills mansion to a $150 million property in Medina, Washington just outside of Seattle. The priciest celeb pads range from an island getaway in Florida to a house set high in the hills above Hollywood.
It's not just the size of these homes that is so stunning — they come with an array of amenities that you just don't see in normal-sized (and priced) houses. In Bill Gates' house, for instance, guests are given a pin code when they arrive that interacts with the home's high-tech sensor system to control the temperature of the rooms as they move through them, per Insider. So let's take a look at the most expensive celebrity homes, who they belong to, what they are worth, and what kind of perks and amenities they come with.
Kylie Jenner's $36.5 million Holmby Hills compound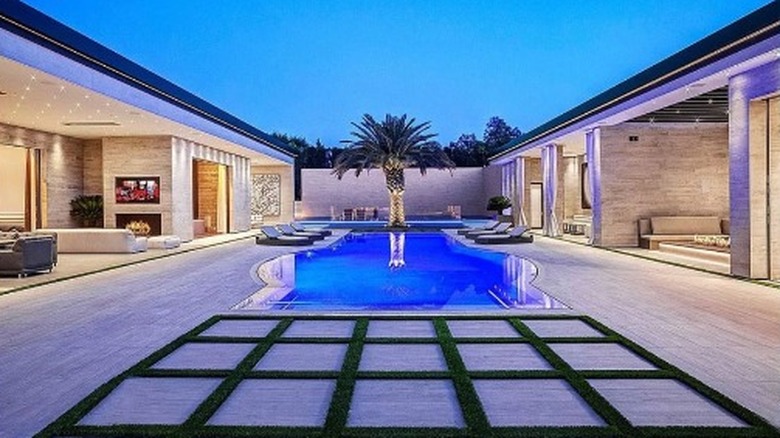 At just 23, Kylie Jenner has a pretty impressive résumé. She founded Kylie Cosmetics and sold it to Coty in 2020 for $1.2 billion, per the BBC – Jenner made some serious cash on that transaction. And in April 2020, she dropped $36.5 million on a 15,350-square-foot home in the Holmby Hills neighborhood of Los Angeles, as noted by TMZ.
The "resort compound" (via House Beautiful) has seven bedrooms, 14 bathrooms, two guest houses, and a guardhouse to keep her fans and stalkers out. Jenner reportedly spent the COVID-19 quarantine in this home with her daughter Stormi Scott, her on-off boyfriend (and Stormi's dad) Travis Scott, and her bestie Stassie Karanikolaou. Jenner got a great deal on the Holmby Hills house too, as it was originally listed for $46 million.
Jenner's Holmby Hills estate is not the 23-year-old makeup mogul's first house. In 2015, she bought a 4,851 square foot home in Calabasas for $2.6 million when she was 17, and sold two years later for $3.15 million. In 2016, Jenner bought three mansions in Hidden Hills, according to House Beautiful. She sold two of them for a profit in 2017 and still owns the third, a 13,000 square foot house she picked up for $12 million and that was her primary residence until the Holmby Hills property.
P. Diddy's $40 million Holmby Hills Villa
In 2014, rapper and fashion industry tycoon Sean "P. Diddy" Combs planted roots in Holmby Hills. The 17,000-square-foot home set Diddy back $40 million. The home was built on spec by Los Angeles-based developer of luxury mega-mansions Nile Niami, according to Variety. Niami paid $13.75 million for the property in May 2012 and tore down the 1930s era, 13,421-square-foot mansion to build a newer, even larger home.
Diddy is the first owner of the European villa-style home with eight bedrooms, 11 bathrooms, a wine cellar, a gym, a theatre that seats 35, and a lagoon-style pool with an underwater tunnel that leads swimmers to a grotto a la the nearby Playboy Mansion. The Manor, the estate formerly owned by Aaron and Candy Spelling, currently owned by Formula One heiress Petra Ecclestone is also located nearby.
Diddy's mansion also has a free-standing steam room, a massage room, and a beauty salon, as well as a separate, 3,000-square-foot guesthouse, per TMZ. Reportedly, Diddy had been looking for property in Los Angeles for several years. His home is located close to the home Michael Jackson lived in when he died. Diddy bought the estate in an off-market deal shortly after construction was completed.
Will Smith and Jada Pinkett Smith's $42 million Calabasas dream house
In 1998, Will Smith was filming "Enemy of the State" with Gene Hackman, who had a house in Santa Fe. Smith visited Hackman's home and was inspired by the adobe-style structures popular in New Mexico. Smith and his wife, actor Jada Pinkett Smith hired Hackman's architect, Stephen Samuelson, to design a retreat for the family in the hills adjacent to Malibu, according to Architectural Digest.
Once Samuelson was on board, the couple quickly bought up adjacent properties to create a 150-acre lot. Permitting for the build took four years — Malibu is notoriously difficult to navigate when it comes to that due to fire preservation and its eco-friendly stances. The home started construction in 2003 and took seven years to complete.
The 25,000-square-foot home has nine bedrooms, a home theatre, a pool, and an eight-car garage as well as basketball, volleyball, and tennis courts and a sunken trampoline. The property has a lake on it too, and the Smiths had a gazebo placed near the shoreline to take advantage of the peacefulness of their property. The Smith estate is so large it has its own zip code, per Love Property.
Ellen DeGeneres and Portia de Rossi's $49 Million Montecito Mansion
In September 2020, comedian and talk show host Ellen Degeneres and her wife, actor Portia de Rossi, dropped $49 million on a Montecito estate. It was the highest-priced residential sale in Santa Barbara County up to that point. Comedian Dennis Miller and his wife, former model Carolyn Espley-Miller, were the sellers. They had owned the property since 2006, as noted by Mansion Global.
The property is three separated plots of land totaling more than four acres, and has several structures, including the South African Cape Dutch-style main house, a guesthouse, a detached garage, a poolhouse, and a barn, per The Dirt. The property also has a lily pond.
Degeneres and de Rossi are well-known house flippers who never stay in one house for too long, per Architectural Digest. The couple sold a Montecito house for $33 million in November 2020 and bought another mansion in the area in May 2021. They had formerly owned this property, Rancho San Leandro, in 2017 for a brief period of time. They bought it again for $14.3 million. One month later, DeGeneres and de Rossi bought a small, two-bedroom bungalow near Butterfly Beach for $2.9 million.
Dr. Dre's $50 million Brentwood mansion
In 2014, Apple acquired Dr. Dre's Beats headphone company for $3 billion. Just days later, he spent $40 million on a mansion in the chic Los Angeles neighborhood of Brentwood, according to the Los Angeles Times. The sellers of the nearly 20,000-square-foot home formerly belonged to Tampa Bay Buccaneers quarterback Tom Brady and his supermodel wife, Gisele Bündchen.
The house is designed in the style of a French Chateau and has five bedrooms, nine bathrooms, seven fireplaces, a gym, a sauna, and several covered terraces and balconies. Outside, the lawn, gardens, ponds, and waterfalls lend atmosphere to the infinity pool. Once he took possession of the estate, Dre added a 10,000-square-foot subterranean music studio to the property, which upped the value of the property to roughly $50 million.
The Brentwood home was a step up for the rapper-turned-mogul; Dre sold his longtime home in Woodland Hills, California for $4.5 million in 2019. That was the priciest on-market transaction in Woodland Hills that year, reported Architectural Digest.
Tiger Woods' $54 million Florida compound
Golf legend Tiger Woods owns a literal property empire, but his Jupiter Island, Florida compound is the most expensive property in his portfolio. Located in one of the wealthiest zip codes in the U.S., Woods bought the sprawling, 12-acre property for a cool $40 million back in 2006, as noted by Insider. He demolished the 13-year-old mansion that was on the property and built a $54 million home and moved into the house in 2010, shortly after his divorce from Elin Nordegren was finalized. Jupiter Island is so exclusive that only about 900 people live there.
Woods' property has a 3,300-square-foot house and a 6,400-square-foot multi-purpose building with a glass-enclosed walkway linking the two structures. Woods' estate also has a 3.5-acre golf course, a tennis court, a full gym, an oxygen tank, and not one, but several pools, per The Sun. Woods can also enjoy movies in his own theatre room, relax out in the game room, and move wine from his wine cellar to other parts of the home via the elevator. The property also has space for Woods to anchor his 155-foot yacht.
Kim Kardashian's $60 million minimalist mansion
In 2013, Kim Kardashian and her now ex-husband, Kanye West, were taking a walk in their Hidden Hills, California neighborhood when Kardashian spotted the house of her dreams. West thought it needed work and seven years later, West called the renovated mansion "a futuristic Belgian monastery" (via Architectural Digest).
The former couple acquired two parcels of land, including the one that the McMansion Kardashian thought was perfect sits on. The existing structures were demolished to make way for a newly-constructed mansion on 4.5 acres. In 2019, they bought more nearby land to expand the estate to 7.5 acres. Kimye spent $23 million just acquiring the land, according to The Dirt.
The entire mansion is in shades of white, cream, and beige. "The one thing Kanye and I had in common was our preference for a neutral palette," Kardashian explained to Architectural Digest. "I love the simplicity of the design. Everything in the outside world is so chaotic. I like to come into a place and immediately feel the calmness." Kardashian also commented on the minimalist nature of her mansion, saying, "Kanye would come up with the most far-out ideas, and I'd say, 'This is not normal. We need drawers!' I was the voice of functionality." Kardashian and her four children continue to live in the Hidden Hills mansion as her divorce proceeds, per People.
Howard Stern's $65 million Palm Beach retreat
Howard Stern isn't afraid to lay out the cash when it comes to his homes, as noted by the New York Post. From his $21 million penthouse in Manhattan to his $20 million Hamptons getaway to his $65 million Palm Beach estate, the shock jock wants only the best of the best when it comes to where he lays his head at night.
Howard's 19,000-square-foot Palm Beach mansion is his most expensive property by far. He bought it in 2013 for $52 million and spent $13 million to renovate and update the home, putting its current value at $65 million, according to the New York Post. During renovations, the main staircase was relocated and a custom 1,000-square-foot closet was constructed for his wife, Beth Ostrosky Stern. The home has five bedrooms and 12.5 bathrooms.
In a 2013 interview with City & Shore magazine, Beth revealed that she and her husband "felt Palm Beach was the right choice for us. We have friends in Palm Beach and have spent many weekends, so we just ended up having a little life there, and we said let's start looking at houses." Beth also stressed that their neighbors shouldn't be worried about them being the wild and crazy partiers from Manhattan, saying, "Our lights are out at 8 p.m. Waking up at 4 a.m. has become a way of life." The Sterns (and all their cats) plan to retire there eventually.
Sting's $65.7 million Manhattan apartment
In 2019, Sting and his wife Trudie Styler bought a $65.7 million penthouse at 220 Central Park South in Manhattan, per Mansion Global. The Robert A.M. Stern designed building on Billionaires Row features 118 units that start at $13 million. Sting bought the condo after unloading another Stern designed unit for $50 million. The property features a 79-story tower and an 18-story villa. The building, and especially the penthouses, have panoramic views of Central Park. The building's amenities include a fitness center, spa, private dining rooms, and spaces for entertaining.
Sting and Styler's neighbors in the luxury residential tower include billionaire hedge fund managers Ken Griffin and Dan Och, heiress Renata de Camargo Nascimento, developer Albert Behler, and real estate mogul, Ofer Yardeni, The Real Deal reports. Other high-profile owners have used LLCs to hide their real identities.
Sting and his wife have also owned homes in Italy and England, in addition to Manhattan. Additionally, they own a Malibu beach house with seven bedrooms and 10 bathrooms that they rent out for $200,000 a month as of 2017, according to Trulia.
Ryan Seacrest's $85 million Beverly Hills estate
In 2012, "American Idol" and "Live with Kelly and Ryan" host Ryan Seacrest bought a Beverly Hills estate from Ellen Degeneres for $36.5 million, per Mansion Global. In late 2020, Seacrest listed the 9,000-square-foot home on more than three acres, with a price tag of $85 million, per TMZ. The four-bedroom, six-bathroom home has beamed ceilings, a home theatre, and an office. There are also two guest houses, a pool, and a pool house.
Additionally, Seacrest's property also contains a separate fitness facility and subterranean garage. During his nearly a decade of owning the home, Seacrest installed "state-of-the-art amenities" in the compound that was built in 1963. The abode has 22-foot ceilings and a gourmet kitchen. According to the listing, the sprawling estate also has outdoor dining space, landscaped greenery, and a pond; it also boasts both ocean and city views. TMZ reported that Seacrest is selling the home simply because he's spending more time in New York City taping "Live with Kelly and Ryan."
Beyonce and Jay-Z's $88 million Bel Air palace
When Beyoncé and Jay-Z were looking for a home in the Los Angeles area they didn't have the usual budget concerns of most people. Despite that, it took them a while to find a place. They rented a mansion in Holmby Hills for $150,000 a month (via TMZ) and then moved into a $400,000 a month rental with sweeping views of the Pacific Ocean, according to Variety. The couple then lost a bidding war for a Beverly Hills mansion that eventually sold to Minecraft's billionaire founder Markus Persson (per Time).
Then finally, the Carters landed on a modern $88 million mansion in Bel Air, and they got a deal as the property was listed for $135 million. There are six structures on their estate with a combined 30,000 square feet in the interior. The main house has eight bedrooms and 11 bathrooms with bulletproof glass doors and windows. Outside, there is 10,000 square feet of yard with a basketball court and four swimming pools. The property also has a spa and a media room, as noted by the Los Angeles Times. The home has separate quarters for staff and a garage that can hold 15 cars.
The Los Angeles Times reports that the Carters have a mortgage of $52.8 million, which means their monthly mortgage payment (over 30 years) is $252,075 based on an interest rate of 4%. It was one of the most expensive residential deals ever in Los Angeles County.
Pierce Brosnan's $100 million Malibu beach house
If you happen to have $100 million laying around (or the downpayment and income to qualify for a mortgage that size), you can sleep in the house that James Bond built. Pierce Brosnan and his wife, Keely Shay Smith, put their custom, oceanfront, 12,500-square-foot, five bedroom, 14 bathroom Malibu beach house on the market in September 2020. The home is a Southeast Asian style influenced by the months Brosnan spent in Thailand shooting "Tomorrow Never Dies" in 1997, the New York Post reveals.
Brosnan bought what was originally a ranch style house and two neighboring properties for $7.35 million in 2000. Eventually, that house grew too small for the couple and their kids, and they spent the next decade building the home that they call the "Orchid House," according to the Wall Street Journal.
The master suite of the home on Malibu's Broad beach is 4,000 square feet with his and hers fireplaces, a large deck looking out over the ocean, and an art studio. The home also features a 200-bottle climate controlled wine cellar, theater, gym, spa, and music room. The property also has a saltwater swimming pool and outdoor dining patios enclosed by glass to protect diners from the wind. Brosnan and Smith moved to Hawaii after their children grew up, and while Bronson loves Malibu, he said his "home is very much here in the islands."