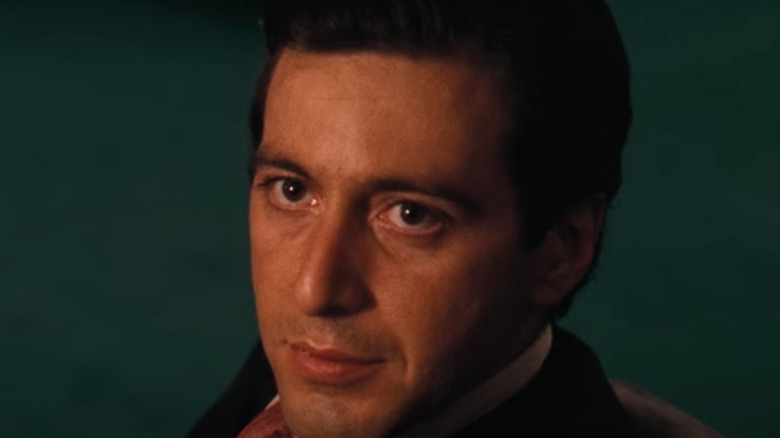 The cast of Francis Ford Coppola's masterful "Godfather" film series is so cemented in the public consciousness and has so thoroughly permeated the culture at large that it's nearly impossible to think of any other actors playing their respective roles. The performances are so powerful and compelling, one imagines they were transmitted onto the silver screen directly from the filmmakers' minds in their final form.
The reality is nothing could be further from the truth — there were many Hollywood legends of different generations jockeying behind the scenes for what they could obviously tell were plum roles in Coppola's hot new project. Imagine Orson Welles as the imposing Don Corleone doling out paternal advice to his son Michael, played by none other than the dashing Robert Redford. It's almost unthinkable after so many decades, but both these actors did indeed vie for the roles that resurrected Marlon Brando's career and made a star of the young Al Pacino. Let's take a look at how fascinatingly different this Mafia don's legendary family could have been.
Orson Welles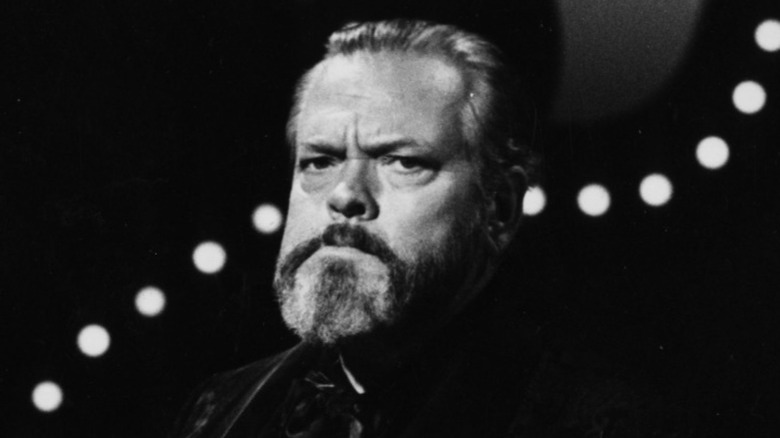 Don Vito Corleone, the titular "Godfather" of the film series, could have been played by one of Hollywood's most legendary filmmakers. Titan of cinema Orson Welles coveted the role of Vito Corleone in "The Godfather." Mark Seal, author of "Leave the Gun, Take the Cannoli: The Epic Story of the Making of The Godfather," told NPR that so much so that Welles lobbied to "Godfather" author Mario Puzo for the role directly. He was also a preferred casting choice of Paramount studios. Welles even told a BBC reporter "I would have sold my soul" to be in "The Godfather."
Certainly, Welles had the heft and talent to portray Vito. With his booming voice and Shakespearean pedigree, Welles' take on the Corleone patriarch could have been epic, perhaps even serving as a career comeback as it did for Brando. However, unlike Brando, for whom "The Godfather" would serve as a career renaissance, Welles would lurch through the latter part of his life stuffing his resume with voice work, small roles, and cameos that cashed in on his legendary status.
Burt Lancaster
Burt Lancaster, one of Hollywood's great tough guys, had his eyes set on playing Don Vito Corleone. By the late 1960s, Lancaster was an industry powerhouse, starring in films like "From Here to Eternity," "Elmer Gantry," and "The Swimmer." Not only was he an Academy Award-winning actor, he was one of the industry's first independent producers. Lancaster formed Hecht-Lancaster Productions in 1947, a time when Hollywood's studio system was still operating in full force. Hecht-Lancaster produced a number of successful films, including the Best Picture Oscar winner "Marty."
Lancaster was not only a formative screen presence, but he also had business savvy, and Lancaster eyed the Corleone family saga as a star vehicle for himself. Producer Robert Evans recalled to NPR that "The Godfather" had been optioned by him at Paramount before the novel was even complete. However, as author Mark Seal told the Arkansas Democrat Gazette, Lancaster was in a bidding war with actor Danny Thomas to produce and star in the project himself — a battle that he, and Thomas, both ultimately lost.
Robert Redford
To think of anyone else playing Michael Corleone other than Al Pacino may be unimaginable, but even "Godfather" author Mario Puzo envisioned the youngest Corleone son as someone who looks like Robert Redford. As American Zoetrope co-founder Walter Murch noted in "Godfather: The Masterpiece That Almost Wasn't," said of the book's Michael: "he's blond, he's tall, he's handsome." Redford was not only one of Hollywood's leading heartthrobs, but was also one of the era's biggest box office draws, starring in a hits like "Butch Cassidy and the Sundance Kid." His established talent was a known quantity, unlike Pacino, whose film acting credits before "The Godfather" were scant.
Pacino's first movie, "Panic In Needle Park," had not been released but director Francis Ford Coppola wanted Pacino "The Godfather." Pacino recalled to the New York Times that he was astounded. While Redford was suggested by Paramount as a suitable actor for Michael, Coppola persisted in his casting choice of Pacino for the role.
For Pacino, playing Michael kicked off his decades-long career as one of Hollywood's great acting talents. As for Redford, his career didn't skip a beat, with the star acting in and directing some of the '70s and '80s finest films, founding the Sundance Film Festival, and working as an environmental activist.
Jack Nicholson
Jack Nicholson was another young, hot Hollywood actor offered a role in "The Godfather." Nicholson's career was seriously taking off in the late '60s and early '70s, acting in cultural touchstones like "Easy Rider" and "Five Easy Pieces." Moving out of the B-picture roles that dominated his early Hollywood resume, Nicholson had the talent and the experience to move his career to the A-list. He was in demand for some of Hollywood's buzziest projects, including "The Godfather," and NPR reports his name was found on a list of names in the running for Michael Corleone. But Nicholson, who had been offered a number of other movie roles at the same time of the film's production, turned down the job.
Nicholson told the BBC there were several reasons why he passed on "The Godfather." For one, he felt it should be played by an Italian person. He also said the script he was presented didn't have any scenes with Marlon Brando, something he wanted to do. While Nicholson knew "The Godfather" would be a hit, he felt the other projects he'd been offered, "Chinatown" and "The Last Detail," were ultimately more interesting. Turns out for Nicholson, starring in "The Godfather" was an offer he could refuse.
Dustin Hoffman
In the late 1960s, Dustin Hoffman was one of Hollywood's most promising young actors. Making star-turns in such counterculture films as 1967's "The Graduate," a movie that Smithsonian Magazine argues shifted the norms of what kinds of movies Hollywood would produce, Hoffman positioned himself to be a leading man for a new generation of moviegoers. So it's no surprise that Hoffman's name was on a list of potential actors for the lead role of Michael Corleone in "The Godfather."
Ultimately, Al Pacino was cast as the iconic Michael, but Hoffman would go on to play numerous memorable big-screen roles in movies like "All The President's Men," "Tootsie," and "Rain Man." And while Hoffman skipped out of "The Godfather," his good friend Robert Duvall was cast as Corleone family consigliere Tom Hagen. Dustin Hoffman paved the way for actors like Pacino to be embraced by Hollywood, and as columnist Tim Walker contemplated in an essay for the Independent, "Would Pacino have been in 'The Godfather' if Hoffman hadn't been in 'The Graduate?"
Mia Farrow
Mia Farrow was one of the many actresses considered for the role of Kay Adams in "The Godfather" films. The daughter of "Tarzan" movie star Maureen O'Sullivan, Farrow was best known for playing Allison Mackenzie in the television soap opera "Peyton Place" and for playing Rosemary in the 1968 blockbuster film "Rosemary's Baby." She worked with Robert Evans on "Rosemary's Baby," who oversaw production as a production executive at Paramount Pictures.
As the star of such a massive hit, it's not surprising that Farrow auditioned for "The Godfather," another Robert Evans project. But the role of Kay Adams went to the relatively unknown actress Diane Keaton. Surely, Farrow's ex-husband Frank Sinatra's seething contempt for "The Godfather" didn't help her secure the part. Michael Tolkin, the creator of the television series "The Offer," about the making of "The Godfather," told USA Today that Sinatra was concerned that crooner Johnny Fontaine (Al Martino) was based on him. Ol' Blue Eyes was so upset by his fictional counterpart that he shouted down "Godfather" author Mario Puzo at famed Hollywood hotspot Chasen's.
While Farrow didn't work on "The Godfather," she starred in another Paramount Pictures 1974 adaptation of "The Great Gatsby," the screenplay of which was penned by Francis Ford Coppola.
Martin Sheen
Casting the right actor for Michael Corleone was essential to the success of "The Godfather," and producers cast a wide net to find the right person. Martin Sheen started his acting career on stage and as a guest star on popular '60s television shows like "Mission: Impossible" and "Hawaii Five-O," but by the end of the decade, he had branched out into film. Featured in Mike Nichol's film adaptation of the Kurt Vonnegut novel "Catch-22," Sheen's star was on the rise when casting began for "The Godfather."
Sheen performed screen tests as Michael Corleone and according to Diane Keaton, she did a number of tests with Sheen, per director Francis Ford Coppola's request. But she said he always knew Coppola's heart was set on casting Al Pacino as Vito Corleone's (Marlon Brando) youngest son, telling Vanity Fair "it was always Al." Sheen didn't work on "The Godfather," but he starred in Coppola's similarly epic "Apocalypse Now," a film whose notoriously troubled production saw Sheen suffer multiple personal and medical setbacks.
Laurence Olivier
Laurence Olivier was a 20th century master of both stage and screen, and was considered by the New York Times as "one of the greatest classical actors of his time." In addition to his prolific and influential work on the British stage as an actor and director, Olivier was also a Hollywood screen star. He is still the only person to win two Academy Awards for the same film, earning Oscars for both Best Actor and Best Picture for his 1948 adaptation of Shakespeare's "Hamlet." By the late '60s and early '70s, Olivier was still working in theater and films, and Paramount Pictures had the idea of casting him as Don Vito Corleone in "The Godfather."
Mark Seal reports in Vanity Fair that for director Francis Ford Coppola, the role had to be filled by "an actor of such magnetism, such charisma, just walking into a room had to be an event." Olivier had such credentials, but so did actor Marlon Brando. Coppola told The New Yorker he pressed for Brando to play Don Corleone, but the actor wasn't interested in the role at first, saying he didn't want to glorify the Mafia. However, once word that Olivier would be screen tested got to Brando, his interest in the role was stoked. With the help of a few strategically placed cotton balls and a painted mustache, Brando created one of cinema's most iconic characters. For Olivier, playing Don Corleone would likely have been yet another notch in his already illustrious career.
Danny Thomas
Casting comedian Danny Thomas as Don Vito Corleone in "The Godfather" would have brought a whole new meaning to "make room for daddy." Thomas rose through the show business ranks as a nightclub comedian, radio star, bit-film player, singer, and television actor. The New York Times noted in Thomas' obituary that his sitcom "The Danny Thomas Show," which ran for 11 seasons, was frequently number one in ratings and rarely dropped out of the top 10. Not only was Thomas one of television's biggest stars, but he was also one of its most successful producers. With his partners, Thomas produced monster television hits like "The Andy Griffith Show," "The Dick Van Dyke Show," and "Gomer Pyle U.S.M.C.," making him very rich.
But what's a monied entertainer to do with their wealth? The answer for Thomas was create a vanity project. According to Vanity Fair, Thomas wanted to buy a controlling stake in Paramount Pictures just so he could play Don Corleone. The prospect of Thomas playing the role scared author Mario Puzo so much that he wrote an impassioned plea to Marlon Brando to take on the Don. Sure, Thomas was talented, but the idea of him playing the patriarch wasn't impressive. Warren Beatty, another superstar actor up for the role of Michael Corleone, told Vanity Fair that both he and Jack Nicholson both passed on "The Godfather" when Thomas was attached to it.
Michelle Phillips
Singer Michelle Phillips, perhaps best known as a member of the 1960s pop group the Mamas and the Papas, was, according to NPR, pushed by Paramount Pictures for the role of Kay Adams. With the Mamas and the Papas having broken up in 1968, Phillips was transitioning her career from music to acting. Her first movie role was in 1971's "The Last Movie," directed by the film's star, Dennis Hopper. Phillips and Hopper even had an eight-day marriage after wrapping the film, which she told Vanity Fair was "excruciating."
After her brief detour into matrimony with Hopper, Phillips began seeing his "Easy Rider" co-star Jack Nicholson. During this time, Phillips was auditioning in Hollywood for such movies as the 1971 Nicholson-starring "Carnal Knowledge." Considering that Nicholson was asked to be in "The Godfather," it's not a stretch to assume producers were keen to see if Phillips had what it took to star in their film. She didn't get the part, but her acting career was just getting started, with Phillips later starring in television shows like the prime-time soap opera "Knots Landing."
Blythe Danner
Blythe Danner has been appearing on the stage and screen for decades and, as NPR reports, was one of the up-and-coming actresses being considered for "The Godfather." Before acting in film, Danner acted in a number of Broadway productions, winning a Tony Award for her performance in "Butterflies Are Free." However, her early stage accolades didn't necessarily translate into mainstream Hollywood success.
Danner's first roles were in television movies, but she was on the radar of producers enough to be in contention for the role of Kay Adams. Danner didn't make the cut for "The Godfather," and she wasn't even cast in the film adaptation of "Butterflies Are Free," but her career picked up steam with solid performances in movies like "To Kill A Clown" and television shows such as the small-screen adaptation of the Hepburn/Tracy film "Adam's Rib." Danner has continued to act through the decades and she has embraced her non-leading lady Hollywood status, telling The Guardian "I'm a company person — I'm a supporting player."
Winona Ryder
Winona Ryder was one of the hottest teen actresses of the late 1980s. Starring in such movies as "Lucas," "Beetlejuice," and "Heathers," Ryder's depictions of adolescent angst were rooted in equal parts tough, tender, and bizarre. She was a star on the rise when Ryder was cast in "The Godfather Part III" as Mary Corleone, daughter of Michael Corleone. Unfortunately for Ryder, filming three movies back-to-back left her exhausted. She told the Los Angeles Times when she arrived on the set of "Godfather III," she was sent home by studio doctors, who informed her she was too sick to work.
Ryder might have been wiped out by her demanding work schedule, but powerful Hollywood players were telling her not to pass up the project. Producers and agents encouraged Ryder to work through her illness. But it was her "Mermaids" co-star Cher that recognized the need for rest, exclaiming to the Los Angeles Times, "you can't start a film on 'empty.'" After considering such actresses as Madonna and Julia Roberts as her replacement (via IndieWire), the role of Mary went to director Francis Ford Coppola's daughter Sofia Coppola. Critics were not kind to this casting choice, with Entertainment Weekly saying it could further damage Francis' flailing career and ruin Sofia's before it even started. Despite the harsh prediction, Sofia's career flourished, not as an actress, but as a celebrated writer and director of such films as "The Virgin Suicides," "Lost In Translation," and "Marie Antoinette."
Elvis Presley
When "The Godfather" was published in 1969, the book was a bonafide phenomenon, with CBS News reporting it stayed on bestseller lists for over a year and sold millions of copies. One fan of "The Godfather" was Elvis Presley. The King of Rock and Roll was fond of the Corleone family saga and saw himself playing a role in its film adaptation. By the time "The Godfather" went into production, Presley was a Hollywood film veteran, having starred in over 30 movies like "Jailhouse Rock," "Viva Las Vegas," and "Speedway."
These bouncy, confectionary movies were perfect vehicles to showcase Presley's musical prowess, but not necessarily his acting chops. Perhaps he saw a role in "The Godfather" as a way to transition into dramatic acting. In a discussion with NPR, Mark Seal, journalist and author of "Leave the Gun, Take the Cannoli: The Epic Story of the Making of the Godfather" confirms the rumor that Presley wanted the role of Corleone family consigliere Tom Hagen. Of course, Robert Duvall went on to portray Corleone family advisor, and Presley's last film credit was 1969's "Change of Habit." Even though Presley's film career ended before "The Godfather" was released in 1972, he still had the opportunity to "take care of business" with his "Memphis Mafia" in real life.
Burt Reynolds
Burt Reynolds was one of the hottest and most popular movie stars of the 1970s. Even a brief survey of the roles Reynolds turned down illustrates how in-demand he was at the height of his career. James Bond, Han Solo, and Jack McClain are just a few of the legendary characters that Variety reports Reynolds turned down. And you can add Michael Corleone to that list. But it's not that Reynolds turned down the opportunity to star in "The Godfather" — rather, it was the wrath of his potential co-star Marlon Brando that kept him from the project.
According to Esquire, Brando's hatred of Reynolds was well known in Hollywood. Unearthed audio recorded on the set of "Apocalypse Now" confirmed this, with Brando saying of Reynolds, "he is the epitome of something that makes me want to throw up." Brando even threatened to quit "The Godfather" if Reynolds was cast. Reynolds ultimately didn't take the role, but he told Andy Cohen on "Watch What Happens Live" that he "was flattered that [Brando] was upset."