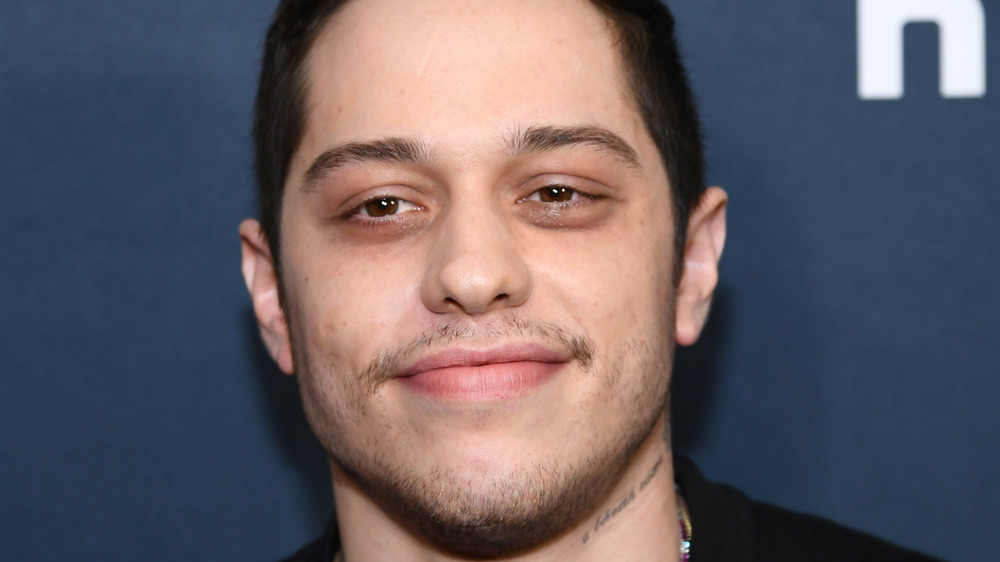 Comedian Pete Davidson has made quite a name for himself. The actor and comic is perhaps known for his appearances on Saturday Night Live (via IMDB) and his relationship with his former girlfriend, singer Ariana Grande. Fun fact — Davidson is the first star on Saturday Night Live who was born in the 1990s. Davidson has also appeared on several MTV shows like Fallosophy, Wild 'n Out, and Guy Code.
Davidson may have several achievements under his belt, but things haven't always been easy for the entertainer. For instance, he was a part of a Fox show in 2014 called Sober Companion, which was never released. Thankfully, Davidson got an opportunity to be a part of Saturday Night Live after that and was able to make the most of it. Davidson's life hasn't been rosy in the least. From losing his dad when he was a child to battling addiction and learning to live with a chronic illness, there are plenty of things that are relatively not as well-known as far as the comic's life is concerned. Here's a glimpse into the star's tragic past.
If you or anyone you know is having suicidal thoughts, please call the National Suicide Prevention Lifeline​ at​ 1-800-273-TALK (8255)​.
Pete Davidson lost his dad in the September 11 attacks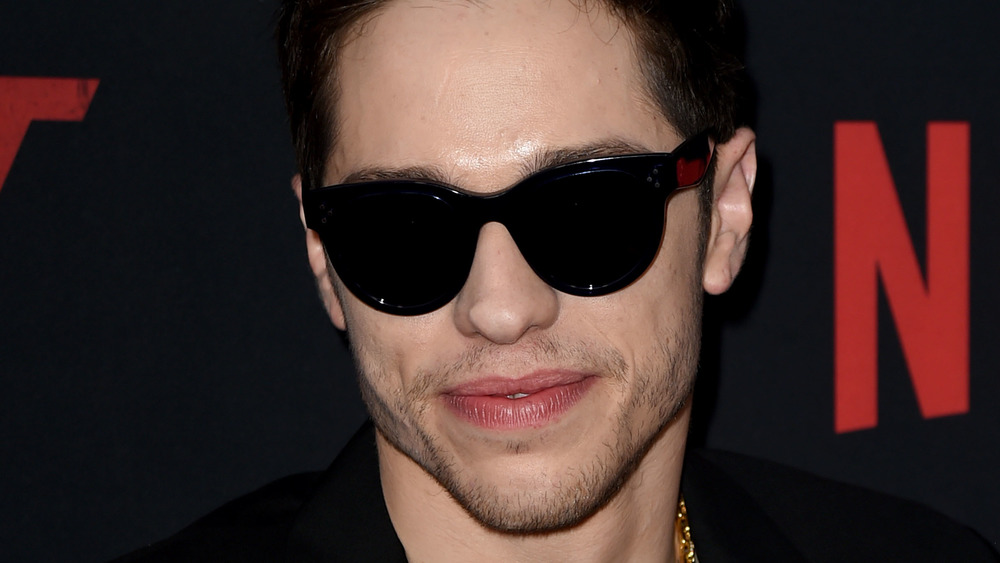 For Pete Davidson, one of the worst things that happened to him when he was just 7 years old was dealing with the loss of his father. On Sept. 11, 2001, Davidson's dad, Scott, who was a firefighter, lost his life in the attack on the World Trade Center as he rushed to rescue trapped people at the Marriott World Trade Center hotel. After he made his way into the building, the tower where the hotel was located soon collapsed after it was hit by the second hijacked plane.
As per Screenrant, losing his father was extremely traumatic for Davidson, who didn't really know how to cope with his loss. He was so distraught that he had to seek help from mental health facilities in order to cope and feel better. According to a piece by the New York Post, Scott Davidson was just like his son and had a terrific sense of humor. A former classmate said that Scott was always willing to goof off and loved making others laugh.
Scott was 33 years old when he was killed on 9/11. In 2014, Pete remembered his dad and tweeted, "Can't believe it's been 13 years. Feels like it was just yesterday. Words can't express how much I miss you."
Pete Davidson had a rough time growing up
After losing his father, Pete Davidson found it tough to confront his demons and deal with everything he was going through. As per a New York Times profile, Davidson was prone to releasing his emotions in unusual ways as a kid. His mother, Amy, said, "It was sad how sad he was growing up." At school, Davidson once ended up pulling out all his hair in frustration, and he said later that in many ways, he was a "lab rat" for physicians who were trying to understand the experiences of children of victims from the terror attacks. Davidson remembered his early days with one word — "overwhelming."
Additionally, as a school kid, Davidson was not spared by his peers and was bullied. In an interview, he revealed to Peter Rosenberg that he had just one friend he could trust in high school, and many other kids were not nice to him. He said, "I was in school having a rough time grieving so I was acting out a little bit. I didn't have any friends."
Pete Davidson turned to comedy early
Interestingly, Pete Davidson was drawn to comedy really early. He was still a teenager when he performed for the first time. As per a piece by The Ringer, he was 16 years old when he took to the stage at the Looney Bin Comedy Club. He was a little awkward and a bit unsure but went ahead and delivered an impressive act nevertheless, saying the most unusual lines without batting an eyelid. For example, he cracked a joke about being attracted to "cougars — I think 21-year-olds are so hot." He later explained his style when he said that he prefers being himself and can't do impressions. He said, "I don't know how to act or write characters or do impressions."
It also helped that Davidson received a lot of support from his mom as far as stand-up comedy was concerned and would take him to the gigs he wanted to go to. She told The New York Times, "He had a tough time growing up without a dad — I wanted him to be happy, and this [stand-up comedy] made him really, really happy," she said. For Davidson, comedy clubs felt like a safe haven where he could finally blend in and feel at ease.
Pete Davidson has Crohn's disease
Pete Davidson has battled a chronic illness ever since he was a teenager. As per Cheatsheet, he was first diagnosed with Crohn's disease when he was around 17 or 18 and has learned to live with it. He mentioned that even though he got medical assistance and whatever he needed from doctors, the only thing that seemed to work for him was marijuana. He said, "My stomach would just be in pain all day and I wouldn't be able to eat, and then I'd smoke, I'd be able to eat and be able to do my shows."
Crohn's disease, according to the Crohn's & Colitis Foundation, is a chronic ailment, an "inflammatory bowel disease" that can result in your gastrointestinal tract being inflamed. Some of the symptoms include constipation, pain and cramps, diarrhea, rectal bleeding, and more. Despite living with Crohn's for a major part of his life, Davidson hasn't let the illness bring him down. Back when he was with Ariana Grande and got bullied for the dark circles under his eyes, which can be a symptom of his ailment, his former girlfriend shot back at haters and wrote on Twitter, "Y'all do know this man has an auto immune disease, right?"
Pete Davidson has battled addiction
For Pete Davidson, turning to something like marijuana to perform has had a negative impact on his life. He found himself getting addicted over the years. In fact, as per Cheatsheet, the star has had to check himself into rehab and seek help for his addiction in the past. He has never shied away from speaking about his journey, though. In 2017, he publicly spoke about seeking help to beat addiction and being sober after a long time.
Interestingly, he even mentioned his decision to go to rehab on Saturday Night Live. He cracked a joke and said, "I'm going on a little 'vacation.' You know, the kind of vacation where insurance pays for some of it, and they take your phone and shoelaces. And you have roommates but it still costs like, $100,000." In addition to seeking help for his drug use, he also mentioned that rehab was good for his mental health battles and helped him immensely.
Pete Davidson used Kid Cudi's music to get by
While Pete Davidson was trying to find ways to deal with his demons and keep himself afloat, he found some solace when he discovered Kid Cudi's music. According to Billboard, the musician's work was instrumental in helping him get through his darkest periods. He said, "I would've killed myself. Absolutely. 100 percent. I truly believe if Man on the Moon didn't come out, I wouldn't be here."
He also spoke about how learning about Kid Cudi's mental health battles was something that he found rather enlightening. He said that it would have helped if the musician had opened up about his personal battles, because that would have made others relate to him even more. He added,"I've been in and out of things like that and I think that's why a lot of kids my age can relate to Cudi," Davidson said before adding that his fans love him because he's not afraid to be emotional, which in turn helps everyone else.
Pete Davidson has borderline personality disorder
In addition to the things that he already struggles with, Pete Davidson also lives with borderline personality disorder (BPD). As reported by Time, Davidson's BPD diagnosis was only revealed in 2017. He did take to Instagram where he once wrote at length about how his behavior had led to others lashing out at him. He wrote, "I've been getting online bullied and in public by people for 9 months." He added that one of the major reasons he decided to go public with his diagnosis was the fact that he hoped that his revelation would help others who found themselves in despair like him.
As per a piece by Today, many experts praised Davidson for choosing to go public with his diagnosis. An assistant professor of psychiatry at Ohio State University Wexner Medical Center, Sophie Lazarus, said that for someone like Davidson to speak up about his diagnosis can go a long way in taking away the stigma attached to the illness. She said, "Someone who thinks they are untreatable or overly emotional or damaged might see this and look up what the symptoms (are) and seek treatment."
Pete Davidson has bad luck in relationships
When it comes to Pete Davidson's personal life, things have been rocky, to say the least. The comedian was with popular singer Ariana Grande for a short period, and the two hit it off so well that they even ended up announcing their engagement in 2018 (via People). Someone close to Grande said back then that their breakup wasn't surprising, because things happened way too fast. Davidson was majorly impacted by the split and even deleted his social media accounts after the break up. The split was announced right after Grande lost her ex-boyfriend, Mac Miller, to a drug overdose.
Before his relationship with Grande, Davidson was also linked to Cazzie David, comedian Larry David's daughter (via Cheatsheet). Cazzie once revealed that when she found out that Davidson had decided to conceal tattoos that were dedicated to her, she felt distraught and worried.
Recently, Davidson was believed to be in a relationship with model Kaia Gerber, an alliance that unfortunately ended as well.
Pete Davidson battled suicidal thoughts
Back in 2018, after his breakup with Ariana Grande, Pete Davidson scared many fans when he took to Instagram to share a message that was highly unsettling. He wrote, "I'm doing my best to stay here for you but I actually don't know how much longer I can last. All I've ever tried to do was help people. Just remember I told you so." After posting this message, Davidson got rid of his account, but his worried fans were quick to react (via Variety).
The New York Police Department went to check in on Davidson and made sure that he was safe and "accounted for." His message received comments from hordes of fans who offered him support. Unfortunately, a few commentators encouraged him to take his life. Other celebrities offered their support to Davidson as well, and Kid Cudi tweeted, "Thinkin about U, Pete. Hit me back, bro." Thankfully, nothing drastic happened, and Davidson was safe.
This wasn't the first time the star had struggled with thoughts of suicide. Even as a child, according to an Insider piece, Davidson once tried to take his own life in a pool but survived.
Pete Davidson has been reckless
If there's one thing Pete Davidson doesn't shy away from doing, it's being transparent about his dark side and opening up as much as he can about the things he's gone through. As per a piece by People, Davidson revealed earlier in 2020 that he was extremely reckless back in 2018, when he was going through an especially difficult time and would turn to unhealthy outlets to feel better. He said, "I mean, just like testing the waters. And until I met the right treatments and met the right doctors and did all the work that you need to do to, like, not feel that way, it got pretty dark and scary."
He would do things like drive on busy streets with his eyes shut. He also didn't put on a seatbelt during those times. Luckily, nothing bad came out of it, but the entertainer acknowledged how scary and rash that choice was.
Pete Davidson used tattoos to cope
Pete Davidson has often used tattoos to reclaim his voice, express himself, and cover up the scars he has from self harm. According to a piece by The Mighty, Davidson would often hurt himself by cutting to deal with his emotions. In an interview, he gave his fans more perspective when he was asked how he knew he needed to get professional help. He said that he knows things are going south when he ends up cutting himself, and things feel a bit too unbearable, or even when his loved ones come up to him and say something like, "Hey, we're all like worried, so you should go [get help.]"
He added that he has a good circle of friends and loved ones who care about him and his mental health. Additionally, he revealed that he first started getting inked to conceal the scars he sustained from hurting himself. According to the The New York Times, Davidson got a tattoo of his father's badge number on his left arm as a tribute to Scott Davidson.
Pete Davidson's personal battles were often spoken about more than his work
Unfortunately for Pete Davidson, despite being the powerhouse of talent that he is, his personal life has often overshadowed his professional triumphs. It's also worth mentioning that Davidson has often used that in a way that lets him continue making jokes. As a GQ profile illustrated, Davidson once said while roasting Justin Bieber, "I lost my dad on 9/11, and I always regretted growing up without a dad. Until I met your dad, Justin. Now I'm glad mine's dead."
Davidson, in fact, was enough of a sport to allow a movie to be made on his life called The King of Staten Island (via The Washington Post). He explained that when you're being portrayed in a certain light by tabloids, you don't quite get to choose how you are represented. He explained, "So I really took advantage of this opportunity [in the film] to show how I truly feel. And I think that there's something beautiful in that."
Pete Davidson felt bullied on SNL
One of the most interesting and hard-hitting revelations that Pete Davidson has ever made is the fact that he has felt targeted and bullied on Saturday Night Live. Earlier this year, according to a Refinery29 piece, Davidson got super candid while speaking to his pal, Charlamagne tha God. He said that he's been unsure about what was happening on the show. He explained that while he felt extremely excited about being on the show at first, he realized that he was often being targeted in jokes in the subsequent seasons.
Davidson put it simply when he explained exactly how he felt. He said, "I have a weird feeling in that building where I don't know whose team they're playing for, really. If I'm the joke or I'm in on the joke." There may be some truth to this as many sketches that Davidson has been a part of made him push himself in many ways. Either he was portraying a dumb character, or he was opening up about morbid and extremely private details from his life. Essentially, Davidson wasn't sure whether he was really being respected on the show and even wondered whether it was a good idea for him to leave Saturday Night Live at one point.