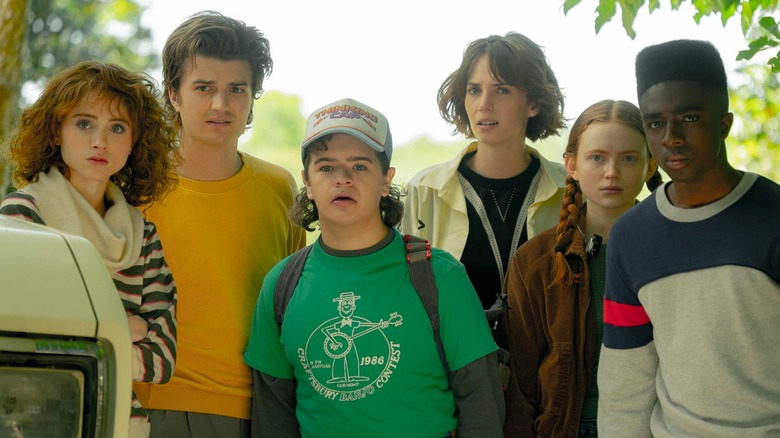 Another season of "Stranger Things" means one thing — another surge in '80s fashion. Okay, so technically it also means another chance to save the world, but these kids are doing it in style. Season 4 of the show revealed that the cast is stuck in the year 1983 (via CBR), which is terrible for anyone stuck in the Upside Down but also really good for the fashion. It turns out that some of us living in 2022 would love a trip back to the '80s for the fashion if for nothing else. Zavvi found that there's been a surge in popularity for '80s fashion items since the show came out.
While it's always entertaining to see what other-worldly monsters the cast of "Stranger Things" is fighting in the new season, it's also really great to see all the fashion. From leg warmers and flared jeans to animal prints and mullets, the styling on the show is just as good as the plot. Don't be surprised if you start seeing a whole lot of those items on your social media feeds and even just walking down the street.
Here are all the old-school fashion trends that have been on the rise since the show came out, according to the pop culture specialists at Zavvi, so you can be prepared.
Mullets are back in a big way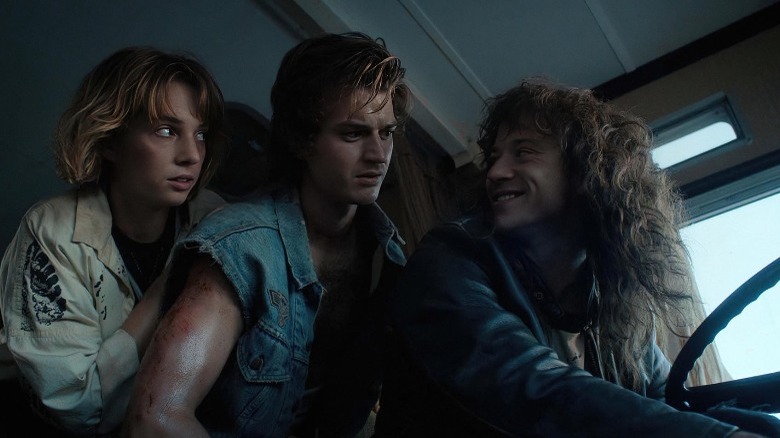 "Stranger Things," Season 4 brought Eddie Munson (Joseph Quinn) to the screen. His love for Dungeons & Dragons was great, but there was one thing that was even better — his mullet. Believe it or not, according to Zavvi, mullets have been the top '80s trend since the show came out. The site reports that there was an epic 1.9 million searches for the hairstyle in the past year, and a whole lot of that likely came from the time when Eddie was on screen.
In fact, people are comparing the character to another '80s heartthrob. According to PopBuzz, fans think that Eddie looks exactly like a young Robert Downey Jr. Basically, something tells us that he and his mullet will be here to stay. You know, if he can stay alive and out of jail and escape the group of people trying to beat him up throughout the rest of the season.
Leather and bomber jackets are having a moment
There's no denying that there are some extremely epic jackets on "Stranger Things." From Lucas Sinclair's (Caleb McLaughlin) newly earned letterman jacket to Steve Harrington's (Joe Keery) bomber jacket, there are plenty of styles to choose from. It looks like people loved every one of them, too. Zavvi found that there were over 517,000 searches for leather jackets and 486,000 searches for bomber jackets in the past year. We can thank a whole lot of characters on the show for that.
In fact, according to Top Trends, bomber jackets are one of the most popular fashion items for men in 2022. This look isn't just for people flying planes through Russia, like we see members of the cast doing. The accessory is becoming a highly sought-after street look. It's like people just knew that "Stranger Things" was coming so they got prepared. From the characters flying a Russian airplane in them to the cast breaking into the Upside Down wearing them, these jackets are obviously pretty versatile.
Leggings and spandex throw it back to the '80s
No true '80s renaissance is complete without leggings and spandex in the mix. While the items don't get a super prevalent spot in the show, the fashion items are definitely a sign of the times. According to Zavvi, leggings had almost half a million views while spandex came in at just over 200,000 on the '80s trend watch. Of course, with rollerskating rinks being a hot spot in the show, it only makes sense that these trends would come with it.
Leggings are one of those fashion items that will truly never go out of style. While people don't always wear the brightly colored ones that were seen in the "Stranger Things" roller rink scenes, there are tons of different ways to make the trend modern. As Elite Daily found, there's a legging style for every single occasion, which makes these the perfect clothing option no matter the decade. Comfort and fashion? This style won't be going anywhere anytime soon.
It's time to consider growing a mustache again
Okay, this might not be a fashion trend that you can buy from the store, but there's no denying that there were some epic mustaches on the latest season of "Stranger Things." While the kids on the show are growing up, none of them are anywhere near ready to grow facial hair anytime soon. It was all up to Jim Hopper (David Harbour), Murray Buaman (Brett Gelman), and Yuri Ismaylov (Nikola Đuričko) to make mustaches the star of the show.
According to Zavvi, there were more than 331,000 searches for mustaches in the past year, and there's a good chance that "Stranger Things" can be held accountable for those clicks. The men came through in this show so don't be surprised if you see a handlebar mustache or two this fall. This might be an '80s trend seen on the likes of Tom Selleck, Lionel Richie, and Hulk Hogan (via People), but facial hair is definitely on the rise again in 2022.
Ripped and flared jeans didn't die in the '80s
While some supporting cast members were rocking leg warmers and spandex, denim had a serious moment with the main crew of "Stranger Things." From the scene where Max (Sadie Sink) was lifted in the air by Vecna to the kids falling back into and out of the Upside Down, there were a whole lot of denim moments. All of those '80s styles are having a moment in real life, too. Zavvi's research found that the ripped jean style was up to 225,000 searches while the flared jeans trend clocked in — see what we did there — with over 150,000 views.
As Who What Wear points out, the '80s-style jean has been having a moment since 2019. The show's third season came out that year so it makes sense that the resurgence would be alive and well. With another season of "Stranger Things" already in the works, according to Newsweek, it's safe to say that you can go ahead and invest in this style because it will be here for a while. Especially with the show's cast members stuck in 1983.
Of course, leg warmers are part of the '80s resurgence
You didn't think that the '80s could come back without leg warmers, did you? Okay, so this is probably the least practical fashion item named on this list, but it turns out there could be a resurgence. According to Zavvi, there were almost 100,000 searches for the accessory in the past year. While that is by no means groundbreaking, it does show that the "Stranger Things" featured accessory could be on the rise.
The fourth season of the show isn't the only thing spiking leg warmer searches, though. According to InStyle, Jennifer Garner single-handedly tried to bring back the leg warmer trend when she stepped out on a walk in them in 2021. She rocked a super-high pair that almost resembled socks over her running leggings for a more modern take on the trend. This could be another trend that gets popular right around the fall season, so stay tuned.
People are also looking at bringing animal prints back, too
Last but definitely not least was a rise in animal prints. The pop culture specialists at Zavvi found that there was nearly a 100,000 searches for the '80s print. This trend wasn't featured too prevalently on "Stranger Things" so it makes sense that it was at the very bottom of the list, but a rise in searches is still definitely a sign of the times. Complex noted that the wild prints were one of the best trends of the decade. Other trends to keep an eye peeled for if the era continues to take over the style game include neons and acid wash.
Needless to say, the '80s are alive and well thanks in part to "Stranger Things." Each season, the different styles that appear onscreen get even better somehow. We're looking at you and that super-crimped hair, Karen Wheeler (Cara Buono). With another season already in the works, you might as well just start stocking up on the era's best fashion pieces now. Fingers crossed that they continue into the '90s, so we can see how the cast rocks those trends, too.