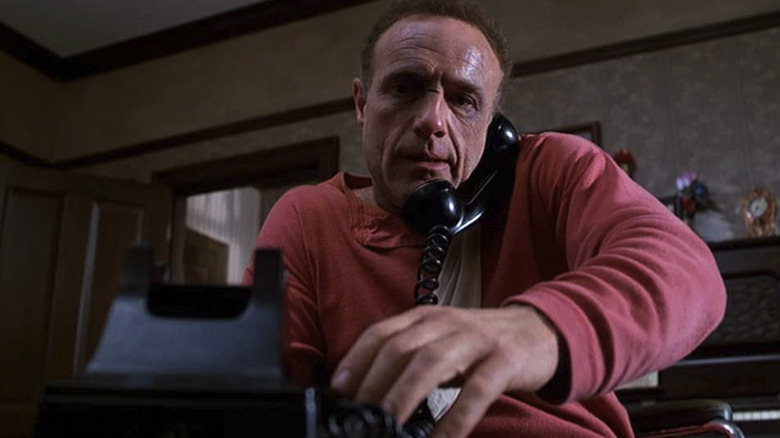 Rough-hewn and down to Earth, James Caan carried with him a fiery, tough-guy persona that always appeared to be undercut by an element of melancholy. Caan was very good at playing characters pushed to — or living by — extremes, and always brought an element of angry confidence to many of his roles. He frequently played football players, criminals, mob bosses, and cops. But Caan was never a mere clenched fist, always able to bring an element of complex humanity to his performances. In life, he was just as appealingly forthright as many of his characters, having become deeply involved on Twitter, often posting promotional stills and personal photographs from his six-decade film and TV career.
Caan's first film acting credit was in 1964 thriller "Lady in a Cage." The following year, he received a Golden Globe nomination for the Sam Peckinpah-scripted western "The Glory Guys." One of his first high-profile roles was acting opposite John Wayne and Robert Mitchum in Howard Hawks' penultimate film, "El Dorado." By the time he appeared in the celebrated TV movie "Brian's Song," Caan was an established quantity, and he would go on to work with some of the most celebrated directors in world cinema. His final film released during his lifetime was the 2021 romantic comedy "Queen Bees," about people in their 70s and 80s finding love. Caan passed away at the age of 82.
With a broad career to look back on, a mere five performances will certainly not represent a full gamut of Caan's talents, but the following five films are certainly among the most noteworthy.
Brian's Song (1970)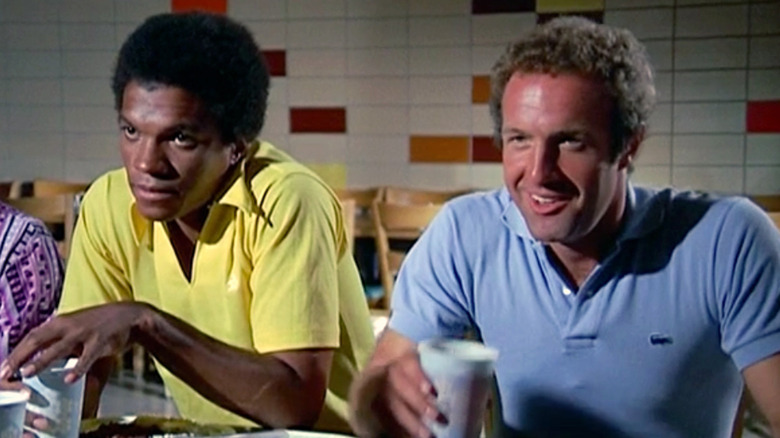 An ABC Movie of the Week, "Brian's Song" had garnered a reputation as one of the great "manly weepies" in entertainment history, and became so popular that it was eventually released theatrically. In it, Caan plays real-life Chicago Bears footballer Brian Piccolo who died of cancer in 1970. Piccolo's death was tragic, but his story was inspiring, and "Brian's Song" envisions Piccolo's life through the lens of his close friendship with Gayle Sayers (Billy Dee Williams) as Sayers and Piccolo, evidently, were the first interracial roommates in the NFL. Caan and Williams are brilliant together, mining a deep and abiding mutual regard initially out of pranks, then a respect for one another's skill on the field, and ultimately as human beings.
The cultural impact of "Brian's Song" was felt for generations, and its reputation for making men cry was lampooned in the satires of future generations: One might recall an episode of "Pinky and the Brain" wherein an evil mouse attempted to conquer the world by showing everyone "Brian's Song" and making them all too bummed out to resist domination. It almost worked.
"I love Brian Piccolo, and I'd like all of you to love him, too. Tonight, when you hit your knees to pray, please ask God to love him, too."
"Brian's Song" is available for rent through most online rental outlets.
The Godfather (1972)
While Francis Ford Coppola's "The Godfather" codified the mob genre for a new generation of filmgoers, it's just as much a tragic Shakespearean history as it is a story of crime. In "The Godfather," Caan plays Sonny Corleone, the elder son of the stern and powerful Vito, played by Marlon Brando. With Vito ailing, and the world of organized crime changing — the mob asks the question as to whether or not they want to get involved with drug dealing — a central question rises as to who will become the heir to the throne: The hotheaded Sonny, or his reluctant but far better-equipped brother, Michael (Al Pacino).
Sonny is a dangerous presence in "The Godfather," and his decisions as a family head exacerbate criminal relationships and ultimately lead to more death. He provides a dark, violent balance to the rest of the relatively low-key Corleone clan. Sonny seems to understand that the world of organized crime is a place ripe for violence, and Caan's impatience and wrath reminds the audience that the mob is not a place of rosy handshakes and moneyed respect. It is always on the precipice of murder and death.
"The Godfather" is streaming on Paramount+.
Alien Nation (1988)
Graham Baker's 1988 cop thriller "Alien Nation" saw Caan paired with a new partner (Mandy Patinkin) that he didn't think highly of and held racist attitudes toward. Over the course of the film — in true buddy cop fashion — Caan and Patinkin develop and mutual respect and regard for one another, learning about each other's cultures, and understanding the unique threats that immigrants face in the modern world. The sci-fi twist is that the Patinkin character is an extraterrestrial — a Newcomer — and 300,000 members of his species crash landed on Earth a few years earlier. "Alien Nation" is about the Newcomers' struggles with integrating into human society.
Caan plays Sykes, the face of humanity in "Alien Nation," so he is hot-tempered, annoyed, and bigoted. When he first meets his partner, Caan makes fun of his name (Sam Francisco), and Sam makes fun of his name right back: "Sykes" sounds like the Newcomer words for "excrement" and "head."
Between "Alien Nation" and "Brian's Song," Caan was expert in telling stories of friendships overcoming bigotry.
Misery (1990)
Rob Reiner's 1990 film "Misery" tells the story of Paul Sheldon, a very Stephen King-like author, whose recent series of melodramas — starring a character named Misery Chastain — is coming to an end. When Paul crashes his car on a snowy road, he is unexpectedly taken in by Annie Wilkes (Kathy Bates) a recluse who lives in a remote cabin. As it so happens, Annie — polite to a disturbing degree — is the world's biggest Misery fan, and is thrilled to have Paul in her company. But when she finds that Misery dies at the end of the latest novel, she keeps Paul hostage, forcing him to write new novels to her liking under pain of torture.
Caan was ideal casting for Paul Sheldon, as the actor ordinarily projects such confidence and authority, and Paul required that to fight back against his number one fan. In being hobbled by Annie, we see how evil and in control she really is. Caan has never been more panicked or fearful than he was in "Misery," and he and Bates play perfectly off one another in what would prove to be one of the scariest films of its decade.
"Misery" is on Fubo, Cinemax Go, DirecTV, and Showtime.
City of Ghosts (2002)
Matt Dillon's directorial debut "City of Ghosts" isn't widely discussed — the film ultimately gets bogged down in a long, turgid romance — but it's worth a look for Caan's presence. In "Ghosts," Dillion plays a low-tier con man whose mentor, Marvin (Caan), has gone missing in Thailand, partly to hide out from the law and partly to start up a new scheme there. In the fashion of "Apocalypse Now," the Dillon character must trek into an unfamiliar country to find him. Unlike "Apocalypse Now," though, the two are happy to see one another when they meet.
Caan's Marvin is a con man and a criminal who seems to be idly looking toward his own mortality, and he projects equal amounts of late-stage ambition and utter weariness. Dillon and Caan work strangely well together, both communicating an old world masculinity that both characters seem to know has gone completely stale. Marvin understands the ways of criminal enterprises, but seems finished. Rather than go gracefully into the good night, however, he takes on a scheme that involves perhaps way too many corrupt governmental players than he is prepared to face. It's a lesser-known performance that should be seen by a wider audience.
"City of Ghosts" is on HBO Max.