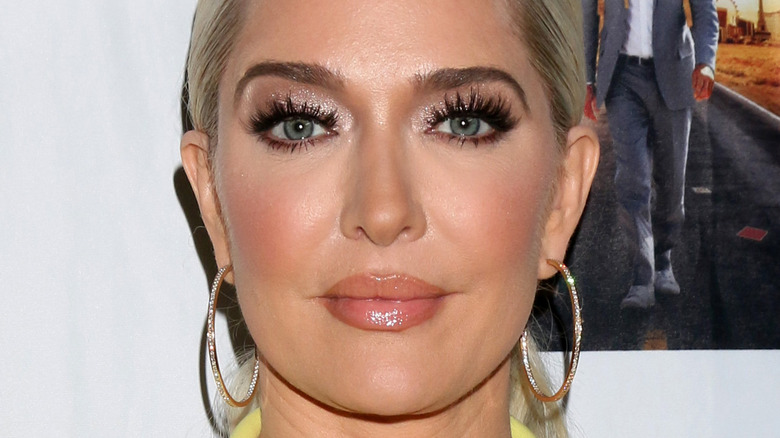 There is nothing understated about Erika Jayne. From her platinum blond extensions to her $40,000 a month glam squad to her late-in-life music career, Jayne knows how to make an entrance. While she's clearly comfortable in the public eye, the scandals surrounding her marriage to Tom Girardi is probably something she'd rather not discuss.
When Jayne first appeared on "Real Housewives of Beverly Hills," it was as Girardi's third wife. Her husband, presumably very busy with work, was rarely seen, though Jayne noted they often met up for lunch and dinner. A few years later, Jayne filed for a divorce, and a few months after that, her and Giradi's lives came crumbling down. Since 2020, Girardi has been facing a slew of lawsuits claiming that he embezzled millions of dollars from his clients over the years, per Los Angeles Times. Though they are separated, Jayne has been implicated, too, with certain suits claiming she was well aware of what Girardi was doing and was even a "frontwoman" for his crimes.
Below, we've combed through all the weird parts of Girardi and Jayne's relationship from the 33-year age gap to the potentially criminal.
Tom wasn't expecting to marry Erika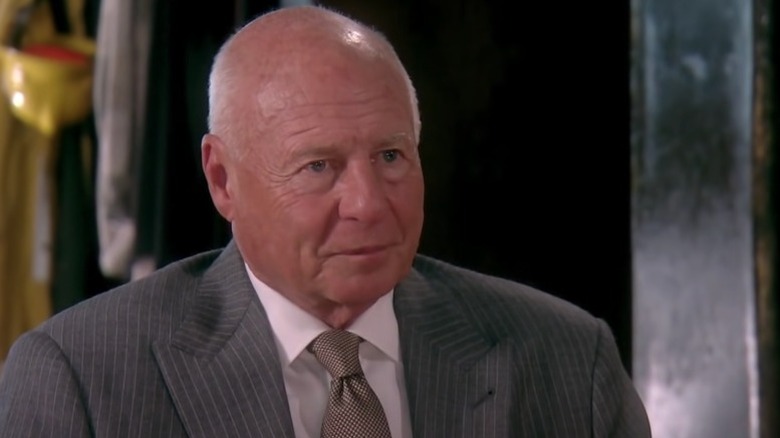 Tom Girardi and Erika Jayne might seem like an unlikely match to most — after all, they're 33 years apart — but it might come as an even bigger surprise to learn that upon first meeting Jayne would have agreed. "Marriage was the furthest thing from my mind," Jayne told People. The pair met at a restaurant in LA, and even though Jayne was a single mother coming off a divorce at the time, and Girardi had recently been through a divorce himself so neither was looking for anything serious. Things got serious fast. Within six months, they were living together, and a few months after that, they were engaged. "What was really important to me was my relationship. Tom wasn't going to change," Jayne explained. "He was a grown man. It really was two people coming together who really enjoy each other's company."
Eventually, they got married, but Girardi refused to wear a wedding ring, something which surprised Jayne, but she learned to accept."After our engagement, Tom said, "Listen, I'll buy you anything you want. I don't care what it is," she wrote in her book, "Pretty Mess." "You name it. But I'm not wearing a wedding band. I never have, I never will. I don't like it. It's uncomfortable. Please don't ask me to."
Tom and Erika didn't have a prenup
It seems incredible given Tom Girardi's net worth — which at its peak was upwards of $200 million – that he wouldn't insist on a prenup when marrying Erika Jayne, but apparently, he didn't. When Andy Cohen probed that line of questioning back in 2017, Erika brushed a prenup off as a waste of time. "I'm married to a very powerful lawyer. A prenup wouldn't stand in his way anyway," she said. "So it doesn't matter whether you had one or you didn't, it's going to be all Tom's way, I assure you."
Fast forward a couple of decades, and Girardi may be wishing he'd pushed for a prenup. After filing, Jayne also requested spousal support, per Us Weekly. Jayne also demanded that Girardi not be able to later seek spousal support from her. A few weeks later, Girardi filed a petition to withdraw all spousal support, given his ongoing legal troubles. In all likelihood, Jayne and Girardi's divorce will not be finalized until their more pressing legal issues have been settled, and a full picture of the remaining assets emerges.
Tom and Erika had a blended family
Their now-infamous marriage was neither Erika Jayne nor Tom Girardi's first. Girardi was married twice before meeting Jayne and has several kids from those relationships. If you thought that Girardi's kids might resent a stepmother thirty years younger than their dad (i.e., basically their age), think again. By all accounts, Jayne and her stepchildren get along famously. "We always go to Tom's daughter's house for Thanksgiving," she said during an RHOBH episode, per Bravo. "It's wonderful… She's a chef, so it's, forget about it. "Jayne also joked that the age difference helped her bond with them. "I got very lucky that Tom has really nice kids," she said, quipping, "And I'm their age."
As for Jayne, she has one son, Tommy Vizzo, who was still a child when she and Girardi got together. "That's the one thing I loved most about Tom, when my son was younger, was that he welcomed him with open arms," Erika said in an episode of "RHOBH." "I'm very thankful. That's my guy." Even though he's fully grown now, Vizzo is still tight with Girardi. So tight in fact, that he allegedly tried to save him after a burglar broke into Tom's home after his split from Erika, per The Sun. When we say allegedly, we mean allegedly – but more on that later.
Tom supported Erika's dreams
Though Erika Jayne has been back and forth about her relationship with Tom Girardi, one thing that is clear is that Girardi really supported his wife — at least financially. When Jayne showed up on "RHOBH," she was a self-proclaimed "pop star." In order to maintain that image, Jayne traveled with a glam squad whose sole job was to keep her camera-ready. With Girardi's help, Jayne spent around $40,000 a month on hair and makeup, per the Daily Mail.
Following her divorce, Jayne became embroiled in Girardi's legal troubles for allegedly spending upwards of $25 million of his company's money on her music career, glam squad, and other charges over the years, per Page Six. As a result, the trustees overseeing Girardi's bankruptcy case sued Jayne for knowingly receiving millions of dollars from Girardi's firm, which she then spent on herself. Jayne has maintained she had no idea of any wrongdoing. However, an official letter from the attorneys obtained by the post reportedly read: "Mrs. Girardi signed under penalty of perjury the return and personally approved the charges allocated to the breakdown." The case is ongoing, but if a judge finds that Jayne was at fault, then it's possible she'll have to pay back the large sum out of pocket — regardless of her divorce from Girardi.
Erika thinks Tom was controlling
Now that her marriage is over, Erika Jayne has begun to reflect on some of the less-than-great aspects of her relationship with Tom Girardi. Due to Girardi's large net worth, money always played a big part in the marriage, and, according to Jayne, caused a major power imbalance. "I'll say this. I was 27 when I went in [to the marriage]. He was 60," she explained on an episode of "RHOBH," per People. "The power balance is way out of whack. I trusted this man. All of my finances were kept down at the firm, and everything was kept there." Jayne further explained that when the marriage ended, and Girardi was charged with defrauding his clients, she lost access to almost all her money. "I walk out with two credit cards, they get cut … Who am I going to go call?"
Jayne claimed that she wasn't allowed to keep any of the money she earned working on Bravo either. "I gave every paycheck to my husband. I've handed every paycheck I've ever made over," she told Andy Cohen during a Season 11 reunion episode, per Page Six. When further probed about why she didn't just leave when things with Girardi started going south, Jayne claimed that it was because of the money. "I stayed because I had no access," she said. "You're characterizing it as 'for the money.' I'm telling you I could not leave because I had no access to the money."
Erika may still be looking out for Tom
It seems to some that Erika Jayne is still supporting her estranged husband, Tom Girardi, even after filing for divorce. Jayne has simultaneously distanced herself from and stood by Girardi as his reputation has nose-dived in the wake of his legal troubles. Take, for example, her bizarre claims during Season 11 of "RHOBH" that Girardi was attacked at his home and had to fight off an intruder. Jayne told castmates that she'd had a horribly long night because someone broke into Girardi's home and attacked, sending him to the hospital. She then claimed that she asked her adult son to go check on Tom. After leaving the house, she claims, her son had a car accident because of snowy roads, per People. "Tom's house was broken into," Erika claimed. "He confronted the burglar and then had to go have eye surgery. And then my son [Tommy Zizzo] had to go over and help. And then my son, he rolled his car five times on the way home."
Most of the story has been debunked for many reasons, not least of which is LA's historic lack of snow, per The Sun. The "Beverly Hills" cast found themselves divided. While no one believed the tale, some thought that Jayne had spun it as a way to protect Girardi, other's thought it indicated she was still being "controlled" by her ex, per People.
Tom allegedly cheated on Erika
When there wasn't tension about money in Tom Girardi and Erika Jayne"s marriage, apparently there was a lot of tension around infidelity. While Tom and Erika's divorce has caused a lot of speculation as to the actual reason, Erika has only ever said that it was because she just didn't feel it was working anymore. However, some sources have come forward and claimed that Tom cheated on her repeatedly during the union. An insider told People that Erika privately confirmed that she ultimately left Tom after years of infidelity. She allegedly knew he was cheating for years, but was hopeful the marriage could be salvaged.
"When she was performing her last week on Broadway, he left her high and dry and was frolicking around town instead of supporting her and attending her shows," the source said. "She realized she would never be a priority to him and that was her breaking point. The split was a long time coming," they continued.
Months later, Erika confirmed the rumors herself. In a since-deleted Instagram post, Erika blasted a woman named Tricia A. Bigelow, a colleague of Tom's whom she claimed he was having an affair with, while also detailing, "he was paying her Saks bill and paying for her plastic surgery." In the post, she also included photos of alleged conversations between Bigelow and Girardi, per Us Weekly.
Tom and Erika's divorce doesn't sit right with everyone
Erika Jayne and Tom Girardi's relationship was never the most straightforward — some might even call it "complicated" — but the divorce is so much worse. Some of her (and his) tougher critics are convinced that Jayne never wanted to leave Girardi. Some have suggested that Erika filed for divorce as a way to hide assets that the couple feared the court might seize from Girardi's firm. In fact, one filing stated that the divorce was "a sham attempt to fraudulently protect Tom and Erika's money," per Us Weekly. The letter also claimed that the move was a calculated effort to save a couple "on the verge of financial collapse and locked in a downward spiral of mounting debts and dwindling funds."
The fact that Jayne has yet to settle the divorce, and has even stood by Tom through his troubles has raised some eyebrows, but Jayne has been firm that the divorce was a personal choice and nothing more. "What's being said is just, I mean, it's insane," she said during an episode of "RHOBH," per People. "That lawsuit that says that my divorce is a sham so I could hide assets. People want to believe that."
Tom's health affected their marriage
If you've been following Tom Girardi's and Erika Jayne's divorce — or Girardi's legal problems in general — then you know that the state of his health has been drawn into sharp focus in recent years. Almost as soon as they split, Jayne began alleging that Girardi's mental health had been failing for years, and if he did anything illegal while practicing law, he might not have understood the consequences of his actions.
In 2021, Girardi was diagnosed with late-onset Alzheimer's – giving some credence to Jayne's statements. These days, Girardi is under a conservatorship controlled by his brother and living in an elderly care facility which specializes in memory loss, per People. During a "Watch What Happens" live appearance, Jayne told Andy Cohen that Girardi's condition would likely continue to decline and that he was so far gone he still thought he was practicing law.
"I miss the Tom before he was ill," Erika told Page Six. "I miss the fun, bright, intelligent person that really liked to have a good time and was magic," she said. "I miss that, of course. But we all get old and we all come to this place in our life and he's here."
Erika and Tom's divorce is not a priority
Bad press aside, Erika Jayne maintains that legalizing her divorce from Tom Girardi is not a priority. "The divorce is kind of on the very bottom of my list of important things that are legal issues," she told Entertainment Tonight. Jayne is up to her eyeballs in legal problems so it would make sense that settling a divorce — which can be a lengthy process — isn't her first priority. "[I wish the women understood] the complexity of this situation," Jayne added, airing her frustration at her castmates. "It's not going to be wrapped up in two seconds, that it's going to take a long time. I don't think anyone on this cast understands how many layers there are to a law firm, to a marriage, to partnerships, to things like that."
Until she can find the time to focus on her divorce, Jayne will likely have all of her attention diverted to the various cases in which she has been named a defendant. In one Chicago based lawsuit, Jayne has been referred to as a "frontwoman" for Girardi's disgraced law firm, per Los Angeles Times. She has also been involved in an ongoing legal dispute involving some very pricey earrings Girardi gave her as a gift — allegedly with stolen money.
Tom and Erika's problems keep getting worse
Just when you thought it couldn't get any worse for Erika Jayne and Tom Girardi – it did. In June 2022, the couple's former Pasadena home went into foreclosure at the request of a creditor. After sitting on the market for months with no buyer, one of their creditors reportedly insisted the courts list the property in auction, per Radar. The home has over $20 million worth of liens against it, and a sale would generate a good chunk of change for its creditors, though nothing near the amount of debt owed by Girardi.
As if that weren't enough, a few weeks before the foreclosure request, Jayne made the news for failing to pay millions of dollars worth of backed taxes. "I am in the midst of trying to figure out the basis of this tax bill with the assistance of my business manager, who is also an accountant," she wrote in a court filing, per Us Weekly. "I do not have the ability to pay the [California Franchise Tax Board] tax bill."
Finally, in June 2022, Jayne lost a case involving a pair of $750,000 earrings Girardi gifted her during their marriage. A judge ruled that Jayne must return the earrings as they were bought with money embezzled by Girardi, per Us Weekly. "Once again, Erika is facing consequences for past actions taken by Tom Girardi and Girardi Keese," Jayne's attorney told the outlet. "Erika did nothing wrong."