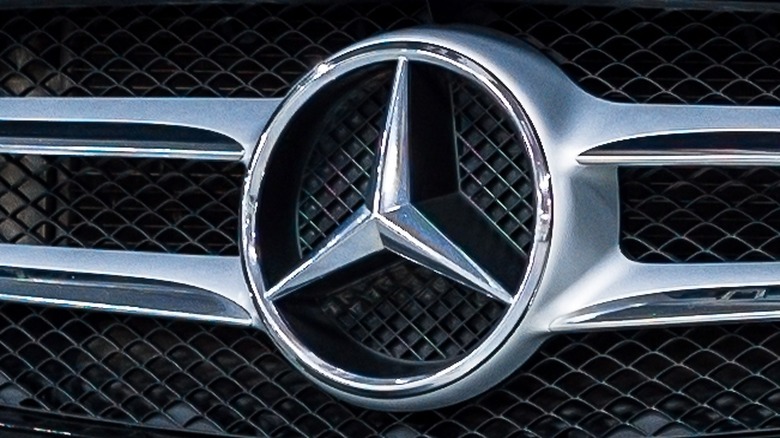 Mercedes have been producing cars since 1901, and its legacy is packed with luxury vehicles, high-end sports cars, and racing successes. The one thing all Mercedes have in common, whether it's a lightning-fast SLR or a sedan transporting a head of state, is the price tag. They aren't cheap. While you can get something standard like a C-Class for less than $60,000, you'll be paying six figures for one of their sportier models.
If you want something rare, or with historical value, you're probably out of luck unless your name crops up on Forbes' rich list. There are cars that sold for well over a million dollars that didn't make the cut for this article. The most expensive Mercedes on this list is also the most expensive vehicle ever sold. This list also includes the daily drivers of aristocrats, a pet project of Mercedes' most accomplished engineer, and a car at the center of a dramatic legal battle stretching all the way back to World War Two. While few people can afford them, anyone can read about their features and unique histories — so buckle up while we take a look at the 12 most expensive Mercedes in the world.
12. Mercedes CLK-GTR Roadster – $ 1.9 million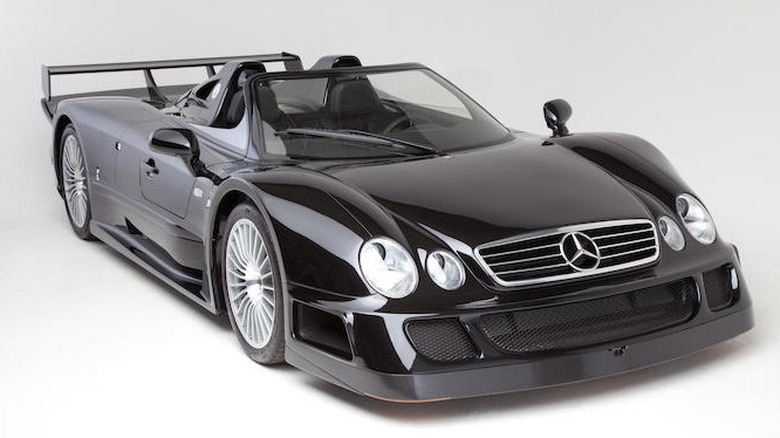 It may be the cheapest car on this list, but the Mercedes-Benz CLK GTR Roadster checks a lot of the boxes when it comes to rarity and condition. It's the first of only six CLK GTR roadsters Mercedes produced, and the only one with a black paint job. It had also barely been driven at the time of sale, covering less than five miles in total.
The roadsters themselves are open-topped versions of the CLK-GTR coupe, one of which sold for $4.5 million in 2018. Like all CLK-GTRs, the Roadster is essentially a road-legal race car that was only really produced so Mercedes could enter the Fédération Internationale de l'Automobile's (FIA) GT Championship. The roadster actually has more oomph than the racer, with a total of 640 horsepower.
When new, the CLK-GTR Roadster retailed for $1.5 million and was the most expensive production car in the world. This example was owned by Mercedes until 2014, before coming into the possession of a private owner. Bonhams auctioned it off for close to $1.9 million in 2015, almost $400,000 more than its original sticker price.
11. 2010 Mercedes-Benz SLR Stirling Moss ($2.55 million)
Stirling Moss is a legendary name in motorsport. Although he never won a Formula One world championship, Moss did win 212 of the 529 races he competed in. One of those races was the 1955 Mille Miglia, and the 2010 Mercedes-Benz SLR Stirling Moss is a tribute to the 300 SLR he won that race in. Mercedes only manufactured 75 of these cars, and the example listed in RM Sotheby's 2019 Abu Dhabi sale was in pristine condition. It only has one previous owner, and that owned had driven less than 320 miles in it as of 2019.
The SLR Stirling Moss is capable of going from 0-60 in 3.5 seconds, and hitting a top speed of 220 miles per hour. Behind the speed is a 641 horsepower, 5.5 liter, supercharged V8. Extensive use of carbon fiber also ensures as much weight has been saved as possible. The SLR Stirling Moss had an estimated price of $2,550,000 to $2,750,000 but ultimately did not sell. So if you have a couple of million burning a hole in your pocket and would like to join the rare SLR club, you could still be in with a chance.
10. Mercedes-Benz 500K roadster — $3.76 million
Unlike most of the other cars on this list, this one did not actually legally sell. The hammer came down, $3.76 million dollars changed hands, and the car changed continents for the second time in its life. Then a battle through the German courts ensued and the vehicle was returned to the descendants of one of its previous owners.
Mercedes-Benz 500Ks are rare and sought after, the roadsters are even rarer, with fewer than 30 built. The 1935 Mercedes-Benz 500K roadster at the center of this controversy originally belonged to German industrialist Hans Prym — who was jailed at the end of World War Two. Prym's Mercedes-Benz 500k Roadster made its way to the United States where it moved between private collectors before eventually being put up for auction in 2011.
During the auction, which was being run by RM Sotheby, the roadster was purchased by Dutch businessman Frans van Haren, who decided to bring it back to Germany, where it was promptly seized. The courts decided the car was still the rightful property of Prym's grandchildren. To further compound the businessman's bad luck, the German court decided the clock would only tick down on the 30-year statute of limitations, something that would have stopped Prym's heirs from claiming it, while the car was present in the country (via Autoweek).
9. 1998 Mercedes-Benz AMG CLK GTR — $4.5 million
The Mercedes-Benz AMG CLK GTR wasn't really designed as a road car. AMG and Mercedes-Benz built it with the track in mind. They wanted to compete in the Fédération Internationale de l'Automobile's (FIA) GT Championship, and the rules required the sports cars being entered to be nothing more than racing models of a production car. So Mercedes and AMG built the race car they wanted to build, then produced 25 to sell to the public and meet the FIA's requirements.
This particular car, which is numbered nine out of the 25 produced, was in exceptional condition. Both the paint and drive train are original — it even came with its original own ice manual and service books. A crate full of parts was also included. It had also barely been driven, with less than 1,500 kilometers, around 900 miles, on the odometer at the time of sale. This rare road-legal race car sold for over $4.5 million at RM Sotheby's Monterey auction in 2018.
8. 1927 Mercedes-Benz S-Type 26/180 Sportwagen — $5 million
This incredibly rare example of a Mercedes-Benz S-Type 26/180 Sportwagen sold at Gooding & Company's Pebble Beach auction for just over $5 million back in 2011. Like many of the cars on this list, it had a solid award-winning pedigree, picking up the Pebble Beach Class Award. Like many other high-end pre-war Mercedes, the 26/180 Sportwagen features Sindelfingen coachwork — essentially a one-off design was applied to a factory-made chassis by a master coach builder. The car's chassis was designed by Ferdinand Porsche, who like the name may suggest went on to form a globally-renowned car manufacturer of his own.
Under the hood, you'll find a twin-carbureted, six-cylinder, 6.7-liter engine and a "Roots type" supercharger. All of this means the Sportwagen is capable of producing 180 horsepower. Increasing the rarity is how staggeringly original this S-Type 26/180 Sportwagen is. Serial numbers match throughout the vehicle, and the bodywork is the same stuff that went onto the chassis almost 100 years ago.
7. 1955 Mercedes-Benz 300 SL Alloy Gullwing — $6.825 million
The 1955 Mercedes-Benz 300 SL Alloy Gullwing is considered by some to be the first supercar, and this particular model is a perfect example of it. The 300 SL comes with a numbers-matching 3.0-liter NSL engine, its original alloy body, and several factory features including sports suspension. Unlike the standard steel-bodied 300 SLs, the rarer, lighter, alloy versions are responsible for a lot of Mercedes 1950s racing victories including Le Mans, the Carrera Panamericana, Mille Miglia, and Liège-Rome-Liège. Just 24 of the alloy models were produced, as opposed to the standard steel version, of which Mercedes made 1,371.
Instead of the heavier steel and glass, the car's body panels are crafted from aluminum, and its windows, bar the windshield, are made of plexiglass. This model features a high-speed rear axle and suspension specially designed to improve handling while the driver is giving the speedometer a workout. In January 2022, it sold for almost $7 million at RM Sotheby's Arizona auction.
6. Mercedes-Benz 680 S Torpedo – $8.25 million
This 1928 Mercedes-Benz 680S Torpedo Roadster is an early example of a luxury car. While the Ford Model T was a car of the people, the Mercedes-Benz 680 S Torpedo was built for people who demanded much more from their modes of transport. The interior is lined with lizard skin and purpleheart wood while the body, built by the renowned Carrosserie J. Saoutchik of Paris, features long frame rails that sweep over both axels. The S Torpedo's 6,789 CC dual-carburetted six-cylinder engine produces 180 horsepower and is seated further back to improve weight distribution. This particular S Torpedo is only the only short windshield variant known to be in existence — only three were produced in total, with the whereabouts of the other two unknown.
The car also has also been somewhat of a spectacle for almost a century. It was displayed by Mercedes-Benz New York at the 1929 New York Auto Salon, and also featured in the Auto Salon edition of Motor Magazine. More recently, the S Torpedo won the best of show crown at the Pebble Beach Concours d'Elegance. It has also undergone a painstaking restoration at the hands of Paul Russell and Company. The restoration involved researching and creating a metallurgically identical alloy for the bodywork, sourcing 200 lizard hides from South East Asia, and re-engraving the plates bearing the name of the original coachbuilder. The 1928 Mercedes-Benz 680S Torpedo Roadster was auctioned for $8.25 million by RM Sotheby's in 2013. Although the price may seem high, the vehicle only had 30,000 miles on the clock and two previous owners — which isn't bad for an 85-year-old car.
5. 1937 Mercedes-Benz 540K Special Roadster – $9.9 million
Priced at just under the $10 million mark is a great example of the Mercedes-Benz 540K Special Roadster. The example in question was sold by R.M. Sotheby's in 2016 and features the original left-hand-drive, high door, long-tailed configuration collectors look for. One of the key selling points of this particular vehicle is the fact it is one of the earliest examples of the 540K known to currently exist. The chassis numbers of pre-production 500Ks went up to 130,900 — this car is number 130894. Factor in the 5.4-liter engine, and you have one of just 13 examples known to exist.
The paperwork accompanying this 540K Special Roadster is also exemplary and gives an almost complete account of its history. It arrived in New York City in 1937 and was originally owned by Reginald Sinclaire of Larkspur, Colorado. Twenty tears later the car appeared in an exhibition of antique automobiles at the Denver Art Museum before coming into the possession of Boulder resident E.W. Price. The vehicle was then picked up by Irving Tushinsky, then Thomas Barrett III, and so on —until it eventually sold at auction for $9.9 million.
4. Mercedes Benz SLR McLaren 999 Red Gold Dream – $ 11 million
In fourth place, we have Swiss designer Ueli Anliker's custom Mercedes Benz SLR McLaren 999 Red Gold Dream. In terms of performance, it's just a standard McLaren Mercedes SLR, though an upgrade that would have left the engine throwing out more than 1,000 horsepower was planned at one point.
A total of $5.4 million worth of materials went into the Red Gold Dream including a surprising amount of actual gold, with 24-karat gold plating the wheels, steering wheel, headlight surrounds, door sills, and several parts of the interior trim. A whopping 11 pounds of gold dust has been mixed into the 15 layers of paint coating the car's body. Rubies also stud things like the wheel nuts and gear shift. The materials were also bought in 2011, so that cost may have increased substantially if someone were to recreate the Red Gold Dream in 2022 (via Motor Authority).
3. 1936 Mercedes-Benz 540K Special Roadster – $11,770,000
The Mercedes-Benz 540K is a highly sought-after vehicle, and if you base it on price alone this is the finest example of that model — and the second priciest vehicle on this list. This particular example — a sought-after high door, long tail, variant — cost $11,770,000, once the buyer's premium was added. It sold at Gooding & Company's Pebble Beach Auction on August 19, 2012.
The custom 540K Special Roadster sporting the almost $12 million price tag was custom ordered by Baroness Josephine von Krieger in the 1930s. The car was intended as a graduation present for her son Henning but eventually became her daily driver. The vehicle's interior sports pigskin upholstery, a Telefunken radio, and several tailored features. On the outside, the 540K is finished in black with the von Krieger family crest hand-painted on the driver's door. Following the Second World War, the family moved to the United States and the 540K ended up sitting in a Connecticut garage for 40 years. Before being sold the car was expertly restored and received a first-class award at the Pebble Beach Concours d'Elegance.
2. 1954 Mercedes-Benz W196 – $29.65 million
Not only is the 1954 Mercedes-Benz W196 the second most expensive Mercedes ever sold, but it's also one of the most expensive vehicles to change hands in general. The W196 cost a whopping $29,650,095 when it was sold at the Bonhams auction at 2013's Goodwood Festival of Speed. The winning bid, which was placed over the telephone, broke the world record for the most expensive car at the time, and while the W196 may have been bumped from the top of our Mercedes-based list, and out of the top five most expensive cars in general, it's still firmly in the top ten (via Autoexpress).
However, the car's pedigree matched the price tag in this case. During its time as Formula One car, the W196 won two Grands Prix, one in Switzerland and one in Germany, while being driven by the great Juan Manuel Fangio. Bonhams confirmed that, along with being the only W196 in existence that has won multiple Grand Prix, the car that sold in 2013 is also the only privately owned example. Every other surviving W196 is either in a museum or stored in a Mercades warehouse somewhere.
1. The Mercedes-Benz 300 SLR Uhlenhaut Coupe – $145 million
The most expensive car ever sold is a Mercedes-Benz. A 1955 300 SLR Uhlenhaut Coupe sold for a staggering €135 million (around $145 million) in May 2022. The car is one of only two racing prototype 300 SLR Uhlenhaut Coupes that were built. Proceeds from the sale are being used to establish the "Mercedes-Benz Fund" — a global charity that will "provide educational and research scholarships in the areas of environmental science and decarbonization for young people."
In a statement released after the sale, Mercedes-Benz board member Renata Jungo Brüngger described the coupes as, "milestones in sports car development and key historical elements that have shaped our brand," before describing one of their vehicles achieving the highest price in history as "extraordinary and humbling."
The Uhlenhaut coupe was named after its creator, and Mercedes-Benz chief engineer, Rudolf Uhlenhaut. It features gullwing doors, a three-liter straight-eight engine, and ultra-light Elektron" magnesium bodywork. The Ulenhaut was by far the fastest road car in the world when it was produced — capable of hitting speeds of over 180 mph.
The record-breaking car was a part of the 1,100+ automobile Mercedes- Benz Classic collection, following the auction it is now in the hands of a private seller. Mercedes say they are holding on to the other 300 SLR Uhlenhaut Coupe, which is currently on display at the Mercedes-Benz Museum in Stuttgart, while the private buyer agreed to make his available for public display on special occasions.