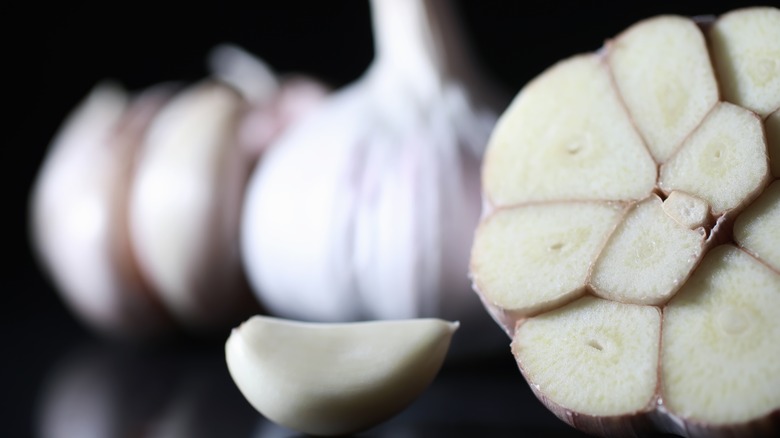 For the love of garlic, how do you describe the umami essence of these tasty bulbs? Sometimes, they're sweet; other time,s they're more pungent or earthy. They can be mellow or add spiciness. What's clear is that garlic elevates dishes, and when it's given the right ingredients to vibe with and a recipe where its bold fragrance can be noted, its greatness shines.
Let's face it — there's something about garlicky dishes that gives them that extra layer of yumminess. Whether the garlic taste is up front and leading the way or courting the other flavors in a way that only garlic can, the end result is a dish that's mouthwatering and ultimately moreish.
Whether whole cloves are sautéed, or its minced, roasted, or grated raw, there's something comforting and exciting about the aroma of garlic that's cooking that foodies adore. Try these recipes that any garlic lover will appreciate.
1. Simple Garlic Butter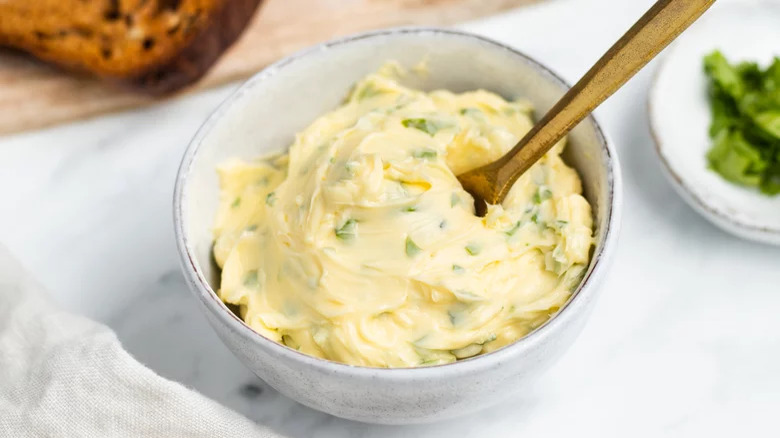 It doesn't get as basic or as beautifully delicious as no-nonsense garlic butter. The creaminess of the salted butter brings out the fresh garlicky flavor, while chopped parsley adds color. You can add chives in place of parsley, but don't add any ingredients that take away from the pure garlic taste. This is a great topping for many dishes, and you can also make a homemade garlic bread (with or without cheese) to pair with it. Add this flavorsome butter to veggies or mix it into mashed potatoes. It also goes well with a nice, juicy steak.
2. Garlic Bread
While food fashion may change, there's something wonderfully timeless about the simple art of adding garlic butter to bread and heating it so the flavor melts in. Create a homemade version by changing-up what bread you use from a baguette to a ciabatta or long Italian bread. Add dried herbs such as oregano for a stronger flavor than the traditional fresh parsley and some Parmesan for a cheesy taste. If you like a little kick, sprinkle in some red pepper flakes, too. Serve as a side to any dish, from pasta to moules mariniére.
3. Creamy Garlic Butter Pasta
The distinct smell of garlic wafting through your kitchen is part of what makes it the ultimate comfort food ingredient. Add it to some carbs with a richly creamy sauce, and you have a simple entrée or side. You can add some protein, such as chicken, as well as vegetables, including kale, broccoli, and peas. When you've melted the unsalted butter and cream, make sure you take the pan off the heat before you add the Parmesan so it doesn't burn.
4. Instant Pot Creamy Garlic Chicken
Garlic, mushrooms, sour cream, Parmesan cheese, and freshly chopped parsley, are all the ingredients you need for a stunning sauce to add to this one-pot wonder. You may want to make too much of the creamy, garlicky mix so that you can bottle it up and use it for another recipe. Meanwhile, if you want to thicken it up before you pour it over your chicken thighs, add some cornstarch. Serve with some carbs, whether potatoes, pasta or rice, and some green vegetables, too.
5. Copycat Papa John's Garlic Sauce
Here's one good reason to eat your pizza crusts: You get to dip them in a buttery, garlicky sauce. Cook this dipping delight in the style of one of the country's favorite pizza chains, right at home. All you need is unsalted butter, salt, garlic powder, and onion powder. You can use fresh garlic if you like, but the powder makes for a smoother finish. Don't limit yourself to serving with pizza, either, as it's great with pasta and Parmesan cheese and on cheese paninis.
6. Garlic Smashed Potatoes
Let the full flavor of garlic seep into these deliciously different potatoes, which smashed before being roasted with olive oil. Taste the garlicky crunch as you bite into a moreish texture that's crispy on the outside and soft and fluffy on the inside. If you make enough of these potatoes, you can reheat them in the oven or fry them in a pan to enjoy with another dish. Make this dish with baby potatoes and serve how you like; they pair well with both roasted and fried chicken.
7. Sous Vide Mashed Potatoes
Sous vide seals in the flavor, and using this technique to make soft, velvety mashed potatoes adds a luxury element to what's often a simple side. Use russet potatoes and let the creamy taste of cream, milk, and butter be absorbed along with all that the crushed garlic cloves have to offer in terms of taste. Rosemary complements these ingredients, too. A good tip for keeping your potatoes under the water and cooking just right is to add the bag they're in to another bag that's weighted down.
8. Cheesy Ciabatta Garlic Bread
The velvety garlic butter soaks into the soft ciabatta in this recipe, which is doughy even after being grilled twice. Add tangy tasting Parmesan cheese on top and some stretchy mozzarella. Use pre-grated mozzarella, or put it in the freezer first for a quarter of an hour to harden if you want to grate it yourself. Serve the garlic bread with a garlicky dish to further enhance that inimitable, intense taste that's both sweet and earthy. Try serving it with chicken Alfredo or a pizza topped with roasted garlic.
9. Air Fryer Garlic Green Beans
Cook crunchy, garlicky green beans in your air fryer for a tasty side or a moreish snack. A quick way to top and tail the beans is to line up and trim a few at a time. Adding olive oil is vital, as it allows your minced garlic and garlic granules to stick to the vegetables before they're cooked, so that the ingredients are evenly distributed throughout the dish. If you have any leftovers, chop the cooked green veggies up, toss them in a salad, and enjoy it cold.
10. Classic Fajita Seasoning
A flavor enhancer that elevates simple dishes, garlic is a key component to this Mexican-themed seasoning. Garlic powder is given culinary power with herbs and spices added into the mix. Add chili powder to get just the right level of heat you're looking for, while adding cayenne can add even more of a kick. Make this not just for fajitas but any type of meat, including fish. It also works well at adding a stronger flavor profile to vegetables such as sweet potatoes. Store in an airtight container out of sunlight.
11. Air Fryer Garlic Parmesan Fries
These garlicky, cheese-topped fries are wonderfully crunchy and made without a deep fryer. Use frozen fries or make a homemade version by cutting peeled potatoes into slices, lengthways, and then cutting slices into sticks. Soak for half an hour in cold water to get rid of some of the starch so that the fries crisp up before draining, and dry them before cooking.
12. Easy Roasted Garlic Aioli
Do you love the garlic zest of aioli? Of course you do. Do you know what aioli is? It's an olive oil and garlic paste emulsion that's traditionally egg-free. To get that smoky, garlic flavor, you need to roast the bulbs with oil and seasoning until they're spectacularly soft and fragrant. Only squeeze out the cloves once the roasted garlic's cooled down. The zest cokes from lemon juice, along with Dijon mustard, Worcestershire sauce, and cayenne. This sauce goes with everything from steamed artichokes to caramelized veggies, fish cakes, and burgers.
13. Simple Nicoise Toast
This dish of tuna, shallot, and hard-boiled eggs, with olives and tomatoes is underpinned by a deliciously creamy garlic mayonnaise. What adds tang to the garlic and the other ingredients is some lemon juice squeezed into the garlic mayo. To get that lovely, chargrilled bread look and taste, use a griddle. Meanwhile, you'll achieve perfect-looking eggs if you plunge them into an ice bath after cooking. Sourdough bread is ideal for this recipe or some type of rustic loaf that can soak up the garlic spread without going soggy.
14. Spicy Grilled Shrimp
There's something almost magical about the flavor combination of grilled shrimp and garlic. Add some heat, too, and you have a dish that's on culinary fire. The taste trinity of garlic, lemon juice, and Worcestershire sauce adds pep to a chili-garlic sauce. Not only are you going to use this as a marinade, but you can also use it as a dipping sauce. You'll know your raw shrimp are cooked when they're pink all the way through and there's no grey color. Don't overcook them, though, as they'll go rubbery.
15. Grilled Salmon
Nothing can go wrong with a recipe that includes the terrifically tasty trio of garlic, butter, and lemon drizzled over some seafood and cooked in foil on an open grill. The delicate flavor of the salmon in this recipe is made succulent when you cook it in the garlic sauce, while another key step is steeping the fish in saltwater beforehand. Speed it up by microwaving your butter until melted for the garlic sauce and pre-cutting your salmon pieces to portion sizes. Most importantly, don't overcook. When the fish turns opaque throughout, it's done.
16. Grilled Wedding Chicken
You don't have to be attending any nuptials to cook this recipe, which celebrates the perfect ingredient coupling of chicken and garlic. It's also a great dish for parties because it's easy to make. Marinade the meat long enough so it doesn't end up drying out. That means popping it in a sealable bag and marinating in the fridge for 12 hours before you grill. You can also use a container, as long as the marinade covers the chicken breasts. Fish sauce, ginger, and garlic add bold flavor to the meat.
17. Quick Grilled Shrimp
Skewer your shrimp before you host a cookout, and all you need to do is throw them on the grill and watch them sizzle. These types of culinary feasts are all about flavor, and garlic with a buttery, lemony, and olive oil marinade packs a punch that pairs brilliantly with seafood. What's great about this recipe is that you're using the garlic taste twice: once before you cook to add to the juicy flavor and again when the shrimp are cooked, to drizzle over or serve as a dip.
18. Carne Asada Fries
Here's a recipe that's a good enough excuse for a party. Delicious Mexican food. Check. Meaty carne asada made with flank steak and a garlicky marinade with orange juice. Check. Served over fries. Check. The steak is added after a layer of cheese on fries, while on top you can add a good dollop of guac and sour cream along with pico de gallo and pickled jalapeños. You also finish with cheese too, crumbling cotija over the top. Slice the steak across the grain, halve slices lengthways, and cut into bite-size pieces.
19. Copycat Chipotle Chicken
The full-on flavors of Mexican food rock; if you're craving your favorite Chipotle chicken dish, make a homemade version at home. There's nothing wrong with using a can of chipotles in adobe sauce to create a spicy, garlic marinade, but don't marinate too long; otherwise, the vinegar will break down the meat. Use a flat-top grill or a cast-iron skillet to caramelize the meat evenly. The real trick to creating a crispy texture is to throw diced chicken pieces back on the grill you've just used for a second time.
20. Chimichurri Sauce
This Argentinian wonder of a dip is a sauce, marinade, and dressing all in one. Never will you regret making up a big batch to pair with steak and sausages, as well as grilled chicken and even fried eggs. Herby and garlicky, chimichurri should have an oily consistency and whether you make it by hand or pulse it in your food processor, it's best enjoyed if it's not too pureed. While the flavors of garlic, lemon, and parsley pop, play around with ingredients. Add some cilantro. Leave out the red pepper flakes. Use red wine vinegar instead of white.
21. Grilled Steak Au Poivre
While most garlic dishes aren't the most suited for date nights, this luxurious steak recipe is, and you're only using a clove, anyway. To stretch your budget, use filet mignon, but New York strip steak works well, too. You can also substitute Cognac for a more affordable brandy, or at least add a glug to this dish from a miniature bottle. For the base of this sauce, you need to sauté the garlic quickly. Make sure it turns translucent, as you don't want the garlic to brown.
22. Slow Cooked Beef And Broccoli
Packed with umami, the sauce this dish is cooked in adds every flavor possible. There's the sweetness of brown sugar, the salty-sweetness of oyster sauce, and the saltiness of soy, with rice vinegar adding some tang. Chili garlic paste and fresh garlic completes this flavor profile with some heat and the indescribable taste of these pungent bulbs. This Asian-inspired recipe wouldn't be the same without the intensity of this sauce. Serve with sesame seeds and sliced scallions, alone or with rice.
23. Creamy Eggplant Dip
Add garlic, lemon juice, and tahini paste to eggplants, and you have the magic ingredients to make Middle Eastern baba ganoush. A good tip when making this dip is to keep your vegetables out of the fridge and to make sure you peel the eggplants once you've cooked them. Dunk crudités, breadsticks, or toasted pita into the dip. To enhance that velvety texture, drizzle some olive oil on the top when you serve, along with some chopped green parsley or cilantro. Pine nuts and pomegranate seeds also flatter this dish.
24. Creamy Dauphinois Potatoes
This is the side you want to serve at a dinner party, so your guests can "ooh" and "aah" at your culinary genius. While simple, these creamy, garlic-heavy potatoes are simply divine, and this recipe adds in some cheese for an extra touch of decadence. No, it's not going to win any awards for your waistline, so ration portions and add some class with individual serving in ramekins. What's great about this dish is that you can make it the day before and also it goes splendidly well with roasted meat entrees.
25. Mexican Stuffed Peppers
Behind many amazing Mexican dishes, there's a garlic clove or two powering up the ingredients, and these stunning, pepper party pieces are no different. You can't go wrong with garlic and spices fried with ground beef and black beans. To get the most out of the taste, let the onions sweat out for 5 minutes on a medium heat, rather than a couple of minutes on a higher setting. That way, you start releasing those strong flavors as soon as you start cooking. Top with sour cream, guac, and cilantro.
26. Spicy Shrimp Fra Diavolo
Get spicy with this fiery Italian dish. Garlic and red chili flakes are the devilish ingredients that add heat and a strongly Mediterranean taste to the shrimp. Be careful not to overcook the shrimp when you fry it with the garlic, though; you want them to cook through in that red sauce as it laps up the garlicky flavors. While this dish is wonderful with pasta, you can eat it just as it is with some bread or a side salad.
27. Smoked Chicken Thighs
Succulent and full of flavor, this dish proves just how versatile chicken can be. Seasoned with garlic salt, these outrageously delicious chicken thighs are marinaded in a herby, sweet Vermouth sauce with fresh garlic. You do have to prepare in advance for this dish, but it's worth it — just remember the chicken will need marinating overnight to lock in the sweet, herby flavors. Meanwhile, a good way to keep the meaty pieces juicy on the smoker is to baste them with the sauce as they cook. Serve with rice, potatoes, or vegetables.
28. Marinated Mozzarella Balls
If you had to name two flavors that love each other, cheese and garlic are a pretty potent pairing. They work their marinading magic in this dish, too, with herbs and red chili flakes added to the mix. Not only do these marvelously moreish mozzarella morsels look great, but they're also the perfect accompaniment to any charcuterie board or a platter of antipasto delights. You don't have to wait until you're creating a sharing menu, though, as you can scoop a few onto your salad whenever you like.
29. Rigatoni Fiorentina
Here's a dish that epitomizes comfort food, with spinach added to create a healthier balance. The softness of the rigatoni noodles, the stretchy cheesiness of the mozzarella, and the creamy tomato sauce create a sublime taste of the Mediterranean. Underpinning these Italian flavors is the sweet taste of sautéed minced garlic and shallot. While the recipe calls for a variety of dry herbs, there's nothing wrong in using a pre-mixed Italian herb seasoning for ease and affordability. It won't go to waste, as this chicken pasta is bound to become a firm family favorite.
30. Scallop Casserole
Do you need a particular reason to cook a dish that makes you feel loved? Of course not, so roll with this luxurious casserole when you want to indulge. This recipe is wonderfully light, with a crunchy, zesty cracker topping. If you're wondering what makes this dish so divine, it's the way the delicate scallops gently bake in wine, garlic, and shallot, along with unsalted butter. What's not to love? Treat yourself (and perhaps someone you care about) with this seafood stunner.
31. Sticky Sesame Cauliflower
The success of this Asian, plant-based dish is in battered cauliflower being tossed into a hot, sticky sauce. While the recipe calls for an arrowroot batter, you can use cornstarch instead. Meanwhile, make sure there's space between the florets while they're cooking. Garlic is one of many ingredients in the sweet and spicy sauce that sticks to the cauliflower. Top with sesame seeds and chopped green onions. A great way to serve this dish is in a Buddha bowl, adding rice along with bok choy, tofu, and avocado, as well as shelled edamame.
32. Vegan Shepherd's Pie
Based on a British classic, shepherd's pie is wonderfully warming and differs from cottage pie because it's traditionally made using minced lamb instead of beef. However, it's just as flavorsome (and lower in saturated fat) with this veggie version. Garlic adds flavor to the filling of green lentils and chickpeas. You can make this dish more easily by using canned lentils and chickpeas, too. Don't feel tied to these ingredients, though; there's nothing wrong with using borlotti beans or butter beans instead.
33. Chimichurri Steak Tacos
Taco Tuesday can be any night of the week with these steak-filled, Mexican style morsels. While it's not complicated to make, there're so many ingredients in this recipe's delicious chimichurri sauce that it's a good to get them ready before you start mixing them together with your steak. If you leave your meat in this marinade too long then the acidity will not only add flavor to your steak, but it'll also start to cook it. Garlic goes into the marinade, as well as the sauce that's drizzled on once your steak is sizzled to perfection.
34. Spicy Shrimp Bowl
The reason any garlicky dish goes with rice is because the boldness of these pungent bulbs contrasts dreamily with the deliciously neutral taste of the grains. Add some shrimp, along with Sriracha and ginger, and you have a bowl of Asian-style cuisine that you can pretty much rustle this up at a moment's notice. It's an ideal weekday dinner, but you can also serve this as an appetizer with salad and garlic bread.
35. Turkish Eggs
Garlicky Greek yogurt is a dreamy base that's perfect for a fried egg, as well as a drizzle of nutty brown butter with chili. Turkish eggs are the bomb for brunch — if you get them just right, that is. Make sure the yogurt you're grating raw garlic into is served at room temperature so it doesn't cool the eggs. And make life easier (especially if you're cooking in the morning) with store-bought brown butter so you're not standing over a hot stove toasting it. Use milder Aleppo pepper if the smoked chili flakes create too much heat.
36. Grilled Chicken
The not-so-secret ingredient to a great grilled chicken recipe is the marinade. Get this right with a good amount of garlic, and you have yourself a winner, winner, chicken dinner of a dish. If your chicken breasts look too thick and you think they may dry out before they're cooked through, hammer them with a tenderizer or rolling pin between plastic wrap until they're thinner. Be creative in how you serve this dish, whether sliced in a sandwich or wrap, added to a salad, or perhaps part of a pasta dish.
37. Simple Baked Mahi Mahi
Hearty Hawaiian mahi mahi soaks up this recipe's buttery, garlic sauce. If you can't source this, though, use a similarly robust white fish, such as cod, instead. It's vital that you debone the fillets using tweezers, or you could save time and buy the portions pre-prepared. Melt the butter and stir until the salt's dissolved, so that you know that the garlic and seasonings are all evenly mixed into the sauce before you pour it over the fish. Crusty bread, a fresh green salad, and roasted fingerling potatoes all pair perfectly.
38. Copycat Buffalo Wild Wings
Make this mouthwatering recipe to copy the taste of snacks served up at an all-American, global chicken wing restaurant. The secret ingredient to the sauce, which is made using garlic powder, is to add an egg, which gives it a glossy sheen. However, there's a trick to how you do this so your sauce is thick and shiny, and that's slowly adding the sauce to the egg, not the other way around. Add more garlic and cayenne to spice up your sauce if you like the eatery's garlic Parmesan variety.
39. Easy Stuffed Mushrooms
Artichoke, garlic, and cream cheese, along with Parmesan and spinach, are delicious when they're all melted together in a breadcrumb topped stuffed mushroom. Golden rules for this recipe include getting your oven pre-heated and cooking on the middle shelf with the caps face-down on a greased baking tray with the stalks removed. Try different types of mushrooms, as they all work well, though this dish uses button mushrooms. Don't forget to squeeze fresh lemon over the top when they're fresh out the oven; this adds a much-needed tang and elevates the whole dish.
40. Spanish Garlic Shrimp
If you can't get to a tapas bar in Spain anytime soon, bring the flavor of Spanish cuisine to the table right at home. These spectacular shrimp, baked in a garlic and chili infused oil, are so good and beg for a generous chopped parsley topping. The best way to eat this dish is rustic style, with crusty bread that you can dip in and mop up that garlicky olive oil. As this is a classic sharing dish, why not add some more garlic-inspired plates into the mix for a fuller flavor.
41. Easy Baked Pesto Salmon
It's always a joy when a recipe has so few ingredients, yet boasts such a rich amount of flavor. This salmon and pesto dish is one of those, and while it might be impressive to make homemade pesto, there's nothing wrong with buying a jar. You're still going to get that dynamic taste of basil and garlic with pine nuts and Italian hard cheese. Check if the fish is cooked by touching the top, which should be firm. Serve with risotto, roasted potatoes or pasta, or go low-carb with green beans.
42. Creamy Garlic Scallops
Creamy dishes always taste luxurious. And if you love to add a deep love of garlic and scallops, this recipe is for you. It's not how long you spend in the kitchen that matters, but what you're doing when you're in there. This has to be the most deliciously quick meal. Use smaller bay scallops or larger sea scallops, and make sure you use a non-stick pan for this dish. While the sauce calls for wine, you can use chicken stock instead. Meanwhile, add more cream if your sauce seems too thin. Enjoy with toast.
43. Easy Honey Baked Salmon
The sweet taste of honey, the saltiness of soy sauce, and the gorgeous flavor of garlic, along with the tartness of lemon juice, make for a wonderful marinade for this salmon dish. Of course, once you've made this, you could try using the same ingredients to marinate other fish, such as sea bass. If you use chicken, you may want to add a few drops of olive oil, because this meat is less oily than salmon and is more likely to dry out. Serve with a creamy slaw or roasted fingerling potatoes.
44. Hawaiian Spicy Garlic Shrimp
While this recipe is for a popular food truck dish in Hawaii, garlic shrimp is a hit everywhere. Don't be shy — you're going to use a whole garlic bulb for this. And it's key that you mince fresh cloves, as they'll be chunkier and less likely to burn than shop-bought ones. The trick to cooking crunchy garlic is to go low and slow. That means keeping the heat down and taking your time to ensure the garlic bits are golden brown.
45. Garlic Roasted Broccoli
Supercharge broccoli with a side that boasts a robust, roasted flavor and a punchy, garlicky taste. Make sure your oven's fully heated before you bake your broccoli and that the florets don't overlap. Once they're done and the garlic bits are roasted, too, add whatever toppings you like. You can add Parmesan if you like the tangy taste of salty cheese or chili flakes to add some heat. Sesame seeds and hemp seeds create a crunch. Serve as a side dish.
46. Colossal Shrimp Mofongo
The national dish of Puerto Rico, which consists of plantains fried with garlic, is topped with colossal shrimp cooked in a tomatoey garlic sauce in this recipe. You can always use jumbo shrimp instead, too. If you're trying to work out how much mofongo to make, aim for one plantain per person. While this recipe uses a pestle and mortar to mash up the plantains and garlic, if you don't have one, you can smash the garlic with a spoon and the fruit using a mixing bowl and the bottom of a clean bottle.
47. Instant Pot Butternut Squash Risotto
Garlic enhances comfort food and brings out the flavors. This recipe is no exception; it's the foodie equivalent of a hug with its creamy arborio rice. The garlic, sage, and nutmeg add warmth to the butternut squash. Once you throw in the Parmesan, let your risotto sit for 10 minutes to thicken up as the cheese melts into it. Take care when depressurizing your Instant Pot so it doesn't vent out in your face, too. Use oven mitts and open the lid once the pressure has gone down.
48. Bobby Flay's Shrimp And Roasted Garlic Tamale
Inspired by celebrity chef Bobby Flay, this recipe has a couple of twists. Firstly, the tamales are cooked in an Instant Pot, and secondly, the flavor is boosted by using canned green chilis. Cook your tamales standing up, with the open end facing upward. Once your tamales are done, let them cool slightly, take off the strings, and unwrap them. Add the stir-fried shrimp and a deliciously creamy, garlicky sauce on top of the tamales. Sprinkle on chives and red bell pepper to serve.
49. The Pioneer Woman's Pork Chops With Wine And Garlic With A Twist
The Pioneer Woman is all about making hearty meals for families with healthy appetites. The sauce in this dish is infused with a rich garlicky taste by using whole cloves. Serve these as you spoon the sauce over the pork chops. The twist with this recipe is using white wine, not red, fresh thyme not bay leaves, and half-half in place of beef broth. The garlic taste remains, albeit with a creamier, heavier sauce.
50. Easy Smoked Salmon Fettuccine
Less is sometimes more, if you have the right ingredients. Smoked salmon and fettuccine are delicious together, with some fried garlic and fresh Parmesan finishing off the taste of this simple, yet sensational pasta dish. Who needs a sauce when you have such bold flavors that complement each other? Cut the fish into strips by laying the slices on top of each other, before cutting these into ½-inch pieces. Use a sharp knife so that it glides through easily. Enjoy with a salad and perhaps some garlic bread.
51. One-Pan Cheesy Orzo Bake
Garlic sets the tone for this tomato and cheese pasta bake, as the fragrant aroma permeates the herby sauce. As a guideline, use around 3 cloves of garlic to get a tablespoon of this ingredient minced. If you want to make this easy, cheesy recipe even easier, ditch the chopping board and use pre-minced garlic. You can also use pre-shredded cheese and canned tomatoes to save time.
52. Copycat Olive Garden Alfredo Sauce
If you're a fan of Olive Garden's Alfredo sauce, you'll love this version of the creamy, cheesy, buttery dish. The original Italian recipe doesn't include garlic, but the restaurant's American-Italian style definitely does. Forget garlic powder, which is a flavor enhancer, and use fresh garlic. Peel garlic with this clever tip. Press down on a clove with the flat side of a large knife. This loosens the skin enough to peel it, and then you can mince it and release that aroma.
53. Aldi 5-Ingredient Shrimp Scampi
While you may enjoy making recipes with a long list of ingredients and instructions, everyday dishes thrive on simplicity. The key is using ingredients that go together perfectly. You can't go wrong with garlic, butter, and white wine. Add some shrimp and some chopped parsley, and you have a mouthwatering meal, just like that. If you're using frozen shrimp and haven't defrosted them, no worries. Just soak in them in cold water for 10 minutes, drain, and they'll be ready in a few minutes.
54. Easy One-Pot Spaghetti
There's something homely about a one-pot dish. And because pasta is the ultimate comfort food, this one-pot pasta is perfect comfort food. Garlic is a must in Italian cooking, and what's different about this recipe is that the spaghetti, or linguine if you prefer, is cooked in the tomatoey broth it's served in. If you want to cut down on white pasta, use wholewheat pasta, buckwheat, or rice. You can also use Asian noodles such as soba and udon. While pasta shouldn't ever stick together, cooking it in a little butter separates it.
55. Honey Garlic Chicken Wings
The Asian culinary influence in this all-American dish, with its garlicky, sweet and salty flavor, makes it moreish. Add some heat by using on-trend hot honey or a pinch of cayenne pepper. Let the garlic, honey and soy sauce, as well as sesame oil and brown sugar, work their flavorsome magic. They're so tasty that you don't even need a dipping sauce. Serve them as a snack, appetizer, or a main dish with fried rice or potatoes. Heat leftovers in the oven, as they'll go soggy in the microwave.
56. Coconut Red Lentil Dal
Red lentils are amazing at soaking up flavors. And because this is an Indian dish, those flavors have to include the powerful taste of garlic and spices. The boldness of the garlic, ginger and curry powder, along with cumin, turmeric, and ground coriander, blends into the creamy coconut-tomato sauce beautifully. You can add some fresh veggies if you like, such as spinach and diced sweet potatoes. Serve this dal with rice, adding a dollop of yogurt and some chopped cilantro.
57. Everything Bagel Dip
This recipe is a cool, imaginative way of taking a well-loved flavor and giving it a fun twist. If you love the seasoning on an everything bagel, you'll enjoy making and eating this dip created using those same flavors. Of course, you can buy your everything bagel mix ready-made. But if you want to add the ingredients to cream cheese and yogurt yourself, then Martha Stewart's recipe, with dried minced garlic and lots of seeds, is divine. Serve this deconstructed snack with bagel chips or even on an everything bagel.
58. Homemade Tzatziki Sauce
Dip your crackers, crudités, and pita chips into this zesty, garlicky dip, or add it to a delicious falafel pita or drizzle over a sizzling gyro. Garlic, cucumbers, and dill, along with citrusy lemon juice, give the creamy Greek yogurt that distinctively tangy tzatziki taste. Make sure you use enough yogurt to counteract the wateriness of the cucumbers and that you dice them first so they're easier to blend with the other ingredients. You want your dip to be nice and thick, so that it can easily be used as a spread.
59. Easy White Clam Sauce Linguine
Light, yet terrifically tasty, there's something about clams and linguine that works so well. With few ingredients in this dish, the garlic sings as the flavors permeate the white wine and clam juice sauce. Don't forget to keep the juice when you open your cans of clams as this is what will be coating the pasta. Make sure every strand of linguine is tossed in the fishy sauce before serving. Enjoy this Italian classic with a leafy green salad, while garlic bread is a must for any garlic-lover.
60. Spicy Pad Thai
Asian-inspired culinary adventures don't have to be complicated, as this Thai classic recipe proves. It's all about frying up fabulous flavors, getting all your ingredients prepped, and knowing how to use a wok. A quick blast of high heat releases the inimitable garlic aroma as you fry up your bean sprouts and green onions. However, you need to set the temperature down before you scramble your eggs; otherwise, the egg whites won't cook properly. Enhance the flavors with a sweet, salty, spicy, and citrusy peanut sauce.
61. Guy Fieri's Dragon's Breath Chili With A Twist
A hearty dish can be meat-free; here's proof. Fresh garlic and granulated garlic, plus roasted chilis, give this spicy chili a powerful flavor profile. Get creative with the toppings and customize your chili by adding cilantro, avocado, and red onion, as well as sour cream and cheese. (If you're plant-based, seek vegan alternatives.) Serve in a bowl or a tortilla or add to brown rice.
62. Spicy Garlic Edamame
Once you've tasted this salty, garlicky Asian snack, you're going to want it again and again. Yes, it's that good. And what's great is that you can make it as spicy or mellow as you like. When cooking the garlic in sesame oil, make sure you toast it, but that it doesn't brown. This is the only cooked part of your sauce and once you've mixed your garlic in with the chili paste and soy sauce, a good step is to mix it with the pods before serving so they're completely covered.
63. Sheet Pan Garlic Salmon
Lemony, garlicky Mediterranean vegetables roasted in a pan with salmon is as appetizing as it sounds. What's also great is that there's no sweating over a hot stove and no real washing-up, either. Roast some baby potatoes, too, and you have a full meal in one. While you cook everything together, be mindful of different cooking times, as the potatoes take longer than the other veggies, which in turn take longer than the salmon. Melt the butter in the microwave to make it easier to beat in the garlic and lemon.
64. Homemade Avocado Hummus
If you love the garlic taste of hummus, you'll flip for this creamy avocado version. If you're wondering how it stays gorgeously green, then the trick is to use lemon juice to stop the fruit browning. While some people swear that shelling chickpeas makes for a smoother dip, there's no need. Canned chickpeas are fine to use, too, and you can always use white beans in place of them. Meanwhile, make sure your avocados are nice and ripe before adding them to your chickpeas and tahini.
65. Slow Cooker Au Gratin Potatoes
Just try to imagine what meal this creamy, garlicky potato side wouldn't go with. Impossible, isn't it? This classic, made with cheese sauce, pairs with both meats and meat-free savory dishes. If you want a good melt and a less oily texture, it's best to grate your cheese fresh, rather than buying pre-shredded. When your potatoes are temptingly tender, turn off the heat and let the dish cool for around 20 minutes. While you might want to dig straight in, this helps the sauce thicken.