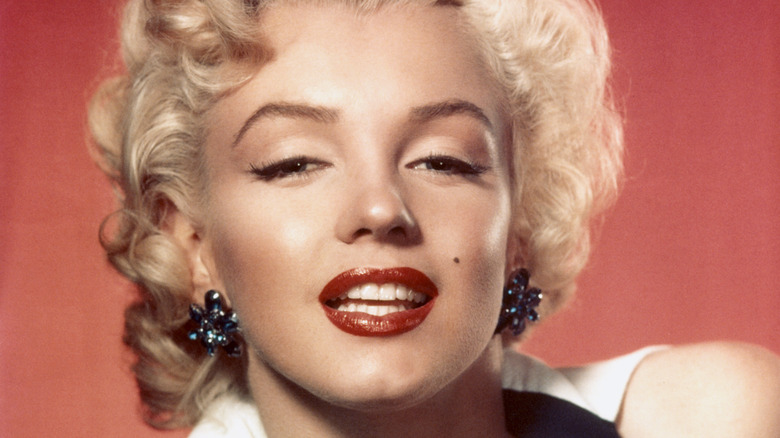 There's no doubt that Marilyn Monroe is one of Hollywood's most iconic figures. Miss Monroe rocked the silver screen in the 1950s, taking the world by storm with her signature platinum blond locks, red lips, beauty mark, hourglass figure, and sultry speaking voice. The legendary films that she starred in include classics such as "Some Like It Hot" (1959), "The Seven-Year Itch" (1955), and "Gentlemen Prefer Blondes" (1953), which paved their way into the American zeitgeist.
Despite her glamorous image, Monroe's personal life was far from easy. While she was regarded as one of the biggest sex symbols of all time during the height of her fame, today, she is widely recalled as a troubled figure who was a victim of the highly demeaning entertainment industry. A woman with many demons, Marilyn Monroe had a complicated and compelling life. Keep reading to learn more about the tragic story of Marilyn Monroe.
She had an unstable childhood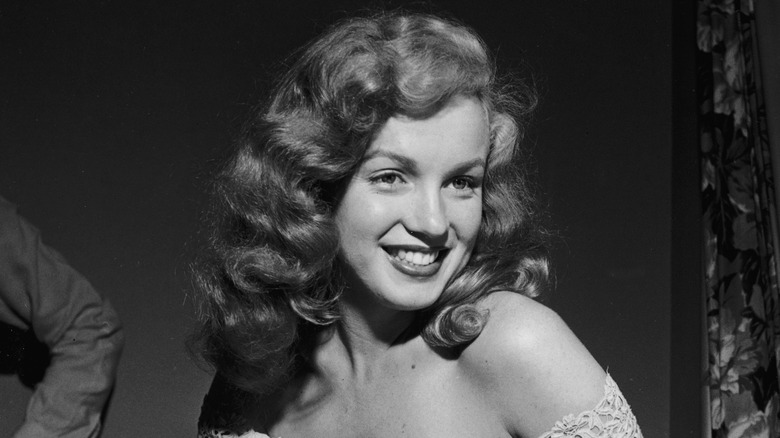 Born Norma Jeane Mortenson on June 1, 1926, in California, the woman who would later be known as Marilyn Monroe was given up to a deeply religious foster home when she was just 2 weeks old. Her biological mother was a woman by the name of Gladys Pearl Baker, who was 26 years old when she had baby Norma (per Biography). Baker claimed that Norma's biological father was a man named Charles Stanley Gifford who worked with her at a film processing company; he supposedly abandoned Baker when he found out she was pregnant.
Baker made an attempt to stay in contact with her daughter throughout her childhood, arranging regular visits and sleepovers. She even once attempted to abduct baby Norma and escape with her in a duffel bag, but the effort was successfully stopped by Norma's foster mother, Ida Bolender. Baker was later diagnosed as a paranoid schizophrenic and was institutionalized in 1934 (via Biography).
According to the New York Post, Monroe also unfortunately suffered a series of sexual abuse incidents as a child. Although the exact details are unknown, she referred to one of the perpetrators as "Mr. Kimmel," who reportedly assaulted her at the age of 8. Other assailants are widely speculated to have been her cousin and a close family friend.
If you or anyone you know has been a victim of sexual assault, help is available. Visit the Rape, Abuse & Incest National Network website or contact RAINN's National Helpline at 1-800-656-HOPE (4673).
Marilyn got married at the young age of 16
In 1942, Monroe's legal guardians moved across the country, and could not take her with them. In order to not get sent back to an orphanage, then-16-year-old Monroe married a local man five years older than her named James Dougherty, an actor and football star who she'd met a year earlier. "My relationship with him was basically insecure from the first night I spent alone with him," she wrote about the marriage (via Vanity Fair). However, she did add that she was very attracted to him. And although Dougherty found Monroe very attractive as well, he did originally express concern about their age difference (via Bustle).
The two were reportedly very distant toward each other in their marriage, with Monroe saying she "was dying of boredom." Dougherty later went on to serve in WWII, leaving Monroe by herself after she had dropped out of school to become a housewife. When Monroe's modeling career began to take off, Dougherty did not approve of this career choice, which led to their divorce in 1946 (via Bustle).
She worked at a factory during WWII
With a large number of working men deployed overseas during WWII, women began to take control of many of the jobs in the United States (via PBS). And before her acting endeavors took off, Monroe was no exception to this phenomenon.
One of her first jobs could not be further from her lavish, glitzy career that exploded in the 1950s: Monroe worked at a military factory in California in 1944. According to Gizmodo, her main role was to spray down planes with fire retardant. However, she also reportedly occasionally assembled planes — more specifically, drones. A rare photograph captured in 1944 showed then-Norma Jeane without her signature blond locks adding parts to an OQ-2 radioplane. According to The Daily Mail, the picture was taken by photographer and Air Force member David Conover while he was on assignment for a military magazine. Conover was reportedly sent to the factory by his commanding officer, who was future U.S. President Ronald Reagan.
Marilyn started her career as a pinup model
With the snapshots taken at the factory, Conover was widely credited for being one of the first to "discover" Monroe. After meeting Norma, he then recommended her to another photographer named Bill Carroll, who gave the future superstar her first paid modeling gig (via The Daily Mail). From there, she began to book bigger gigs, eventually signing on with one of the largest modeling agencies in Los Angeles (via LiveAbout). She then dyed her light brown hair to the bright blond "Marilyn Monroe" style that the public associates with her image today. Photographers often had her pose in two-piece swimsuits to show off her body, and she was often seen on the covers of popular pinup magazines.
The many photographs then caught the attention of film casting director Ben Lyon of 20th Century Fox. After a successful screen test in 1946, she was signed to the production company with a six-month contract. At that time, she changed her name to Marilyn Monroe, combining the monikers of 1920s actress Marilyn Miller and her mother's middle name (via LiveAbout).
Her photographs were published in Playboy without her consent
Before her massive fame and wealth, a then-financially struggling Monroe often posed without clothes during her photography sessions in an attempt to earn more money (via PopSugar). In 1953, Playboy Magazine released its first issue containing rare, full-color images of a completely bare-skinned Monroe. It was revealed that founder Hugh Hefner obtained the photos and published them without Monroe knowing. She also was never financially compensated (via Biography).
20th-Century Fox wanted Monroe to deny it was her body that was captured in the snapshots, worrying it would heavily damage her reputation. However, she owned up to the situation without shame, even admitting that she had bought a copy of the issue for herself. Her choice, to be honest, ended up being a wise one. This scandal not only failed to harm Monroe's acting career, but it helped to launch her image as a mega sex symbol. "Of course they were wrong. The fans, my public, cheered when I admitted it was me, and that calendar and that Playboy first-issue publicity helped my career," Monroe herself said (via Biography).
Marilyn Monroe was frequently typecast
In the majority of her roles, Monroe typically played ditzy, airheaded, and superficial women. Since the start of her fame, she highly popularized the "dumb blond" stereotype, per Refinery29. "I can be smart when it's important, but most men don't like it," her character said in the film "Gentlemen Prefer Blondes." At the time, the general public didn't separate her on-stage persona from her real-life personality, causing many to doubt Monroe's intellectual capabilities. "She was far from dumb, although she was not formally educated, and she was very sensitive about that. But she was very smart indeed," biographer Sarah Churchwell told the Christian Science Monitor.
As her career developed, Monroe became frustrated with her narrow typecasting. She eventually wanted to be taken more seriously as an actress (via CNN). This led her to study method acting with renowned coach Lee Strasberg, who had also worked with such A-list stars as Marlon Brando and Paul Newman (via Marie Claire). She then went on to star in the film "Bus Stop," which contained a serious, dramatic script. Monroe was critically praised for her portrayal of an emotionally complicated character (via The New York Times).
She consistently fought with her production studio
During the earlier years of the film industry, actors were often treated as money-making machines. They were often bred by major studios to produce as much content as possible for the sake of box-office numbers, as opposed to using an art form to tell a story. They also very rarely had any say in the roles they played, and their personal lives and schedule were intensely controlled by executives, leaving virtually no room for privacy (via Marie Claire).
Despite being Hollywood's biggest star at the time, Monroe was no exception to this phenomenon. According to Marie Claire, 20th Century Fox overworked her with intense filming hours, to the point where she would often pass out on set. She was also grossly underpaid, and was forced to play vapid, mind-numbing characters that she detested. "An actress isn't a machine. But they treat you like one," she once told Life.
In order to protest her strict contract, Monroe eventually stopped showing up to productions. This caused Fox to file multiple lawsuits against her, although they were eventually dropped. The company ended up caving in and raising Monroe's pay while giving her significantly more creative agency over her film choices. The accomplishment was so unprecedented in Hollywood during this era that the Los Angeles Mirror described it as "one of the greatest single triumphs ever won by an actress" (via Marie Claire).
Marilyn and Joe DiMaggio clashed during their short-lived marriage
When it comes to Monroe's love life, her second marriage was highly publicized by the media. That's because she wed Joe DiMaggio, who is commonly regarded as one of the greatest baseball players of all time, per Biography. The two wed in 1954, and had a passionate connection with a strong physical attraction. However, there was an immediate conflict between the pair's lifestyle and career choices.
According to the New York Post, DiMaggio was highly jealous and possessive of Monroe, as he was uncomfortable with her sexually liberated nature. He was reportedly disgusted by the way she presented herself in her films, to the point where he attempted to control the way she dressed. While DiMaggio wanted a traditional, obedient housewife, Monroe wanted a partner who would support her career and independence (via PBS). The two ended up divorcing after a mere nine months of marriage, with Monroe citing "mental cruelty." However, DiMaggio was so deeply in love with Monroe that he never went on to remarry.
Her marriage to Arthur Miller was rocky
Marilyn Monroe went on to wed for a third time before her death, marrying esteemed playwright Arthur Miller in 1956 after he left his wife for her. According to Biography, Monroe was apparently drawn to the idea of being with a well-respected artist, believing it would strengthen her reputation as a serious actress. She also reportedly became attached to the sense of security Miller gave her during their courtship. "This is the first time I've been really in love," she once said.
However, their relationship started going downhill during the production of her final film, "The Misfits," in 1960. She was reportedly not a fan of the script, despite Arthur writing it in an attempt to demonstrate her versatility as an actress. He ended up rewriting the script at the last minute, making it very difficult for Monroe to adapt to the line changes. The two ended up divorcing in 1961. "I wasn't sweet all through. He should love the monster, too. But maybe I'm too demanding. Maybe there's no man who could put up with all of me. I put Arthur through a lot, I know. But he also put me through a lot," Monroe once reflected on their marriage (via Biography).
Monroe suffered multiple miscarriages
Artistic conflicts weren't the only reason Monroe's marriage with Miller ended up falling apart. According to Biography, she was devastated due to the fact that she was unable to have a baby with Miller. The actress experienced three pregnancy losses in a short period of time, which caused much strain in the relationship. According to MamaMia, Monroe suffered from endometriosis, a uterine disorder that makes it much more difficult to conceive.
Author Les Harding wrote in his book, "They Knew Marilyn Monroe: Famous Persons in the Life of the Hollywood Icon," that "Marilyn yearned for what she never had: a normal family life" (via MamaMia).
Managing to keep her pregnancy a secret from the public eye, Monroe had her first miscarriage in September of 1956. Around a year later, she suffered another due to an ectopic pregnancy (via MamaMia). Her third and final pregnancy loss occurred in December 1958 (via Biography). Being heavily addicted to barbiturates and alcohol at the time, Monroe felt that the tragic outcome was her fault.
An affair between Marilyn and JFK was highly rumored
The unmistakable sexual tension between two of America's most popular figures at the time has been widely discussed for decades. While it has been speculated that Marilyn Monroe and President John F. Kennedy had a physical affair, it has never been officially verified by experts, per PopSugar. Rumors about their supposed relationship erupted when Monroe sang her famous rendition of "Happy Birthday, Mr. President" during Kennedy's 45th birthday celebration in 1962. The performance was marked by Monroe's highly seductive singing tone and her memorable, form-fitting sequined dress.
The daughter of Monroe's acting coach wrote in her unfinished memoir that Monroe and JFK spent the night together once (via PopSugar). However, despite a common perception of an ongoing affair, biographer Donald Spoto clarified that the two only met a total of four times, and that a sexual encounter between them cannot be confirmed or denied.
She struggled with mental health issues
Tortured by an unhealthy industry and frequently exploited by many around her, Monroe suffered from mental health issues for the majority of her life. While her substance abuse has been backed by historical evidence, many sources, including PBS, have widely speculated that she also suffered from bipolar disorder. Unfortunately, she lived during a time when very limited research and resources were available to those suffering from mood disorders.
Monroe's emotional state especially decreased toward the end of her career, as she fell into a dark depression after her third divorce. According to Us Weekly, she was committed to a psych ward involuntarily in 1961 due to becoming increasingly unstable. According to Vanity Fair, she was subjected to physical abuse and told she would be put in a straight jacket if she did not cooperate, causing her to threaten self-harm. Monroe was reportedly so distraught by being in the institution that she called her ex-husband Joe DiMaggio and pled with him to help free her, and he eventually complied.
If you or someone you know needs help with mental health, please contact the Crisis Text Line by texting HOME to 741741, call the National Alliance on Mental Illness helpline at 1-800-950-NAMI (6264), or visit the National Institute of Mental Health website.
Marilyn's addictions led to her last movie never being finished
In 1962, Marilyn Monroe made her final appearance on screen in the comedy film "Something's Got to Give," also starring Dean Martin. Her substance abuse was so out of control that she rarely showed up to production, frequently providing doctors' notes citing various illnesses. When she did manage to appear during filming, she apparently couldn't remember her lines, per Independent. She also lost an alarming amount of weight, and would reportedly hide in her trailer due to being afraid of the camera. Monroe was once found passed out in a barbiturate coma by the film's producer, causing the screenwriter to call her "self-destructive" in frustration.
Monroe's behavior on set during this time was originally described as "disruptive" by the media. However, years later, footage of her many takes was discovered. The clips showed her apologizing sincerely for missing cues and being respectful to her co-stars. Despite this, she was eventually fired from the film due to too many absences. She was brought back a few months later after Dean Martin said he refused to work with anyone else. Unfortunately, Monroe passed away before filming could resume, resulting in the entire project being permanently scrapped (via Independent).
Marilyn's death was likely a suicide
On August 5, 1962, 36-year-old Marilyn Monroe was found dead in her bedroom in California surrounded by empty bottles of pills. While the cause of death was ruled an overdose, it is often questioned whether or not it was intentional, as she didn't leave a note. The Los Angeles police ultimately ruled the tragic incident as a "probable suicide" (via History). However, there have been many conflicting accounts and unclear answers from those close to Monroe. Monroe's mysterious death is still surrounded by unproven conspiracy theories (via Newsweek).
Monroe's untimely passing caused mass shock and sadness. Public figures such as Sophia Loren, Frank Sinatra, and Truman Capote were devastated by the news. Many heavily criticized Hollywood and the media's brutal treatment of fragile young actresses. "Marilyn Monroe's tragic death should serve as a terrible lesson to all those whose chief occupation consists of spying on and tormenting film stars," French Poet Jean Cocteau said in contempt (via The New York Times). Her ex-husbands Joe DiMaggio and Arthur Miller expressed similar sentiments. While Miller surprisingly did not attend Monroe's funeral, DiMaggio was so profoundly devastated by her death that he had arranged to have flowers displayed at her gravesite multiple times a week for two decades (via Biography).
If you or anyone you know is having suicidal thoughts, please call the National Suicide Prevention Lifeline​ at​ 1-800-273-TALK (8255)​.