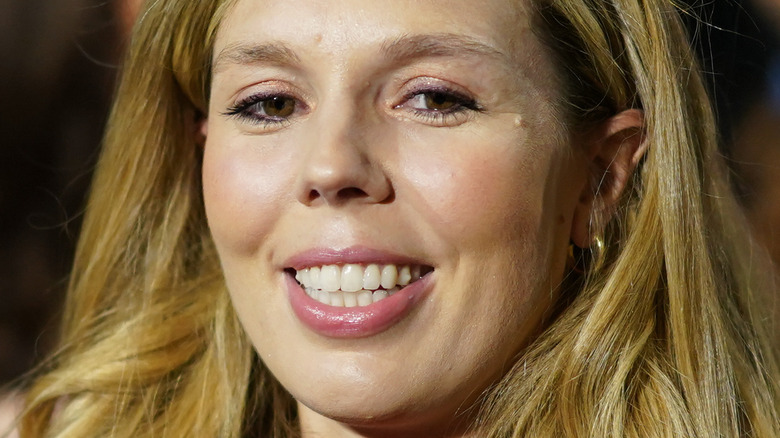 Carrie Johnson is known as the U.K.'s equivalent to a first lady after marrying British Prime Minister Boris Johnson in May 2021. But when she was first seen in public with Boris, Carrie raised many eyebrows. This is because, at the time, Boris was married, and press coverage painted Carrie as the "other woman" and a much younger party girl — she was 30 years old to Boris' 54. After he got a divorce and moved in with Carrie, she stepped into a very public role as the prime minister's partner. As the years went on and Boris and Carrie married and built a family together, and she became an opinionated and supportive figure at the prime minister's side — even during his resignation.
But, outside of her relationship with one of the world's biggest political leaders, what is Boris Johnson's wife really like? We're taking a look inside the fascinating life and career of Carrie Johnson.
Carrie Johnson had a privileged upbringing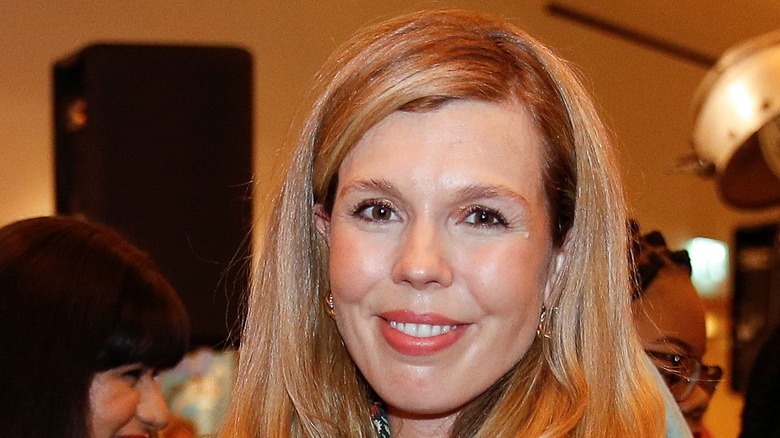 Before marrying Boris Johnson, Carrie Johnson was known as Carrie Symonds, born on St. Patrick's Day, 1988, to Matthew Symonds, co-founder of the British newspaper The Independent, and Josephine McAfee, an attorney working for the publication (via the Daily Mail). Her birth was a slightly complicated situation as she was the product of an extramarital affair between the two, according to the newspaper, and both of Johnson's parents were married to other people.
Interestingly, her father was also the product of an affair, and it's been said that his mother, Anne, was the illegitimate daughter of Prime Minister H. H. Asquith. A source told the Daily Mail that Johnson was never close with her father, sharing that "she considers him to have been a domineering, absentee father from her childhood" who only visited occasionally.
Raised by her mother, Johnson grew up in a leafy, upscale area of Southwest London called East Sheen, where she attended a prestigious private school called the Godolphin & Latymer School, according to the newspaper. With such a privileged background, she was well-set to enter the world of politics in years to come.
She studied theater and art at England's University of Warwick
When it came time for college, Carrie Johnson enrolled at the University of Warwick in Coventry, England, where she studied theater and art history. During these years, she even auditioned for the film "Atonement," which starred Keira Knightley — who also appeared in films like "Love Actually" — in her quest to become a professional actress (via The Guardian).
Previously unseen photos of Johnson at a horrible histories-themed party at the University of Warwick were released to The Sun in October 2020. She posed with fellow drama students — many wearing togas — in the photos, which were taken at an annual ball for the theater department. A source told the newspaper that Johnson was a popular student, but it was interesting that many of her school friends were not a fan of her future husband's politics. One even went on to protest topless in front of the Houses of Parliament. Another friend told The Sun that Johnson was "very committed, passionate and involved" at school and said she was "not surprised to see where she is now."
Boris Johnson's wife was a victim of a black cab rapist in 2007
Sadly, Carrie Johnson went through a terrifying ordeal during her University of Warwick days. In 2009, she spoke to The Telegraph about the incident, which took place in July 2007 when she was 19. Johnson said she was approached by black cab driver John Worboys, who offered to drive her home after a night out with friends. He offered Johnson a drink, which she poured out but said she eventually accepted a shot of vodka from him. Johnson told the newspaper she didn't remember much of what happened after downing the drink.
Johnson arrived home that night, throwing up and laughing nonstop before passing out in front of her mother and sleeping until 3 p.m. the following day. She said she "was definitely in a position of danger, in a situation where I was not in control and I will never know what really happened to me" (per The Telegraph). The cabbie later received multiple life sentences for sexually assaulting female passengers starting in 2000 (via The Guardian). Her friend, Nimco Ali, told Grazia that Johnson spoke out and gave up her anonymity when Worboys was going to be released from prison early to help overturn the decision and protect other women.
If you or anyone you know has been a victim of sexual assault, help is available. Visit the Rape, Abuse & Incest National Network website or contact RAINN's National Helpline at 1-800-656-HOPE (4673).
She has a strong background in politics
Although she studied theater and art history at the University of Warwick, Carrie Johnson ultimately didn't end up working in the art world. Politics might seem a world away from the creative fields she studied, but, after she gave up acting, Johnson got a job working for Zac Goldsmith, who was Richmond's MP (a member of parliament who serves as a local representative) at the time (via The Guardian). Years later, Johnson tweeted: "Not sure I'd have worked for the Tories if it hadn't been for him. Owe him a lot." Johnson used the role as a stepping stone to move to the conservative party's press office, where she rose in the ranks and worked on her future husband's re-election campaign when he ran for mayor of London in 2012 (via BBC News). Eventually, she became a special adviser to Culture Secretary John Whittingdale, per The Guardian.
In 2017, Johnson returned to the conservative party headquarters, becoming the youngest director of communications for the party at the age of 29, per Sky News. Johnson was so well known in British political circles, in fact, that PR Week magazine named her second on its top 10 "power book" list of political communications professionals in 2018.
Carrie Johnson has a successful communications career
Using her experience in political communications, Carrie Johnson has built a career combining these skills with her passion for animals and the environment. She started working for the ocean conservation organization Oceana in 2018, per the Independent, and focused on helping marine life by reducing plastic pollution. She frequently tweeted about plastic pollution in our oceans while working for the charity, and she continues to work with Oceana as a consultant on the issue, per Sky News.
In January 2021, Johnson took a position as ​​head of communications at the Aspinall Foundation, a British animal conservation charity that operates several wildlife parks, per Sky News. According to the Daily Mail, Johnson has been in talks with Netflix to create a documentary about the charity's project to move 13 elephants from its Kent, England-based Howletts Wild Animal Park to Kenya. A friend told the newspaper that "Carrie's phone was ringing off the hook after it was announced she was working hard on the project to re-wild the elephants."
She has protested for animal rights
One of Carrie Johnson's biggest passions is animals, and, while she's focused much of her career on helping them and the environment, she's long supported causes relating to the issue. In 2017, she was named patron of the Conservative Animal Welfare Foundation. One of the animal cruelty issues she's worked on is banning the ivory trade in the U.K., and, according to the Daily Mail, Johnson was influential in getting the Ivory Act passed to prevent items made from elephant ivory being sold or imported in Great Britain. She's also spoken out about monkey slave labor and encouraged British supermarkets to ban the sale of coconut milk and coconut water brands taking advantage of monkeys to help make their products (via Reuters).
In 2019, the Daily Mail reported on Johnson's excitement over badger culls being canceled in the U.K. The new restrictions were said to have happened due to her alleged influence over the prime minister on the topic after meeting with the Badger Trust's chief executive.
She's also frequently appeared at animal rights protests, such as when she joined her future father-in-law, Stanley Johnson, at a January 2019 protest against Japanese whaling (via the Daily Mail's YouTube channel). Speaking in front of the crowd, she said, "Harpooning some of the world's most beautiful creatures is just wrong."
She was first linked to Boris Johnson in 2018
Back when Carrie Johnson, then known as Carrie Symonds, was still single and working in politics, she took part in the then-mayor of London's 2012 re-election campaign (via the Mirror). His name was Boris Johnson, and later he'd become her husband, but, as far as we know, the two weren't officially linked until 2018. At the time, Boris was married to his second wife, Marina Wheeler, but the Daily Mail reported that he and Carrie were spotted having dinner together on Valentine's Day in 2018 and that the future prime minister was seen dancing at Carrie's 30th birthday the following month. Later that summer, the still-married Boris was spotted vacationing in Tuscany with Carrie and a group of friends, per the Mirror.
Boris announced his divorce from Marina in September 2018, per The Guardian, and a wash of negative press coverage engulfed Carrie, who was largely blamed for the marriage's breakdown in the media. The stories were so negative, in fact, that a group of women working in and around U.K. politics gathered together to write an open letter about the mistreatment Carrie received in the press (via the Huffington Post).
Some people describe Carrie Johnson as driven and charming
So what is Carrie Johnson like behind the scenes? Those close to her describe an upbeat, energetic person who cares deeply about the causes she holds dear. Her friend, Nimco Ali, wrote a heartfelt piece for Grazia about Boris Johnson's then-girlfriend after he delivered his inaugural speech as prime minister. Her friend said they became friends when Carrie worked as the conservative party's communications director and that she'd gone above and beyond in her role. She also shared that Carrie wasn't a big fan of being scrutinized by the media but realized headlines were part of the job and not the end of the world. At the end of the day, her friend said Carrie was "a woman who gets things done" and that "you only have to meet her for a few minutes and her optimism and can-do spirit rubs off on you."
Back in 2018, when Carrie was first linked to Boris Johnson, the Daily Mail described her as "charming, fun, intelligent and passionate about politics." A friend told the newspaper that Carrie wouldn't have approved of being a woman on the side while Boris was married and that she had high morals. Other sources said Carrie always acted and dressed a bit older than her age, and it wasn't surprising that she was dating an older man because she was more accomplished than most people her age.
She has a soft spot for her dog
In September 2019, Carrie and Boris Johnson welcomed a new addition to Downing Street: a rescue pup named Dilyn, according to BBC News. The couple adopted the Jack Russell terrier mix from Friends of Animals Wales after he was abandoned due to a crooked jaw, per the media outlet. Carrie posted on social media about their new pet, calling the charity's owner, Eileen Jones, "a hero" for fixing Dilyn's jaw and giving him a new lease on life. The charity owner went on to praise the couple for adopting a "normal, scruffy little terrier" instead of buying a purebred dog from a breeder. Carrie and Boris also highlighted Lucy's Law, a law doubling down on puppy mills (via BBC News).
Dilyn moved into some sweet new digs at Number 10 Downing Street and enjoyed life with his family when, in 2020, allegations hit the media that the prime minister and his fiancée wanted to re-home him. According to the Daily Mail, Carrie drafted a letter in both of their names vehemently denying the claims that they wanted to get rid of their dog. In the text of the letter, which was shared with the newspaper, Carrie wrote that the couple would be contacting the Independent Press Standards Organization since The Times refused to print a correction to their story or issue an apology. Ultimately, the prime minister didn't sign the letter, but the article was removed from The Times' website.
Carrie and Boris Johnson have two children together
In early 2020, Boris Johnson released a statement announcing his engagement and sharing other big news — he and Carrie Johnson were expecting a baby (via People). Their first child, Wilfred Lawrie Nicholas Johnson, was born in April 2020, per BBC News. His birth was a bright spot in a difficult month, arriving only a few weeks after Boris was hospitalized for COVID-19. Carrie posted on social media that the baby's middle name, Nicholas, was in honor of two of the doctors who helped treat her husband when he was critically ill, as BBC News noted. Little Wilfred has mostly been kept out of the spotlight, although we did see him play on the beach with his mother and First Lady Jill Biden at the summer 2021 G7 Summit in Cornwall, England (via Tatler).
In December 2021, Carrie and Boris welcomed another addition to the family: a baby girl named Romy Iris Charlotte Johnson (via the Evening Standard). They showed her for the first time in a photo released of them taking part in a video call on the sofa alongside their dog, Dilyn. But before Romy's happy arrival, Carrie shared that the couple experienced heartbreak when she had a miscarriage earlier in 2021, per the Daily Mail. Highlighting the work of the charity Tommy's during Baby Loss Awareness Week, Carrie said, "Pregnancy after loss is totally wonderful but the worry is constant."
She champions sustainable fashion
Carrie Johnson doesn't just talk the talk when it comes to being environmentally conscious — she shows her passion for the planet in her wardrobe, too. She's a big fan of sustainable fashion and renting her clothing versus buying multiple pricey designer outfits (via Tatler). During 2021's G7 Summit held in Cornwall, England, Carrie joined her husband, Boris Johnson, and other world leaders for a range of high-profile events wearing rented outfits, per the magazine. Whether a mustard yellow dress she rented for just £8, a bold cobalt blue trouser suit, or a trendy floral dress by The Vampire's Wife, Carrie showed you don't have to spend thousands of dollars to look great on the world stage.
Carrie even rocked a dress she rented for just £45 on her wedding day, per the Metro. She snagged the £2,800 designer dress by Christos Costarellos from high-end clothing rental site My Wardrobe HQ. The tiered, boho-style lace dress, which featured long, bell-shaped sleeves, was a sellout online, according to the newspaper. In fact, The Times reported that My Wardrobe HQ experienced a staggering 3,000% increase in customer inquiries following the wedding, and Carrie's rented dress made up to 20% of them. It's no wonder Tatler called Carrie "the unelected pin-up for rental fashion."
She secretly married Boris Johnson in 2021
Although their engagement was announced in February 2020, Boris Johnson and his new bride, Carrie Johnson, didn't tie the knot until May 2021, and they kept their wedding a complete secret until they released photos to the public (via Metro). The couple were married in London's Westminster Cathedral and headed to the prime minister's Downing Street residence for a party that included "a folk singalong and dancing next to a fire pit, and a 'best of British' afternoon tea," per the newspaper.
In a photo released from the day, shown in the Metro, the barefoot bride and her new husband pose in the garden of Number 10 Downing Street, decorated with colorful streamers and lanterns. In the background, a table propped up on bales of hay is covered with various drinks for the laid-back garden party reception.
According to the country's health guidelines at the time, they were only allowed 30 guests. The wedding was Carrie's first marriage and the third for the prime minister, per Metro, which reported that Boris' brother served as his best man.
Carrie Johnson has been accused of interfering in her husband's politics
Carrie Johnson has supported her husband, Boris Johnson, in his role as prime minister and during his resignation. But questions about how much influence she actually had on the leader were raised in February 2021 when a conservative think tank called The Bow Group suggested that an inquiry should be made into Carrie's role at Number 10 Downing Street (via Sky News).
Mentioning how three of Carrie's friends received Downing Street jobs, Ben Harris-Quinney, the Bow Group's chair, said the prime minister's wife doesn't play an official part for the Tories or the British government but that media reports, per Sky News, made it seem she was "taking a central role in running the country, without any authority or accountability to do so." The Guardian, for example, discussed Carrie's dislike of Dominic Cummings, the prime minister's chief advisor, and how she allegedly pushed for certain people to be appointed or not appointed to government roles. The newspaper also reported that Carrie could prove influential in the U.K.'s backing of more animal-friendly and environmentally-friendly laws. Another article in The Guardian, however, shared the opinion that some people were jealous of Carrie's political background and knowledge, thus accusing her of wielding unnecessary influence.
Downing Street denied the claims that Carrie had any kind of role in the government, and Samantha Cameron, the wife of former Prime Minister David Cameron, told the BBC that the reports were "demeaning" and unfair.
Some reports say Boris Johnson tried to get Carrie a senior job
Before he became prime minister, Boris Johnson served as the secretary of state for foreign affairs from 2016 to 2018. Boris was married, though in the middle of a divorce, when he reportedly tried to get his then-girlfriend Carrie a senior position in the foreign ministry. Rumors of the attempt were briefly circulating in the news before mysteriously disappearing. But in June 2022, numerous outlets, including The Washington Post, began to cover the topic again.
While Boris has repeatedly denied the allegations, BBC News has noted that two different sources confirmed the story to the publication. On top of that, political rival Labour MP Chris Elmore asked Boris directly if he had attempted to recommend his wife to any job within the government or in an important role. Boris replied, "I know why the party opposite wants to talk about non-existent jobs in the media because they don't want to talk about what's going on in the real world." As for Carrie, she has not commented on the issue.
Some believe Carrie and Boris Johnson have a dysfunctional relationship
Many were undoubtedly surprised when Boris Johnson and his wife of 25 years, Marina Wheeler, divorced. Not unlike some others have alleged, conservative party member Lord Ashcroft insisted that his new wife, Carrie Johnson, may have blocked him from governing effectively as prime minister of the United Kingdom (via Daily Mail).
According to Lord Ashcroft, some friends of Boris believe that Carrie has done more harm than good. A friend reportedly told the Daily Mail that "Marina was a very important influence on Boris," as opposed to Carrie, whose behavior is "demanding rather than supplying." Further, the friend described the internal affairs of the Johnsons' home at 10 Downing Street as dysfunctional, with a second source alleging that Carrie was "the number one problem" for the former prime minister. Neither Boris nor Carrie Johnson has addressed these allegations publicly.
Carrie Johnson began to drop out of the public eye before her husband's resignation
Carrie Johnson began to pull back from the public eye even before Boris Johnson left his post as prime minister. As The Guardian noted in May 2022, Carrie was often seen with Boris following his election to Prime Minister, with the two being photographed together, attending events, and even appearing in campaigns in support of the National Health Service (NHS). But suddenly, it seemed like things changed.
As writer Catherine Bennett posited in The Guardian, Carrie was traditionally seen as an asset to the political party of which she and her husband are members. As Bennett put it, "Isn't it possible that their leader, without a young and wholesome partner to signal a joint claim on human status, could come to resemble some dung-caked, temporarily house-trained beast reverting to its natural state?"
However, it seems that numerous scandals — including "Partygate," which derailed much of her husband's last year as prime minister — had forced Carrie into a semi-reclusive state. Bennett also noted that despite those problems, Carrie still remained an important part of Boris' political image, providing a "sanitising service" to her husband.
Carrie and Boris Johnson's wedding party was impacted by his resignation
After Boris and Carrie Johnson got married at Westminster Cathedral in 2021, their spokesperson announced that they had plans to enjoy a bigger celebration in 2022 (via BBC News). But then, on July 7, 2022, Boris Johnson announced his resignation as prime minister. In addition to many high-level political implications, the news is also a blow to the wedding party that he and Carrie were planning. It was to be held the same month at the prime minister's vacation home, Chequers. As reported by the BBC, though, the two have since been forced to move their party to another location.
Chequers is an impressive estate traditionally used by prime ministers to entertain family and friends. Even though Boris plans to remain the prime minister until a new person is elected, it has been deemed inappropriate for the two to continue to use the home.