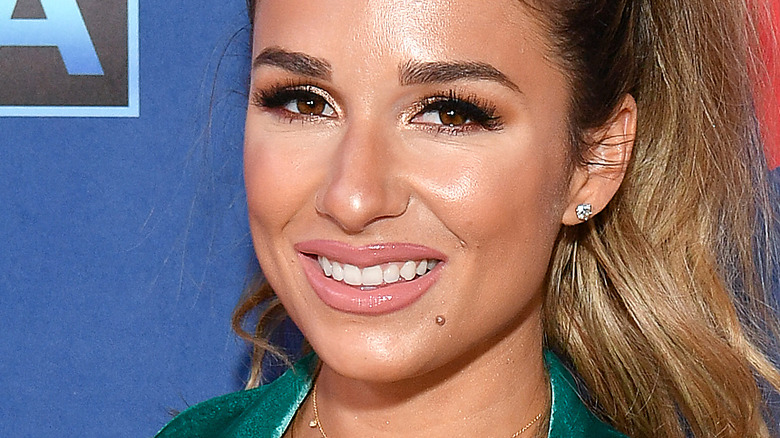 Jessie James Decker made her way inside the celebosphere when she released her debut album, "Jessie James," in 2009. The country pop starlet has since garnered attention in other ways, most notably as the wife of former professional football player Eric Decker and as the mom to three little ones.
Never one to refrain from dishing on how they keep things "spontaneous" in the Decker household, she got the opportunity to open up to her fans even more through her E! reality TV show, "Eric & Jessie: Game On." From then on, her loyal fans fell in love with the "Wanted" singer's crass sense of humor, her perfectly coiffed hair, her affinity for daisy dukes, and her flawlessly lined lips.
She has since gone on to become a New York Times' best-selling author and the owner of the fashion line Kittenish. Not bad for someone who was "tortured" in school, right? Here's the untold truth of Jessie James Decker.
Jessie James Decker's teen years were 'traumatic'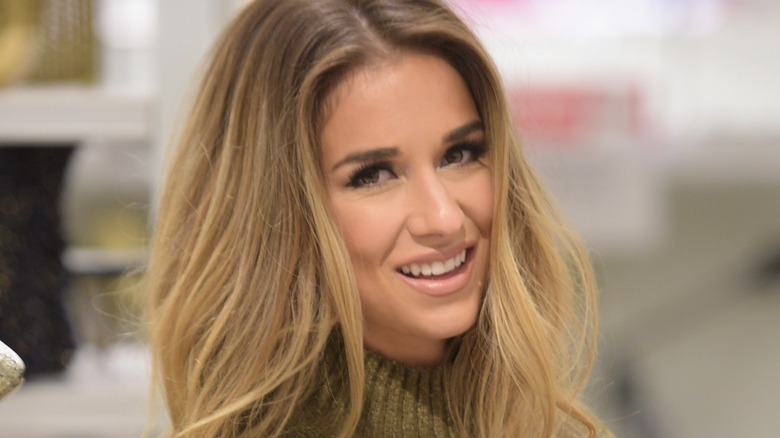 Though she and her family are now based out of Nashville, Tennessee, there was once a time when Jessie James Decker was frequently packing up and moving. Described as a "military brat" by Billboard, Decker "lived in fourteen different places," she told the publication.
It wasn't always easy moving from one place to the next and trying to make new friends. During an episode of "Eric & Jessie: Game On," she said she was "tortured" during her teen years and described it all as a "traumatic" experience. "It started off walking down the hallways, calling me 'sl*t,' and this name, and that name. I'm in the eighth grade. I hadn't even had my first kiss yet," she said. She added, "I had websites made about me called the 'I Hate Jessie James Club.' You could go and write why you hated about me." Decker said things got really bad when she was at a sleepover during her freshman year of high school and someone poured a big bucket of "slop" on her. "I remember just rushing off to the shower and crying my eyes out," she recalled.
Bullying aside, Decker told Billboard that the constant moving she experienced actually prepared her "for life as an artist."
She was very vocal on game days
Before her husband, Eric Decker, retired from playing professional football after eight seasons (per ESPN), Jessie James Decker was definitely one of his most critical — albeit supportive — fans. The country singer would regularly attend his games to let her voice be heard, much to the dismay of other fans. When he briefly played for the Tennessee Titans, Jessie told Billboard, "I know I probably make a lot of people crazy — including the team. But, I can't help it. I'm a firecracker when it comes to my husband," she said, regarding just how vocal she was from the stands. Whether it'd been a bad call or a play that went haywire, Jessie revealed, "If I feel like something isn't being done right, I say it."
She knew that being outspoken drove Eric "nuts," but she couldn't help herself. She told the publication she was "just proud of him" and it all came down to her duty as a "football wife." "You're a lot more emotional about it because you love the person out there," she explained.
When Eric decided to hang up his helmet and bid the game adieu in 2018, it was a bittersweet moment for Jessie. "I have loved every moment of the last seven years watching my husband kick some serious ass! It's a career he should be proud of," she wrote in part on Instagram. Football fans might have breathed a sigh of relief, though.
She has a knife, and she's not afraid to use it
Jessie James Decker and her husband can't get enough of each other, and there's no doubt they're crazy in love. However, that doesn't stop Jessie from encouraging Eric Decker to stay on the straight and narrow. One such reminder came in December 2016 when the "Lights Down Low" singer shared a photo on Instagram of a sausage chopped to smithereens. "Sometimes I like to send pictures to Eric with little reminders of what would happen if he ever cheated," she wrote alongside the photo.
Despite that public warning, Eric found himself in the middle of a cheating scandal almost two years later. A Twitter user shared in a since-deleted tweet (via E! News): "I know people who are friends of the girls [Eric] hooked up with/have seen him in the clubs with girls who are not Jessie." Someone hide the knives!
Eric, obviously seeing his life (and manhood) flash before his eyes, clapped back in a tweet, which read, "Sorry lady the only club I've been jammin is 'The Mickey Mouse Club House'! (That's a kids TV show for the non-parents) Make sure your 'friends' check their facts." Whew! BDD lives to see another day!
She's a manscaping guru
During an appearance on ESPN's "His & Hers," Jessie James Decker spilled some very intimate details about her marriage to former professional football player, Eric Decker.
As of this writing, they have their hands full with three kids, but, prior to becoming parents, Jessie and Eric had a lot of free time to roam around in the buff. After seeing him nude for the first time pre-kiddos, Jessie implemented a "no clothes" rule in their house. And if that wasn't TMI enough, she told the broadcast that she loved to manscape her hubby. "Sometimes, I will like to design something very special for Eric, and I make him go to the locker room when they take showers to show it off, if you know what I mean," she said.
Jessie admitted Eric didn't have to worry about his "grooming situation," being that he's a married man and all, but she still loved to "get creative" by going to town below the belt.
Don't even think about sliding into her husband's DMs
Jessie James Decker is typically sweet as a peach, but, every now and then, her perfectly manicured claws come out when someone gets a little too close to her husband, Eric Decker.
Jessie told E! News that she once checked Eric's social media messages, and she noticed that a woman had sent him naked photos. "I looked to go look at her page. She had huge boobs too and she was married with children," the singer said, filling a clueless Eric in on the 4-1-1. She then mentioned she "so badly" wanted to let the woman's husband know what was going on, but she "blocked her for [Eric] instead."
Eric seemed completely oblivious to the entire encounter, which is proof that he apparently doesn't check his social media messages often. So, note to all the women out there who are even considering sliding into his DMs: Don't. Even. Think. About. It.
Jessie James Decker is nanny-free
This is one entertainer who keeps herself super busy. We still don't know how Jessie James Decker manages to run her career, all while being a devoted wife and mother. Her husband, Eric Decker, expressed during an episode of "Eric & Jessie: Game On" that it was her work ethic that initially attracted him to her. But he also "enjoys" when he comes home and she's there waiting for him. Jessie made it pretty clear that she wasn't going to give up her ventures to be a stay-at-home mom and that she wouldn't be scaling back on her workload any time soon.
Despite the projects piling up, Jessie seems to be handling her growing empire like a pro. And she still remains as committed as ever to being a full-time mom. She even told People, "I don't have nannies; I take care of my children."
Just call her supermom!
She had postpartum depression
Many of Jessie James Decker's die-hard fans aren't aware that she had postpartum depression (PPD) after giving birth to her first daughter, Vivianne. The "Flip My Hair" singer told Health: "I think there's a lot of stigma around postpartum depression because people are so fearful, women especially, of not always appearing to be so strong, and that they have it together." Thankfully, she had her mom and her husband to lean on during that rough period, but she knows other women aren't as lucky to have such a strong support system. She added, "I think if we all stick together as women, I think we can all get through it together."
Since then, she has made it her mission to turn her social media platform into a thriving online community where she can help other moms. But sometimes, Decker is the one who is looking for advice. In an August 2018 Instagram post, she revealed she was dealing with a common mommy issue, postpartum hair loss. In her photo caption, she wondered if any of her followers had the magic cure. "Maybe there are some good vitamins I could take for that?" she asked.
The comments section was flooded with tons of advice, and, whichever method she rolled with, it obviously worked because she's still #hairgoals for life.
The country singer wouldn't stand for behind-the-scenes manipulation
Remember how we mentioned you should never mess with her man? Well, some unlucky producers of her E! reality show, "Eric & Jessie: Game On," which began filming ahead of the couple's 2013 wedding, found this out the hard way. In her 2018 book, "Just Jessie" (via Us Weekly), Jessie James Decker revealed that the producers in question attempted to manipulate her and her then-fiancé with questions that would spark an argument between them.
She wrote, "During my interview, this producer tried to provoke me into acting jealous about my future husband's career!" She claimed one of the two producers even asked her, "What's it like watching Eric's career take off when yours isn't doing anything?" Whoa. The audacity!
In the end, Jessie wasn't going to let them get away with their shady tactics, and she had the producers fired. Good for her!
This southern gal doesn't go dutch
Jessie James Decker was going through a situation with "the only guy who ever ghosted [her]" when she and Eric Decker met through mutual friends, according to her memoir, "Just Jessie: My Guide to Love, Life, Family, and Food" (via Us Weekly). They eventually began dating, but Jessie admitted she made Eric work for her attention. "I wouldn't call it game playing. I'd call it common sense … I made Eric hunt for me," she wrote. "I never texted, called or anything-ed him first. I'm not kidding. For the first three months of our relationship, he never got an incoming call from me."
That didn't deter Eric from "coming at her" and trying to date her, though, but he preferred to split the bill on their outings, and she wasn't having it. "The first time we went out to dinner, I pulled out my credit card at the end — just for show — and he gave it to the waiter along with his card!" she wrote. "We went out a few more times, and the same thing happened again and again."
Jessie said she finally confronted him about it, explaining it was a no-no because she's "from the South." Eric was apparently clueless and super "embarrassed," and he never let Jessie reach for her wallet again.
Jessie James Decker launched her own clothing line, Kittenish
Jessie James Decker is a woman of many talents who is always finding new ways to diversify her income. Back in 2014, Decker started her own clothing line, Kittenish, which sells everything from basics to cocktail attire. They have since expanded to cosmetics as well. As the website notes, starting a clothing line was a dream for Decker.
Decker has worked to keep her brand's prices down and make them accessible for as many groups of people as possible. "I want these things to be affordable and just because it's a lower price point, doesn't mean the quality is not great. That was important to me to source the best quality but find a good deal because not everyone can afford couture … I don't even want to pay for that!" she told Hollywood Life.
Decker knows the importance of marketing and leverages her 4.1 million followers on Instagram to promote her brand. Whether it's a fashion show or a new store opening, Decker is sharing the news via social media, keeping fans in the loop at all times.
She's been honest about her ups and downs
Jessie James Decker also knows the value in building rapport with her fanbase, and that requires some vulnerability, which she's proven she's not afraid of. In a candid Instagram post, Decker revealed that she's been struggling with her mental health for a variety of reasons, including her career, family issues, and the COVID-19 pandemic.
"There have been really beautiful, amazing moments but also some pretty low lows … It's been a little worse lately where I just break down and cry," she shared in part, adding that her career as an influencer and reality TV star has negatively affected her singing career.
Decker also got real about her body image, saying, "I go from one extreme to being obsessed with working out and being muscular and thin to just giving up and gaining because the food makes me feel better and then ultimately, it's a cycle that just gets worse again." Decker has posted multiple photos on Instagram in the past that highlight her workout routine and has served as an ambassador for brands like Dick's Sporting Goods, but she's never been this honest about the toll it has taken on her mental health.
Jessie James Decker has interesting sibling relationships
Family dynamics are complicated no matter your status, and country music star Jessie James Decker proves that, as she and her siblings have a unique dynamic. Decker is close with her sister, Sydney Rae Bass, and the two are often featured on each other's Instagram pages. On Decker's birthday this year, Bass wrote in part, "I thank God for making you my sister. You are the funniest, sweetest and kindest friend."
Unfortunately, Decker's relationship with her brother, John James, is not as friendly. The two had been estranged for years after a fight, the details of which they've kept private, and just months ago, while recording an episode of "The Spillover" podcast, James said, "I don't talk to [Decker] at all." However, he and his wife, who also appeared as a guest on the podcast, returned with an update on his familial situation after attending a family event at the request of their mother, who wanted all her children and grandchildren to be together for her birthday.
"There definitely wasn't any, like, heart-to-hearts by any means … it was just very cordial for the sake of my mother," James said of his reunion with Decker, adding that he thinks there's a chance their families will begin seeing each other again. Add family complications to the list of reasons stars are just like us.
Her mom has given her great advice
Jessie James Decker is very close with her mother, Karen Parker. Like she does with her sister, Decker posts photos with her mother on her Instagram page, and her mother does the same on her own account. The mother-daughter duo has taken their relationship professional, too, collaborating on a collection for Decker's clothing line, Kittenish. "My mom is a classy lady and she wanted to create a collection that would fit everyone and make everyone feel beautiful," Decker wrote in part of their work together.
Decker has also praised her mother for the advice she's given, crediting her success as an adult to the words her mother shared with her while growing up. "She just always told me I could do anything I wanted to do. … This piece of advice I have even taken with me into motherhood and hope to instill in my kids that they too can be who they want to be and do anything they want to do," she told Insider.
When Decker's mother isn't creating clothing with her daughter, Parker is working on her blog, Mama Karen's Kitchen, where she shares recipes and promotes her e-books.
Jessie James Decker was born in Italy
Jessie James Decker is a military brat. Or at least she was, according to her biography. While her family was stationed in Vicenza, Italy, Decker's mother gave birth to her, giving her some Italian roots. They weren't there for long, though, and most of her childhood was spent in Louisiana, which accounts for a lot of her southern influence.
The singer clearly keeps Italy in her heart, though, and often returns there on vacation. Decker has shared photos of her travels on Instagram, once visiting with her husband for their wedding anniversary, and earlier bringing her children along to see the beautiful European country. Decker joked that her family would be relocating to Italy so she could "have wine, pasta and bread all day and not be judged."
Italy isn't the only European destination Decker has visited, though. She's also shared photos of her family in Greece, France, Monaco, and Ibiza, as well as in some tropical countries they've traveled to.
She competed on Celebrity Family Feud
Jessie James Decker has had her own familial fight, but that didn't stop her and her family from taking part in a more formal competition on Celebrity Family Feud. The singer-songwriter teamed up with her mother, stepfather, husband, and sister to try their hand at the game show hosted by Steve Harvey.
Decker and her family faced Chris Bosh's family, per Taste of Country, and represented Graham's Foundation, an organization that provides support for parents of preemies. "We chose this foundation in particular for my God daughter … Brooklyn who was born a preemie," Decker shared in part on Instagram.
Decker's family edged out the Bosh family, and her husband Eric Decker and mother Karen Parker were selected to participate in Fast Money, the segment of the competition show where families can earn additional money. The Deckers won the segment, earning 217 points, and were able to donate $25,000 to Graham's Foundation.