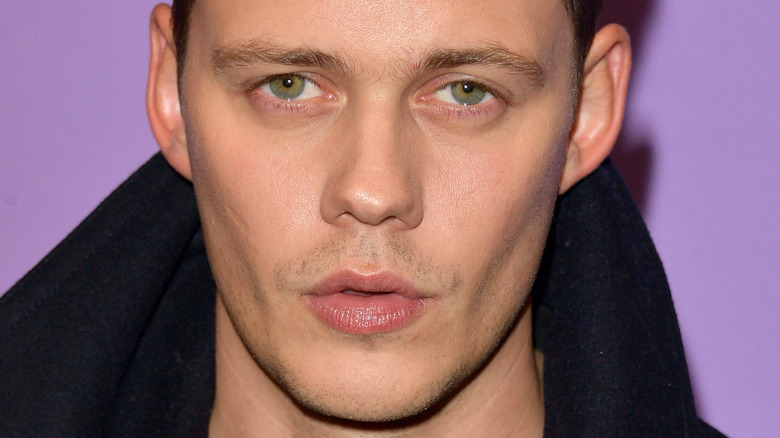 Swedish actor Bill Skarsgård has been making waves in Hollywood for over 20 years, and his career highlights are impressive. Coming from a family of entertainers, the "Castle Rock" star opted to do what his father and brothers did and become an actor. Skarsgård has been acting for decades, but he's only now getting the name recognition he deserves. He's one of those actors who utterly becomes the character he's playing, so there's a good chance you've seen him in something and didn't realize who it was.
After all, he's the actor behind Pennywise the Dancing Clown in both chapters of Andy Muschietti's "It," and picking him out of a lineup with all that makeup and special effects plastered onto him wasn't easy. That said, the evil clown's signature smile is all Skarsgård. Outside of that impressive Stephen King adaptation, the actor has popped up in numerous film franchises, including "John Wick" and the reboot of "The Crow," which has him attached as the lead.
While he's been in the public eye for more than two decades, Skarsgård isn't often featured in the news. He keeps his private life to himself, and he's not embroiled in any scandals or controversies. As a result, plenty of fans love his work but don't know much about him. However, there's plenty about the man's life and career that makes him the performer he is, as we dig into Skarsgård's untold truth.
He's from a large acting family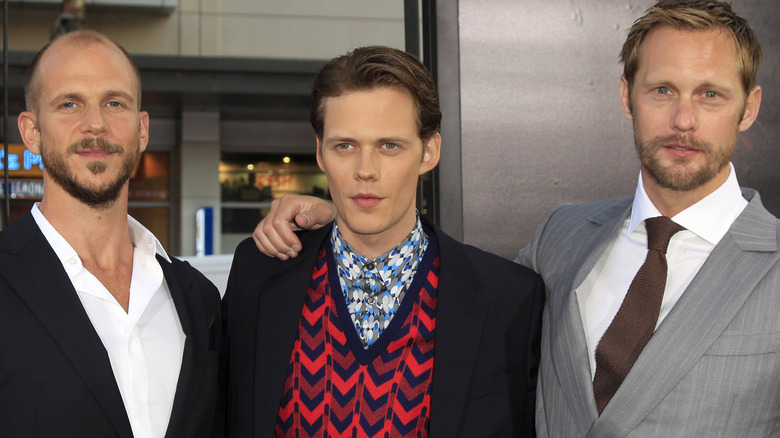 Hollywood has a history of creating acting family dynasties wherein multiple generations of family members join the craft, such as the Arquette family, or the Roberts family dynasty. Swedish cinema has its own acting royal family, which began with actor, Stellan Skarsgård in 1968. You've probably seen him in films like "Thor" and "Dune" or television series like "Chernobyl." The man has worked steadily for decades, and his children have followed suit.
Stellan's oldest son, Alexander, began his acting career as a child in the early 1980s. He later gained fame by playing Eric Northman on "True Blood." He's since become a leading man in various films and television series, including "The Legend of Tarzan," Big Little Lies," and "The Northman," to name a few. A few years later, his little brother, Gustav, jumped on the family bandwagon to land roles including Merlin on "Cursed" and Karl Strand on "Westworld," and Floki on "Vikings."
Bill is Stellan's third son, and he began acting in 2000. Still, he didn't pick up much international name recognition until he landed the role of Roman Godfrey on "Hemlock Grove." A fourth brother, Valter, started acting at an early age in 2003 and has already racked up 20 credits to his name. Finally, Eija Skarsgård is a former model who has worked as a casting assistant on two television series, so it's fair to say that the Skarsgård family is filled with talented entertainers.
He credits Alexander Skarsgård for his career
While Bill Skarsgård had the network in place to jump into acting, he didn't do so naturally. His first acting role was in "White Water Fury," where he played the younger brother of his real-life older sibling, Alexander Skarsgård. In 2017, the two discussed Bill's first acting role for Interview magazine where he credited his brother as having helped to start his career. Alexander even joked, "I got you into this business. I can take you out of it."
During their conversation, the two remembered a pivotal moment on the set of the film when nine-year-old Bill got upset and had to be taken back to their hotel. This was the first time they'd been working together away from home and Alexander arrived back at their lodgings to find Bill outside waiting for him in the parking lot. It proved to be a turning point for the star. "Suddenly I wasn't just a big brother," he said. "I felt paternal." The "Big Little Lies" star added that he now uses the moment as a sense memory to help him with difficult scenes.
Speaking to the New York Times, Bill suggested that while he's made the effort to carve out his career on his own terms, he's learned to lean on his family for support. "I wanted to feel independent," he said. "As I grow older and more comfortable with who I am, I realize asking for help is important."
Bill Skarsgård wants to branch out from horror
What's clear from Bill Skarsgård's career so far is that his niche may be in horror and thriller films. This wasn't necessarily a choice, and it happened over time. But whatever the reason, Skarsgård has dominated the darker side of storytelling. That includes being in more than one Stephen King project, having appeared as The Kid in "Castle Rock," an anthology series inspired by the author's work, as well as appearing in Andy Muschietti's adaptation of "It."
Skarsgård has also played significant roles in "Hemlock Grove," where he played a teenage vampire, and "Assassination Nation," where the violence was cranked up to 11. His work in "The Devil All the Time" was similarly intense, with the actor telling Collider that he felt daunted by the role. "It's an amazing, amazing depiction … [of] what desperate people do in order to try and save themselves and their loved ones," he explained. The star used his horror experience to his advantage during an emotional scene on set. Skarsgård prompted tears from Michael Banks Repeta, the young actor playing his son, by telling him he was Pennywise in "It."
Still, he doesn't want to get typecast as a creep. At Comic Con in 2018, he told the press room (per Page Six), "I want to do different things … I don't think I'm inherently creepy, I just think that I can be."
He enjoys a nomadic lifestyle
Like many people in his profession, Bill Skarsgård travels a lot. He's been all over the world, filming movies and television shows, and while he does have places to stay, he doesn't have a place of his own to call home. He's not the only Skarsgård who hasn't maintained a permanent residence either. During their chat for Interview magazine, Alexander found he could relate to his younger brother's living situation and asked, "What's wrong with us? I'm also homeless."
Of course, neither actor is truly homeless, as they certainly have the means to buy and maintain any number of homes around the world. Still, they don't feel like they are at home anywhere. Bill explained that he'd been living more or less out of a suitcase for about half a decade, but was looking for an apartment in Stockholm, Sweden. He had his eye on a two-bedroom apartment, noting, "Every apartment I look at is so nice and tastefully renovated."
In an interview with Mr Porter in 2017, Skarsgård explained that he was brought up traveling, and doesn't own any furniture or even a car due to his lifestyle. When he does stay in places like Los Angeles, he rents Airbnbs, as opposed to hotels. However, he doesn't vibe with the values of Tinseltown. "I have a hard time living here [in LA]," he said. "I like being here for a month or two or three, and then I need to leave."
Pennywise haunts his dreams
Of all the characters Bill Skarsgård has brought to life over the years, Pennywise the Dancing Clown from "It" is the one for which he's best known. It also may be his most intense performance. He didn't just throw some grease paint on his face and wear a wig. He became Pennywise and created a new take on the character that was removed from the previous incarnation played by Tim Curry.
Getting into the headspace to play a trans-dimensional ancient evil in the form of a clown is no easy task, and after a while, Pennywise began popping up in Skarsgård's dreams. He told Entertainment Weekly that even after the film had finished filming, the sinister clown was still lurking around his brain. "I was home, done with the movie, and I started having very strange and vivid Pennywise dreams," he said. "Every night, he came and visited. It was in the shape of either me dealing with him, sort of Pennywise as a separate entity of me, and then also me as Pennywise in circumstances that I didn't appreciate."
His performance was so convincing that he not only scared his child co-stars, he traumatized more than a few of them. As he explained to the New York Times, for better or worse, he put his all in to the character, saying, "It was by far the most exhausting character I've ever done, physically and mentally."
Bill came close to quitting acting
It seems like Bill Skarsgård was born to act. After all, he's exceptionally good at his craft and comes from a prominent family of actors. Despite this, he was never passionate about following in his father and brothers' footsteps when he was growing up. He began acting at the age of nine but never really identified himself as an actor until much later in life. When his father, Stellan, interviewed him for Hero, he stated that following his son's graduation from school, "[Bill] didn't seem to have any ambitions as an actor at all."
Evidently, Bill was all about traveling on the Trans-Siberian railroad but ended up going into the family business. As he explained to Interview, he'd originally chosen science as a major because he thought it would give him the foundations for a variety of stable career paths. His mother and brother, Sam, are both doctors, so he leaned more towards that line of work than his father's chosen path.
Ultimately, Bill didn't want to be the fourth Skarsgård in the business. If he were to become an actor, he reasoned that people would say, "Yeah, OK, here comes another one, he's been fed on a silver plate, of course, he's an actor," and he struggled with that idealized perception for years. The star didn't land his first proper leading role until after graduation, and that was the catalyst that pushed him to commit and become a professional actor.
He was emotional about missing out on The Northman
Alexander Skarsgård is the best-known of Stellan's children, and he's managed to land several leading roles throughout his career. In 2022, he starred in "The Northman," an epic tale based on a 10th-century Icelandic story that inspired William Shakespeare to write "Hamlet." The story digs deep into the historical narrative of everyday Viking life, and it's truly an epic tale that Bill Skarsgård had nothing to do with.
That's unfortunate because he was meant to appear in the film alongside his brother. In September 2020, the actor confirmed to Collider that he had to drop out of the project. When asked about it, Bill became quite emotional and said, "It's been a scheduling nightmare during COVID. It is what it is. It's a big shame. [Director Robert] Eggers is one of the great filmmakers out there, and working with my brother … I don't want to talk about it; it's going to make me burst into tears."
Had he been able to appear in the film, it would have been the first time in 20 years that he'd worked with his brother. Bill was attached to "The Northman" for a year before having to drop out. Speaking to Collider, Eggers confirmed that the actor would have depicted Thórir the Proud — half brother to Alexander's Amleth. The role was instead played by Gustav Lindh.
He values his privacy
While there are a plethora of news stories available online relating to Bill Skarsgård's work, you won't find any social media accounts for him. It's unusual for someone in his line of work not to maintain such a platform. After all, social media is one of the tools actors use to engage with their audience and announce their various projects. However, the actor has some solid reasons for choosing to have no social media presence whatsoever.
For starters, Skarsgård suggested to The Wrap that he was apprehensive of the mental toll that negative comments can take on people using social media. Furthermore, while the star doesn't mind the limelight, he is a considerably private person in regard to his personal life.
In an interview with GQ, Skarsgård explained that his preference for privacy stems from his upbringing, where he was constantly questioned about his famous brother and father. When asked why he decided to become an actor if he's not into self-promotion and publicity, he explained his predicament. "There's a lot of very private actors. I crave attention in social settings — I'm very loud and outspoken, and I'm not necessarily a private person," he said. "But how do you present yourself to a really wide audience? … I don't know if I've figured out how I want to present myself, so I'd rather just not present myself in any way at all."
Bill perfected his scares as a child
One of the creepiest aspects of Bill Skarsgård's portrayal of Pennywise is his unnatural and sinister smile — one so good you'd be forgiven for thinking it was some special effect. Not only is the smile something the star did all by himself, but it's also one he perfected as a child. The actor explained the origins of the horrifying grin during an appearance on "Conan," where he described being inspired by how his brother, Gustav, would create an odd point in his lip. "For some reason … I understood that I could do it as well," he said.
At ten years old, he perfected the look and even created a character around it, pulling his shirt over his head, making the smile, and chasing his brother through the house. Eventually, he put his childhood trauma-inflicting smile to good work in the development of Pennywise for "It" and the grin will now forever be associated with horror's most iconic and terrifying clown.
Of course, Pennywise wasn't built entirely around Skarsgård's smile. As noted by the New York Times, the actor had to sit in the makeup chair for two and a half hours to get all the makeup and prosthetics applied to his face to complete the look. Once he was in character, he went right back to scaring children — only this time, as an adult, he felt terrible about it.
His biggest fears are fairly relatable
Because he's gotten so good at scaring people over the years, people want to know what keeps Bill Skarsgård up at night. After all, everybody fears something, even if it's their job to throw on some grease paint and scare kids into fits of tearful fright. Speaking with Hero, the actor opened up about what frightens him, and it has nothing to do with horror. When questioned about his fears, he responded, "I'm really afraid of being bored! … Or [of feeling] trapped and alone"
Skarsgård elaborated that having come from a large family that always entertained people, there were always many people around. As an adult, he's embraced a similar lifestyle and enjoys entertaining as many friends and family as he can. "That's how I always want to live, I think, to be able to have a house where people can come and stay as they want, with open doors." In an interview with Mr Porter, he even suggested that he rents Airbnbs over hotels so that he can host large dinner parties wherever he happens to be in the world.
As he told Esquire, while he might be afraid of being alone, he's also scared of being subjected to the opposite end of the scale — becoming so famous that you lose your entitlement to privacy. "Fame itself is scary," he said. "If you're not equipped to handle it in a responsible way, it can destroy you."
He's not a fan of being scared
Scientific studies have repeatedly proven that some people love to be scared when they know they're not in any danger. That's likely why horror has continued to be such a successful and popular film genre. While Bill Skarsgård has become something of a go-to horror actor, he's surprisingly not a fan of the genre and never has been.
In an interview with Dazed, Skarsgård explained, "I wasn't a huge fan of horror films growing up, I was never super into the sensation of getting scared." Lacking an interest in scary movies, it's a wonder he got so involved with the genre. But it may also be why he's able to create such nuanced horror performances — he has a personal understanding of the power of fear. Regardless of his initial dislike of horror films, he told the outlet that he'd started dipping into the genre due to his recent horror roles and that he especially loved Park Chan-wook's twisted classic "Oldboy."
While that film is more of a neo-noir thriller, its ultra-violent scenes at least make it horror adjacent. Speaking to Entertainment Weekly, he noted his obsession with another South Korean classic, Na Hong-jin's mysterious 2016 horror flick, "The Wailing." He told the outlet, "[It's] very strange, and very scary … I recommend everybody to give it a watch if you're into these kind of weird, abstract horror films."
Bill Skarsgård's been making some decent money
Having acted professionally on-and-off since he was a child, Bill Skarsgård has since gone on to embrace his entertainment roots and has been handsomely paid for his efforts, too. Because of this, acting jobs make up the bulk of his income, and according to Celebrity Net Worth, he was worth $5 million as of 2022.
While his salary from "It" hasn't been made public, in 2017, "It: Chapter One" became the highest-grossing R-rated horror movie of all time, bringing in an international box office of a little over $700 million according to Box Office Mojo. A year later, Forbes profiled Skarsgård for a feature highlighting Europe's most influential 30 Under 30 entertainers, noting the impact his performance had on the global box office. His other projects on Netflix and elsewhere are likely bringing in a reasonable amount of money. Still, that information has yet to be disclosed to the public.
It's worth noting that his net worth is considerably lower than that of his older brother, Alexander Skarsgård, who was estimated to be worth $14 million as of 2022. That same year, Bill's dad, Stellan Skarsgård, was estimated to be worth an impressive $50 million. Still, the actor has only just begun to make his mark on the industry and will likely continue to bring fame and fortune to his family name.