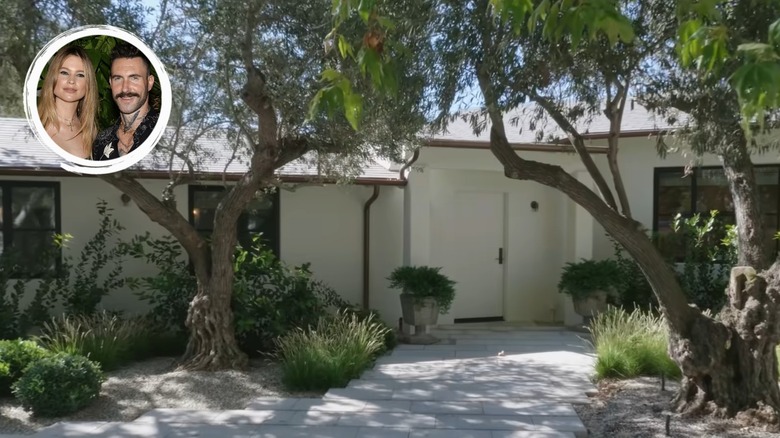 Adam Levine and his wife Behati Prinsloo certainly are trendsetters when wearing high-end fashion on the red carpet, so it's no surprise that they also have good taste when it comes to their home. The singer and the supermodel revealed their unique decisions with Architectural Digest during a home tour, giving fans a peek into their abode. The home is a massive one-story spread that was designed in the 1930s by Cliff May, who specialized in ranch-style homes. The house might not be a multi-story compound, but it has history — some big stars have owned the property in the past. "Roman Holiday" actor Gregory Peck and his wife Veronique lived there in the 1950s. Then the producer of "A Beautiful Mind," Brian Grazer, moved in with then-wife Gigi. And later, Ben Affleck and Jennifer Garner called the massive spread home with their three kids Violet, Seraphina, and Samuel. The next owners were Levine and Prinsloo.
The two took their time to make the historic place their very own as they went with neutral tones and 1950s-style furniture that was low to the ground. The stars also have the same sized walk-in closets, each with dramatic chaise lounges. And the backyard was spiffed up for their two children, Dusty and Gio. Not only is there a fire pit and lounge chairs, but there is also a sizeable lawn, a swimming pool with a hot tub, and a basketball court. Here is a step back in history with a modern spin.
It is only one story … but it's cozy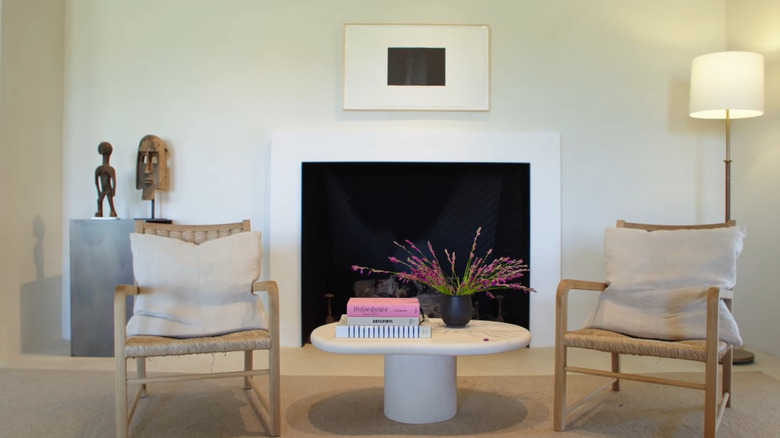 So many celebrity homes have two stories — and some even have three! With elevators! But one story can be just as appealing. Adam Levine said during his home tour that he loves that his home is a ranch since he feels it is "super cozy," even though there are a staggering 10 bedrooms and 14 bathrooms and so much square footage you can almost get lost inside.
If you have been itching to make your own abode cozier, take a page out of the couple's book and add texture, neutral colors, and luxurious fabrics throughout the space to make it feel more inviting. "The addition of lusher, richer textures that complement existing decor is an instant way to make any room feel that much cozier," interior designer Caitlin Murray of Black Lacquer Design told HGTV. "Fur, velvet and Mongolian lamb are my favorite fabrics to layer for that cuddled-up vibe. The great thing about these materials is that a little bit here and there can completely transform the feel of a room." It's as easy as that.
They worked with a designer
The rocker and the model both have great taste, but sometimes it is better to call a professional when designing your dream home. Levine worked with Clements Designs, which is known for its understated elegance. The team consists of Kathleen Clements and her son Tommy, who are part of the exclusive AD100 club and are based in Los Angeles, as per their Instagram page. According to Luxxu, the Clements have also worked with Portia de Rossi, Bruno Mars, and Jennifer Lawrence.
"We basically stripped it all down. We simplified the materials and color palette and exposed the bones of the house to create a beautiful, neutral backdrop for their collections of art and design," Tommy shared with Architectural Digest. Kathleen added: "Adam is an obsessive design junkie. He and Behati like to live with beautiful things, but in a super-casual way, where the kids have the run of the house, and friends and family are always welcome." The result was a lot of beige and wood furniture that was low to the ground. Some of the best accents are the Jean Prouvé Visiteur chairs in the living room, the Jacques Adnet chairs in the den, and the Charlotte Perriand desk in the home office.
The backyard has a lot to offer
In sunny Southern California, outdoor space is needed to take in summer rays, and this power couple certainly has plenty of space — there is a big lawn that dominates the area. The kids can run around on the grass while mom watches inside the house, but when it comes to adult time, there are at least two sitting areas with cushy sofas, chairs, and a fire pit. It's where the family likes to entertain over appetizers and cocktails, or just to take in the sunset.
They also have a swimming pool that is far from small, as it looks like it could fit 20 people, and there are some other accents one won't often find in a big city. For example, the backyard includes a beehive that yields honey. If you have little ones like Levine and Prinsloo, there are certain things you can do to make your backyard kid-friendly (via The Artful Parent). One of the first steps is to give your child a special place they can hang out, store their collection of toys, and feel like they have some privacy. Set up a tent where your little ones can meet up with pals, and add activity centers like a sandbox or a boxed-off mini garden to grow strawberries to help children learn while playing.
There is dramatic artwork everywhere
One way to show you have made it big time is by showing off very expensive pieces of artwork on your walls. And the power couple has done just that. In the kitchen is a painting by the couple's friend Sage Vaughn of a hammerhead shark swimming in a field of pink, blue, and yellow daisies. There is even a little cheetah drawn into the side as a nod to Prinsloo's South African roots. And in the living room is a Rashid Johnson canvas that has black as it's main hue with bold red accents. In Levine's office, Andrew Zuckerman's photograph of a rhino is framed and featured prominently. This too is a nod to his wife as Prinsloo works hard to help save rhinos in Namibia, Africa from being poached.
She told Kourtney Kardashian's website Poosh that it is her passion to help save the wild animals from extinction. "I want to be part of the change. And I think I want to inspire the youth to do the same … between 1960 and 1995 the black rhino numbers have dropped 98% which is crazy … you don't want these beautiful animals to be extinct." Then there is the oversized, colorful canvas in their bar that is close to their framed black and white photos of legends from the 1960s, like The Beatles. And proving they are serious collectors, there are large art books all over the house.
The kitchen is where they live
As with most people, the kitchen is where Levine and Prinsloo love to hang out with their friends and family. "This is where we live," Levine said during the home tour as Prinsloo added that is why their marble island is so big. It is where they eat "breakfast, lunch, and dinner." One of the highlights of their kitchen is the fancy chef's double oven where Prinsloo can cook up some of her favorite South African meals, and at least a third of the room is taken up by a long wood table that looks like it could fit 10 people. The New York Times warned of being mindful of size when selecting a dining room table because if it is too big, it will get in the way, which is not fun for those busy mornings when mom and dad have to get to work, and the kids are running late for school.
Use a measuring tape to know exactly how big of a table you can use, and figure out your "needs" in advance. For example, if this is a place that you want to invite guests to, choose a solid wood table. But if kids will be using and abusing it for years, go with a plastic top.
The home theater is where they spend time with pals
Levine is a huge movie fan. After all, he has starred in a few films, such as 2013's "Begin Again" and 2015's "Pitch Perfect 2," according to IMDb. So he of course wants a comfortable place to take in the latest releases. His home theater is large, dark, and comfortable with a super wide screen perfect for taking in the latest blockbuster movie. One of the reasons why it's so inviting is that there are plenty of places to sit. In the middle of the room is an orange U-shaped sofa, and they have two brown faux fur chairs that look like massive teddy bears. To the sides are arcade games (like Ms. PacMan) and a ping pong table in case the movie isn't interesting enough. It is also where Levine keeps his awards on shelves, like his numerous Grammys.
If you want a home theater but aren't sure how to create one in your house, consider turning a spare bedroom or underutilized basement into a multi-purpose room. "One of the most important questions to ask yourself is whether it will truly be a dedicated home cinema or a multi-purpose room capable of transforming from a beautiful living environment into a private cinema," luxury cinema consultant Mike Beatty told Real Homes. "The two are very different and, although both can provide a truly immersive experience, a multi-purpose room will always have a degree of compromise." But that compromise is worth it!
His office has neutral tones
One way to deal with work stress is to surround yourself with neutral colors, and the rock star has done just that in his home office. The desk is natural wood, the carpet is light red, the walls are pale olive green, and the drapes are a mocha latte color. He leaves his guitars here to enjoy them even when he is on a Zoom call. And then there is that big photograph of a rhino on the wall.
Choosing art for your home office can be intimidating, but Big Wall Decor suggests first nailing down how you want to feel in the space. Is it better to go with a bold color to electrify the room? Or are calming neutral tones better? Abstract paintings are a safe bet because they force people to think, and large neon wall signs are a hot trend. However, when it comes to art, designer Stephanie Waskins told The Spruce that home offices no longer focus on personal touches. "Office spaces are usually where family photographs reside but now that so many people are working from home we have been asked to help curate art that will appeal to viewers during meetings, essentially de-personalizing the areas that are visible." To add calm, designer Paige Gray told the site, "Think of pieces that really give your mind space to rest: large prints of outdoor spaces, seascapes, or abstracts with naturally occurring colors found in nature."
The primary bedroom is a sanctuary
These lovebirds did not mess around when it came to making their bedroom one of the most appealing rooms in the supersized house. It's easy on the eyes with light colors like white, pale gray, and beige. There is also a lack of clutter. "It is a sanctuary of sorts because we do spend so much time here whether it's just the two of us or with the kids," said Levine during his home tour. Prinsloo added they all like to "jump on the bed." They have a king-sized bed and a Raymond Pettibon painting that depicts a wave with a bright yellow sun above. It is bolted to the wall in case of an earthquake, the rocker shared. "I've always been blown away by what he does," says Levine. "To wake up to that every morning is just a breath of fresh air."
Pettibon told Interview magazine that he loves to paint scenes from nature because it is where he feels at ease. "During the summer I spent all my time at the beach," the artist shared, adding he liked to surf on the northern beaches in Malibu. When hanging artwork above a bed, it's smart not to put the work too high. Sticking with eight or 10 inches above the bedframe is about right, according to Martha Stewart. And if your piece of art is small, place wall scones on each side to fill the space.
His walk-in closet has a chaise lounge
Usually it is the women who have the impressively roomy walk-in closets. But in this case, both Prinsloo and Levine have stylish dressing rooms that are big enough to look like a small boutique. "This is my domain, welcome," said the crooner proudly. Levine shared that the design was inspired by Kanye West's walk-in closet, which he first shared on David Letterman. But you won't find three-piece suits here. It is full of sweats, T-shirts, and nice shoes. There is a long Rick Owens "daybed," which he said was "superfluous," but he will never sell it. Being a big Laker fan, he also displayed gold Kobe Bryant shoes, which he loves to wear.
When designing your own walk-in closet, you want to focus on function as much as form. Invest in uniform shelving, install extra recessed lighting to make everything easily visible, ensure you have matching hangers, and add some stylish decor touches, like wallpaper, a rug, or even a trendy pendant light. But most importantly, make sure you edit your closet regularly so you're not overwhelmed with options. If you have too much clothes, your wardrobe will instantly look messy, regardless of how many organization systems you have in place. "As a blogger who constantly is shopping each season as well as has clothing samples coming in on a daily basis, I take editing my closet very seriously, or I would be sitting in a sea of clothes," lifestyle blogger Kimberly Lapides told MyDomaine. It's the only way she keeps her closet from becoming cluttered.
Her walk-in closet is impressive, too
Levine is not the only one with a gorgeous walk-in closet to store his sweats and sneakers. Prinsloo also has her own space, which appears to be about the same size. She said she would sometimes lay on her chaise lounge, drink a beer, and think of how far she had made it when she had some down time. "I feel blessed," she said. Unlike her husband's closet, Prinsloo's is full of color. And her choices are more dressy: There are sequined gowns on the hangers and purses and stiletto heels on shelves. She also has items from only the best designers: Chanel, Balenciaga, Louis Vuitton, and Prada. On the wall, there is also a framed photo of herself at a young age.
Closet Works suggests adding a built-in bench in the middle of your closet, so you have somewhere to sit when trying on shoes. The bench can also double as storage space for those less used items like scarves. The site added that building a seat into the corner of your center island is also a savvy move for the space conscious. If there is a window in your walk-in closet, consider building a bench just below it. But if you opt for a free-standing seat, a regular ottoman or an armchair will do.
The dining room is hardly ever used
The Levine family has two comfortable places to dine in the house: They prefer to eat in the kitchen, but sometimes they bring their meals to the main dining room. The long, dark dining room table with 12 wood velvet armchairs dominates the room. Over the table are two chrome pendant lights that add a modern touch, and across from it is a fireplace flanked by two built-in white bookshelves stuffed with page turners on Yves Saint Laurent and Bob Dylan. A large plant in a tall brown pot adds some nature to the space, and floor-to-ceiling glass doors offer a good view of the backyard with its lush lawn and mature trees. The room's overall tone is neutral with beige and brown colors, but there is one modern painting on the wall that is extremely colorful with red, green, and blue.
While there are a lot of stellar design moments in this space, the chairs are arguably the star of the show. While all their architectural chairs match, Pottery Barn says it's perfectly fine to mix and match seating as long as all the chairs fit under the table and the seats (but not the backs) are the same height. That way, some guests won't be seated lower than others.
The bar is her favorite spot
Most of the house is open and accessible to the kids, but there is one room where the adults like to kick back and relax: the bar. It is one of the smaller rooms in the house and has less natural light than the other spaces. "It's dark and moody," said Prinsloo, which she said makes her happy. A wide stone bar at the end of the room is stocked with alcohol, glasses, and treats. A fireplace can be spied next to it. And there is also a small living room set up with a beige sofa and an oval coffee table. On the wall are several black and white framed photographs of The Beatles, Kurt Cobain, and Steve McQueen. "It's where we watch Laker games and have a drink," Prinsloo added.
Building a home bar can be confusing, but Country Living has great suggestions for creating ones that will make your guests jealous. One of the tips is to create a billiards bar feel. This takes a bit of work as a bar must be placed in a room with leather padded stools and wood shelves on the wall to store bourbon and whiskey. Bradd pendant lights hanging over the bar also adds a bit of charm. A pool table must also be added with plenty of room to move the sticks around. And don't forget to hang a tavern sign on the wall for added ambiance!
A bathroom is big enough to fit 10 people
The gray and white-toned bathroom has a certain elegance, with plenty of stone and tiles. One of the more interesting things in the space is a glass door room that holds not only a bathtub but also doubles as a huge steam shower, which he calls a "party shower." Prinsloo said her kids love to be in it and use a squirt gun to shoot at her. The wood sauna is inviting and where Levine "lives." And to remind everyone that Prinsloo is a supermodel, there are framed glamour photos of her on the wall.
His-and-her Versace robes hang from the wall next to the shower, and there is a five-foot-tall glass cabinet full of beauty products. Plus, there is a very convenient double sink vanity with the on-trend black faucets. The floors are tiled, but Martha Stewart has shared that there are a lot of other materials you can use for your bathroom. For example, you can utilize marble, which looks luxurious, and linoleum, which is easy to clean. And vinyl is great because it is waterproof and can also look like real wood.
A gym is where they sweat it out
This rock star and supermodel have managed to stay in great shape, and that is because they work out daily. Having a home gym makes it more accessible, and their personal setup is full of equipment like Woodway treadmills, rowing machines, and a bench press for lifting weights. Added pluses are the large screen TV and mini fridge for those cold water bottles.
Home gyms have become popular among celebrities that crave privacy and don't have extra time to drive to a facility. "For many people, time is a constraint," Tara Hackney, a physical therapist, told NBC News. "So eliminating the need to 'find time to go to the gym' by having access at home can assist in this barrier." The NordicTrack Fusion CST is one of the most recommended machines for home workouts because it can strengthen you while you get your cardio in. The Bowflex is also recommended because you can do 25 different exercises with the machine, so it's difficult to get bored. And for those who don't want to spend much money? A Kettleball works just great if you know how to use it.