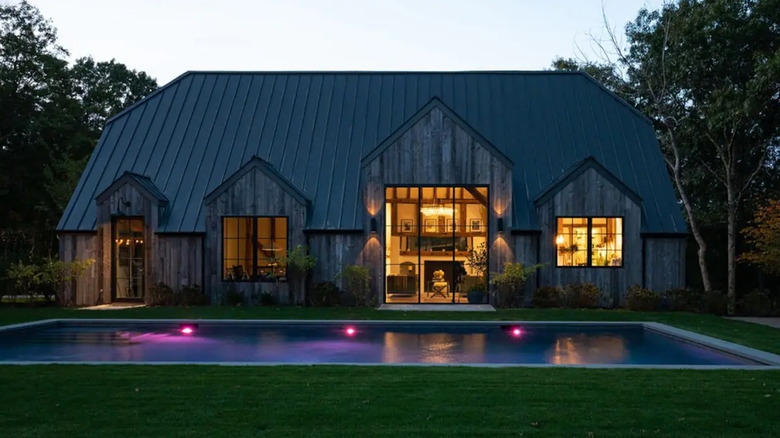 Barns may have once been the domain of farm animals; however, these days many have been converted into stylish homes for humans. When that happens, the spaces that were formerly filled with saddles, hay, and other items for horses, cows, and perhaps goats or pigs are replaced with whatever the owners' hearts desire. That could result in a residence that sticks with the country vibe or one that turns to super-modern minimalism. If this prospect is something that piques your interest, you'll want to be sure to consider various factors before you get your own barn transformation project started. You'll need to find out everything you can about your particular barn, figure out how the space can be best used in a new way, ensure you have a proper budget, and you may want to consult a pro, according to The Cottage Market.
Of course, if you're not interested in taking on a barn renovation yourself, then you can go ahead and buy a barn that's already been updated. For instance, a renovated barn in Wisconsin hit the market for $945,000 while another in Indiana went up for under $800,000. Granted, before you spend that kind of money, you could temporarily test out what it's like to live in a converted farm building by booking one of these updated barns that can be found on Airbnb.
1. Fairytale barn in Beacon, New York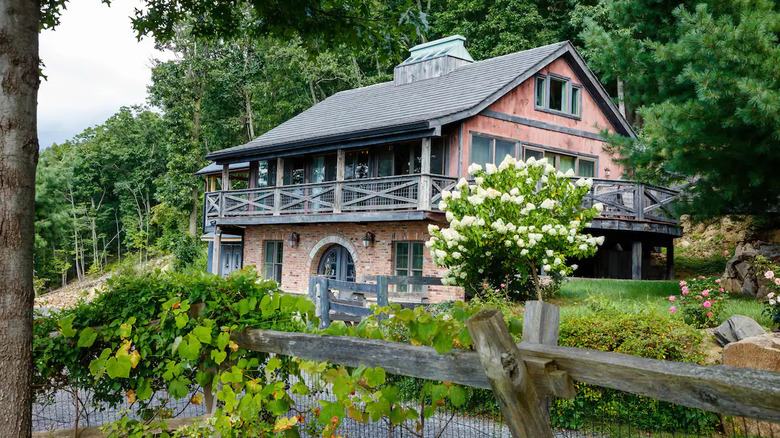 Looking like it's straight out of a fairytale, this Airbnb rental in Beacon, New York, is actually the home of both Icelandic horses and their tiny pals, mini donkeys. Above their abode is an idyllic residence where you can stay and enjoy the stunning shabby chic design as well as modern upgrades and amenities.
2. American barn in Wildes Meadow, Australia
If this Australian Airbnb rental reminds you of a barn in America, that's because the owners had it constructed following a trip to the U.S. Featuring a picture-perfect property, impeccable exterior, and stunning interior design, you'll also adore the fact that it was made using wharf buildings that were once found at Darling Harbour.
3. 'The Stone Barn' in Newbury, New Hampshire
It's clear to see how this Airbnb rental in New Hampshire got its name. The Stone Barn is, indeed, covered in a stone exterior that looks like it's been conjured up in an artist's imagination while the landscape lends to the beauty. Once inside the historic barn, guests will find countless modern touches.
4. Silo-fronted barn in Litchfield, Connecticut
There's more to fall in love with when it comes to this Airbnb than just the striking silo that sits out front. Once you're done admiring the dark exterior, you can wander inside where you'll find light wood throughout, white tiles in just the right spots, and trendy furnishings, which will allow you to relax.
5. Chic black barn in Prince Edward, Ontario, Canada
If you adore a simple chic design, then you'll love this Airbnb rental in Prince Edward, Ontario, Canada. Outside, the sizable former horse barn is a sleek black, which is a shade that extends inside where the entire guesthouse is decorated in black and white details that are both stylish and minimalistic.
6. Massive modern 'barndo' in Brenham, Texas
Head to Brenham, Texas, to find this Airbnb rental. Known as 12 Armadillos Barndo, guests are offered eight bedrooms as well as seven and a half bathrooms in this massive 5,000-square-foot barn. There's also a large main room with a bar, pool table, and dining table with enough space for 20 people to eat.
7. Stunning converted barn in Lindores, Scotland
This Airbnb barn in the Fife area of Scotland embraces both old and new while giving you the best of both. Along with an exterior that boasts stonework and barn doors that stay true to its original purpose, the inside has been turned into a space that's incredibly chic and filled with modern conveniences.
8. Timber frame barn in Morristown, Vermont
This Airbnb rental that's found on 300 acres by the mountains in Morristown, Vermont, has plenty of delightful details on the outside such as the wonderfully worn wood, stately stone fireplace, and impressively tall silo. Inside the timber frame barn, guests will find a modern space that's been decorated with a bold country style.
9. 'The Dutch Barn' in Wicken, England
If you book this Airbnb rental, which is located on the property of a village farm, you'll be welcomed to the Dutch barn by a gorgeous garden where you can see the many windows that fill the building. Those windows make the entire interior — which is a cheerful contemporary oasis — wonderfully bright.
10. Totally transformed barn in Peninsula, Ohio
While this Airbnb in Ohio keeps its barn-like look on the outside — while also boasting newer windows, fantastic shingles, and lovely landscaping — those who stay there might be surprised when they walk inside. That's because the interior has been transformed into an incredibly elegant space with chic accents, antique pieces, and even stained glass.
11. Contemporary barn in Greytown, Wellington, New Zealand
New Zealand is where you'll find this Airbnb rental, which you'll want to book if you're interested in an interior designer's interpretation of contemporary barn life. That includes a contemporary design, décor that you'll want in your own home, a range of modern amenities, and lots of space both inside and out.
12. Modern barn with a silo lounge in Bremen, Indiana
This Airbnb rental in Bremen, Indiana, is filled with places that guests will surely want to explore. While the outside property is filled with grassy lawns and fabulous flowers, inside the barn you can find a cozy modern private apartment and a lounge in the silo, not to mention a fireplace.
13. Spa-like barn in Höganäs N, Skåne län, Sweden
While guests of this Swedish Airbnb rental will surely love the surrounding fields and nearby mountains, they'll also likely adore the stone wall that lines the pool, jacuzzi, fireplace, and sauna. There's also a spacious main room and bathroom that's meant to capture the vibe of Japanese Onsen.
14. Renovated barn with farm charm in Sarver, Pennsylvania
Not all renovated barns stray from their original vibe. Just check out this Airbnb rental in Sarver, Pennsylvania. Although it's been completely transformed into a modern place to kick back, it also still has plenty of farm charm thanks to the wood walls, quilts, barn doors, and a pretty pond out back.
15. Eco-friendly renovated barn in Warendorf, Nordrhein-Westfalen, Germany
This Airbnb rental in Germany's Münsterland area is a barn that was restored with an eco-friendly intention. That will make any friend of the environment feel fabulous while staying at this barn, which offers a comfortable interior that blends old features with modern accents, two terraces, and views from the massive windows.
16. Classic yet chic barn in Cedar City, Utah
When you first see this Airbnb rental that's found on a five-acre hobby farm in Cedar City, Utah, you'll surely notice that it has the charming look of a classic red barn. However, the inside is a chic remodeled space that's filled with white walls, light floors, and bright décor.
17. Historic barn in Colle Santa Lucia, Veneto, Italy
If you've been dreaming of an Italian getaway, then consider staying in this Airbnb rental. A restored historic barn with an unforgettable view, there's a balcony where you can enjoy the scenery while spending time outdoors. Inside, the barn combines rougher elements like wood walls with posh additions like fluffy sheepskin covers.
18. Contemporary bohemian barn in La Pine, Oregon
Anyone who appreciates a bohemian ambiance will surely be interested in this Airbnb rental, which is located in La Pine, Oregon. The contemporary boho barn is split into two abodes that are each over 1,000 square feet. There's an additional space where you can choose to stay in the silo.
19. Renovated barn from 1870 in Occitanie, France
Perched on the side of a hill with breathtaking views, this Airbnb in Occitanie, France looks like you would have to travel back in time to find it. That's because the barn is from 1870. However, the interior has been renovated with modern amenities while keeping some of the original details intact.
20. 400-year-old modernized English barns in Water Mill, New York
This Airbnb boasts not just one, but two barns that happen to be 400 years old and were originally from England. These days, they're located in Water Mill, New York, and feature a pristine interior, saltwater pool, outdoor shower, gym, and sauna, just to mention a few of the top-notch amenities.