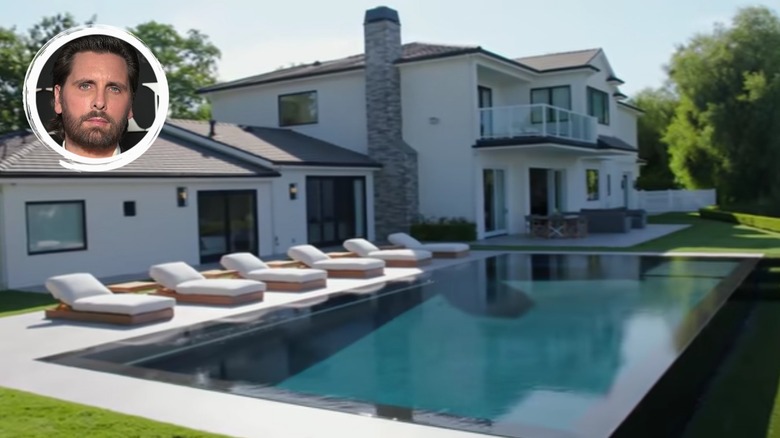 We may receive a commission on purchases made from links.
Scott Disick has a traditional-style house in the Hidden Hills neighborhood of Los Angeles that looks like the houses found in the Hamptons on Long Island, where the star grew up, per the New York Daily News. But there is a modern feel inside with white walls, blonde wood floors, and pop art on the walls in bright colors. He seems to be proud of the grand pad, which he snapped up for $6 million in 2016, according to the Los Angeles Times. Disick has shown the house off in Architectural Digest, on his ex-partner Kourtney Kardashian's family show "Keeping Up with the Kardashians," and on his Instagram account as well.
The dwelling is large for a single man: The home is 8,100 square feet that sits on 1.35 acres. But he has three children with Kardashian — Mason, Penelope, and Reign — that need plenty of space to play. He also needs room for his toys: The two garages and a large motor court can barely hold his collection of cars, per Instagram. The backyard is a playpen for the bachelor — there is a large infinity pool, a lush lawn, a fire pit, and views of mountain ranges. And if he ever gets lonely, he can drive a few blocks to his in-laws. Kylie and Kris Jenner and Kim and Khloe Kardashian all live in his gated neighborhood, per Real Estate. Here is a look inside the white wonderland.
The house looks as if it belongs in the Hamptons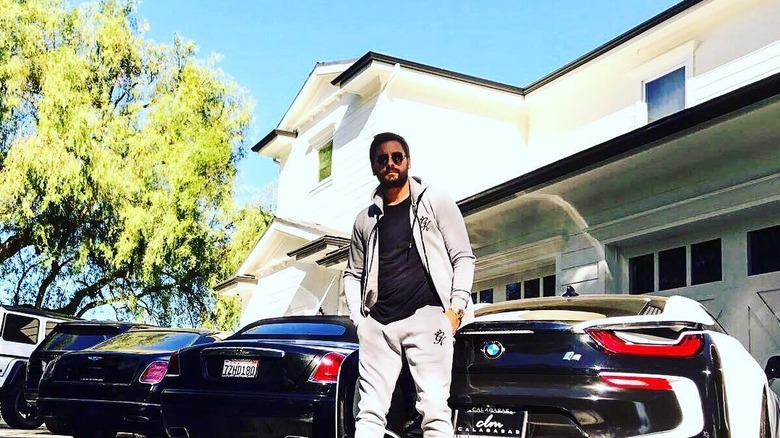 Disick was born and raised on Long Island, not far from the celebrity-populated neighborhood of the Hamptons where Alec Baldwin and Kelly Ripa have mansions, as per Out East. He grew to love the oversized white farm-style homes with classic lines, ao when he settled into his own home in Hidden Hills after his split from Kourtney Kardashian, he eyed a Hamptons-looking property. He found it and made some minor alterations to suit his taste.
"I was looking for something that felt very East Coast," the star told Architectural Digest. "I always pictured myself in a kind of Hamptons-feeling house, but updated." The vibe is "relaxed vacation home with stunning views," and it's where he unwinds after shooting the new Hulu TV show, "The Kardashians." The backyard has lush green grass, which is easy to achieve in the Hamptons thanks to steady rain, but in Los Angeles -– which is mostly desert -– it's far harder. There are also tall white fences that are very Hamptons-esque, and he has an incredible infinity swimming pool. Hamptons-style homes are usually white on the exterior, off-white inside with an airy, beachy feeling, have open floor plans, and include plenty of windows to take in the country charm, according to Home Beautiful.
He has two garages and a motor court that houses his car collection
Disick loves to collect cars, and his don't come cheap either. Forget sensible Toyotas or even upscale BMWs. This former model likes to snap up some of the most luxurious automobiles on the market with six-figure price tags. According to his home tour, he has a very rare Shelby Cobra convertible, Rolls-Royce, a McLaren 720S, a Ferrari F8 Tributo, a Ferrari 812 Superfast, Range Rover, Bentley SUV, and a Lamborghini Urus, to name a few. These four-wheelers have a nice place to rest after they have torn through the hills of the San Fernando Valley. The TV star's home has two large garages and a motor court that nicely fits five cars.
Disick explained his love for fancy cars on Instagram, captioning, "I remember growing up loving cars with my dad, and now I can live with my kids growing up loving cars with me. No better feeling than this." However, he has a long way to go if he wants to compete with the famous car collector Jay Leno. According to HotCars, the former talk show host has $150 million worth of wheels.
Disick sticks with neutrals for his furniture
There is no clutter in Disick's home to bog down the cool style. In fact, there are many wide-open spaces that make the house look more like an art gallery than a place he hangs up his boots. The living room is a perfect example of how clean he keeps the look. According to his house tour, there is a light grey sofa by Jean Royère, cream-covered wood chairs, and a very modest and plain-looking coffee table with a few tchotchkes on top. Even his fireplace is pared down with no mantle, no fancy candle holders, no decadent painting overhead, and just a flat-screen TV that is recessed in.
"It looks chic and clean, and I feel good in it," he said on the tour. Even his sitting room is sparse, with only an off-white sofa and two chairs with a small round coffee table, per Instagram. To get this look at home, paint your room a cream color and add pale slipcovers to the sofa. Off-white throw pillows and blankets help, too, according to Ideal Home.
His infinity, zero-edge swimming pool is huge
Temperatures in Hidden Hills go above 100 degrees in the summer, so most mansions come with swimming pools. According to his home tour, Disick had his custom-built specifically for his taste and had it positioned so that when swimming he could easily see the outstanding view of the neighboring hills. The pool is perfect for laps because it is long — over 40 feet from one end to the other –- and rather narrow. The pool also has a feature that is very Hollywood chic: It is an infinity pool which means when you are it in, it looks as if the water is running over the edge. In fact, it is running over the edge, but there is a catchall pool below that collects the water, and pumps it back into the main pool, according to Paradise Pool.
It also is zero-edge, which means that there are no visible edges around the pool. The water is flush to the concrete, according to Premier Paradise. The pool is where Disick plays with his three children, Penelope, Mason and Reign; he has a habit of sharing images of his little ones splashing around in the pool on Instagram. And it is also where he has entertained some of his famous girlfriends, including "Midnight Sun" star Bella Thorne and Lionel Richie's model daughter Sofia Richie (via Life & Style). Wide lounge chairs and lounge beds offer comfort after a swim. Interestingly, there are no flowers in the backyard, only green grass and green hedges.
The kitchen has a clean feel
The Lord Disick -– his nickname earned during an episode of "Keeping Up with the Kardashians" -– usually eats out at fancy restaurants in Los Angeles such as Nobu, Catch, and Craig's, according to People. But that doesn't mean he would do without a full chef's kitchen. His kitchen is elegant and understated, utilizing Carrara marble on the countertops and backsplash. The cabinets are all painted white for a fresh feel, and the star has not one, but two very large islands, which have become de rigueur for celebrity homes. They are painted dark gray for a nice contrast against the white cabinets.
Disick explained in his home tour that he has two because one can be used for prepping meals and the other can be used for eating on as it has four wood stools on the side. The kitchen is open which means it has a view of the dining room table and living room, making it easy for him to keep an eye on the kids when he is whipping up meals. In the corner is a security monitor. Off the kitchen is a walk-in pantry with shelves stocked with dry goods, from cereal in glass containers to baskets that are labelled "cookies" and "chips." Much of the fare is gluten-free, but there are treats like M&Ms here and there.
His dining room is for meetings
The star has a large separate dining room where he keeps a long dark brown wood table that can seat 10 people comfortably. It's accented with several small cherry wood chairs with contrasting black legs, creating a minimalist and modern space. But on the home tour, Disick revealed that he mostly holds meetings in this room because he is too lazy to head to his office. He noted that he never had a meal there, which is pretty funny since dining rooms are usually for eating!
For added drama, the room has large windows with floor-to-ceiling beige drapes. But all eyes go to the back wall where there is a large statement painting with light gray lines that spell out Ns, Xs and Os. HGTV said that choosing oversized canvases that have neutral tones can lend a "soothing" feeling in the dining room, where conversation will be key. The publication recommends choosing art with light beiges and off white colors. Large murals using decals are also recommended for those on a budget.
There are books everywhere
There are coffee table books sprawled all over this slick bachelor pad, and most of them revolve around high-end fashion or modern design. For example, in his bedroom sitting room, he has a built-in white bookshelf filled with design books like "Hollywood Interiors" and books about cars such as "Porsche Design," as seen on Instagram. He also has a Louis Vuitton picture book on a narrow wooden table in his entryway. On a coffee table is "Styled by Emily Hendeson," a James Bond Cars book, a collection of photographs by celebrity shutterbug Herb Ritts, and "Savage Beauty" by Alexander McQueen. He has a book on French fashion designer Chanel on the coffee table and "The New Chic: French Style from Today's Leading Interior Designers" in his first living room and an art book about Basquiat.
Disick not only enjoys decorating with books, but he also likes being on their covers. Before becoming a reality TV star, he was a book cover model and appeared in romance novels like "Taking Chances."
He has invested in designer furniture
When Disick was young, he used to love to peruse design magazines. He revealed to Architectural Digest that he dreamt about having a beautiful mansion stuffed with high-end furniture after he made it big one day. Once he became famous on reality TV, his wish came true, and he was able to splurge on a home that looked like something out of a movie. The star has drawn on those early years of researching furniture to fill his house with some of the best names in the design field.
He bought a chair from Rove Concepts that looks pricey. His living room sofa by French master Jean Royère has elegant lines. And in a room just above the stairs, he has two mid-century kangaroo chairs by Swiss architect turned furniture designer Pierre Jeanneret passed away in the 1960s. In the same room is a day bed by Prouvet. Collecting mid-century furniture can be a very smart decision as the prices keep rising, according to Mostly Danish Furniture. There is a limited number of pieces for sale as the designs were made only from the late 1950s until the early 1960s. In 2009, a leather chair by Eileen Gray sold at auction for $28 million, according to CNN.
He has his own wine closet
A wine room is the ultimate brag for the rich and famous, and Disick did not want to be left out. His wine room is not in a cellar, however. Instead, it is smartly tucked under a staircase with a glass wall and door so that the bottles can be easily seen while walking down the hallway. Disick said during the tour that this was at first a unique concept his architect suggested, but has become quite common these days.
The room is far from tiny as it fits 500 bottles of the finest wines from France, Italy, and California. The lighting is dim, but bright enough so the labels can be easily read. The closet is perfect for Disick, who likes to entertain often in his backyard. According to Wine Spectator, a wine room must also have a controlled temperature from 45 degrees to 65 degrees and be dry with little moisture. And the wine bottles should be kept on their sides as that keeps the cork from drying out; rotating the bottles to make sure the entire cork gets evenly moistened is preferable. Happily, all of Disick's wine bottles rest on their sides.
His bedroom has a sitting room
Most bedrooms have a bed and a nightstand with not much else. But not this TV star. He has an entire living room connected to his bedroom, where he can easily seat five. The whole room is split in two. On the left is where he sleeps, and his bed is a custom-made nine-foot square mattress with two nightstands at the sides. In place of a TV, Disick installed a projector with a hidden 12-foot screen that drops down with a flick of the switch.
On the right is his living room, and in this area, there is a white sofa, two structured chairs, a fireplace, bookshelves, and a wood coffee table. Unfortunately, Disick says he never uses this room, but it's nice to know it's there. Off the sitting room is a sizeable balcony that overlooks the backyard and the sweeping views of the valley below. Vogue has shared that even if a bedroom is small, a mini sitting room can be created with wingback chairs and a petite coffee table. In other words, you don't have to live in a Disick-sized mansion to lounge in your own bedroom in style.
The screening room is inviting
Watching movies with the kids on the weekend is a treat for this single dad. And his screening room has all the right elements to take in the latest Disney film. The theater utilizes soft gray tones that make the room easy to spend time in. But instead of movie theater-style seats, Disick went with a large U-shaped sofa that is so wide, it could double as three twin beds. With the help of several rectangular pillows, it makes for a very comfortable place to kick back and take in a flick.
A coffee table is tucked into the U-shaped sofa, which is great for resting popcorn on. The room has dark gray floor-to-ceiling blackout drapes that match the paint on the wall. When opened, they expose large sliding glass doors that lead to the backyard. Off the screening room is a tiny bathroom elegantly put together with light gray tones. During his home tour, Disick said the last movie he saw in the room was "Murder by Numbers" with Ryan Gosling. If you have an extra room in your house and want to turn it into a screening room, make sure to blend your colors well, suggests The Spruce. In other words, if you have a beige sofa, beige throw pillows, beige lamps, and a beige rug, it will create a calm tone that will put everyone at ease.
His fire pit keeps him warm
After the sun goes down in Southern California, a nighttime chill fills the air. That is when Disick's rectangular gas fire pit gets turned on. It has a long, light gray concrete base and is filled with dark gray stones. It sits between two outdoor sofas and has a wide edge to sit cocktails down on, making it the perfect entertaining accessory. During the pandemic, Disick often met his pals by the pit to entertain in the fresh air.
Behind the pit is a table and chairs for dining, and behind that is his infinity swimming pool. According to Martha Stewart, it is best to place a fire pit somewhere safe, avoiding the wooden deck or grass, which could be a fire hazard. It also noted that you don't have to be a millionaire to have a fire pit, as there are plenty of small pits that cost around $200.
He likes to collect modern art
This world traveler who likes to museum hop in big cities has a taste for modern art. Basquiat is one of his favorite painters, but he said that he could never afford a piece during his home tour. But he has snapped up some rather impressive works of art. In his sitting room is a large painting by Cleon Peterson called "The Kill" from 2016, which shows abstract bodies fighting in cream, off-white, and black colors. And he has a white framed picture of a blue pill on an orange background that says "This End Up" from Damien Hirst's Medicine Cabinets series, as per Instagram.
In the living room is an oversized canvas with gray letters. And then there is his flashy large silver alligator sculpture, his cute dachshund sculpture (he has a real dachshund in the house named Hershela, whom he said is Jewish), and a Supreme toy gun in his home. Disick is such an avid art collector that he hits the Art Basel art festival in Florida every year to look for up-and-coming artists (via E! News).
His neighbors are, you guessed it, the Kardashians
This guy can't seem to get away from the family that made him famous. Kris Jenner, Kylie Jenner, and Khloe and Kim Kardashian all live in the same exclusive gated Hidden Hills community that he calls home, according to Velvet Ropes. The Long Island native got his start as a book cover model but then became a household name thanks to starring on "Keeping Up with the Kardashians," which launched in 2006, according to IMDb. He starred in the reality TV show with his girlfriend Kourtney, whom he had three kids with. Over the course of the show, he became close to her sisters, Kim, Khloe, Kendall, and Kylie, as well as her brother, Rob. And he remains tight with matriarch Kris Jenner.
While Kris, Kylie, Khloe, and Kim live in Hidden Hills, Kourtney resides in nearby Calabasas, per People, and Kendall lives in Charlie Sheen's former Mediterranean-style home in Beverly Hills, per E! News. When "KUWTK" ended in 2021, he signed on to star in "The Kardashians" for Hulu in 2022, which keeps him close to his ex-partner's family. During the first episode, he was interviewed in his Hidden Hills mansion as he looked back at his life with the reality TV titans.