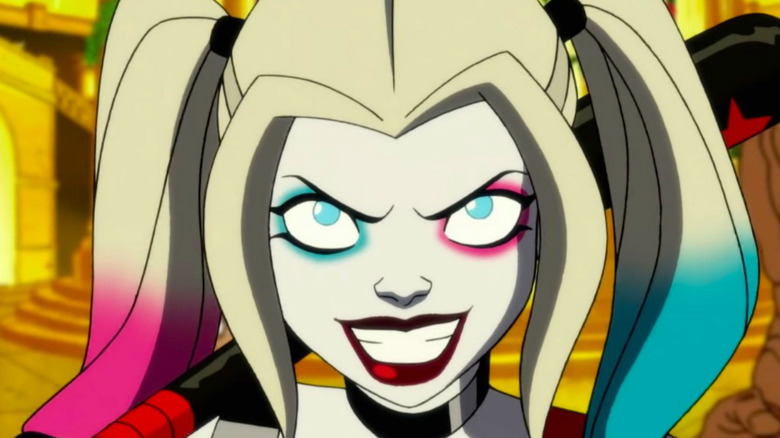 There's no doubt that DC and Warner Bros. have often struggled to get their live-action movies right, but they did strike gold with an animated series starring Harley Quinn. Even as the DCEU was going through its roughest patches, fans were plenty happy with what "Harley Quinn" was offering. The series follows the titular villain (voiced by Kaley Cuoco) as she tries to take over Gotham after breaking up with the Joker (Alan Tudyk). With the help of her trusted bestie and eventual new love Poison Ivy (Lake Bell), as well as a small group of C-list villains, Harley goes on a tear through Gotham delivering some crude comedy and gruesome bloodshed.
Fun, smart, and irreverent, "Harley Quinn" strikes an entertaining balance from the very beginning. With each episode, the series gleefully showcases some of DC's most iconic heroes and villains in their silliest forms, while still managing to create engaging and emotional storylines. The character depictions in "Harley Quinn" are what really make it so amazing, and they would be nothing without the talented voice cast behind them. Here are the stars of "Harley Quinn," who they play, and what they look like in real life.
Kaley Cuoco: Harley Quinn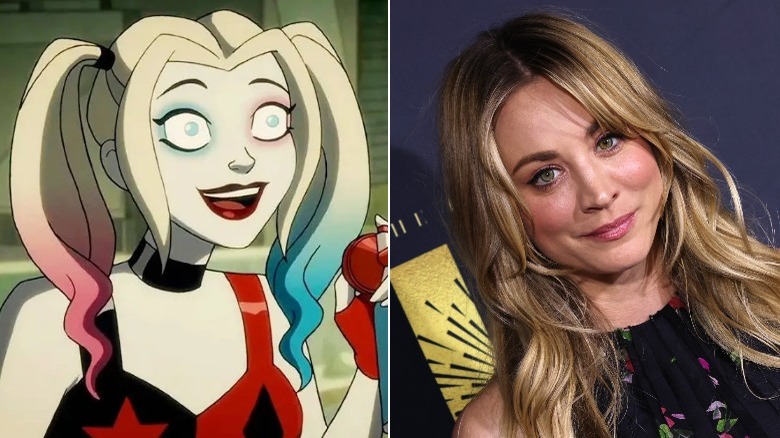 Harley Quinn first debuted in "Batman: The Animated Series," not in the DC comics, so it's pretty fitting that she eventually landed her own cartoon. Throughout her titular series, Harley has received some of the best character writing in all of DC's adaptations, going on an empowering journey of independence and becoming her own villainous force in Gotham. She's absolutely hilarious and brutally violent from the start, and a lot of her charm comes from Kaley Cuoco's voice work.
Most know Cuoco either from her breakout role as Penny in "The Big Bang Theory" or from her leading role as Cassie in HBO Max's "The Flight Attendant," which she also produced. In an interview with EW, Cuoco talked about how she was laughing just from reading the first page of the script for "Harley Quinn" and explained why she loves the character so much. "She brings that charm that's really hard to get away with, and then we allow her to go through these crazy things and make these crazy decisions, because we fall in love with her," Cuoco said. Harley is no easy character to portray, but Cuoco does it with a great mix of delightful zaniness, heart, and humor that's tough to resist. She's also a producer on the series, bringing her creative brilliance to bear in multiple ways.
Lake Bell: Poison Ivy
Poison Ivy has become a beloved force on "Harley Quinn" mostly for her humorous cynicism and frequent failed attempts at steering Harley down a better path. Ivy is one of the most powerful DC villains out there, and the HBO Max series proves that time and time again through the destruction she causes to those who mess with Harley. Although most of her storyline revolves around her helping Harley, being in an unexpected relationship with Kite-Man (Matt Oberg), and eventually becoming Harley's girlfriend, Ivy shines thanks to Lake Bell's strong performance.
Fans may recognize Bell from TV shows like "Bless This Mess," "Children's Hospital," and Netflix's "Wet Hot American Summer" miniseries. She's just as gifted in the voice booth, however, as "Harley Quinn" executive producer Justin Halpern will happily tell you. During a Reddit AMA, Halpern talked about Bell's incredible ability to improvise lines and said that she "completely created the sound for Ivy." With Poison Ivy taking on a larger role in the series after officially becoming Harley's girlfriend, Bell's opportunities for added hilarity have only grown.
Ron Funches: King Shark
Considered to be the tech guy of Harley's crew, King Shark can also act as the muscle once he gets a whiff of blood in the air. Throughout the series, he's racked up his fair share of kills and is generally seen as one of the more helpful members of Harley's group. He can also be downright hilarious — prone to both great banter and sudden explosions of yelling. King Shark's great comedic line delivery absolutely comes from voice actor Ron Funches' experience as a comedian.
While Funches is arguably still best known for his stand-up, he's also become a notable voice actor over the years, with roles in "Trolls," "Final Space," and "The Great North," just to name a few. In a 2021 interview with PopCulture.com, Funches opened up about why he loves playing King Shark saying, "It's fun to just yell at people and just yell that you're going murder people in a little booth." King Shark has always been one of the biggest highlights of "Harley Quinn," and it's hard to imagine anyone other than Funches voicing the hilarious villain.
Alan Tudyk: The Joker and Clayface
Clayface and the Joker are two comedic forces in "Harley Quinn" who fans have come to love in their own distinct ways. Clayface adds another unique personality to Harley's team with his shapeshifting abilities, which are only elevated by his love of theater and unique brand of "acting." Joker on the other hand is hilarious in how villainous and childish he can be at the same time. As it turns out, both characters are voiced by Alan Tudyk.
In addition to lending his vocal talents to TV shows like "Young Justice" and "American Dad" and movies like "Wreck-It Ralph" and "Frozen," Tudyk has starred in live-action series like Syfy's "Resident Alien" and "Firefly," in which he played Hoban Washburne. Tudyk actually plays multiple roles on "Harley Quinn" outside of just Clayface and the Joker, voicing characters like Calendar Man, Condiment King, Dr. Trap, and plenty of others. He's undoubtedly the go-to guy for voicing even the smallest characters in "Harley Quinn," which is a testament to his impressive versatility.
Tony Hale: Dr. Psycho
Dr. Psycho is one of the most chaotic members of Harley's crew, as his psychic abilities and occasional rampages can make him tough to deal with. Psycho reluctantly joins Harley's team after his offensive outbursts put him in bad public standing (yes, even for a villain). It's always fun to see his volatile personality be poked fun at, and even though he's a part of Harley's team, Psycho often acts as a rouge agent and tries to undermine the others. It takes a strong voice to make him likable, but thankfully, Tony Hale is on the job.
In addition to his iconic roles as Gary Walsh in "Veep" and Buster Bluth in "Arrested Development," Hale has racked up a number of credits in shows and films like "Birdgirl," "Centaurworld," "Chuck," and "Toy Story 4," among others. In an interview with ComicBook.com, the actor talked about how he loves that Dr. Psycho is a true villain through and through and that the show never tries to redeem him. He certainly brings a unique, frenetic, and unpredictable energy to the series, and Hale does a fantastic job bringing the villain to life.
Jason Alexander: Sy Borgman
Although Sy Borgman simply starts as Poison Ivy's landlord, he eventually joins Harley's ranks as an old-school spy with some tech twists. Sy's age and espionage past help him bring his own brand of humor and zany wisdom to the team. Prior to joining the group, Sy often acts bitter toward Ivy and Harley. But after joining, he warms up to everyone and can hold his own in both banter and battle. He might have lost his body in "Dye Hard" (season 2, episode 10) after colliding with Dr. Psycho's mind shield, but his persona lives on inside a computer.
All of Sy's quirks are brought to life beautifully by Jason Alexander, who's best known for his iconic role as George Costanza on "Seinfeld." Alexander has also had recurring roles in shows like "Curb Your Enthusiasm" and "The Marvelous Ms. Maisel." In an interview with CBR, series co-creator James Halpern called Alexander's casting "perfect" and said that he nailed the character "right off the bat."
J.B. Smoove: Frank the Plant
One of the funniest side characters in "Harley Quinn" is undoubtedly Frank the Plant, whose wild antics and big personality make him a total scene-stealer. Frank is a gigantic Venus flytrap and a partial roommate to Ivy when the series starts, but he's known more for being comic gold every time he opens his mouth. From how he manages to throw up people he's eaten to his smarmy one-liners, Frank is the gift that keeps on giving in "Harley Quinn." His design is also surprisingly adorable and innocent, making it even funnier when he goes on a curse-filled rant or does something nasty.
Frank simply wouldn't be the same though without J.B. Smoove voicing him. Smoove is an alumnus of both "Def Comedy Jam" and "Saturday Night Live," but he's perhaps best-known for playing Leon in "Curb Your Enthusiasm" and Peter Parker's teacher Mr. Dell in the MCU "Spider-Man" movies. As Frank the Plant, the comedian brings his signature energy and impeccable comedic timing, contributing some great moments to "Harley Quinn."
Diedrich Bader: Batman
Batman is typically the overly serious fun-killer of the DC heroes, always steeped in darkness and wanting to work alone. In "Harley Quinn," that doesn't change much, but the series uses that to its advantage. There are plenty of times when characters, especially Harley, poke holes in Batman's ego, and there's a funny line here and there that brings the Dark Knight out of his shell more. His dysfunctional relationship with a dysfunctional Commissioner Gordon (Christopher Meloni) is a constant treat, and it's great to see how the show allows Batman to be a little goofier.
Part of what makes this depiction of Batman so unique is Diedrich Bader's voice work as the character. Among the other notable names on this list, Bader's is probably one of the less recognizable, but that doesn't mean that he hasn't appeared in some well-known shows. Bader's filmography includes recurring roles in "Masters of the Universe: Revelation," "BoJack Horseman," "Space Force," and "Veep," among others, and he previously voiced the Caped Crusader in "Batman: The Brave and the Bold." A true veteran of voice acting, Bader brings all of his experience and gravitas to "Harley Quinn," resulting in a Dark Knight who's both intense and hilarious.
Christopher Meloni: Commissioner Gordon
Like Batman, Commissioner Jim Gordon is usually a buttoned-up professional when it comes to crimefighting, but that's far from what we get in "Harley Quinn." Here, Gordon is a complete trainwreck you can't look away from. His slurred ramblings and wild outbursts are always entertaining, and the way he wallows in his personal failures is pure (dark) comedy. Yet, there are still those personal elements to Gordon that somehow make you love him and his complicated dynamic with Batman.
Without Christopher Meloni's voice behind this version of Gordon, it would be nowhere near as hilarious as it is. Meloni is best known for his role as Elliot Stabler in "Law and Order: SVU," and some might even recognize him for leading the Syfy series "Happy!" His depiction of Gordon in "Harley Quinn" has become a highlight of the series, as he provides some of the strangest and most hilarious moments, like the time he bonds with Clayface's detached arm.
Matt Oberg: Kite Man
Who knew going into "Harley Quinn" that Kite Man, one of Batman's silliest rouges, would become a breakout comedic force? Ever since his debut in Season 1 during a villainous bar mitzvah, Kite Man has dished out tons of funny lines and iconic moments as he tries to woo Poison Ivy. His positivity and overwhelming belief in his kite powers are incredibly infectious, and you may even start to feel like you're laughing with Kite Man, not just at him.
Kite Man's rise to prominence in "Harley Quinn" wouldn't be possible without Matt Oberg voicing him. While Oberg isn't exactly a household name, many have likely seen him or heard his voice in shows like "Veep," "Ugly Americans," and "Fresh off the Boat." His work on "Harley Quinn" has brought one of DC's most bizarre and obscure characters into the limelight, even earning Kite Man his own spinoff series on HBO Max (via The Verge).
James Adomian: Bane
"Harley Quinn" puts its own comedic spin on a bunch of notable DC characters, but Bane may be the most hilarious of the bunch. The series' depiction of Bane basically makes him a lovable idiot whose affection for explosions and vengeance will quickly win your heart. It's a perfect parody of Tom Hardy's performance in "The Dark Knight Rises," and one that's loaded with goofiness. From him seeking explosive revenge on a smoothie shop employee to his failed attempts at being the biggest and baddest villain in Gotham, Bane is an irresistible comedic force in "Harley Quinn."
James Adomian is the actor who brings Bane to life in the show, and he does a fantastic job with the villain's voice. The prolific voice actor has earned credits on shows like "The Venture Brothers," "American Dad," "Close Enough," and "BoJack Horseman," in which he plays Stuart. Adomian brings all kinds of different sounds and affectations to his performances, and his turn as Bane is up there with his best work. With the villain surviving everything that's been thrown his way so far, his reign of hilarious terror shouldn't be ceasing anytime soon.
Rahul Kohli: Scarecrow
Scarecrow doesn't play too big of a role for most of "Harley Quinn" and only appears in a handful of episodes, but when he does show up, it can be pretty memorable. Not only does Scarecrow provide some funny lines when alongside the Joker and Bane, but he also has one of the most gruesome deaths at the hands of the Joker. Toward the end of Season 1, after the Joker has captured Batman, Scarecrow unmasks the Dark Knight and ruins the mystery of his identity, severely frustrating the Joker in the process. This leads to the Clown Prince of Crime killing Scarecrow by spraying acid all over him.
Scarecrow is voiced by Rahul Kohli in "Harley Quinn," who most might know as a frequent collaborator of director Mike Flanagan on his Netflix horror shows, which include "The Haunting of Bly Manor" and "Midnight Mass." Kohli is also known for playing Ravi Chakrabarti in "iZombie." While it's a shame that he won't continue to voice Scarecrow in the series, he at least had a memorably gruesome and darkly comedic exit, and he does great work with the material he's given throughout.
Giancarlo Esposito: Lex Luthor
While Lex Luthor is generally a Superman villain, he plays a pretty impactful role in "Harley Quinn" as the leader of the Legion of Doom. Lex becomes more prominent as the series goes on, having Harley join the Legion as part of his own plans and becoming a devious threat. Also, it's pretty hilarious to watch one of his meetings be disrupted by Bane's silly nonsense, leading to Lex becoming completely frazzled.
In "Harley Quinn," Lex is voiced by classic bad-guy actor Giancarlo Esposito. Whether you know Esposito best as Gus Fring in "Breaking Bad," Stan Edgar in "The Boys," Moff Gideon in "The Mandalorian," or Anton Castillo in "Far Cry 6," you'll know that he's an expert at playing compelling and charming villains. Clearly, the actor is a master of the calculated villain archetype, and he brings his expertise to "Harley Quinn" as an excellent Lex Luthor.
Sanaa Lathan: Catwoman
Although Catwoman doesn't appear too much in the early episodes of "Harley Quinn," she quickly leaves quite an impression. As sort of a know-it-all, Catwoman is able to run circles around Harley and Poison Ivy when it comes to thieving, and she delivers her fair share of great lines. Her energy is distinct from the rest of the main cast, and as a result, she has some hilarious interactions with the other "Harley Quinn" characters.
Sanaa Lathan provides the voice of Catwoman in "Harley Quinn." Lathan is probably known best for film roles like Vanessa in "Blade," Monica Wright in "Love & Basketball," and Alexa Woods in "Alien vs. Predator." She's also appeared in other TV shows like "Nip/Tuck" as Michelle Landau, "The Cleveland Show" and "Family Guy" as Donna Tubbs, and "Succession" as Lisa Arthur. Lathan does an excellent job as Catwoman, and it's nice to see how the character's role in "Harley Quinn" has expanded over time.