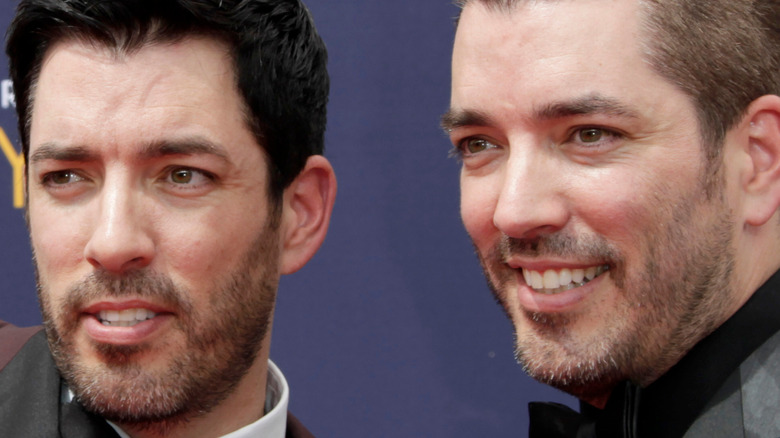 Airing since 2011, "Property Brothers" follows the handsome Scott twins, Jonathan and Drew, as they help nervous homebuyers navigate the complex process of finding a fixer-upper and turning it into their dream home … all while staying under budget. The show is one of the most popular in the home renovation genre, as the twins' Instagram alone has nearly 2 million followers. But just because they have fans doesn't mean the Scott boys are no stranger to scandal. According to House Beautiful, a Las Vegas couple accused the pair and their team of butchering their home renovation during a show's episode. They are now suing the show's production company Cineflix as well as Villa Construction, who the Scotts partnered with on the renovations.
According to Country Living, the brothers typically try to avoid projects that won't benefit them, like building a home on a landfill or working with clients who have bad attitudes. However, even this due diligence hasn't kept them from making a few design mistakes over the years. While the show often gives great renovation tips, you'll want to avoid the following bad home advice dished out on "Property Brothers."
1. Stick with bland neutrals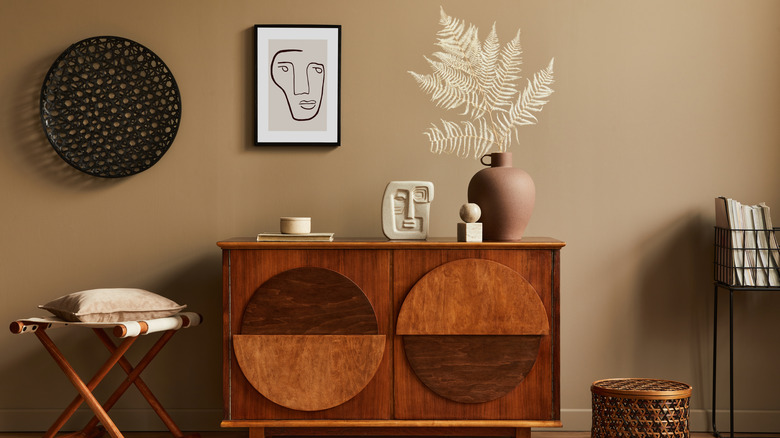 Because Jonathon and Drew don't get to spend a lot of time with the homeowners on the show, they can't really get to know their individual personalities. This leads to home transformations that often rely a little too much on boring neutral tones without any personalized flare. While neutral room decor seems to be eternally on-trend (and goes with everything!), there is a right and wrong way to incorporate the style into your home.
According to Maggie Minor Designs, if misused, too many neutral tones in a home can actually make you unhappy. This is because our minds react to the presence of color, and the overwhelming lack of it can make us feel numb over time. To avoid this, Homes & Gardens recommends using different textures to add stimulants to your space, like incorporating wooden furniture with brass accents. If you want to stick to neutrals, attempt to create a soft color palette instead of sticking to just one monochrome hue. So, don't decorate your living room entirely in white, but add in soft browns, light grays, and even a touch of beige to liven things up.
2. You can get your renovations finished quickly
The timeline on "Property Brothers" is very condensed. As is the case with most reality renovation shows, weeks go by even if there are editing attempts to convince viewers that it has only been a few days. The fact that the hour-long episodes tend to fly by doesn't help either. According to Creative Design Solutions, unlike "Property Brothers" episodes, real-life contractors often have more than one project happening at once. Because of this, you might not get to have a crew on-site 24/7. If you aren't aware of this in advance, it can be frustrating to find out during expensive and messy home renovations.
However, if you want around-the-clock service, AJ Construction & Development warns that it's likely to increase your budget exponentially. This is because the contractor and their team would need to abandon all of the other projects they were working on to prioritize yours. And, in the case of teams with less experience, a tight deadline might lead to shoddy work in an effort to finish on time.
3. Get a glass dining table
Jonathon and Drew seem to love staging each of their newly renovated homes with a glass table, whether it's a coffee table, side table, or even a dining table. While glass tables are lovely for photos, they can be dangerous if they haven't been manufactured correctly. According to Glass.com, manufacturing defects in glass tables can cause chemical reactions known as nickel sulfide inclusions, which lead to spontaneous shattering. But, the reactions occur randomly, and it's difficult to know whether a particular table or piece of glass has been impacted upon purchasing.
Not only that, but even tables not subjected to any defects or recalls have been known to shatter spontaneously. The British Contract Furnishing Association warns that common everyday behaviors like accidentally dropping items, scratching the glass, or placing food containers too hot or too cold onto it could put everyone in danger. Because of this, it's easier to invest in a different kind of table for your home and avoid the advice you saw on "Property Brothers."
4. There are so many project surprises
One of the best parts of watching shows on HGTV or DIY Network is the drama of unexpected setbacks on a project. When you're watching from home without any money invested in the project, it's exciting to see how the homeowners navigate the discovery of asbestos in their flip, a cracked foundation in their dream home, or even a construction permit getting rejected.
However, according to Main Line Kitchen Design, this is one of the least realistic parts of the genre. In real life, most professional contractors who have been in the game for a while can assess a project and property and tell you almost exactly what it will cost upfront. This is because they've already predicted and accounted for the types of problems likely to arise during a particular project. So, if you've been worried about starting a construction project on your home, don't be put off by what you see on "Property Brothers." You are likely getting fair and correct quotes.
5. Follow the latest trends
Something that "Property Brothers" does perfectly (as is the case with most home renovation shows,) is staying perfectly on-trend. Throughout the show's run, you can always be sure that each property will feature the latest and greatest paint colors, appliances, and trendy decorations. But when you are remodeling or redecorating your own home, following current trends might hurt you in the long run. This is because trends are fleeting, and they will leave you with an outdated house in a few years.
According to Elle Decor, things like tiled countertops and shag carpets were once all the rage, but now cause instant recoil among most homebuyers. Even Millennial Pink, a popular color in the early 2010s, is already described as dated. Trends move quickly, so when remodeling, try to draw inspiration from more classic designs rather than the hottest trends. That way, your design will last for decades and not a few short years.
6. Design all-white kitchens
A design that seems to be very popular on "Property Brothers" is the infamous all-white kitchen. In this kitchen, every element is a crisp shade of white. Many people are fans of this design because it feels timeless and looks like it will never become dated. However, according to The Spruce, the all-white kitchen isn't as great an idea as it seems on the show. First, it's hard to keep an all-white kitchen looking as pristine as the pictures, since cabinets can chip or stain with normal wear and tear. It's also hard to keep the rest of the kitchen clean, too.
Country Living isn't a fan of the trend either, stating home cooks find the clean-up required tedious. Not only that, but if your kitchen receives too much natural light (which is normally quite a perk), then your all-white kitchen will eventually begin to turn yellow with age if you don't constantly touch things up. So, while Jonathan and Drew seem to be in love with the trend, it's just that. A trend! Feel free to skip it.
7. Remodel your entire floor plan
You never see subtle renovations on shows like "Property Brothers." It's typically all or nothing. In real life, however, if you decide to spruce things up around the house, you don't actually have to rebuild the entire thing. If you want to redo your kitchen by simply repainting your cabinets or getting a new refrigerator, that's totally fine. However, the Scotts disagree with this.
In 2019, Jonathan Scott told The New York Times, "I can't stand it when I go into a house that's listed, and they say it's been renovated, but all they've done is they've ripped out a kitchen and put in brand-new cabinets into the exact same bad layout, then all you have is a cramped, dated layout with your new kitchen." He doubled down on his position, stating, "It's worth spending the money on opening things professionally, so you have a new footprint." However, it is important to remember that minor improvements to your living space can increase your home's value. And, even if they don't net you a higher sale price, if they increase your home's daily value to you, then they are worth it.
8. You have to go into debt over a remodel
Plenty of "Property Brothers" fans would prefer not to go into debt over renovating their homes. After all, they might already be struggling with mortgage payments, student loans, medical debt, or consumer debt. However, Jonathan Scott told The New York Times, "Some people will save up for three years, five years to do a renovation on their kitchen. But why not just do that renovation now and enjoy that kitchen?"
According to CNBC, if you are comfortable taking on debt, then a home-equity line of credit (HELOC) could be your best bet for financing. This is because the loan has several safety measures to ensure repayment. The first is that you can't take one out until you have at least 20% equity in your home. The second is that the total amount you're authorized to borrow is based on the price of your outstanding mortgage. While it might be easy for a contractor with an unlimited budget on a show like "Property Brothers" to suggest financing, be sure to follow your own advisor's advice on what is the best option for you.
9. Paint your walls certain hues
According to Yank Design, the color-matching company Pantone releases the so-called "color of the year" each December. The color is supposed to capture the zeitgeist of the time and is subsequently used and promoted by most major paint retailers and interior designers for the rest of the upcoming year. While the practice does breathe life into an industry that the general public would otherwise unlikely pay much attention to, the colors are still just passing fads. When remodeling, homeowners should focus on their personal tastes instead of what's new, now, and next.
The "Property Brothers" are definitely guilty of dictating color trends. They told Southern Living that red and yellow walls were a thing of the past and homeowners should avoid them at all costs. But, if you, as the person paying for the paint, wants to paint your home's walls daisy yellow or a deep red, go for it. You are adding value to your home because it's enjoyable for you to look at and live there.
10. Part with sentimental housewares
Fans of "Property Brothers" will know that the Scotts have another popular renovation show called "Buying and Selling." According to HGTV, one homeowner on the show was dead set on not giving up her grandmother's dining room table as it was very important to her, but was convinced by the brothers to swap it out for a mid-century modern piece. This is too bad, since you don't need to get rid of sentimental furniture pieces to have a well-designed home.
According to MyDomaine, you can give a well-loved piece of furniture new life by sanding it down and giving it a fresh coat of paint. You can also display things like family china and heirlooms instead of confining them to a cabinet. Artful Living suggests that the best way to style heirlooms is not to feel constricted by the item's original purpose. Instead, focus on how the item can serve you and your home's current needs.
11. Go overboard with mixing and matching patterns
Something that you'll see a lot of on "Property Brothers" is the mixing and matching of loud patterns. To be fair to the Scott brothers, this practice is present on just about every home renovation show, but they, in particular, have a unique way of making things just … a little bit too much.
According to Homes & Gardens, there technically aren't any actual rules for using patterns to decorate a space, but amateur decorators would still be wise to do everything in moderation. You can do this by not overloading a room with clashing patterns, and instead focusing on the primary color palette and print. You can then incorporate small patterns in different textures to accent it. MyMove adds that using color as your anchor across different patterns is the best way to create a stylish space. You could combine blue stripes with a blue gingham material or use white furniture to anchor things like more outlandish throw pillows and curtains.
12. Invest in transitional flooring
The "Property Brothers" seem to love transitional flooring. In a majority of episodes, new homeowners are shown their stylish, freshly renovated house only to come face to face with the horror of freshly-installed transitional flooring. According to LL Flooring, transition installation is the space where any two types of flooring meet. A good example is where the carpet of the bedroom meets the bathroom tile. This works well because these rooms are two distinct spaces. However, if you have an open floor plan, the bad home advice from "Property Brothers" suggests that you should still separate rooms with different floors.
Houzz warns that doing this is not only unsightly (as it creates unnecessary visual disruptions to the floor plan,) but it's also a tripping hazard. Even when installed correctly, the transition strips are raised just enough above the rest of the flooring, so tripping (or at least regularly stubbing your toe) is very likely.
13. Carpet stair runners are easy to install
The "Property Brothers" seem to love covering up wooden staircases with carpet runners. Nesting with Grace warns that it's very easy to go astray if you decide to install a carpet runner on your stairs. Selecting the wrong pattern can easily ruin your home's decorations, as the stairs are such a focal point. Once you choose the design, you'll be left with a slipping hazard if you forget to install the carpet padding. And, even if you do install everything correctly, if you fumble at the finish line and staple the runner down incorrectly, it will look frumpy rather than fashion-forward.
According to SFGate, stairs with carpet runners (as well as fully carpeted stairs) can help avoid slips and falls on wooden stairs, as well as in overall noise reduction. However, if not installed correctly, stair runners might contribute more to potential safety hazards than they protect you from.
14. Go overboard with accent colors
Adding your favorite colors to a space is one of the best parts of redecorating. It's great to have a physical extension of your personality through your home. However, while great pops of color are typically a good thing, sometimes the "Property Brothers" take things a bit too far. According to Glidden, the golden ratio for using color within a space is 60/30/10. This means that your main color should take up about 60% of the area in a room (think: the walls, the furniture, etc.) Your second color comes in next at 30%. This could be used on things like curtains, smaller furniture items, or bed linens. The final color comes in at 10% and should typically be the boldest. Use it for things like throw pillows, lamps, art, and the like.
Even HGTV recommends using this rule and advises against using too many colors that clash with one another. Instead, focus on colors that flow throughout your entire home and complement each other. The renovations on "Property Brothers" can sometimes fail to do this.