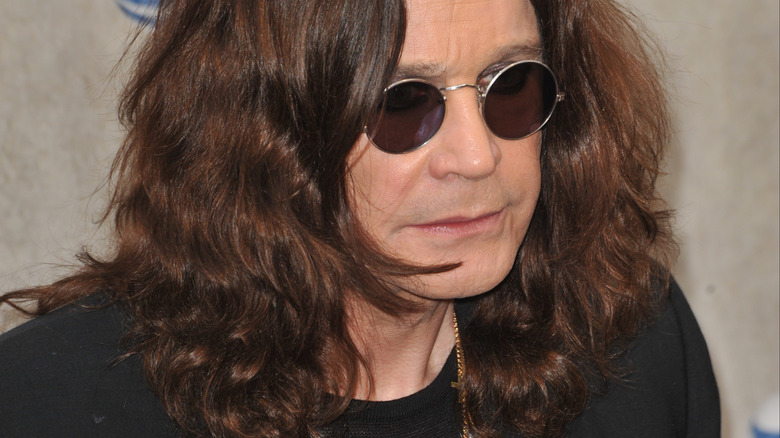 The motor system disorder Parkinson's disease (PD) is characterized by unintended or uncontrollable body movements, according to the National Institute of Neurological Disorders and Stroke (NIH). Symptoms include tremors, muscle stiffness, impaired balance, and problems speaking, swallowing, and sleeping. It can also cause cognitive issues and generally occurs around the age of 70, affecting more men than women. There is no cure.
There are several celebrities who have been diagnosed with PD. Many were older when they started experiencing symptoms, but some, like actor Michael J. Fox, was only in his late 20s when he learned that he had the disease. Several of these stars have continued to perform and entertain even after experiencing symptoms of the disease, proving that it's not a death sentence. While it can be debilitating at times, and some days are better than others, the following actors, singers, and athletes have largely tried to remain positive and not let PD get them down. Many of their stories are inspiring, and while some have since passed on, many more are still living with the disease and making the most of it.
Michael J. Fox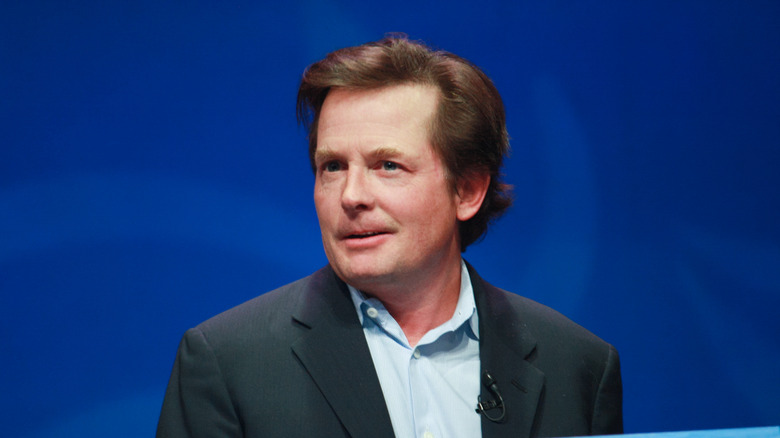 One of the most famous faces of Parkinson's is actor Michael J. Fox. The star has entertained film and TV fans for decades in a variety of big-sceen franchises ("Back to the Future") and TV shows ("Family Ties," "Spin City," and so on) and has been diagnosed with Parkinson's for over 30 years. What makes Fox unique is that he was so young when he found out he had Parkinson's. The actor had recently gotten married and was not yet 30 when he was first diagnosed. And while the news was likely shocking for the young couple, Fox told CBS in 2021: "We haven't cried about Parkinson's since. We've just dealt with it and lived our lives. But we cried about it that first time." He has since become an inspiration to those fighting PD and the families that support them.
The star continued to act for decades despite his diagnosis in TV programs such as "Boston Legal," "The Good Wife," and "Designated Survivor." He is currently retired and occasionally has difficulty dealing with everyday activities, some of which require a wheelchair. Fox has written four books, including a memoir, and appreciates the time he gets to spend with his wife and children. And while the disease can be debilitating, he doesn't let Parkinson's get him down and has dubbed himself "Mr. Optimist." Because, for Fox, it's vital to have a positive attitude. The star also has the Michael J. Fox Foundation, which centers on Parkinson's research.
Muhammad Ali
Muhammad Ali, one of the greatest boxers of all time, was diagnosed with Parkinson's disease in 1984, three years after he retired from the sport. A recently study found that he had been showing signs of the disease in the late 1970s. Author Jonathan Eig, who wrote a biography on Ali, found Ali's speech had slowed down considerably following a fight with Ernie Shavers in 1977. Research also revealed that the boxer experienced speech discrepencies between the ages of 26 and 39, according to CBS. This symptom can be attributed to Parkinson's.
Arizona State speech scientists Visar Berisha and Julie Liss set out to find a parallel between speech patterns and early signs of the disease. This is critical because early intervention can help when treating neurological diseases, according to Liss. Unfortunately, Ali kept boxing even though he was experiencing some troubling issues with his health. Eig explained, "Ali did damage to himself and he knew it and kept boxing too long, but he didn't have the information we now have about CTE — you don't have to wait until you're middle-aged to stop." (CTE, or chronic traumatic encephalopathy, is caused by repeated head trauma and is known to affect boxers as well as football players.) According to the Michael J. Fox Foundation, traumatic brain injury can also lead to Parkinson's disease, and Ali certainly experienced his fair share of head shots during his athletic career.
Neil Diamond
Singer Neil Diamond, known for songs such as "Sweet Caroline" and "Song Sung Blue", revealed in 2018 that he had Parkinson's disease. He decided not to let the condition get him down. He retired from touring after the diagnosis but kept performing occasionally. During a 2020 interview, he explained that he was feeling pretty good and made sure to stay fit and take the proper medications. And while he couldn't travel like he did in the past, he vowed to stay active. "It does have its challenges, but I'm feeling good and I feel very positive about it. I'm feeling better every day. [I'm] just dealing with it as best I can, and just keep the music coming," he told the Associated Press (via MedPage Today).
As of 2021, Diamond was still writing music and released the album "Classic Diamonds," which involved rearranging some of his classic hits. Fortunately for Diamond, the disease didn't affect his voice, which can be a major issue, particularly for professional singers. He told Parade he actually felt "better than ever." He believed it was likely because he wasn't touring anymore and "tearing up" his voice. Still, Diamond admitted that he tried not to think about the emotional side effects of the diagnosis: "I don't deal with it. I think I'm in denial or something. I feel fine." Diamond, who's 81, didn't think he'd live as long as he has and feels lucky to still be alive.
Ozzy Osbourne
Rocker Ozzy Osbourne was diagnosed with Parkinson's in 2019 and opened up about the disease publicly nearly one year later. While the diagnosis can be shocking, Osbourne didn't let it change his outlook on life. He even released a single, "Ordinary Man," the first music he had released in 10 years, after finding out he had the condition. Osbourne learned he had Parkinson's after he performed on New Year's Eve in 2019. The singer fell, had neck surgery, and had to cope with some nerve issues, he explained to Good Morning America. And while his wife Sharon noted that it wasn't a "death sentence," Parkinson's can be very challening to cope with, considering you can have good days coinciding with really bad ones.
After surgery, Osbourne felt numb and his legs got cold, creating a "weird feeling." He decided to open up about his Parkinson's diagnosis because he was struggling to walk and didn't like to keep secrets from his fans. Fortunately, his wife and children rallied around him, and the diagnosis even brought them closer together. Still, it was a struggle for Osbourne, who didn't like to sit around while he saw his family being productive. These day's he's keeping active. For example, he, his wife Sharon, and his son Jack currently star on the Travel Channel series "The Osbournes Want To Believe."
Alan Alda
In 2018, former "M*A*S*H" star Alan Alda, 82, revealed he had been diagnosed with Parkinson's disease three and a half years earlier. The good thing is that his cheery attitude is keeping him from wallowing in self-pity, and he continues to work. He decided to go public with the news because he was afraid someone would spot the symptoms and out him "from a sad point of view." He told CBS news that he was promoting his new podcast on TV, and his thumb was twitching a little, which he feared people would notice. Rather then let someone else speculate about his health, he decided to reveal the truth. Alda made it clear that the diagnosis was not going to slow him down, tweeting: "My life is full. I act, I give talks, I do my podcast, which I love. If you get a diagnosis, keep moving!"
One way he is counteracting the disease is by playing tennis and boxing for exercise several times a week. He also marches to Sousa music. Alda explained how the disease effects everyone a little differently, and there are good days and bad days. And he makes sure to keep an upbeat attitude: "You know how I look at it? It's like a puzzle to be solved. What do I have to adapt to to carry on a normal life? And I enjoy solving puzzles."
Linda Rondstadt
Singer and 10-time Grammy Award winner Linda Rondstadt learned she was dealing with a Parkinson's-like disease a little while after she started having problems with her voice in 2000. Unlike Neil Diamond, it has wreaked havoc on her voice. Rondstadt can no longer sing because it requires repetitive motion, which she can't sustain. In 2009, she played her last show, which took place in San Antonio, Texas. Rondstadt told CNN in 2019 that nearly two decades earlier, she had a tough time hearing part of her voice, and she initially believed there was a problem with her headphones. Then her voice started to seize up, and she knew something was wrong; possibly, a pinched nerve was involved. It wasn't.
Doctors initially diagnosed Rondstadt with Parkinson's disease but a year later determined she had progressive supranuclear palsy, which is similar to Parkinson's and has no cure. Everyday activities became difficult for Rondstadt, including maintaining balance, talking properly, taking a shower, and even brushing her teeth. Comparing herself to a toddler, the singer explained that she also had to relearn how to eat. Still, she finds creative ways in which to carry on and a few years ago released the memoir "Simple Dreams," which chronicles her career.
Bob Hoskins
Most people remember actor Bob Hoskins in the live-action-slash-animation movie "Who Framed Roger Rabbit," but the English-born star played several roles over the course of his several-decades-long career. He started acting in the late 1960s and appeared in numerous British theater and TV productions as well as several films, such as "Mermaids" opposite Cher and "Hook" by director Stephen Spielberg, according to The Guardian.
Hoskins also dealt with mental health issues, including depression and a nervous breakdown, after divorcing his first wife. In 2012, his representative revealed he was diagnosed with Parkinson's, reported Reuters. The last role he played was a dwarf in 2012's "Snow White and the Huntsman" with Chris Hemsworth and Kristen Stewart. The actor's face was digitally added on top of another actor's body. Unlike many of the other actors on this list, Hoskins immediately retired from acting following his Parkinson's diagnosis. He stayed out of the public eye until his death two years later from pneumonia. Hoskins will be remembered for playing tough guys while also having the capability of showing off his softer side.
Maurice White
Singer Maurice White of Earth, Wind & Fire, known for hits such as "September," "Shining Star," and "Boogie Wonderland," began showing symptoms of Parkinson's disease in the 1980s, and he revealed to fans in 2000 during the group's Hall of Fame induction that he had the neurological disease, according to The Hollywood Reporter. He was one of those people who was able to function for many years while dealing with the disease. White performed with his band until 1995, after which it became too difficult for him to tour due to his health condition.
White founded the group in the late 1960s. Born in Memphis, he attended the Chicago Conservancy, worked with Muddy Waters, and was a session drummer. He was also a producer and collaborated with musicians such as Barbara Streisand and Cher. Earth, Wind & Fire was massively popular and played numerous venues over the years, from the White House to the Super Bowl.
While he loved entertaining his fans, he also strove to inspire them, commenting in 2000: "That was the whole objective, to try to inspire young people to believe in themselves and to follow through on their ideas." White died in 2016 at home in Los Angeles at the age of 74.
Billy Connolly
Scottish comedian Billy Connolly discontinued his live performances in 2018, five years after he received his Parkinson's diagnosis, according to BBC. During his final live tour he would point out his symptoms to his fans prior to performing, presumably to make them comfortable, ward off any awkwardness, and make them aware of his condition. Still, he continued to entertain on TV through 2021 even though it was becoming a struggle. During an interview with his wife in 2021, he revealed that the medical challenges he was experiencing were "getting worse."
In August 2021, Connolly received a lifetime achievement award at the Edinburgh TV Festival. He noted that because he was struggling with his medical condition, it was unclear how much longer he would continue to book TV programs: "I will have to weigh it up and see how bad it gets. Play it by ear." The Scottish star was a folk musician before launching his comedy career. He has appeared in several American TV shows, such as "Head of the Class," and has appeared as a character actor in several films, such as "Brave," "The Hobbit: The Battle of the Five Armies," "The Boondock Saints," and "Mrs. Brown."
Billy Graham
Christian evangelist Billy Graham started experiencing the symptoms of Parkinson's disease in 1989 and revealed the news publicly in 1992. Yet, he continued preaching for many years following his diagnosis. When he informed the world of his medical condition, a spokesman said 73-year-old Graham had problems walking and was suffering with mild tremors. It was also problematic for Graham to write and navigate stairs, according to the Tampa Bay Times. Despite his diagnosis, Graham was committed to continue writing and participating in Christian crusades, albeit at a slower pace.
Graham, considered "America's Pastor," started hosting Christian revival gatherings in the 1940s and popularized evangelical Christianity. Many American presidents leaned on him as a spiritual advisor, including Dwight D. Eisenhower, Lyndon Johnson, Richard Nixon, Ronald Reagan, George H.W. Bush, and George W. Bush. Over the course of his career, Graham preached to millions of people in 185 countries.
In addition to Parkinson's he suffered from prostate cancer and hydrocephalus (fluid on the brain). Still, it's not uncommon for some people with Parkinson's to live long lives, and Graham was no exception. He died in his sleep at the age of 99 in 2018, according to ABC, and he outlived his wife, who died over a decade earlier.
Jesse Jackson
Many celebrities wait a while before deciding to tell the public about their Parkinson's diagnosis, and Rev. Jesse Jackson was one of those people. Jackson, who is currently 80 years old, found out that he had the medical condition in 2015 at the age of 72, but he didn't reveal the news until 2017, according to NPR. The political and social activist was in denial about the disease, which his father had, but he eventually was forced to seek medical help after noticing some of the telltale symptoms. Jackson said in a statement: "After a battery of tests, my physicians identified the issue as Parkinson's disease, a disease that bested my father. Recognition of the effects of this disease on me has been painful, and I have been slow to grasp the gravity of it." He has tried to remain positive about the condition, vowing to slow its progression through physical therapy and other activities.
Jackson was friends with Martin Luther King, Jr. and, in his own words, has spent his life dedicating his "heart and soul to the fight for justice, equality, and equal access." One of the ways he has done this is through the Rainbow PUSH Coalition, a human and civil rights organization.
Brian Grant
Former NBA star, Brian Grant, also has Parkinson's disease. The 49-year-old, who has played basketball with legends such as Scottie Pippen, Kobe Bryant, and Dwyane Wade, wrote about the condition in his 2021 book, "Rebound: Soaring in the NBA, Battling Parkinson's, and Finding What Really Matters." According to NBA.com, during his final year in the NBA, Grant was playing one-on-one when he collapsed while attempting a layup. His gut told him something was wrong. Not long after, he mentioned that he had an uncontrollable hand twitch to a friend and natural healer, who was convinced Grant had Parkinson's. Specialists confirmed the diagnosis.
Grant intially felt depressed about the situation and started self-medicating with pills and alcohol. He spent a lot of time by himself in the bedroom. But he managed to pick himself up and is currently an advocate for Parkinson's Awareness and is the head of the Brian Grant Foundation, which focuses on ways to help people with PD cope with the condition.