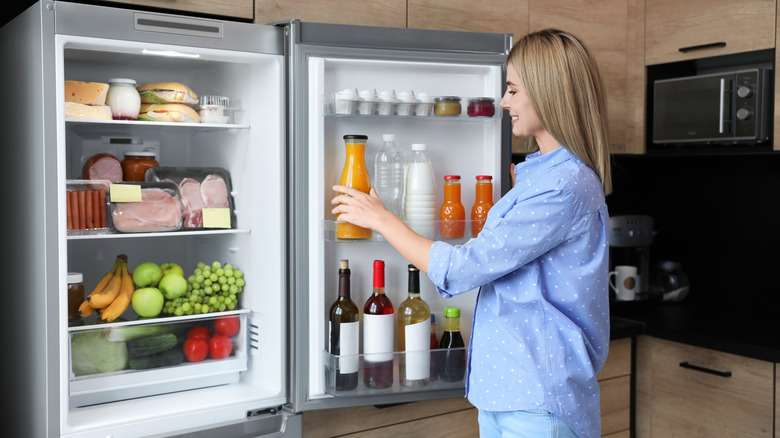 Imagine your life without a refrigerator…no chilled white wine, no ice cream, not even a few ice cubes for your lemonade on a hot summer day. Trips to the grocery store would be daily, with no way to keep food fresh. With our lifestyles, refrigerators are not an option; they're a necessity.
According to Home Warranty of America, a refrigerator usually lasts about 12 years. Thankfully, that's a pretty good amount of time compared to other appliances. Refrigerators are an expensive investment, so the more years, the better. On average, we're paying $1,000 to $3,000 for a new fridge, but some people have no problem shelling out $15,000. Hopefully, at that price, the refrigerator is pouring the lemonade and scooping the ice cream for them.
Whether for a new house or simply replacing an old one, it's important to avoid many of the mistakes everyone makes when buying a refrigerator. From too much or too little technology to crazy color choices and poor measuring, it's easy to choose the wrong refrigerator if you aren't aware of what to look for. Follow along as we discuss the common mistakes made while refrigerator shopping, and let's help you to avoid them.
You've got style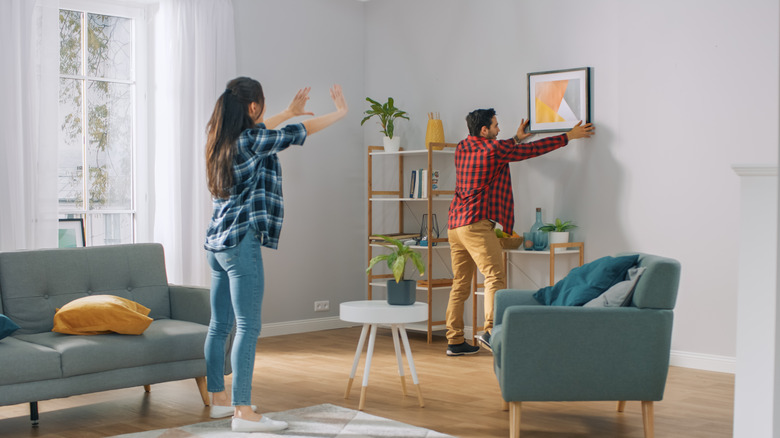 Whether you think so or not, you've got a certain style and it's reflected in your home. If you've never thought about what your style is, look around your house. According to Decorilla, style is found in a home's furniture, lighting, accessories, and décor. Do you prefer straight lines and minimal furniture and decorations? Then you may lean toward a minimalist decor style. Or maybe you like every corner of the room filled with something — the more mismatched stuff, the better. Maybe your style is eclectic? There are about 20 different style types when it comes to home decorating.
What does that have to do with a refrigerator? Well, your refrigerator may not have a labeled style, but certain types will fit better into your home than others. Going for a retro-themed kitchen? Then seriously consider a retro red refrigerator. Not everyone can pull that off, but certain styled homes and kitchens can. On the other hand, an open loft-style apartment with exposed pipes and an industrial vibe is better served with a sleek, stainless-steel refrigerator. Keep your style in mind as you search for a refrigerator.
Are French doors really a necessity?
French doors are definitely the thing these days. Still, they aren't for everyone. Don't assume just because you like how they look, you'll like how they function. They do often offer the best space inside so it's worth checking out as you begin refrigerator shopping. According to East Coast Appliance, the shelves in a French door refrigerator are sometimes large enough to store three extra-large pizza boxes. For those raising teenagers or households that love to entertain, that type of storage is a serious consideration. If you've always had a freezer on the top half of your refrigerator, it may be hard to get used to a bottom freezer on a French door refrigerator. For those with any back problems, it may not be a good idea.
French door refrigerators are higher-priced than some others, so just be sure you truly need the space they offer. Also, don't fall into the trap of desiring the latest trend if the price isn't in your budget.
Where's the freezer?
Everyone has their preference for where the freezer should be, either top or bottom, or on one side of the side-by-side fridge. What's yours? And is it time to change? In general, bottom freezers have the most room. Still, depending on the household, the highest freezer capacity isn't always a necessity. There are other considerations, such as efficiency. According to The Kitchn, top freezers are more energy-efficient than bottom ones. It's not a tremendous number, but at 10-25% greater efficiency, it's worth considering.
Freezers are infamous for hiding items that are never seen again until we get the spring-cleaning bug and find them buried behind a year's worth of ice cream bars and leftovers. That's where preference comes in. One person prefers reaching to the back of the top freezer, and another prefers bending over to dig through the bottom. Neither one is wrong. Choose your freezer style by walking through the appliance store and spending some time reaching into different ones. In the end, your budget, your back, and your storage capacity needs should decide the freezer placement.
Inaccurate measurements
Nothing will make your stomach sink like watching as the refrigerator installers painstakingly try to squeeze a refrigerator into a spot in your kitchen that was not properly measured. According to The Home Depot, measurements vary for refrigerators, even standard ones. Don't assume since you want a traditional style, standard refrigerator, that they're all the same size. Standard can be anywhere from about 62 to 72 inches high and 24 to 40 inches wide.
There are also differences in depth, such as counter-depth, which lines up with the counter, or standard, which is about six inches past a counter. Every measurement makes a difference in how the fridge not only fits but how it opens and what it may or may not run into. When measuring, consider the need for ventilation, how and where the doors open, the space of your kitchen (even more important if you have a small kitchen), and the overall capacity on the inside of your new refrigerator. Make sure measurements are accurate before shopping, and avoid headaches and disappointment on install day.
Not choosing a freezer with enough capacity
Each kitchen has different needs as far as space. Even if you can't fit the large refrigerator of your dreams, you can still choose the highest-capacity possible for the size that suits your home. Capacity tells you how big the inside of a refrigerator is, and that gives consumers an idea of how much they can fit in there. When it comes to refrigerators, it's what's on the inside that counts. According to CNET, homeowners should look for at least 4 to 6 cubic feet of space per adult in the household. Keep that number in mind as you search and, just to be safe, add a little extra space to that number. It's better to have a little additional room than too little.
Refrigerator capacities vary from 10 cubic feet inside to 32 cubic feet. You guessed it — most of us choose something in the middle, around 20 cubic feet of capacity.
The color is all wrong
Today, the sky is the limit (well, almost) for color choices in refrigerators. Some companies even offer fun retro colors. Bubble gum pink, anyone? Yes, please. When it comes to the color of your refrigerator, refer to our discussion about decorating style. Your home style should be considered when refrigerator shopping.
It used to be a bit simpler. For years, refrigerators came in just black or white. Before that, there was the fabulous avocado green or mustard yellow fad. Don't laugh. Every generation makes its mistakes. Today, there is still black and white (two classics that will probably never leave), the very fashionable stainless-steel variations, and fun companies offering beautiful colors like baby blue, cherry red, and yes, bubble gum pink. Lately, we are even seeing multi-colored or two-toned refrigerators. According to The Spruce, colors can date appliances, quickly. Once the color is out of style, so is the appliance. If style matters to you, then you'll be refrigerator shopping again, sooner rather than later. Still, if a change is what you need, go ahead and have fun with the many color choices. Just make sure your new refrigerator makes a statement without making everything clash.
Sometimes you have to sweat the small stuff
Refrigerators are often our largest appliance. They don't go unnoticed in a kitchen. It's easy to focus on capacity and style because that's what is easily visible when walking into the kitchen and opening the fridge. However, pay attention to little details as well so you'll fully enjoy your new appliance.
According to Spencers TV & Appliance, there are seven features to take a look at when shopping for your new refrigerator: door configuration, the type of shelving, whether or not it's a high-tech fridge with Wi-Fi capability, drawers, ice dispenser, temperature control, and the energy efficiency rating. Unfortunately, if you thought color and size were the toughest part of the hunt, think again. Refrigerators have exploded with endless features. Keep your list handy of "must-haves" so you don't get side-tracked when shopping. It's only natural to leave the house feeling like all that matters is a good ice dispenser and side-by-side doors, then come home with French doors and so much new technology that you're reading your new refrigerator's guidebook every night for the next two weeks, just to operate it.
No research
Most of us wouldn't go to the car lot to buy a car before we've done our research. We should do the same for our appliances. Today, research is easier than ever. Make a list of everything you need in a refrigerator, then research different stores and brands until you narrow it down. According to newinhomes, there are four steps to consider when researching a new appliance like a refrigerator: understand your goals and priorities, create a budget, know the difference between your wants and needs, and visit plenty of stores.
Research begins online. It's a quick and easy way to see specs, compare pricing, and read reviews. Make notes of your top refrigerator choices and the pros and cons of each. Don't consider heading out to the store until you've done the first three necessary steps. Stores full of shiny new refrigerators are overwhelming, and make it easy to have buyer's remorse after choosing something you never set out to get.
Forgetting about energy efficiency
Look for the Energy Star label on a refrigerator so you know you're getting an efficient fridge. According to Energy Star, energy efficiency is defined as using less energy to accomplish a job. That means that, as you open your refrigerator several times a day, with an Energy Star label you'll feel confident knowing the refrigerator isn't using more energy than necessary.
One of the common mistakes people make when buying a refrigerator is thinking energy efficiency isn't all that important. After all, sometimes it only works out to a small amount of savings each year, depending on the rating. Still, as we use less energy in our daily lives, that savings works out to be quite a bit over a lifetime. More importantly, imagine if everyone looked for the Energy Star rating and was concerned with energy efficiency? That would add up quickly in reducing the use of energy and benefiting the planet.
You have no budget
Is any type of shopping wise, without a budget? Some people cringe at the word budget, but the reality is that it's helpful. Shiny new appliances all look fabulous when in the store. You don't want to walk out with a $6,000 refrigerator when you can only truly afford half that. According to Residence Style, when you plan ahead and start shopping for your new refrigerator before you have to, due to it breaking, you've got a better chance of ending up with the fridge you want at a price you can afford. Once the fridge dies, shopping becomes an emergency and chances get higher of paying more than you wanted to.
Making a budget can seem daunting but once you get into it, you may wonder how you ever lived without one. Track your spending for a couple of months. Include every little thing, even those daily coffees. We don't recommend giving up coffee (that's just crazy talk), but you may find other things that you're overspending on and can choose to scale back a bit to get the refrigerator you want.+
Considering or not considering technology
There are those of us who must have the latest gadget and the latest technology in everything, and then there are those who are terrified of the change and possible confusion. Both are understandable. New technology can be intimidating if we haven't used it, but once you get the hang of it, it can also be life-changing. Don't make the mistake of being too drastic one way or the other when shopping for your refrigerator. Give technology a chance, but don't overspend on the technology you won't use.
Some of the benefits new technology offers refrigeration are amazing and useful. According to Dealerscope, today's manufacturers are finding ways to keep food fresh longer, and they're using smart technology to help manage our refrigerators' health and even our grocery inventory. It's worth understanding what's available as you research. Fresher fruits and veggies, lettuce that doesn't wilt, and a fridge that helps with grocery shopping certainly sounds appealing.
Skeptical of new brands
It's only natural to have some favorite brands, even with our appliances. Still, if it's been years since you bought a new refrigerator there may be some new brands or older ones that have come a long way since then. What matters most is quality, rather than the name. According to Kitchen Infinity, materials used and building quality have a big impact on the longevity of a refrigerator. Low-quality equals a fridge that doesn't make it as long as a high-quality one will.
The five most common brands for refrigerators are Maytag, GE, Samsung, LG, and Electrolux. Maytag used to be a household name for things like appliances. Maybe that's how you grew up and now you can't imagine choosing any other brand. That's okay if you get exactly what you need for the best price. Names like Samsung only began to take off in the U.S. about 15 years ago. Still, today Samsung is a hot contender for refrigerators with items like their Family Hub fridge that does everything except cook dinner for you. Remain flexible and you'll get the perfect refrigerator and a brand you trust.
Pinching pennies
Stick with your budget for sure, but don't be cheaper than necessary. We usually get what we pay for. With prices ranging from $1,000 to over $10,000, how do consumers know where they should land? According to Designer Appliance, shoppers should find a refrigerator that ticks all their boxes for wants and needs but stays within the budget. In other words, don't look at what the Smiths next door bought. Every home has its own needs and its own budget.
What about used refrigerators? If money is tight or you just enjoy the thrill of the hunt and finding the greatest bargain, used appliances are sometimes a safe bet. Check your local marketplaces and any sites that offer used products. That high-quality refrigerator that someone spent thousands on, could be yours for half the price. Some people even sometimes give away a fridge for free if you're willing to come get it out of their hair. For the price of a truck rental and pizza for your pals who help move it, you can pick up a free refrigerator.
Overspending
In the same way that it's not wise to spend too little, it's also not always a great idea to spend too much. Spend the money in an area of the refrigerator that's important, but don't overspend on extras that aren't needed or helpful.
According to Money Inc, the most expensive fridge out there today is around $40,000. No that's not a mistake…$40,000. What on earth does this refrigerator do? Well, for starters, it includes a coffee machine. Pretty sweet, but not necessary if your Keurig is doing the job just fine. Refrigerators like this one are custom-made and the extras that can be added are not for the average homeowner. But don't worry, you can still get an amazing fridge within quite a price range. The goal when refrigerator shopping is to get the biggest bang for your buck. Get what you truly need without spending outside of your budget.