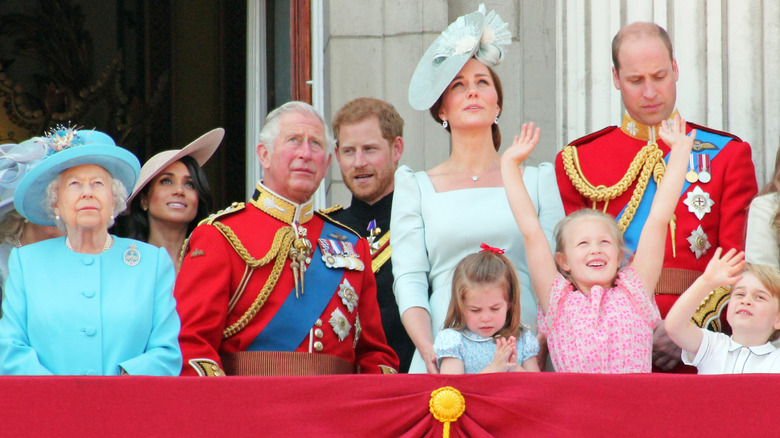 It should come as no surprise that the British royal family is no normal family. Although many average families have quirks and special traditions, the Mountbatten-Windsor clan have formed theirs with tabloids and fans in mind. Not to mention hundreds of years of ruling heritage. And as royalty, their behavior is under constant scrutiny. In fact, Myka Meier of Kensington's Beaumont Etiquette told People Magazine that etiquette training for royal members starts "as soon as they're old enough to sit at a table."
The royal family's rules of etiquette are so extensive — and even a little extreme — that they have irked its own members. Cosmopolitan Magazine has a list of 72 times the duchess of Sussex and estranged royal Meghan Markle broke royal protocol. The late Princess Diana was known for challenging norms and famously wore her black "revenge dress" when black was only appropriate for funerals, according to CNN. In an even bolder move, she withheld the traditional promise "to obey" her husband from her wedding vows. But even as intrepid members of the royal family provoke norms and seek modernization, this beloved British institution is at no risk of disappearing, and luckily for the public, its various formalities and oddities are as alive as ever.
Here are some odd etiquette rules the royal family must always follow.
Royal Women Must Carry a Clutch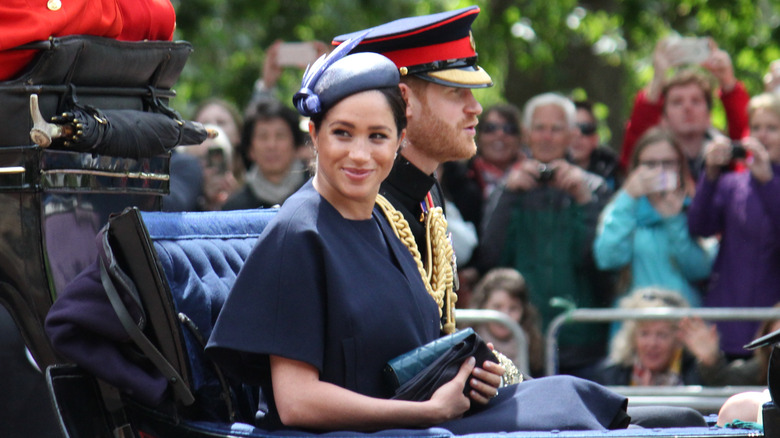 Royals are often at public events inundated by fans. This means that royal family members will have to interact with scores of adoring strangers, most of whom will offer them unwelcome hugs or handshakes. Of course, royals cannot greet everyone they meet, and they perhaps would like to protect themselves from germs. So as not to appear ungracious or unkind, female members of the royal family are advised to carry a clutch so that both hands appear cleverly occupied and unavailable for handshakes, according to royal etiquette expert Myka Meier in an interview with Good Housekeeping.
Royal protocol dictates that royalty extend their hands first in a greeting, an etiquette called the "no-touch" rule, according to ABC News. Clutching a purse may be the most polite way to withhold that honor from fans.
Kate Middleton is almost always seen at public events clutching a small bag with both hands. In 2017, Meghan Markle received public criticism for a perceived breach of etiquette by carrying a handbag instead of a clutch during her first official public appearance in Nottingham, according to Harper's Bazaar. Perhaps she wanted to copy the queen, who prefers top-handle Launer bags, according to The Telegraph. Although, the queen is free to make her own rules.
Using a clutch as a tactic has a long history. Princess Diana would use hers to cover her cleavage from compromising camera angles. Her handbag designer, Anya Hindmarch, called them "cleavage bags," according to Cosmopolitan Magazine.
Women Must Replace Hats With Tiaras At Night
A day on the royal schedule may begin with a hat, but it should end with a tiara. Unless you're unmarried.
The first time royal women wear tiaras is on their wedding days, according to Diana Mather, an etiquette expert speaking with the BBC (via the Mirror U.K.). Thereafter, they're only worn at night on special occasions. Since antiquity, a tiara was a sign that a woman was betrothed. Unadorned heads meant that a woman was single and ready to mingle. According to Christie's, a nuptial crown called a coronal was widely worn by brides in all social classes during the Medieval period. Ever since, tiaras have been associated with a coming of age and a loss of innocence, and this tradition continues today. Princesses Beatrice and Eugenie, who were both born into royalty, wore their first crowns while walking down the aisle.
Wearing a tiara has its own complex rules. Long gone are the Princess Diana days when tiaras were worn low in a headband-style. Now, royals wear tiaras back on the head, rising behind the ear at an exact 45-degree angle, according to Forbes.
But until 6 p.m., hats are king. The tradition to wear hats and fascinators at formal occasions dates back to before the 1950s when women rarely exposed their hair in public, according to BBC News. Fascinators, those ornamental and unpractical headpieces worn on special occasions, are meant to highlight social class and wealth, according to Brides.
No One Eats Before the Queen
Queen Elizabeth is the ultimate game master at dinner. She dictates the rules of behavior and how much guests will be allowed to eat. According to Reader's Digest, guests at her dinner table can only begin eating after she has and have to finish when she does.
Waiting for an elderly lady with a small appetite might be a frustrating meal, but this royal custom has long been in place. According to historian Kate Hubbard, speaking in The Splendid Table, Queen Victoria was a glutton who ate plenty and very quickly. Her dinners were finished within an hour and contained several courses. Oftentimes, her guests had their plates whisked away while they were still eating.
This etiquette has been broken before, however. Former royal butler Paul Burrell said that an unnamed prince made the mistake of serving himself fruit before Queen Elizabeth served herself, as reported by The Guardian (via Marie Claire). Just as he was about to take a bite, he realized his error. Burrell stood behind the queen, horrified, but her reaction should have been a relief; she merely took a sip of her soup and ignored the transgression.
That's not all — the queen uses her handbag to send signals during dinner. According to The Telegraph, if the queen places her bag on the table, she wants the gathering to end within five minutes. If she places the bag on the floor, the queen is not enjoying her company and wants staff to intervene.
Royals Can't Sign Autographs or Take Selfies
For anyone hoping to snag a royal autograph, this one should be a real let-down. The royal family is forbidden from handing out their signatures, according to Glamour U.K., and this rule is meant to protect them from forgery.
Prince Charles is known to politely tell members of the public asking for his signature, "Sorry, they don't allow me to do that." But rules are meant to be broken, and in one heartwarming moment, it has. During a visit to St. Blazey, a region that had been devastated by torrential storms, Prince Charles was asked for an autograph by victims. Prince Charles agreed, surprising his security detail. He asked for paper and used his Royal Parker pen to write "Charley 2010" on it, according to the Telegraph. He apologized for his uneven handwriting, explaining that he "never writes standing up."
In a similar act of kindness, Meghan Markle signed a 10-year-old's autograph book while on a visit to Cardiff, Wales. She was accused of breaking protocol, but Markle's note was cleverly innocuous. She had only addressed her fan, writing "Hi, Kaitlin," with a drawn smiley face, according to Town & Country.
Similarly, royals rarely take photos with fans, but the reasoning is far different. A selfie would require people to turn their backs against the royal family and the queen, and this could be seen as disrespectful, according to Insider.
The Royals Don't Talk Politics
The royal family is famously neutral when it comes to politics. According to CNN, when British tabloid The Sun alleged on its front cover that the queen "backs Brexit," Buckingham Palace immediately refuted it, proudly reminding all that the queen has remained politically neutral in her entire reign. And although there is no British law against their voting in elections, they restrain themselves from that civic duty, anyway, according to Vanity Fair.
The royal family's neutrality is rooted in the 1649 Civil War when the monarchy's constitutional power had been drastically reduced and its governing authority effectively replaced with Parliament, according to CNN. Parliament's refusal to honor Edward VIII's marriage to Wallis Simpson without his abdication in 1936 was a reminder of the monarchy's ultimate dependence on parliamentarians. If the queen were to take political sides, she would lose all remaining leverage. Instead, they position themselves as advocates for all Britons.
Unsurprisingly, this rule remains a topic of conversation, especially in recent years. When Prince Harry and Meghan Markle encouraged Americans to vote in the 2020 election, the queen's staff saw this as a violation of protocol and urged the royal family to distance themselves from the politically active couple, according to The Times. But this rule has been stretched to its limits before, as when the queen herself encouraged Welsh citizens to vote in 2003, as reported by The Times.
The Queen Wears Bright Clothing
The queen has a favorite motto: "You have to be seen to be believed." She embodies this advice quite literally — with her wardrobe. Because the queen is physically small and hard to spot in a crowd, she opts for bright colors, according to royal expert Daisy McAndrew in an interview with Today. In the documentary, "The Queen at 90," the queen's daughter-in-law, Sophie, countess of Wessex, explained that as head of state, the queen prioritizes her visibility: "She needs to stand out for people to be able to say 'I saw the Queen'" (via Maria Claire).
The queen's royal dressers choose vibrant colors for daytime outings to command presence. And the queen loves to match; along with a color-coordinated suit and hat, she has a matching umbrella ready. As the queen's senior dresser, Angela Kelly, writes in her book, "The Other Side of the Coin: The Queen, the Dresser and the Wardrobe" (via Today), the queen's outfits are also chosen to appeal to certain people. When visiting schools, she wears light, joyful colors with patterns. In visits to nursing or retirement homes, she opts for solid, strong colors that are easily noticeable, keeping the visually impaired in mind. Predictably, the queen's least favorite color is beige, according to royal biographer Robert Hardman, as quoted in The Sun.
The rest of the royal family have taken notice. After her marriage to Prince Harry, Meghan Markle adopted a demure and subdued color palette. Royal experts attributed this as respect for the queen so as to not outshine her, according to the Independent U.K. Considering the queen's bold choices, it must have been an easy task.
Royal Women Don't Cross Their Legs
There's always something prim and proper about the way Duchess Kate Middleton sits at public events, and only eagle-eyed fans will be able to spot the cause. The answer is her modest way of sitting called the "duchess slant," as coined by Myka Meier, according to Insider. This pose is created by sitting with one's knees together, slanted to one side, and with ankles usually uncrossed.
The slanted pose has an elongating effect on the sitter's legs, but most importantly, it effectively hides what shouldn't be seen by cameras. Although Middleton is most associated with the pose, the "duchess slant" dates back to Princess Diana.
Meier has termed a few other royal sitting techniques, according to The Daily Mail. Whenever Middleton is sitting in front of a crowd, she utilizes the more precautious "Cambridge Cross," which includes the crossing of her ankles. Meghan Markle, who loved pushing boundaries in her time with the royal family, found a way to cross her legs and adhere to royal etiquette. The result is called the "Sussex Slant," in which she drapes one leg over the other but both knees are kept together at a slant to keep the same level of coverage.
Royals Descend Stairs Gracefully
Being a royal means being an expert at steps and staircases, because as royal protocol would have it, royal ladies have to keep their chins parallel to the floor, according to Myka Meier (via The Sun). The reasoning behind it is to maintain proper posture, which royals are expected to have at all times, and stairs are no exception.
According to Meier, a downwards-facing chin might convey apathy or disinterest. But royal women don't have to worry about tripping over themselves; royal men are advised to always be on hand. When walking down stairs, the male members of the family keep a step or two ahead of their female companions in order to catch their fall. Meier notes that Prince William is often seen extending his hand backwards toward his wife out of caution as they descend stairs.
Proper etiquette has little patience for a balancing act, with royal women usually advised to keep their hands clasped in front of them — but they are allowed to gently grip a banister if there's one available, according to Cosmopolitan Magazine.
Royals Don't Spear Food with Forks
Mealtime is a major danger zone for bad manners. Unsurprisingly, royal dinner time etiquette is brimmed with guidelines so that the royal family can avoid pitfalls and embarrassing moments. This includes the way royals are allowed to eat with their forks and knives. Although it's generally acceptable in proper society— and to anyone who eats in the fancy Continental style — to spear one's food with a fork and bring food upwards with the fork's tines facing down, the royals take things one step further by only balancing the food on top of the tines, according to Myka Meier (via People Magazine).
Unlike in America, the royal family constantly holds a fork with their left and a knife with their right. Once the meal has started, royals do not put their utensils down unless they excuse themselves from the room. In this case, they must cross their utensils as an indication of being unfinished.
With their unusual style of holding utensils and balancing morsels on the tops of their forks, the royal family must have loads of practice. According to former Buckingham Palace Chef Darren McGrady, in an interview with Today, the royal family eats all their fruit with a fork and a knife, and each fruit has its own way of being cut and eaten. At the royal table, the ends of a banana are cut and its peel sliced down the middle before the inside fruit is cut into circles.
Royals Wear Ball Gowns to Dinner
One would expect the royal family to let their guard down every now and then, especially at their vacation home. Speaking to Marie Claire, Darren McGrady said the royal family have more informal habits at their holiday home of Balmoral Castle in Scotland. Predictably, however, the royal family have a different definition of informal. According to McGrady, the family dresses up in ball gowns for dinner and eats on fine china. After dinner, a bagpipe player walks around their table while playing for their entertainment.
According to Marie Claire, royal etiquette has a strict dress code for black tie events. Men wear black dinner pants and a jacket, along with other details, including a row of braid down their tapered pants and a turned-down collar. Men avoid adornments like frills and ruffles. Women wear dresses made of silk, crepe, or chiffon, and avoid wearing bright nail polish. According to royal expert Victoria Arbiter (via The Evening Standard), the queen requires women to wear tights, but this rule has been broken by both Kate Middleton and Meghan Markle.
The Queen Sleeps First
Royal protocol dictates that the queen snoozes first. According to the queen's former private secretary, Sir William Heseltine (via The Telegraph), those staying in the queen's home wait for her to go to bed before they do. As a result, members of the royal family and other guests wait around in the sitting room and chat for hours until the queen finally retires to bed. And unfortunately for them, the queen goes to bed at midnight, according to etiquette coach Zarife Hardy, speaking to Harper's Bazaar (via Insider). This was reported in 2018, when the queen was at a ripe 92 years old.
This one etiquette rule was once disliked by Princess Diana, who struggled to stay awake in those late hours. According to Heseltine, she began excusing herself early to bed, but he considered this to be in "bad form."
While her company will tire themselves out in the sitting room, Queen Elizabeth likes to consume police procedurals before bed, according to The Times. The queen is particularly a fan of the BBC drama "Line of Duty."
Royals Curtsy to Each Other
In her bombshell interview with Oprah Winfrey, Meghan Markle revealed the royal family's strange curtsying habits behind closed doors. Sarah, duchess of York, helped Markle learn to curtsy in order to meet the queen at a private family event, as reported in Showbiz CheatSheat. Bending the knee to a grandparent was strange to Markle, as it must be to most Americans, but most Americans aren't related to the queen of England.
After Kate Middleton became the duchess of Cambridge, the queen updated the Order of Precedence, which outlines who in the royal family must curtsy to whom, to clarify who Middleton owes a curtsy. When the duchess is without her husband Prince William, she is obligated to curtsy to Princesses Beatrice and Eugenie. But when accompanied by her husband, Middleton can forgo those but still has to curtsy to Prince Charles, his wife Camilla, and the queen, according to The Telegraph.
The Order of Precedence was also updated in 2005, after Prince Charles married Camilla Parker-Bowles. Those changes gave preference to blood relations, so that none of the members born into royalty would have to curtsy to Parker-Bowles or other in-laws. However, when accompanied by royal spouses, members must bend the knee to those higher in the line of succession, including those married into the family, according to The Telegraph.