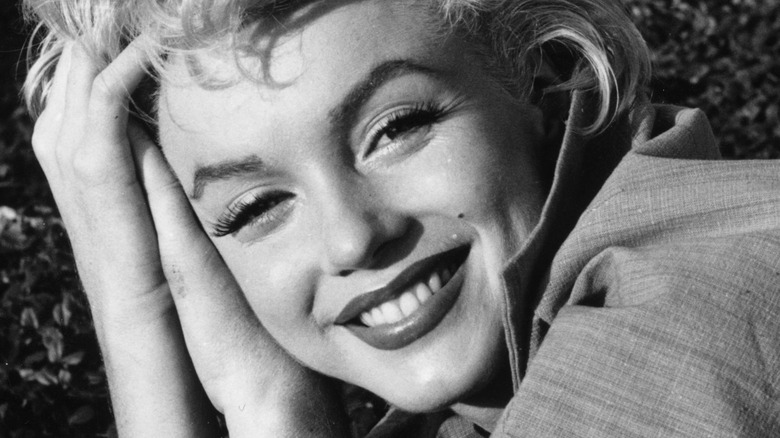 From prodigies like River Phoenix and Brad Renfro to pop culture fixtures like Marilyn Monroe and Heath Ledger, many stars have left behind blazing legacies after their untimely deaths. They would presumably have had prolonged careers, had their drug overdoses not cut their lives short.
When comic legend John Belushi died of a speedball overdose in 1982 at 33 years old, his friend and actor Robin Williams told People, "His death scared a whole group of show business people. It caused a big exodus from drugs." But an unhealthy use of substances continued to stalk Hollywood. It's "like I have a shotgun in my mouth, and I've got my finger on the trigger, and I like the taste of the gunmetal," was how Robert Downey Jr., who has been candid about his drug use and recovery, described addiction in 1999 (per People). Unfortunately, many acting icons were lost painfully young to this affliction.
If you or anyone you know is struggling with addiction issues, help is available. Visit the Substance Abuse and Mental Health Services Administration website or contact SAMHSA's National Helpline at 1-800-662-HELP (4357).
River Phoenix
With critically acclaimed performances in "Stand By Me" and "My Own Private Idaho," River Phoenix had established himself as a respected actor. By the time he was 18 years old, he had secured an Oscar nomination for his role in "Running on Empty." A few years later, as reported by The Guardian, Phoenix and his girlfriend, Samantha Mathis, were at the Johnny Depp-owned club The Viper Room in Hollywood on October 30, 1993. Mathis stated that she found Phoenix convulsing on the pavement outside the club. Phoenix's brother, actor Joaquin Phoenix, called 911.
Per The Washington Post, Phoenix (23) died in the early hours of October 31 from a cocaine and heroin overdose. There was talk at the time of murder charges being brought against the drug supplier. For a few nights after, Depp shut down his club as fans brought flowers and mementos to memorialize the late star (via Showbiz Cheatsheet).
Joaquin, who won an Oscar for "Joker" in 2019, commemorated Phoenix in his speech and named his son River in memory of his late brother (per the Independent).
Heath Ledger
In 2008, 28-year-old Heath Ledger's death left a void in Hollywood. In his final on-screen performance, the Australian actor brought the DC Comics supervillain the Joker to life in Christopher Nolan's "The Dark Knight," which won Ledger a posthumous Oscar for best supporting actor.
Per Britannica, Ledger's interest in acting started in junior high. After appearing in a handful of Australian television shows during the early 1990s (via IMDb), he starred in the classic 1999 film "10 Things I Hate About You." From there, his illustrious career included films like "The Patriot" in 2000 and "Brokeback Mountain" in 2005, for which Ledger raked in nominations at the Golden Globes, BAFTA, and the Oscars.
On January 22, 2008, months shy of the release of "The Dark Knight," Ledger was found dead at his New York apartment of an accidental overdose. His masseuse found Ledger unresponsive; she first called his close friend, Mary-Kate Olsen, and then called 911, according to reports. Autopsy results showed several different prescription drugs in his system, per The Guardian.
Prior to his death, Ledger was stressed and reeling from his breakup with actor Michelle Williams, with whom he shared a daughter, Matilda.
Marilyn Monroe
One of the world's most influential cultural icons, Marilyn Monroe enjoyed a short career of about a decade, starring in Hollywood classics like "The Seven Year Itch," "Some Like It Hot," and "Gentlemen Prefer Blondes." However, her seemingly glamorous adult life was preceded by a troubled childhood. Born Norma Jeane Mortenson, she was shuffled between many sets of foster parents (via Britannica).
Monroe originally worked as a model and moved into acting by 1946, per the Hollywood Walk of Fame. By the mid-1950s, she was taking leading roles in box-office hits. She rose to prominence as a sex symbol, appearing in the inaugural issue of Playboy magazine in 1953 (per Business Insider) and rubbing shoulders with the likes of President Kennedy (per People).
During Monroe's final years, she began heavily using drugs and alcohol, according to "The Mystery of Marilyn Monroe" on Netflix (via E! News). On August 5, 1962, 36-year-old Monroe was found dead of an apparent overdose in her Los Angeles home. Though the coroner's report deemed it a "probable suicide," theories have swirled about the mysterious circumstances of her death (via Vanity Fair).
If you or anyone you know is having suicidal thoughts, please call the National Suicide Prevention Lifeline​ at​ 1-800-273-TALK (8255)​.
Cory Monteith
In all his years of fame, Cory Monteith remained candid about his experiences with substance addiction. The Canadian actor, who gained renown as Finn Hudson on the hit show "Glee," had a troubled childhood. He had begun using drugs as a teenager, telling Parade in a 2011 interview that he was indulging in "anything and everything, as much as possible. I had a serious problem." By the time he was 19, Monteith had been to rehab twice. After a period of abstinence in his 20s, Monteith began using drugs again, and in the months prior to his death, he had checked himself back into rehab, per reports.
Monteith passed away on July 13, 2013, at the age of 31. His body was found in a hotel room in Vancouver. According to USA Today, the coroner's report confirmed the actor's death was due to drug toxicity that involved heroin and alcohol. "Glee" star Lea Michele, Monteith's on-screen and off-screen partner, was the one who unintentionally broke the tragic news to his mother, per ET Online.
John Belushi
John Belushi was widely revered on the American comedy scene. He was one of the original seven from NBC's sketch comedy "Saturday Night Live," gaining success with his friend and frequent collaborator Dan Aykroyd. The duo was renowned as the Blues Brothers, a signature that stuck following an "SNL" sketch from 1976 and was immortalized through a music band and films of the same name (via Open Culture).
Belushi enjoyed spirited success through the 1970s, even as a persistent drug problem loomed in the background. Belushi "loved" what cocaine did to him, Aykroyd reportedly said. Though there were sober spells, the narrative goes that his drug habit was greatly fanned by people and a culture that enabled him.
Hollywood was rattled when Belushi died of an overdose on March 5, 1982, at 33 years old. The coroner's report confirmed his death from intoxication resulting from cocaine and heroin, reported The New York Times. Acting legends Robert De Niro and Robin Williams had joined the final party at Belushi's bungalow No. 3 at Chateau Marmont, which is where he died, per the book "The Castle on Sunset" (via The Hollywood Reporter). Singer Cathy Smith, who confessed to injecting Belushi with the lethal substances, was convicted and imprisoned in 1986 in his death case, per reports.
Chris Farley
Chris Farley, in his characteristically loud comedic style, made America laugh for years before tragedy struck. In December 1997, the actor died of a drug overdose at the age of 33. A "Saturday Night Live" alum — like his idol John Belushi – Farley joined the sketch comedy show in 1990 as part of a new club of comedians dubbed the "Bad Boys of SNL" (via Screenrant). Co-member Adam Sandler was one of Farley's closest friends, per Far Out Magazine. Farley was associated with the show until 1995, and he also starred in multiple comedy films, including "Wayne's World 2" in 1993 and the 1995 cult classic "Tommy Boy."
On December 18, 1997, Farley was found dead in his apartment in Chicago, with initial reports claiming it was a heart attack. A coroner's report later revealed that he died of an accidental overdose of cocaine and morphine, per The Washington Post. He had faced lifelong issues of obesity and addictions that landed him in rehab several times. According to Entertainment Weekly, his final days were fueled by a drug and booze binge.
Dana Plato
One of the most memorable child stars from the 1970s and '80s, Dana Plato gained fame as Kimberly Drummond on the classic sitcom "Diff'rent Strokes." According to the Los Angeles Times, Plato stepped into showbiz at age 6. In addition to commercials for Fotomat and Wrigley, she had multiple roles for television and film before finding big success in "Diff'rent Strokes" in 1978. While on the show as a teenager, Plato got into drugs and alcohol, even overdosing at the young age of 14 (per USA Today).
Plato was deep into alcoholism by the late 1980s, after the show ended. She notoriously robbed a store in Vegas in 1991, for which she was arrested, reported the LA Times. She later tried in vain to kickstart her failing career with B-movies in the '90s.
Plato was 34 when she died of an overdose on May 8, 1999, in Oklahoma. It was just a day after she appeared on shock jock Howard Stern's radio show, when she swore she was off drugs, per the Associated Press. Her death was ruled a suicide due to the fatal doses of prescription drugs found in her system. Almost exactly 11 years after Plato's death, her 25-year-old son Tyler Lambert also died by suicide (via People).
If you or anyone you know is having suicidal thoughts, please call the National Suicide Prevention Lifeline​ at​ 1-800-273-TALK (8255)​.
Logan Williams
The youngest name on the list, Logan Williams, was only 16 when he passed away in 2020. A teen star known for his television work — most prominently on the CW shows "The Flash" (as a young Barry Allen) and "Supernatural" — Williams had a painfully short-lived screen career.
The acting bug bit him when he was only 9 years old. Soon after, he landed his first gig in 2014, his mother Marlyse Williams told the New York Post. Williams' preteen years were spent in and out of auditions. By the time he was 13, his mother discovered he was using drugs. After starting with marijuana, he graduated to other substances.
On April 2, 2020, Williams passed away from an accidental overdose from fentanyl, a powerful opioid pain reliever, People reported. He had been living at a group home in Canada, as Marlyse had sought out professional treatment for her son during his final years.
Williams' sudden death was mourned by "The Flash" star Grant Gustin, who posted an emotional tribute on Instagram. CBC reported that Williams' mother demanded a probe into his death, raising questions about drug use on the group home premises.
Skye McCole Bartusiak
Best known as the young girl from "The Patriot," the 2000 war film starring Mel Gibson, Skye McCole Bartusiak was hailed as a talent at an early age. She was only 7 years old when the film was released. She already had a few television credits to her name, including series like "Storm of the Century" and "Judging Amy." Bartusiak began acting at age 6, per CNN, and had grown into an aspiring director who was planning to start work on her first project when tragedy struck. On July 19, 2014, Bartusiak, just 21 years old, died in her Texas home.
Bartusiak's body was reportedly discovered by her boyfriend, and her family believed she died of seizures and choking, per CNN. TMZ reported that she overdosed on painkillers and muscle relaxers. Forensic reports asserted that Bartusiak's death was an accident. Her mother told CNN that the late actor had suffered epileptic seizures since childhood and that she had performed CPR on her daughter on multiple occasions.
Incidentally, Bartusiak has connections with two others on this list who met the same fate. Her career-defining role in "The Patriot" was alongside co-star Heath Ledger, and she played a young Marilyn Monroe on the 2001 miniseries "Blonde."
Brad Renfro
With just over a decade of work, Brad Renfro had established himself as a talented actor, even as his personal life was marked by continued drug use and run-ins with the law. He first entered the industry at 11 years old with the 1994 film "The Client," after director Joel Schumacher discovered him. "Brad was in trouble at 10 years old with the police already, drinking and smoking," Schumacher told Vulture.
Renfro had a hard youth, during which he was arrested several times — for buying drugs and once attempting to steal a yacht (per BuzzFeed). A friend of Renfro's told BuzzFeed that his mother was partly to blame for making heroin accessible to him.
Following his big-screen debut, Renfro earned repute as the celebrated character of Huckleberry Finn in "Tom and Huck," with further films like "Apt Pupil" and "Bully" among his best works.
His career came to an end on January 15, 2008, when Renfro died of an accidental heroin overdose at age 25. The Los Angeles Times reported that he had been clean in the days leading up to his death. His body was discovered at his apartment in Los Angeles by his girlfriend, per People. Tributes poured in from Hollywood, with Renfro's first co-star Susan Sarandon calling him the "most incredibly gifted young actor."
Ashleigh Aston Moore
"Now and Then" has endured as an iconic coming-of-age flick, even decades after we first met the girl gang of Samantha, Teeny, Roberta, and Chrissy in 1995. The endearing character of Chrissy, played by Ashleigh Aston Moore, immediately became an audience favorite, as did the actor herself.
The success was short-lived, however, with Moore drawing the curtains on acting by 1997 (per IMDb). Exactly a decade later, she was dead. According to Us Weekly, Aston Moore was 26 when she reportedly died of an accidental heroin overdose. Her co-star from the film, Thora Birch, recalled Moore as being "a really cool kid," adding, "she still lives on as Chrissy to me" (per ABC News).
Besides "Now and Then," Aston Moore is also remembered for her roles in the 1992 series "The Odyssey" (which also starred Ryan Reynolds) and the 1995 film "Gold Diggers: The Secret of Bear Mountain." In a blog post published by Patheos, a friend of hers revealed that Aston Moore had been in a marriage that didn't last and was estranged from her family. The writer claims that Aston Moore began using heroin as a teen and had been sober for a period of time until her final years.
Anna Nicole Smith
As one of the most recognizable personas from the 1990s, Anna Nicole Smith lived a highly publicized life. She first came to the public's attention with her debut Playboy cover in March 1992, per ABC News. She then became a member of the exclusive clan of '90s "Guess Girls" featured in the iconic ad campaign — "sensual, mysterious, and seductive" was how Guess co-founder Paul Marciano described her.
The Playmate went on to star in the 1994 film "Naked Gun 33 ⅓: The Final Insult." In 2002, she started her own reality show, "The Anna Nicole Show." However, Anna Nicole Smith's career was marred with trials, among them her short marriage to 89-year-old businessman J. Howard Marshall (and the consequent legal battle over his estate) and the death of her 20-year-old son.
The final tragic blow came with Smith's own death on February 8, 2007, at a hotel in Hollywood. According to autopsy results, her death was attributed to an accidental overdose of several prescription drugs, primarily chloral hydrate (per The New York Times). In her final days, 39-year-old Smith had been in poor health. On the night of her death, she was running a high fever, but reportedly denied medical help (via Today).
Elisa Bridges
Elisa Bridges is another personality featured on the notoriously ill-fated list of Playmates who died before reaching 40. The actor, who had credits in films "The Birdcage" and "Skippy," was 28 years old when she passed away on February 7, 2002. The circumstances of her death were initially clouded with conflicting narratives. Playboy, which catapulted Bridges to fame in the 1990s, issued a statement saying she died of natural causes (via The Smoking Gun). Not long after, however, the coroner's report affirmed that Bridges actually died of an accidental multiple drug overdose, with traces of heroin and meth found in her system, reported OC Weekly. Bruises were also reportedly detected on her body.
Bridges' body was discovered in a room in the Beverly Hills house belonging to Edward Nahem, an associate of Playboy patriarch Hugh Hefner. Nahem, as well as Bridges' father, claimed that Bridges was often depressed. Interestingly, no drugs were found in the room where her body was found.
The Richest counts Bridges among the Playmates affected by the mythical "Centerfold Curse" that is said to allegedly afflict pinups who have appeared in Playboy.
Christopher Pettiet
Christopher Pettiet started out young in Hollywood as a child actor, one part of a trio of friends that also includes Leonardo DiCaprio and Tobey Maguire. Pettiet may have had the same lasting success as his peers, had he not tragically died at the age of 24 in 2000.
Pettiet did find fame in the few years that he graced the big screen, most notably in 1991, when he starred in two hit films: "Don't Tell Mom the Babysitter's Dead" and "Point Break." He kickstarted his acting career as a teen, with minor roles in television shows like "Star Trek: The Next Generation," and went on to appear in "The Young Riders" and "Undressed." Reviewer Christian Leopold Shea noted that although Pettiet often shared the screen with A-listers, no actor "ever succeeded in totally eclipsing the bright, shining star" that he was.
An accidental drug overdose killed Pettiet on April 12, 2000. Per documents made available by the official Twitter account of the 2014 documentary "An Open Secret," Pettiet's manager Bob Villard revealed that though Pettiet hid his drug problem, Villard knew about it and was insistent that Pettiet seek help. Acting coach Kevin McDermott, who began training Pettiet when he was 12 years old, remembered him in a touching memorial as "one of the finest actors" he had worked with.
If you or anyone you know is struggling with addiction issues, help is available. Visit the Substance Abuse and Mental Health Services Administration website or contact SAMHSA's National Helpline at 1-800-662-HELP (4357).