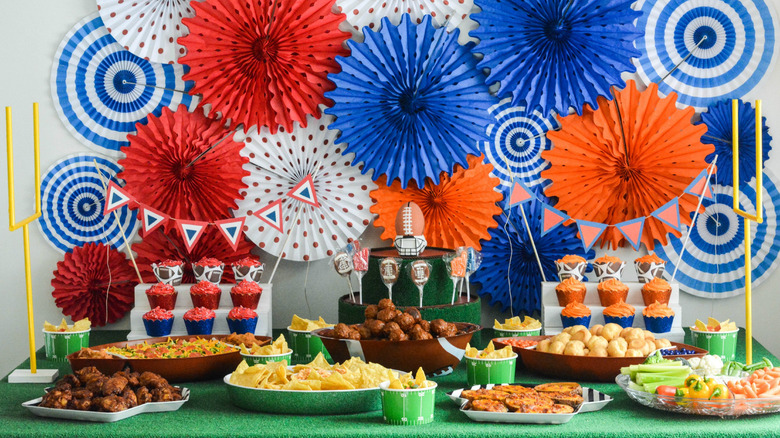 Football season is one of the most celebrated across America. Friends and families gather to cheer on their teams and enjoy fun rivalries. Football parties create a unique atmosphere and are one of the trademarks of fall festivities. Statista points out that 2/3 of Americans call themselves football fans on some level. So you likely have plenty of friends and family excited to get together and watch the big game. Hosting a football watch party can be a fun way to gather and cheer on your teams.
Allow yourself to enjoy the football season more by having your home prepped for hosting. Maybe you are planning a huge Super Bowl blow-out bash. Or, perhaps you just have friends or neighbors that occasionally pop by for Monday Night Football. Either way, stocking up on the essentials and decking out your home's decor will have you ready to enjoy the game in style.
Adding football-themed decor that blends with your style
Adding a festive football touch to your home doesn't require a complete decor overhaul. You can add subtle hints and fun elements to show your team spirit and love for the game. Plus, with tons of styles on the market and DIY projects to do, you can find options that blend seamlessly with your current decor. If you are more likely to cheer on a different team each week, establish a flexible decor setup. Party guru Maureen Anders showed Hostess with the Mostess how to style a rustic football party that's neutral but still super festive. She sticks to a color palette of browns and creams that go with any team's colors. Her tablescape features plenty of neutral galvanized serving pieces and wooden letters spelling the word "score." Then, she adds a jersey or a few balloons for a pop of team colors. Follow her lead and stock up on decor items you can use for every game. That way, you can easily swap out a few colorful pieces to pay homage to that week's favorite team.
If you are super devoted to a certain team, let your fandom show. If you don't want to keep your team decor out all season, dedicate a bin to some simple items you can pull out for game day. Paint paper mache letters in your team's colors, spelling out your favorite cheer to set out on your mantel. Use Joann's tutorial to make easy-to-store felt pennants that are no-sew and super cute. Or, grab a few cans of spray paint in your team's colors and coat a second-hand helmet or old football for fun DIY accents.
Stock up on essential football party supplies
If you have friends stop over a few minutes before kick-off, the last thing you want to do is scramble for plates and napkins. Keep a convenient stock of party supplies on hand to make setting up a spread a breeze. You can also keep a stash of decor items that you can set up in a few minutes for a festive touch. High-quality, neutral paper plates are great to have on hand for any occasion. They are thick and sturdy enough to handle football food faves like chicken wings and greasy dips. According to a study by The Daily Meal, Dixie dinner plates are your best overall choice in terms of cost-effectiveness and performance. Then, buy a supply of napkins in your team's colors to create a simple, low-fuss table set-up.
When it comes to decor, you likely don't want to spend a ton of time prepping your space. Look for compact decor options that are easy to store and set up. Collapsible paper football lanterns take up minimal space and can be hung up in minutes. Honeycomb tissue paper balls can easily be unfolded and added to decor for a splash of color. Or, make a team-colored balloon arch. WikiHow points out how easily these impressive decorations are to customize your space.
Create a go-to menu of football fan faves and use them as decor
Don't spend hours in the kitchen or running to the store instead of tailgating for the game. Create a list of go-to snacks that you can serve with minimal prep. Relying on a few tried and true staple dishes will take the stress out of hosting and try a few new ideas for each party. Take some time perfecting your favorite recipes for things like buffalo chicken dip and crock pot chili to prepare for each game. Then, stock up on frozen appetizers that are easy to pop in the oven or air fryer to round out your menu. Wings, taquitos, and tater tots are all big crowd-pleasers. You can also keep a stash of chips, salsa, crackers, and cheese dip in the pantry to pull out for last-minute guests. Then, use decorative bowls or matching serving plates to create a pleasing vignette on the table. Decorate the table with football-related memorabilia, like real footballs, tablecloths in team colors, or small goalposts.
Try a few new dishes each game to keep your menu new and exciting. You can even use the location of the big game or the teams' home cities as inspiration. Chef Dustin Ward of Miami's BLT Prime tells Food Network, "It makes the party more interesting when you have food that represents the state to see what people come up with to eat." So, set the locational theme and create a menu, or make it a potluck and sample each other's creations.
Don't forget to stock up on drinks
Keep your guests hydrated by keeping a wide variety of drinks on hand. Plus, few things go better with the big game than an ice-cold beer. Setting up ahead of time allows guests to help themselves, so you don't miss a moment of the action. Fill your fridge with drinks that are crowd-pleasers and easy to serve. Bottled water, cans of sparkling water, and sports drinks are all good choices. For a kid-friendly option, fill a large drink dispenser with lemonade or fruit punch. Set out a few stacks of paper cups and let them serve themselves. Let the kids know this is their special table by decorating it to the nines with football decor– everything from bunting garlands to football helmets.
For adult drinks, fill a wide, shallow drink cooler or tub with ice and a variety of beers and seltzers so guests can grab their favorite. If you want to serve cocktails, allow guests to make their own so you can enjoy the game. Set up a self-serve drink bar with a variety of liquors, mixers, and garnishes. Organizational expert Lea Schneider tells What's Cooking America, "If doing a full bar, realize that not everyone knows how to mix drinks. You might provide a few popular recipes in print." So, find some football-themed drink recipes, pop them in cute frames, and create a self-serve bar that is fun and functional.
Make sure to set up multiple viewing spots
When you're hosting a crowd for the game, you'll likely need to set up a few viewing spots so people can see. Guests will likely be gathering in multiple places and even outside. Plus, on a busy football Sunday, you might want to be able to check out multiple games at the same time.
If you don't already have a TV visible from your kitchen, temporarily place one on a stand or table so party-goers can keep an eye on the game while refilling their plates. You also might want to add an additional TV to spaces like basements or the living room so you can watch multiple games simultaneously. Adding extra TVs allows you to expand your party into more areas and utilize unused space. If you use a streaming service, syncing the same timing on multiple TVs can be tricky. Lifewire explains how you can cast on multiple screens at once. This allows you to use only one casting device and takes the guesswork out of synchronizing your game footage.
An indoor-outdoor watch party is a great way to enjoy the crisp fall air. Purchase and install an outdoor TV to take advantage of your exterior living space. Consumer Reports suggests looking for one with a high IP rating and temperature tolerance range. It also recommends investing in a cover for additional protection.
Stock up on plenty of game-day seating
When guests come over, you'll need places for them to sit. Sure, they might be nervously pacing by the fourth quarter, but they will need somewhere to relax in the meantime. Invest in flexible, easy-to-store options so you can expand your seating at a moment's notice. Take a cue from your favorite stadium and think vertically when it comes to seating. If you have a large couch in front of the TV, consider adding a row of stools behind it. You can also add beanbags and floor cushions for lounging in front. These set-ups allow for more seating options without blocking anyone's view.
Folding chairs are another smart way to add more seating when needed. They are easily stored, and high-quality options are comfortable and built to last. Plus, with so many options, you can find ones that integrate seamlessly with your decor. Designer Ashley Mecham gives The Spruce smart shopping advice, sharing, "The biggest factor when purchasing folding chairs is deciding where you'll be mainly using it. Factoring in your style and your home's style will help you navigate what look you want to go with when it comes to folding chairs. There are plenty of different options that will allow you to add in additional seating while blending in with your home's aesthetic."
Consider creating a basement football party zone
For many, the basement is a dedicated sports party zone. If you have a basement space that's already finished, a few small additions can make it football party-ready. However, even if your basement is unfinished, you can still make it a functional, football-watching space. Adding seating to your finished basement is a no-brainer with modular sofas. Designer Courtney Robinson praises modular sofas to Living Cozy saying, "…if you know that you may relocate in the future or repurpose your space, the flexibility of a modular sofa is perfect." Being able to add modules and reconfigure your couch to your space is ideal for hosting situaions.
You can also partially finish an unfinished basement in budget-friendly ways to make it more usable. Coldwell Banker Blue Matter recommends painting your exposed ceiling either dramatic black or bright white to avoid finishing costs. You can also use low-cost oriented strand board as an alternative wall material so save money, or leave some walls exposed without any drywall for an industrial look. Plus, floor paint or epoxy coating is an easy way to make concrete floors feel more finished.
Think about repurposing your garage into a flexible party space
If you are looking to create a dedicated party space but don't have any extra rooms in your home, consider your garage. It has all the makings of a hang-out spot, from open space to accessibility. The Pinnacle List recommends a few small ideas to make this versatile space a prime location for hosting. First, make sure there are no safety hazards and check that your garage door is in good working order. Then, clean your garage by getting rid of unwanted items, sweeping the floor, and dusting surfaces. Use folding chairs to create seating and set up tables for food. Then, add a TV to watch the game.
Your garage shelters you from the rain, but it might not be the warmest spot in the fall months. Cnet suggests investing in a garage heater to warm the space safely. There are several price points for electric, propane, and natural gas options. So set one up and keep your garage party zone warm until the Super Bowl.
Get football fans of all ages involved in festivities
When hosting a get-together, you want all of your guests to have a great time, including the youngest party-goers. Stock up on kid-friendly party activities that keep them busy and allow adults to focus on the game. Kids love crafts, and the football-themed ones suggested by Woo Jr. Kids Activities are sure to keep them entertained. Some are simple like a printable helmet coloring page or paper plate craft. Others are a little more complex, like a custom bobblehead or a football-themed door hanger. However, they are all right on theme and can even double as gameday decor.
A football movie watch party is another awesome way to keep little ones occupied. Set up a TV in a separate space with bowls of popcorn and put on a football-themed favorite. Make the scene special by decorating their viewing area, hanging up garlands in team colors, and providing football-themed blankets. Scary Mommy recommends "Little Giants" and "Air Bud: Golden Receiver," perfect for little kids. "The Blind Side" and "Remember the Titans" are excellent choices with great plots for more mature audiences.
Prep bathrooms for football party guests
Get your bathrooms football party-ready with a little prep and planning. By stocking up on essentials, you'll always be ready for a crowd. And, with a well-equipped cleaning caddy, you'll be ready to tidy up at a moment's notice. Make sure to have plenty of soap on hand to refill dispensers. Add a bottle of lotion to your counter to soothe dry cold-weather skin. Make sure extra toilet paper is accessible to guests, and add a cute football or team-themed hand towel for a cute touch.
Stashing a stocked cleaning caddy under each bathroom sink streamlines the cleaning process. Clean Mama suggests purchasing a spacious caddy with a handle and filling it with cleaning essentials. Cleaning cloths and brushes, multi-purpose spray, and glass cleaner are all great to have on hand. A scented disinfected spray lets you quickly wipe down surfaces, so guests are greeted with a fresh and clean space.
Get your outdoor spaces tailgate ready
Don't neglect the great outdoors while getting your home party-ready. Depending on where you live, you might have warm weather to enjoy year-round. But even in cooler climates, a mild fall day allows you to utilize your outdoor space. Stock up on yard games like corn hole or Spike Ball for fun before the game or at halftime. If you feel up for a little DIYing, The Pioneer Woman recommends crafting a fun and easy football game. Simply take an old sheet and cut holes in it. Assign each a point value, string it between trees, and take turns trying to toss the football through to win.
You might even opt to host your whole football party outside. Gardening Know How suggests using a projector to cast the game on a large screen. Set up a fire pit and outdoor heaters to keep warm and supply plenty of blankets. Grill traditional football favorites like hot dogs and cozy up to watch the game.
Upgrade your lighting to add to your party vibe
Lighting is a great way to add a fun vibe and create an atmosphere. It can also be used as decor to enhance your overall theme. Adding both function and style, LED lights and smart bulbs can instantly transform your space. Switch out some of your plain, white bulbs for smart color-changing versions. According to TechHive, these LED bulbs are brighter, more compact, and more budget-friendly than ever before. Plus, they have better color ranges and can easily be controlled by your smartphone. That means they can go from standard white to your team's colors with just a tap of your screen.
Another fun way to take your game-watching to the next level is by adding LED light strips to the back of your TV. As Popular Science points out, some of these LED lights can connect in real-time to the game coverage and sync to the colors and sounds on the screen. Look for lights that have at least 450 lumens per foot the offer full-spectrum hues.
Prep your porch to greet gameday guests
To really set the party tone and create a stellar first impression, greet football party guests in style. Add some curb appeal and show off your team spirit by decorating your front porch. Everything from your doormat to your flower pots can enhance your team. Look for fun wooden signs custom-made for your favorite team. Add a colorful bow in your team's colors to your standard fall wreath. Then, select a coordinating doormat and outdoor pillows to complete the look.
You can also fill your flower beds and containers with festive team colors. PennLive points out that there's foliage and blooms to fit every team's colors. Choose late-season bloomers or long-lasting varieties like petunias and black-eyed Susans that will last into fall's football schedule. That way, you don't have to worry about freshening them up every few weeks.
Be mindful about laying out your space
Make sure your home is laid out in a way that makes it easy for guests to get around. Consider how your furniture is set up and where you can add extra tables and seating. It's also important to plan spaces for serving food and drinks. Decorating Den Interiors recommends setting up your furniture to accommodate a steady flow of traffic. Be mindful that your spaces don't feel cramped and that guests can move freely between rooms. It also suggests investing in additional seating and having plenty of table space for seated eating.
Think about ideal spots to set up your food and drinks. Stretch your spreads with plenty of room between dishes to avoid overcrowding at a specific spot. If possible, set up multiple food and drink stations around your entertaining space, so guests have options to spread out.