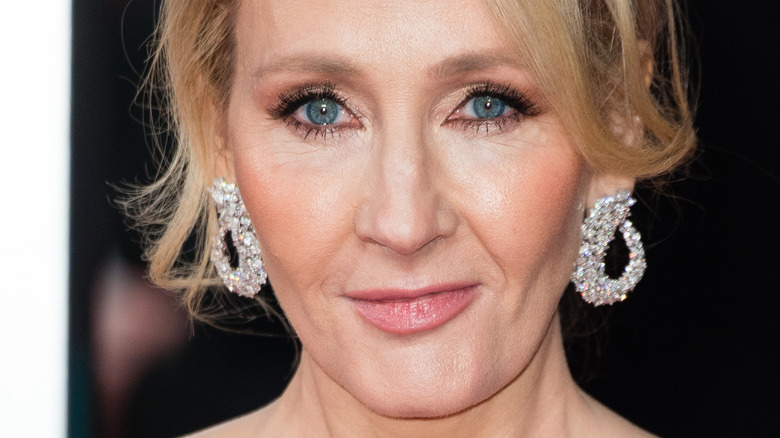 J.K. Rowling gifted the world with one of the most imaginative children's series ever. The "Harry Potter" world has blossomed beyond the books into movies, merchandise, a Wizarding World at Universal Orlando, and even Quidditch games played in real life — though it's not quite the same without flying broomsticks. Since she inspired generations of readers to dream of a magical world, Rowling herself has become a cultural icon. Fans were delighted to find out that Rowling let Alan Rickman in on the big secret of Severus Snape –- that he was a good guy all along.
Other cast members like Daniel Radcliffe, Emma Watson, and Rupert Grint have become global superstars thanks to their casting as key characters in Rowling's world, and the connection created a lasting bond. Grint affectionately called Rowling his "auntie." Others wondered if Watson shaded Rowling at the 2022 BAFTA Awards, but it was pretty subtle so it's tough to say. And shade about what?
Thanks to the world of Twitter, Rowling has been called out by some for sharing her thoughts about gender ideology. As such, she has been declared "canceled" by some on social media, an increasingly widespread phenomenon where large groups withhold support for saying something deemed as offensive. The occurrence of "canceling" someone is so common that The New York Times wrote a cheeky piece in 2018 claiming that "[a]lmost everyone worth knowing has been canceled by someone." It's certainly a plucky response to a challenging situation. So what has Rowling been doing since she was canceled?
It all started by responding to a tweet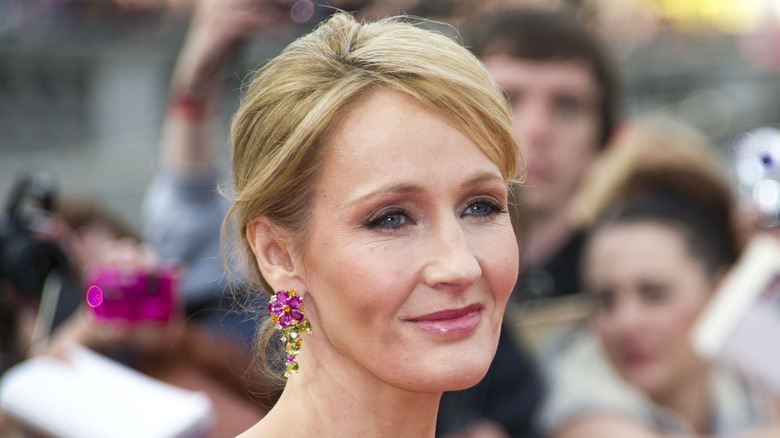 Things took a different turn for J.K. Rowling when she gave support to researcher Maya Forstater who was fired from her job for stating that biological sex is real, according to The New York Times. Forstater sued and lost her case, which later prompted tweets reiterating what she had previously said. "My belief as [I] set out in my witness statement is that sex is a biological fact & is immutable," Forstater tweeted in December 2019. "There are two sexes. Men are male. Women are female. It is impossible to change sex. These were until very recently understood as basic facts of life." Forstater lost, as The Guardian notes, for rather arbitrary opinions.
Forstater followed this up with another tweet to clarify her stance, saying that she uses preferred pronouns and is in support of human rights. "Everyone should be free to express themselves, to break free of gender stereotypes and to live free of violence, harassment and discrimination," Forstater added on Twitter.
Rowling, who boasts nearly 14 million followers on the social media platform, backed Forstater and tweeted: "Dress however you please. Call yourself whatever you like. Sleep with any consenting adult who'll have you. Live your best life in peace and security. But force women out of their jobs for stating that sex is real?" This sparked the beginning of backlash, predominantly on Twitter, that has spun into an ongoing debate.
Children's website apologizes to J.K. Rowling for taking its criticism too far
Online site The Day published a teaching tool for children called "Potterheads cancel Rowling after trans tweet" that brought forth the question of boycotting authors over facets of their personal lives. The Day took umbrage with a tweet from J.K. Rowling where she was critical of an article that called women "people who menstruate." Rowling tweeted in June 2020: "'People who menstruate.' I'm sure there used to be a word for those people. Someone help me out. Wumben? Wimpund? Woomud?"
The Day compared Rowling to Charles Dickens, who kicked his wife out of his home, and to Pablo Picasso, who famously said that for him, women were either goddesses or doormats. The outlet's pedagogical piece presented the question to students: "Who is your favorite famous person? How would you feel if they had done something terrible?"
In response to this, Rowling got lawyers involved on grounds of libel that her previous comments "caused harm to trans people," according to The Guardian, and The Day paid an undisclosed settlement and issued an apology. "We did not intend to suggest that J.K. Rowling was transphobic or that she should be boycotted," The Day responded. "We accept that our comparisons of J.K. Rowling to people such as Picasso … were clumsy, offensive, and wrong." The outlet also stated that it conflated "fact and opinion" and said that their financial payout would go to a charity of Rowling's choosing.
The author contextualizes her viewpoint
In June 2020, J.K. Rowling wrote an essay to offer some clarity around the intensity growing online and said that she has no desire to add to toxicity. Rowling explained the trajectory of online pushback, including her support of Maya Forstater. "I must have been on my fourth or fifth cancellation by then," Rowling wrote. "I expected the threats of violence, to be told I was literally killing trans people with my hate, to be called c*nt and b**ch and, of course, for my books to be burned."
Rowling wrote that her investment in speaking out has to do with freedom of speech, and she also responded to criticism of not hearing people on the other side of the discussion. "Again and again I've been told to 'just meet some trans people.' I have: in addition to a few younger people, who were all adorable, I happen to know a self-described transsexual woman who's older than I am and wonderful," Rowling wrote, adding that she doesn't think of her friend as anyone other than a woman and stated that she knows her friend's life was improved by transitioning.
While Rowling clarified her stance, Daniel Radcliffe wrote an essay for The Trevor Project in June 2020 where he urged readers to "support transgender and nonbinary people, not invalidate their identities" and hoped people's experiences of "Harry Potter" were not changed due to differing perspectives from that of Rowling.
How her Twitter cancellation impacted Harry Potter book sales
What did J.K. Rowling's cancellation do to book sales of "Harry Potter?" It turns out that sales differed between the United States and England after Rowling's tweets started to get attention. In July 2020, Variety reported that in the U.S., "Harry Potter" print book sales had risen by 10.9% in that month, which was less than the overall market, which saw print fiction rise by 31.4% that month. The upturn for book sales was linked to an increase in global reading because of the pandemic. Conversely, in June 2019, Rowling's print sales were even higher than that of fiction print overall, coming in at 35.2% compared to the general market of 33.3%. It is critical to note, though, that there had not been enough consumer research conducted to link Rowling's tweets with her June 2020 sales, though it was clear sales had dropped in 2020 compared to the previous year.
In England, Bloomsbury Publishing, who first published the "Harry Potter" books in England, reported that the reading that occurred during the pandemic remained strong, even into 2022, per The Guardian, and this created a boost in the series' sales. Nigel Newton, chief executive of the publishing house said, "'Harry Potter' has been very popular with families at home reading to each other and has been marvelous throughout this period," (via Newsweek). So while there was a slight lag in sales in the United States for Rowling's books, her purchase power remained strong in the U.K.
Her ex-husband said he's not sorry for slapping her
From 1992-1995, J.K. Rowling was married to Jorge Arantes, with whom she shares daughter Jessica Isabel Rowling Arantes, per Page Six. When Rowling wrote an essay outlining her reasons for speaking out against some of the ideology she's observed in current culture, she also gave context in the form of her own history with domestic abuse and sexual assault. "I managed to escape my first violent marriage with some difficulty, but I'm now married to a truly good and principled man, safe and secure in ways I never in a million years expected to be," she wrote. "However, the scars left by violence and sexual assault don't disappear, no matter how loved you are, and no matter how much money you've made." Rowling added that her own nervousness has become a running theme in her life and links it back to her marriage to Arantes. She noted that she hadn't spoken about this period of her life before out of a desire to protect her daughter.
After Rowling published this essay, Arantes came forward and spoke to The Sun, claiming that he wasn't fazed by what she wrote. From outside of his mother's home in Portugal, he said, "I slapped Joanne — but there was not sustained abuse," and added, "I'm not sorry for slapping her." Arantes went on, "Yes. It is true I slapped her. But I didn't abuse her," without clarifying how the two actions are different.
If you or someone you know is dealing with domestic abuse, you can call the National Domestic Violence Hotline at 1−800−799−7233. You can also find more information, resources, and support at their website.
Eddie Izzard and others support J.K. Rowling
Gender-fluid comedian Eddie Izzard shared her support of J.K. Rowling in an interview with The Telegraph in January 2021, claiming that she doesn't believe that Rowling is transphobic. "I think we need to look at the things [Rowling] has written about in her blog," Izzard stressed. "Women have been through such hell over history. Trans people have been invisible, too. I hate the idea we are fighting between ourselves, but it's not going to be sorted with the wave of a wand. I don't have all the answers. If people disagree with me, fine, but why are we going through hell on this?"
Izzard wasn't the only celebrity to jump to Rowling's defense. In his comedy special "The Closer," Dave Chappelle referenced the term "TERF," which stands for trans-exclusionary radical feminist. "They canceled JK Rowling -– my God," he said. "Effectually she said gender was fact, the trans community got mad as sh**, they started calling her a Terf … I'm team Terf," (via The Guardian). While Rowling frequently speaks up for women, Chapelle spoke up for members of the Black community who've likewise been canceled for comments critical of people with AIDS or homophobic statements, like DaBaby and Kevin Hart.
In a later special of Chappelle's released on Netflix, "Dave Chappelle: What's in a Name?" the comedian said that he won't be stopped by backlash aimed at "The Closer," per BET. "The more you say I can't say something, the more urgent it is for me to say it," he explained, saying his impetus has to do with freedom of speech and artistic expression.
The author's work since Harry Potter
Despite being canceled numerous times, J.K. Rowling has not stopped writing. Working under the pseudonym Robert Galbraith, Rowling's book "The Ink Black Heart" will hit shelves on August 30, 2022. In 2021, as a pandemic enterprise, she wrote an illustrated children's book titled "The Christmas Pig," where she characterizes Hope and Happiness, The New York Times notes, calling the book "a marvelously persuasive fantasy for our times." "Harry Potter" fans will find in these affected characters an echo of her more adult embodiment of depression through the Dementors. Clearly, she knows how to give life to emotion.
In 2020, she published another children's book, "The Ickabog," which she had actually written 10 years prior, the BBC notes, to put her own children to bed. "The idea for 'The Ickabog' came to me while I was still writing 'Harry Potter,'" Rowling wrote on her website. "I wrote most of a first draft in fits and starts between Potter books." She said she put it in a box in her attic and didn't bring it out until her own family decided to nostalgically revisit the story during lockdown.
Rowling published it to entertain young readers during the coronavirus pandemic and had an open contest for illustrations, bringing together the work of several children in the book. Rowling gave all of the profits from "The Ickabog" to people affected by the pandemic. On top of that, she offered a free online version of the book prior to its print release.
The epic series of Fantastic Beasts and Johnny Depp's role
The world of "Harry Potter" and its expanding universe will never be far from J.K. Rowling, and this proved true once again with the "Fantastic Beasts" franchise. In 2016, the BBC reported that the franchise marked Rowling's first experience as a screenplay writer and that she foresaw five films for the epic story that covers life 70 years before Harry Potter's tale began. "We always knew it was going to be more than one movie, and we said a trilogy as a place holder," Rowling said. "But I've done the plotting properly and I'm pretty sure it's going to be five movies."
The franchise cast big names like Eddie Redmayne, Jessica Williams, Katherine Waterson, and Jude Law along with, for a time, Johnny Depp. However, when Depp's widely publicized defamation trial against ex-wife Amber Heard came to light, Warner Bros. pushed to have Depp dropped from the cast, where he was playing the villain Gellert Grindelwald in the third installment, "The Secrets of Dumbledore."
Rowling defended her choice in casting Depp in an essay on her website. "[T]he filmmakers and I are not only comfortable sticking with our original casting, but genuinely happy to have Johnny playing a major character in the movies," she wrote, making it clear that she stood by Depp's side. But the actor announced on Instagram on November 6, 2020 that he agreed to the production company's request to leave the film. The role was picked up by Danish actor Mads Mikkelsen.