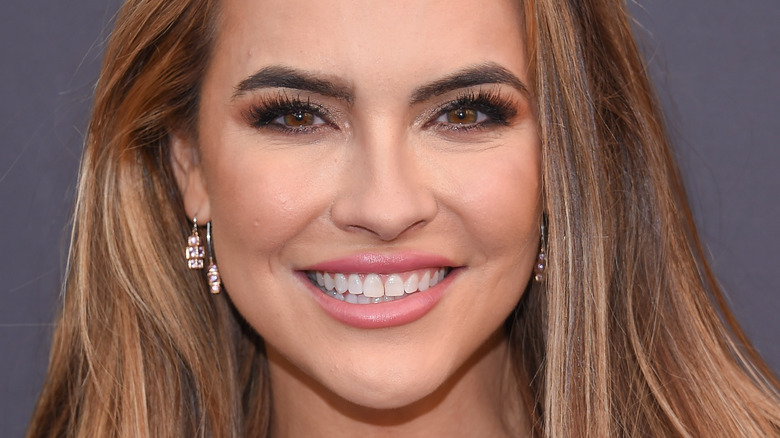 We're used to seeing the cast of "Selling Sunset" sling luxe Los Angeles mansions for buyers who have millions of dollars to their names. But to no one's surprise, the show's cast has their own padded bank accounts, allowing them to live in stunning California properties of their own. Plus, since they're real estate experts, they can represent themselves in buys and sales and execute large-scale renovations for the properties they pick up.
In the show, we have learned a little about where the "Selling Sunset" stars reside. However, there's much more to these homes than cool living rooms or updated kitchens. According to TheThings, some show members have colossal wallets, and their homes reflect that. The Oppenheim Group founders Brett and Jason Oppenheim are worth $50 million — each — and Chrishell Stause comes in at third-richest on the show, thanks to her $5 million net worth from her previous career as a soap opera star. Judging by their beautiful properties and growing real estate portfolios, it seems that the celebs have been busy investing in their own homes since the show took off in 2019. Here's where the beautiful women — and just a few men — from "Selling Sunset" live, with most of their homes just a short drive away from The Oppenheim Group office on Sunset Boulevard in West Hollywood.
Jason Oppenheim's renovated Hollywood Hills house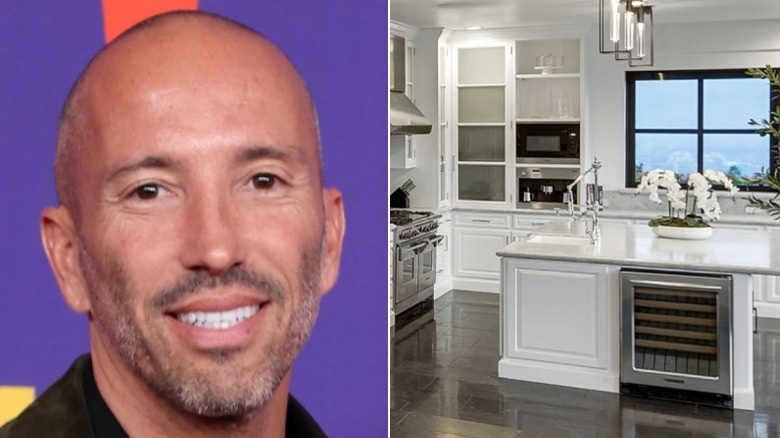 Jason Oppenheim — one half of The Oppenheim Group power duo alongside his twin brother Brett Oppenheim — once said he "fell in love with" a super-private four-bedroom home in the Hollywood Hills. But like many of Oppenheim's relationships, it didn't last. According to People, the star listed his glam home in September 2021, meaning he only owned it for 11 months before putting it back on the market. In those few months, though, Oppenheim clearly thought he increased the property's value with his renovations. He listed it for $3 million more than he bought it for.
Those renovations, which cost Oppenheim more than $1 million, included a new bar and wine room, some updates in the private theater, as well as updates in paint colors and lighting. He also revamped the outdoor space. But even if Oppenheim isn't so in love with the house anymore, we sure are. It features walls of glass looking onto the city as well as a lush yard that includes a pool, towering ceilings, and tons of privacy and security thanks to its seclusion and gates (via People). Plus, it hasn't been around for decades like many other Los Angeles homes. It was built a little over a decade ago by Jeremy Renner, who was in movies such as "The Avengers," "The Bourne Legacy," and "Wind River" (via Los Angeles Times).
Jason Oppenheim's Spanish-style SoCal estate near his new office
Los Angeles isn't the only place Oppenheim is hanging out. Per the Los Angeles Times, the real estate mogul spread his wings a little bit in November 2021 by purchasing a $7 million estate in Newport Beach, a southern California city that's about an hour from Hollywood. His Spanish-style buy sits close to his brokerage's other outpost in the region, though, so he's likely planning on spending some serious time outside Tinseltown.
He'll be comfy doing it, too. With its six bedrooms, two stories, wine storage area, private theater, and entertainment room, this enormous pad was one of the biggest homes to hit the market in Newport Beach in 2021. Plus, it offers perks for his pups, Zelda and Niko. The 13,000 square foot estate includes an area just for washing the pooches. Outside, this five-year-old mansion gets even better. There's a great indoor-outdoor flow, an intricately designed pool to match the romance of the Mediterranean home, matching firepits, and a balcony off the primary suite to overlook it all. Like the Hollywood Hills home he put up for sale, this estate also features a high-tech security system and gates to keep out paparazzi (and some crazed "Selling Sunset" fans), said Dirt.
Jason Oppenheim's Hollywood Hills bachelor pad that he's owned for a decade
In some of the earlier "Selling Sunset" episodes, we saw inside Oppenheim's bachelor pad in Hollywood Hills, where he lives day-to-day. According to Hello!, he bought the three-bedroom place nearly a decade ago, and at the time, it needed some significant updates. That's because it had all the same elements as it did when it was first constructed 30 years before. But we can see why Oppenheim loves it enough to consider it his primary residence. The rustic-chic abode includes star-worthy elements like a wine room, spa, and even a home for visitors on the property that measures 700-square-feet. Oppenheim stayed there himself while the main structure was being revamped.
These days, the home likely doesn't look much like it did when it was built, since Oppenheim renovated absolutely everything in there. Now, it's a true men's paradise. The living room includes a big-screen TV as the centerpiece of an exposed brick wall, which sits in front of a comfy brown leather couch and wood-burning fireplace atop wide plank floors. (Remember Brett Oppenheim telling Amanza Smith these planks are the most expensive?) The kitchen overlooks the living room, with industrial-style chairs at an eight-person raw wood table. Next to Oppenheim's wood-and-metal desk in his office, there's a full bar for those stress-worthy real estate deals. His bedroom, similar to the living room, includes an exposed brick wall as well as a dresser entirely made of copper.
Christine Quinn's nature-themed Hollywood Hills family mansion
Everyone's favorite "Selling Sunset" villain Christine Quinn used the power of "The Secret" to snag the nearly 6,000 square foot estate in the Hollywood Hills that she now lives in with techie husband Christian Richard. Per People, Quinn once represented the home with The Oppenheim Group, and she daydreamed about living in the luxe mansion one day. A few years later, that daydream became a reality after Richard bought the home in January 2019 for $5 million and later, the newlyweds resided there together.
While Quinn might be portrayed as a glam, over-the-top drama queen, her three-story home is anything but. Inspired by nature, the estate has a great indoor-outdoor flow as well as huge windows that showcase the abundance of wild animals that live outside. That inspiration exists indoors, too. The abode has an olive tree in the entryway and lots of wood and greenery throughout the space. Even their son's room has wildlife elements, including forest green walls, lots of stuffed jungle animals, wood furniture, and neutral colors like yellow, black, white, and brown. The entire abode has also overlooked Los Angeles from the hilltops since the home was built about a decade ago, reported The Sun.
Mary Fitzgerald's San Fernando Valley rental with new husband Romain Bonnet
Quinn isn't the only "Selling Sunset" star whose holing up with a new hubby. Per Reality Blurb, Mary Fitzgerald and French model husband Romain Bonnet temporarily headed to a rental property in the Valley Village area of San Fernando Valley in January 2021 as they continued to hunt for a more permanent home. But with three bedrooms and a completely updated interior, it's not a bad spot to reside while house searching. It features lots of modern touches without the coldness that sometimes accompanies the style, reported Hollywood Life. Plus, the entire space is very open, allowing for a serene vibe. Fitzgerald is known for her zen-like style, and her home reflects that, too. It's adorned with lots of neutral colors and has tons of natural light thanks to its many windows.
The modern home has tons of outdoor space for the couple's pups, which is also ideal for entertaining. Fitzgerald shared they plan to install a spa and barbecue, so they can cook in the yard for visiting friends and family. Some of them won't even need to travel very far. Fellow "Selling Sunset" star Amanza Smith, one of Fitzgerald's best friends, recently moved right down the road from Fitzgerald with her two young kids.
Chrishell Stause's indoor-outdoor Hollywood Hills 'dream home'
After Stause was reportedly blindsided by a divorce filing by ex Justin Hartley, she holed up in a hotel to lick her wounds before heading back to the house hunt. But in June 2021, viewers got to watch Stause find her "dream home" on "Selling Sunset." According to the New York Post, Stause paid $3.3 million for a four-bedroom home in the Hollywood Hills, which, despite the sellers' market at the time, she got for $500,000 less than the asking price. Clearly, Stause can find deals for more than just her clients — she can find them for herself, too.
Luckily for Stause, the nearly 60-year-old home with 3,300 square feet was already revamped before she moved in. Now, it has a super-sleek, modern kitchen with stainless steel, top-of-the-line appliances, and blue-gray touches. Like many Los Angeles homes, it features an indoor-outdoor flow thanks to its floor-to-ceiling doors from the dining room to the pool area. Doors from the home's private office, where Stause likely spent a lot of time during the pandemic, also open up to the sunny pool space, as does Stause's primary bedroom. The home is outfitted in tones of white and gray, and features greenery and some wood details.
Chrishell Stause's former rustic-chic marital home in Encino
We didn't get to hear too much about Stause and Hartley's relationship on "Selling Sunset" while they were married, but long before she was a divorcee living in her "dream home," Stause lived in a $4.65 million pad in Encino alongside Hartley. The home, about 30 minutes from Hollywood Hills, had rustic-chic vibes and was a short commute away from The Oppenheim Group office. Digital Girls Club reported that the place had nearly 7,000 square feet and lots of privacy. It had a mix of both modern amenities — like a spot for storing wine and lots of glass details — and boho touches like exposed wood beams.
Stause and Hartley enjoyed lots of space in the kitchen thanks to their two islands, plus a large pantry for food storage. There was also a private home theater and six bathrooms. Outside, the pair had their own tennis court, a separate home ideal for visitors, a large pool, and an outdoor dining area with a firepit. But unfortunately, they didn't get to live there for very long. Stause and Hartley bought the mansion in March 2019 and filed for divorce two short years later (via Reality NicNac).
Maya Vander's modern, no-nonsense Miami pad
With over-the-top girl fights, endless gossip, designer clothes, and designer homes, "Selling Sunset" is a hotbed for drama. But there is at least one breath of real-life fresh air on the show — Maya Vander. Despite her Israeli model-esque looks, she always rises above the bickering and keeps her head in the game at all times. According to Cosmopolitan, her home in Miami, Florida, reflects this no-nonsense attitude. Unlike the ultra-luxe homes of some of the other "Selling Sunset" cast members, Vander's family home is surprisingly normal.
Vander's pad is outfitted with lots of neutral colors without outlandish décor, which is likely ideal for her two young kids. Her kitchen has plenty of space for prepping meals for two little ones, as well as a few scattered herb planters for fresh herbs whenever needed. Her family room has tons of natural light, and its focal point is a large, light gray couch set atop a cozy rug. Vander's guest bedroom doubles as a workout room — no expensive personal gym here — and she has a few machines set around bedroom furniture. Even her closet lacks typical "Selling Sunset" overindulgence. She shares the comparatively small walk-in with her husband.
Heather Rae El Moussa's Newport Beach newlywed home
We all rolled our eyes when Heather Rae El Moussa — formerly known as Heather Rae Young — gushed to her coworkers about meeting her now-husband Tarek El Moussa. At the time, she just immediately "knew" that he was the one. But clearly, she's the one with the last laugh. The pair tied the knot in October 2021, and they seem to be deep in newlywed bliss. According to Daily Mail, that bliss includes a freshly renovated home in Newport Beach, about an hour from Rae El Moussa's office.
But as anyone who has ever watched "Flip or Flop" would guess, the El Moussas didn't get the home ready-made with renovations. Instead, they did it themselves. After buying the abode to flip it for a profit, they fell so in love with it that they decided to move in. Weather damage thwarted their plans for a while, but in November 2021, they finally showcased their hard work. That included a cozy yet modern living room with a gray granite fireplace, which leads to a breakfast bar facing a gray glass backsplash. They also refinished the home's wooden floors, giving the entire space a timeless yet modern look (via Realtor).
Heather Rae El Moussa's San Bernardino Mountains cabin
A home in Newport Beach wasn't the only real estate purchase that the El Moussas embarked on together. ET Canada said they also picked up a cabin in the San Bernardino Mountains in December 2021, which is especially nostalgic for Rae. She grew up in a nearby town, where her parents still live. However, the cabin is only the beginning of the El Moussas' San Bernardino Mountains portfolio. They're only using it temporarily while they get to work on a custom mountain respite that they plan to construct on a next-door lot.
Construction will begin in March 2022 with the help of Rae's parents. But in the meantime, this cabin looks like a mountainside paradise on its own. According to Rae's Instagram post, it includes a huge brick fireplace and looks to have lots of modern renovations and stainless steel appliances. Up a rustic ladder, the El Moussas can reach the second-floor loft space, which is where El Moussa's kids will sleep while visiting after it's been revamped. Currently, it includes a beamed ceiling, cozy twin beds, and Edison lighting.
Emma Hernan's temporary Hollywood Hills home owned by a celebrity manager
Emma Hernan is new on the "Selling Sunset" scene, but she's clearly doing alright with several successful businesses under her belt. However, it seems that even ultra-rich real estate moguls can live in a rental for a while. TMZ reported that the home that Hernan was filmed at in a "Selling Sunset" episode was actually a rental property above the Sunset Strip that she shelled out $35,000 a month for. So what brought Hernan to this three-bedroom rental?
Renovations, because that's just what real estate stars do. Hernan stayed at the modern mansion with a gray façade while she waited for her house's updates to be completed. The rental is owned by Jamie Freed, a celebrity and brand manager who is no stranger to the stars. According to his LinkedIn page, he has worked with celebrities like Caitlyn Jenner, Hulk Hogan, and the Backstreet Boys.
Amanza Smith's new Los Angeles home with lots of custom-designed pieces
Besides being a real estate agent, Amanza Smith is also a home stager. She got to show fans her amazing taste while designing her brand-new Los Angeles home that she moved into in July 2020. According to Cosmopolitan U.K., Smith especially likes hanging out in her living room, which she dubbed "the cozy room." It's outfitted with a colorful, abstract-patterned rug that Smith custom-designed, topped with a glass table and an olive green couch that Smith also designed. Two mod black-and-white dressers also flank the space, which Smith had a hand in making. However, wall art is still lacking since Smith and her two kids only recently moved in.
But to anyone who has seen Smith's stylish outfits on "Selling Sunset," her closet is perhaps the most impressive part of the home. The walk-in includes pieces from designers such as Derek Lam, Zadig & Voltaire, and Alice + Olivia and lots of beautiful shoes, high-end handbags, and a small makeup collection.
Davina Potratz's rented West Hollywood apartment that costs $1,600 to $2,700 per month
Soon after things didn't work out for Davina Potratz's $75 million listing that Jason Oppenheim said was grossly overpriced, Potratz and The Oppenheim Group went their separate ways. Per Newsweek, she departed The Oppenheim Group in November 2020 for Douglas Elliman, another luxury real estate agency that also houses Fredrik Eklund from "Million Dollar Listing." But even though Potratz is no longer on "Selling Sunset," we're still interested in where the original star calls home.
Not too much information about where Potratz resides is available, but in September 2020, she, like Hernan, was also living in a rental property (via Daily Mail). However, Potratz wasn't using much of her commission funds like Hernan was. The apartment building she lived in only ranged from $1,600 to $2,700 per month, including cable and utilities. It sounds like a steal for someone raking in millions from a hit real estate show!