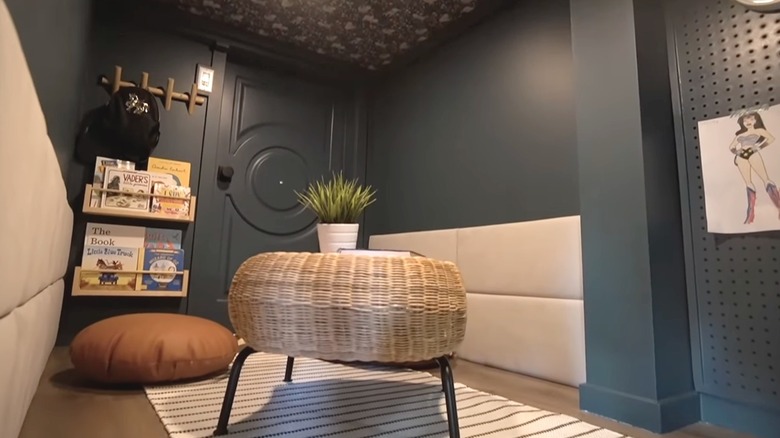 A half a century ago, the average square footage of a new single-family home was nearly 25% smaller than those being built today, per the mortgage resource site, HSH. To put it into perspective, that's about four 15 X 15-foot rooms fewer per residence. The trend continues upward, perhaps ironically in an age when digital options make downsizing easier than ever. Per NPR, we buy things to play our part in a healthy economy, and undeniably because of effective marketing. According to the data above, if living in an older home, you most likely have less square footage at your disposal than in a recent build, and the challenge lies in how to add more without adding on.
Underutilized space is prime real estate for storage solutions. For example, the unclaimed under-the-stairs area can be an excellent spot for a pantry, a closet, or a wine cellar. However, we also want extra room for ourselves and our activities, not just for the stuff we collect. Privacy, function, and work or play space are reasons we may wish for more square footage. However, larger homes aren't ideal for everyone, and some intelligent design, like the playroom above that Love Create Celebrate designed for their kids (via YouTube), can provide us with what we both need and can afford. Still, big houses could be stretched to their limits, too. We share six clever ideas and enviable DIYer transformations that make the most of wasted under-the-stairs space.
1. Reading nook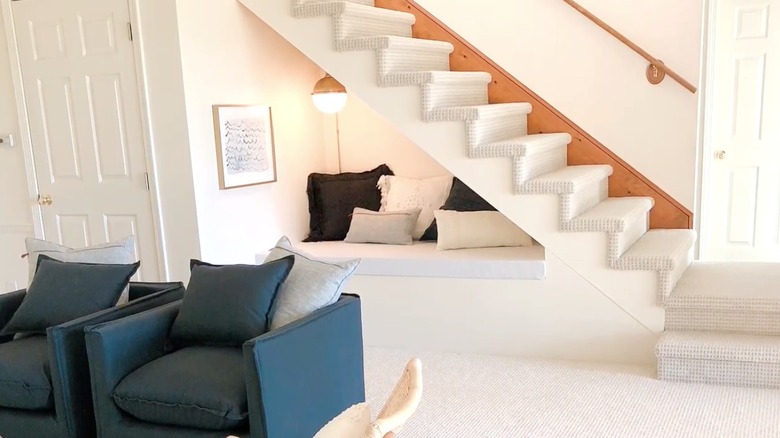 Lifestyle blogger Julie Blanner carved out a cozy area under the stairs in the living room of her family's lake cottage (per YouTube). Previously an undefined space that was a magnet for debris and cast-offs, the nook adds comfy seating, an intimate and purposeful place for relaxing and reading, and the messy stuff-collector monster has been removed. Blanner's young children love to hang out in the secluded nook, and as a bonus, the twin mattress length cushion provides another sleeping spot for visiting guests.
Blanner explained that the construction took roughly a weekend to complete and primarily used supplies leftover from other home improvement projects. Still, she noted that alternately, one could fashion a base from a ready-made drawer unit to save time and add storage; if space allows, bookshelves are a logical and gorgeous inclusion in a reading nook. Blanner ordered a custom memory foam cushion to fit the seat's dimensions and encased it in a removable cover made from durable indoor/outdoor fabric. Toss pillows give the nook extra comfort and a pop of contrast; Curated Interior also suggests a bolster pillow on each side of a reading bench. A brass sconce was installed for light, yet it also carries the nautical style theme forward. Finally, brass-framed artwork completes the design. Hmmm, we wonder what the favorite spot in this room could be …
2. Pet station
YouTube aquarist SC Reefer took a detour from saltwater fish habitats to build his Shih Tzu puppy a doghouse. The charming house under the stairs features an overhead light, nightlight, a see-through latched door, and a cozy dog bed. The frame has been neatly trimmed and painted to match the existing molding, while the front was decorated in a neutral pattern; lastly, a hand-lettered plaque was fastened above the door.
A pet area is a perfect way to turn an overlooked and awkward zone into something functional; little dogs don't require much room, and cats should have fun, too. The Everhart Veterinary Clinic explains that pets need their own designated space, ideally one that is quiet and removed from high traffic areas, to be secure and comfortable. Access to food, water, and clean bedding is essential, while an opening that allows pets to come and go as they please will encourage exploration and use of the space. To make it extra inviting, the outlet suggests the addition of blankets, an area rug, and favorite toys. Alternately, provided the litter box is easily retrievable for clean-up, an under-stair hideaway could be a discreet, out-of-the-way location for a necessary item no one wants to see.
3. Entertainment area
Americans spent almost $2.45 billion on movie tickets in 2021, according to Statistica. And while we love going to the movies, it's a lot of fun to watch them at home, too. Incredible original and on-demand content is abundantly available with streaming and cable services, while large screen TVs (The Verge notes the most popular size is 65 inches) and killer sound systems tempt us to stay in.
The space under the stairs can be dark, cramped, and narrow — the ideal location for a TV. Additionally, it usually accommodates a low cabinet and shallow shelving, providing storage for speakers, gaming systems, remotes, and other relevant paraphernalia. Mr. Lee TV built a custom entertainment center for their client in the area beneath a stairway. Constructed of white laminate and natural plywood, the modern style unit features a floating console and shelves. The TV is mounted directly to a hanging system backlit for effect. It's the perfect use of an awkward and dim area, and frees up floor space for comfy seating.
4. Mini bar
Every adult's home should be equipped with a mini-bar — if not for themselves, then for company and the festive mood one creates. The Inspired Home notes the increasing appeal of the mocktail and shares advice for stocking non-alcoholic options as well. With slight modification, the idea could also perform nicely as a coffee bar.
The under-stair area near this classic entry was transformed from meh to marvelous with a mini-bar. Following some online inspiration, RafaElaine DIY brewed their style concoction, creating a beautiful hub for mixology and entertaining. Prior, there was no opening below the stairs. Therefore, they began the project by removing the molding and drywall. Next, electrical was accessed via the wiring of an adjacent exterior outlet, and a new outlet was positioned for the planned wine cooler and light fixture. RafaElaine DIY ensured the stairs were structurally supported before demolishing the timber wall framing. New drywall and floorboards capped off the renovated area. The couple installed a wine fridge, cabinet storage, countertop, and open shelving, finishing with waterproof silicone, trim, and paint. Further, they added depth and pattern with wallpaper resembling tiles and light for function and ambiance.
5. Home office
Homes & Gardens asked professionals for their advice on how to maximize the forgotten space under the stairs. Interior designer Emma Sims-Hilditch relayed that it presents a chance to be innovative in design. It's the creation of something functional and even attractive where there is no expectation of usefulness.
If your house doesn't have a dedicated room to function as the home office, finding a spot that allows for the degree of focus and privacy required while working may be difficult. The area below the stairs is a fitting place for cabinets or a bookcase, making it perfect for a home office location. Of course, it depends on the stairway site — is it removed from distractions and main thoroughfares? Designer Jane Powell notes the importance of considering headroom and traffic flow around the set-up, and there may also be a need for accessible electrical outlets. A desk and supply storage combination not only makes working from home more manageable, but it's an optimal study space or crafting station.
Great Home Ideas installed an L-shaped desk just inside the entryway of a small residence. They utilized three flat-packed kitchen cabinets for storage (don't forget to cut holes for wire management), lifting them with a sheet of matching melamine to allow the doors to open. The cabinets were then capped with waxed hardwood timber, which served as the gorgeous desktop and side.
6. Play space
Giving children their own space at home fosters a sense of freedom and independence. It allows quiet for regrouping and a safe place to express their feelings and creativity (via HuffPost). If children share a bedroom, finding individual downtime may be even more challenging. A supplemental environment just for the kids, such as a playroom, can offer them the privacy and room they need to grow.
Designson9th Builds created a charming indoor cottage for his daughter, with flower-filled window boxes, a kitchenette, a loft, and a comfy chair. He calls it The Little House Under the Stairs, but it's much more than a house — it's a palace of play. Nearby, walls were decorated with built-in bookcases, hand-painted murals, and oversized paper blossoms. A cozy nook seat rests under a small basement window (made to look larger with a clever drapery treatment) and a floral chandelier. The bookcases overflow with favorite toys and games while another shelving unit imitates a grocery store. It's an ultimate world of wonder just below the cellar stairs.