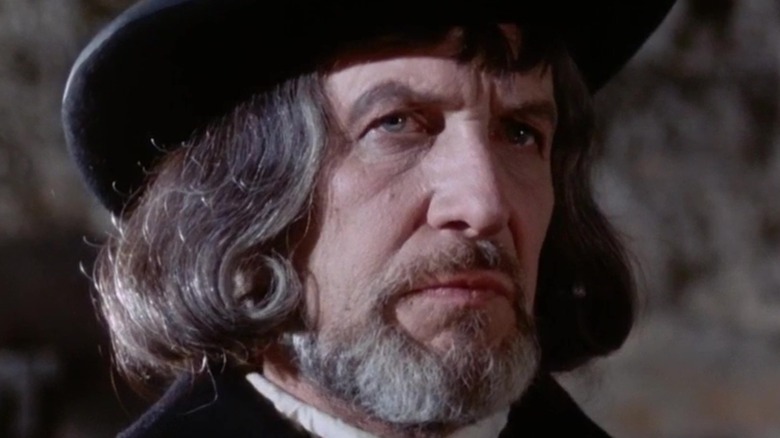 There are few names as widely known or respected in the field of horror as Vincent Price. A prolific actor if ever there was one, Price accumulated more than 200 screen credits in his lifetime, from his early career in the late 1930s to his final years working in the '90s. During that time, Price starred in some of the most prominent and popular horror movies of his day, including his career-defining work in "House of Wax" and his later roles in revenge films like "Theater of Blood."
With his reedy voice, towering build, and eccentric mannerisms, Price specialized in playing villains throughout his cinematic career. As noteworthy as his contributions to the horror genre are, though, Price performed in a variety of projects, acting in Westerns, noirs, and animated children's films as well. With such a full career, it's certainly understandable that some of his movies would be better than others. But even when the project itself was underwhelming, he always gave it his all, meaning there are some pretty terrible movies that are still worth checking out for a delightful Price performance. Here are some of the best movies Vincent Price appeared in, as well as some of the worst.
Worst: The Las Vegas Story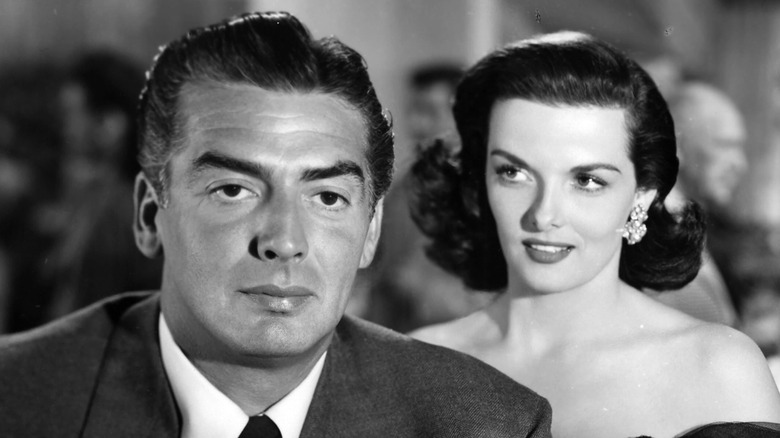 Price got his start acting in a number of subpar movies belonging to the Western, noir, and historical drama genres. 1952's "The Las Vegas Story" was one such example of this, being a mediocre noir film that finds Price starring opposite Jane Russell as a rich couple who decide to stop in Las Vegas for a brief gambling trip, unknowingly setting the stage for a complex murder mystery that only an ace detective (Victor Mature) can solve.
Like so many noir movies of its day (even the good ones), "The Las Vegas Story" wasn't all that well-received by critics. "'The Las Vegas Story' … is one of those jukebox gambling films that gives the impression of being made up as it goes along," said The New York Times' Bosley Crowther at the time.
In the role of Russell's desperate, down-on-his-luck husband, Price does an adequate job holding his own against the famous Hollywood starlet, having arguably more charisma than her actual on-screen love interest in Mature's detective. However, Price's performance isn't nearly enough to save this underwhelming B-mystery film.
Best: The Pit and the Pendulum
One of the most influential movies Price ever appeared in, 1961's "The Pit and the Pendulum" is director Roger Corman at his finest. Loosely based on the Edgar Allan Poe short story, adapted by the talented horror novelist Richard Matheson, and starring one of the most recognizable names in horror at the time, it's one of the best '60s horror films there is.
Set in 16th century Spain, Price plays a wealthy landowner and widower who begins to believe that his deceased wife is now haunting his seaside castle for revenge. A financial and critical success for Corman, "The Pit and the Pendulum" continues to be one of the most defining films in both Corman and Price's career, setting the bar for practically every Corman film that followed (although few films rivaled the success of this movie). It's a wonderfully paced, atmospheric film with a taut, suspenseful narrative.
"The last portion of the film builds with genuine excitement to a reverse twist ending that might well have pleased Poe himself," said Variety's 1961 review. In his nonfiction book "Danse Macabre," legendary horror author Stephen King wrote, "Following the Hammer films, ['The Pit and the Pendulum'] becomes, I think, the most important moment in the post-1960 horror film, signaling a return to an all-out effort to terrify the audience … and a willingness to use any means at hand to do it."
Worst: The Trouble with Girls
The second-to-last cinematic role for Elvis Presley, 1969's "The Trouble with Girls" was also one of the King's least entertaining, making his obvious distaste for his own film career by the late '60s all too clear. The film sees Presley star as the manager of a traveling Chautauqua show (sort of an educational circus) who sets up camp in a small 1920s Iowa town, getting into a number of issues with the local populace.
Price appears in the relatively small role of Mr. Morality, a theatrical showman who struts around quoting philosophers and famous literary figures while dressed in a dark suit, fedora, and opera cape. It's an enjoyable performance despite the limited screen time, but that wasn't enough to win over critics, many of whom gave "The Trouble with Girls" middling reviews.
Nowadays, "The Trouble with Girls" is considered one of the worst movies Elvis starred in, ending the King's theatrical career on a low note. Though it boasts a handful of decent musical numbers, it's overall messy and unevenly paced, with a storyline that goes all over the place.
Best: The Abominable Dr. Phibes
It's films like "The Abominable Dr. Phibes" that helped keep Price's career alive and relevant throughout the 1970s and '80s, after the actor's "golden period" starring in dozens of B-horror films in the 1950s and '60s. In this stylish dark comedy from 1971, a badly injured concert organist with an avid interest in theology (Price) seeks revenge against the nine doctors who failed to save his wife after a horrific car accident. Using the Ten Plagues of Egypt as an inspiration, the organist unleashes an unusual brand of vengeance on the doctors, picking them off one by one.
A blend of horror and comedy with elements of Price's earlier "House of Wax" and his later "Theater of Blood," "The Abominable Dr. Phibes" was a critical success for Price and his director, Robert Fuest. The unique visuals, clever design, and Price's performance earned the film positive reviews, prompting a sequel, "Dr. Phibes Rises Again," a year later, and also guaranteeing the film a firm place as cult classic today. As Variety's review said, "Anachronistic period horror musical camp fantasy is a fair description, loaded with comedic gore of the type that packs theatres and drives child psychologists up the walls."
Worst: Dead Heat
By the late 1980s, Price played predominantly smaller roles — many of which took advantage of his previous resume of villainous, horror-centric performances. One of the most disappointing and forgettable of Price's later films was his work in 1988's "Dead Heat," a buddy comedy horror film that follows an LAPD police officer (Treat Williams) who dies after trying to stop a robbery staged by corrupt lab scientists using mind-controlled zombies to carry out their crimes.
After the officer finds his corpse reanimated, he sets out to punish those responsible for his death, aided by his former partner (Joe Piscopo). "Dead Heat" tries for both jokes and scares throughout its short runtime (just over 80 minutes), but unfortunately comes up short on both. Hinging too heavily on over-the-top action, horrible one-liners, and an overall cheesy premise, it is, without a doubt, one of the worst horror movies of the '80s — an opinion shared by most critics who reviewed the film.
"'Dead Heat' doesn't have enough good ideas or real spirit to sustain itself," wrote The Los Angeles Times' Michael Wilmington. "On the screen, it seems to be like a walking corpse itself: jerking around malevolently, with putrefying limbs, a fixed, grisly smile on its face and absolutely no spontaneity." Price appears in the film as the unethical head of the lab group using obedient zombies for their own nefarious purposes, but his presence is too limited to make up for the 90% of the time he's not on screen.
Best: The Great Mouse Detective
The rare family film on Price's resume, "The Great Mouse Detective" kicked off the Disney Renaissance, helping the studio turn itself around after a period of poorly-received films. Based on the "Basil of Baker Street" series of children's books, "The Great Mouse Detective" follows a Sherlock Holmes-esque mouse detective (Barrie Ingham) investigating a missing toymaker in Victorian England. As the detective unravels the case, he eventually uncovers a massive conspiracy orchestrated by his archenemy, the odious Professor Ratigan (Price).
Released at a crucial point in Disney's history, "The Great Mouse Detective" did exceptionally well at the box office, earning just under $40 million on a budget of $14 million (via Box Office Mojo). The film also garnered largely positive reviews, with The Chicago Tribune's famed critic Gene Siskel writing, "The Disney organization hasn't created a truly memorable animated feature in 25 years. But this delightful mouse version of a Sherlock Holmes mystery just might become a classic for many generations of parents and children."
As the film's dastardly villain, Price perfectly portrays the charismatic, theatrical Ratigan, doing a fantastic job balancing the character's inferiority complex regarding his rodent status (he's prone to homicidal outbursts should you call him a rat, not a mouse). It's an underrated performance in a criminally under appreciated Disney film, containing one of the best performances from the final years of Price's career.
Worst: The Thief and the Cobbler
Another outside-the-box film for Price, "The Thief and the Cobbler" is technically his final credited work, as he died just one month before the film's initial release in 1993. An ambitious animated film with a production that spanned a whopping 29 years, "The Thief and the Cobbler" has one of the longest, most complicated backstories in animation history, shuffling through numerous writers, stars, and production companies since its inception in 1964. As chronicled by Simon Abrams for RogerEbert.com, "Cobbler" was a passion project for animator Richard Williams (famous for "Who Framed Roger Rabbit"), and its road to the screen ended with the project being taken from Williams' control and completed as a product that fell far short from his ambitious vision.
In the film, a lonely princess falls in love with a timid cobbler, saving him from execution after he unwittingly offends the King's Grand Vizier, who is attempting to secure the princess' hand in marriage for his own ulterior motives. Unfortunately, the version of "The Thief and the Cobbler" that finally made it to screens received a lukewarm reception from critics, and was nothing short of a box office catastrophe, grossing just under $670,000 on a $25 million budget (per Box Office Mojo). Price does an entertaining turn as the bizarre Grand Vizier, speaking in constant rhyme, but aside from that and the occasional remnants of Williams' fine craftsmanship, there's little else that remains remarkable about this unconventional animated film.
Best: House on Haunted Hill
Released alongside a string of other critically and commercially successful horror movies, it's films like "House on Haunted Hill" that established Price as one of the premiere stars in horror from the 1950s onwards. Price stars as a mysterious millionaire who throws a party for his fourth wife (Carol Ohmart) in an a supposedly haunted house isolated in the countryside. Inviting five people to attend the party, the millionaire promises an exuberant reward for anyone who stays the entire night in the mansion, each of them sharing a number of strange and disturbing encounters with possibly supernatural entities.
Alongside other '50s classics like "House of Wax," "House on Haunted Hill" is the kind of movie that was responsible for making Price a household name in horror. It possesses a wonderfully atmospheric eerie tone, containing a number of unexpected twists and surprises that keep viewers engaged throughout.
The popularity of the film at the time has led to it achieving cult status among horror fans today. Feel free to ignore the unsuccessful remake, 1999's "House on Haunted Hill," and its equally poor sequel, 2007's "Return to House on Haunted Hill."
Worst: Scavenger Hunt
A very minor addition to Price's filmography, 1979's "Scavenger Hunt" is a massive ensemble comedy with a basic premise that closely resembles the 1963 classic "It's a Mad, Mad, Mad, Mad World." The film begins when the elderly millionaire board game designer Milton Parker (Price) suddenly passes away at home, leaving his greedy, selfish, and estranged family members to inherit his vast wealth. To secure the fortune, however, the family must first compete in an expansive scavenger hunt, with the winner gaining sole inheritance of Parker's massive estate.
Headlined by famous comedians and comic actors like Cloris Leachman, Richard Benjamin, James Coco, Scatman Crothers, Ruth Gordon, Cleavon Little, Tony Randall, and Roddy McDowall, "Scavenger Hunt" tries a little too hard in most places to illicit laughter, usually coming across as bland and ineffectual in practically every scene that's supposed to be funny. Even Price's mostly silent and all too brief role as Parker serves as an incredibly forgettable footnote in his long and accomplished career.
"The cast of 'Scavenger Hunt' spends a lot of time searching for good gags, in vain," said The New York Times' Janet Maslin. "When a movie's jokes are so noticeably without punch lines, only a mood of uproarious confusion can save the day. [Director Michael] Schultz takes an orderly approach that only makes the movie more of a mess."
Best: House of Wax
One of Price's earliest career-defining films, 1953's "House of Wax" is a period horror film set in the gaslit streets of New York City in the early 1900s. In it, a talented but insane sculptor (Price) begins preying on random people who bare likenesses to historical figures, using their bodies as the basis for wax figurines in his local museum.
It's an eerie concept made all the better by Price's performance — a man with a clear love for his waxwork sculptures, driven to the brink of madness by a fire deliberately set by his business partner that destroys his museum and leaves him with severe burns. It's one of the films that propelled Price to his status as a leading man in Hollywood, as well as directly leading to him becoming synonymous with horror throughout the next few decades.
"House of Wax" was a massive financial success, and as the years have passed, the film has only continued to gain a firm place as one of the best horror movies of all time. "A film in which just about every technical and dramatic gambit has been judged to near perfection," wrote Empire's David Parkinson in a retrospective review. It would gross over $23 million at the box office against a budget of a mere $1 million (via Box Office Mojo).
Worst: The Story of Mankind
How on Earth can a movie featuring Vincent Price, Hedy Lamarr, Peter Lorre, John Carradine, and the Marx Brothers be bad? Sadly, as promising as that all-star lineup of talent is, the resulting film that is 1957's "The Story of Mankind" is a long way from amazing, completely failing to properly utilize its amazing cast or show off their incredible onscreen skills.
A dark fantasy film very loosely based on the 1921 nonfiction book of the same name, "The Story of Mankind" is set in motion when the creators of the universe deliberate on whether mankind should be allowed to continue living, or if they have grown so evil that it's better to let them be destroyed. Arguing on behalf of humanity is a benevolent angel (Ronald Colman), while the Devil — who refers to himself as Mr. Scratch (Price) — advocates for man's destruction, each of them calling on specific instances in mankind's history for the purposes of their case.
"The Story of Mankind" could've been amazing, having enough star power to produce the greatest ensemble film of its day. Unfortunately, the movie does little to take advantage of its impressive star power, never generating much to make it worth watching. "Producer-director Irwin Allen seems unable to decide whether to do a faithful history of man's development into a thinking being, a debate on whether man's good outweighs his evil, or a compilation of historical sagas with some humor dragged in for relief," said Variety.
Best: Theater of Blood
A revenge film with shades of "The Abominable Dr. Phibes," 1973's "Theater of Blood" follows a veteran Shakespearean actor (Price) who fakes his death after receiving negative reviews from a band of snobbish theater critics. Reemerging two years later, the actor begins targeting the critics, killing them off one by one in ways that resemble certain characters' deaths in Shakespeare plays.
Age did little to slow Price down as the actor continued to star in horror-centric films throughout the 1970s. If anything, Price only became a finer actor over time, embracing the theatricality of his onscreen, typically villainous characters, handing in an enjoyably campy performance as the over-the-top antagonistic main character.
Hinging more heavily on dark comedy than strictly horror, "Theater of Blood" was very positively received by critics, and continues to appreciate in value to this day. "Comedy horror that really does give Vincent Price a chance to do his stuff, with deliciously absurd results," said Time Out's David Pirie. It may be a tad on the gory side for some, but most of the violence is deliberately over-the-top and stylized, typically played more for laughs than it is aiming to genuinely disturb viewers.
Worst: Dr. Goldfoot and the Bikini Machine
Price's filmography is peppered with a number of hammy performances in cheesy B films. However, even by '60s standards, "Dr. Goldfoot and the Bikini Machine" serves as the most lubriciously over-the-top performance of Price's career, as well as one of the strangest movies of the decade. Price stars as the titular Dr. Goldfoot, a generic mad scientist who plans on creating an army of bikini-clad robotic women to seduce and then rob unsuspecting men.
Made at the height of James Bond's popularity, "Dr. Goldfoot and the Bikini Machine" was meant to directly parody the overly-stylized adventures of 007, full of double-entendres and awful one-liners. Hilariously, though, MGM opted to use actors they had on in hand from past productions, combining the talent from the company's then-popular beach party movies alongside actors who starred in MGM's horror films (Price being the clearest example of this).
The combination is a memorably cheesy movie that can only be described as so bad it's actually kind of good. The movie has a shockingly low score on Rotten Tomatoes' Tomatometer at only 29% and an IMDb average of 5 out of 10. However, has a certain cult appeal, thanks largely to Price's hammy performance, its title song by The Supremes, and its overall strange satire of James Bond.
Best: Witchfinder General
Perhaps the darkest, most brutal horror movie Price was ever featured in, 1968's "Witchfinder General" offers a frightening look at a grim period in England's history. Set in the mid 1600s, Price stars as the real-world Matthew Hopkins, a sadistic conman who used the chaos of the English Civil War to his advantage, traveling through the country while leading local communities in prosecuting women he believes guilty of witchcraft.
Unsurprisingly, such a terrifying time period makes a fitting backdrop for a horror movie, albeit one that heavily dramatizes the life and career of history's most notorious witch hunters. Regardless of how little the film resembles history, "Witchfinder General" remains a crowning achievement in Price's career, containing little humor and instead focusing solely on horror and suspense, with Price handing in one of the most sinister characters of his career.
As chronicled by Frame Rated, "Witchfinder General" courted plenty of controversy with its prevalent violence and overall dark tone. In later years, however, the film would go on to achieve cult status with contemporary audiences. In 2000, The Guardian's Derek Malcolm included it on his list of the century's most "artistically or culturally important" movies, calling it "one of the most compulsively watchable ever made in Britain."
"'Witchfinder General' bears the mark of its period — there's an overabundance of zooms and an easy reliance on the brutality of brightly hued gore — but it remains contemporary, and even frightening, in its evocation of cynical Puritanism and mass deception," said The Village Voice's J. Hoberman.