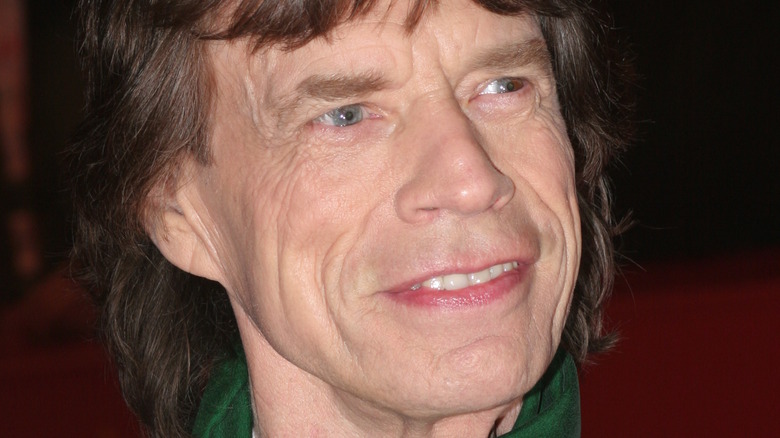 No two ways about it, Rolling Stones frontman Mick Jagger is legendary. In June 2022, the Stones kicked off their 60th anniversary tour and even a COVID-19 diagnosis couldn't keep Jagger away from the stage for long. However, despite spending most of his life in the spotlight, there are still plenty of things fans don't know about Sir Mick Jagger. Whether it be his relationship with Keith Richards, his net worth, his eight children, or his life today, there is plenty to talk about when it comes to the rock 'n' roll icon.
Among the most buzzed about topics is perhaps his dating history. While he's only been married once (he and Bianca Jagger were wed for seven years in the '70s), he's had plenty of headline-making unions. One of the most notable was his romance with American model Jerry Hall — partly because it lasted for 23 years and partly because it was filled with a whole lot of drama. Join us as we unravel the truth about Jerry Hall and Mick Jagger's tumultuous relationship.
Jerry Hall and Mick Jagger's messy start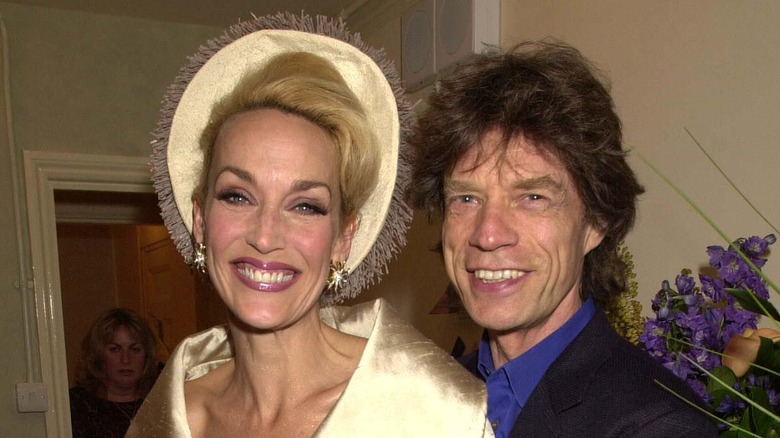 Jerry Hall and Mick Jagger's union was marred by controversy from the beginning. The couple met in 1976 while she was engaged to Roxy Music's Bryan Ferry and he was married to Bianca Jagger, per People, but that didn't stop them getting together. As the model recounted in her 2010 memoir "Jerry Hall: My Life in Pictures" (via Harper's Bazaar), Mick was relentless in his pursuit and wasn't shy about showing off his attraction. Hall recounted a London dinner hosted by Mick during which he couldn't keep away from her, despite her fiancé also being there. "Bryan was flattered by Mick's attention, but he could also see that Mick was smitten with me. It couldn't have been nice for him," she admitted. Soon, Mick began visiting her and Ferry's home and, on one occasion, "Mick started chasing me around the Ping-Pong table, trying to kiss me, and Bryan came in and chased him out."
Things became official on May 21, 1977 when they met at a New York dinner without their partners. "We would celebrate that day for the next 23 years," she wrote. They started an affair and her engagement to Ferry ended a few months later, but it would be a year before Bianca filed for divorce in 1978. However, Hall's mother, Marjorie, insists she wasn't a homewrecker. "Scandal publications made her seem like a Jezebel, but she's a good Christian girl and I'm proud of her," she told People.
How addiction impacted Jerry Hall and Mick Jagger
From the moment Jerry Hall and Mick Jagger began their affair in 1977, addiction played a role in their union. As the model recounted in her 2010 book, "Jerry Hall: My Life in Pictures" (via Daily Mail), Jagger was honest about his drug use and she was honest about her disapproval. When the rocker admitted to smoking heroin and told her he had used LSD every day for an entire year in the '60s, she gave him an ultimatum. "I was disgusted," she wrote. "I told him I couldn't see him if he took drugs, saying: 'Go away and don't come back until you're straight.'" And so he did just that. "He had amazing willpower," she mused. However, that willpower didn't extend to monogamy. "I had weaned him off drugs, but they had been replaced by sex and he had never had proper treatment," Hall continued, recalling how she would be home with their kids and would be forced to read about his alleged indiscretions in tabloids.
Meanwhile, for her part, it seems Hall broke her own addiction, which may have also backfired. Speaking with Detroit Free Press (via People) in 1986, Jagger reportedly complained about his then-partner giving up nicotine. "Since she has stopped smoking, she has become the shrew of the Western world," he slammed. "She's impossible to live with without a cigarette butt in her mouth." According to the outlet, he actually told her to start smoking again if she wanted to save their relationship.
If you or anyone you know is struggling with addiction issues, help is available. Visit the Substance Abuse and Mental Health Services Administration website or contact SAMHSA's National Helpline at 1-800-662-HELP (4357).
Their on-again, off-again romance
Jerry Hall and Mick Jagger's relationship timeline is a rocky one. Yes, they were together for 23 years, but they broke up and made up a slew of times. People reported on their first split back in 1982, claiming that Hall had fallen for not another rockstar, but Robert Sangster, a businessman and horse breeder. While she didn't address the rumored infidelity, Hall did confirm her and Jagger's breakup, saying, "I am sorry that what was intended as a private and possibly temporary parting has embarrassed [Mick]." Other dalliances followed — on both sides — but Jagger and Hall couldn't keep away from each other for too long. In the '80s, they welcomed two children, and in 1990, they tied the knot in a Hindu ceremony in Bali, Indonesia, per People.
In July 1992, just months after Hall gave birth to their third child, People confirmed they split again. This time around, Jagger's ongoing romance with Carla Bruni was to blame. "I felt sick when I realized Mick was still seeing Carla," she told People. "I can confirm that we're separated, and I suppose we will get a divorce." That didn't happen; Jagger and Hall reconciled that October. As she explained to Texas Monthly (via People) in 1995, "We've certainly had our share of bad times, but whenever you stay with someone for a long time you have your ups and downs." Indeed, rumors of infidelity continued, but in 1997 they had their fourth child.
All about Jerry Hall and Mick Jagger's four kids
Jerry Hall and Mick Jagger did not always see eye to eye when they were together, but the two always agreed on the importance of family. The pair had four children together, starting with Elizabeth Jagger in 1984. James Jagger followed in 1985, then Georgia May Jagger in 1992, and Gabriel Jagger in 1997, per Hollywood Life.
As they've grown up, all four have tried to make it in entertainment. Eldest sibling Elizabeth has dabbled in acting and modeling and is an outspoken activist for women's rights, per Bustle. Younger brother James is serious about acting and, to date, has 17 credits to his name, per IMDb. His big break was a role in 2016's "Vinyl", which was created by Martin Scorsese and dad Mick. He also plays in a band, per W magazine, and is on the board of directors for Project Zero, a non-profit working to protect and restore oceans. Perhaps the most recognizable face is that of Georgia May who has made a real career out of modeling and has amassed 1.1 million Instagram followers and counting. Finally, youngest sibling Gabriel has been the most removed from the spotlight, but even he began modeling in 2016 because, as he told W magazine, "My sister Jade convinced me to do something." However, his real passion is poetry. Asked what he writes, he shared, "Dark poetry. It's just about feeling."
Once and for all, Jerry Hall and Mick Jagger called it
After years of being on-again, off-again, Jerry Hall finally filed for divorce in January 1999, per People. While she had decided to overlook Mick Jagger's alleged affairs for years, there were some things she simply couldn't get over, such as his absence. As she wrote in "Jerry Hall: My Life in Pictures" (via Daily Mail), "I was heartbroken that he wasn't home in time for the birth of our fourth child." However, she knew she had to go when rumors began swirling that Jagger had an affair with model Luciana Gimenez Morad during The Rolling Stones' tour and that she was pregnant. Hall wrote, "It was the final straw. I told him I wanted a divorce." As she explained, "I had been tempted to leave him many times but had put up with his infidelities, however, having a child with another woman was too much."
Speaking with Express in 2017, Hall noted how she their relationship left her feeling backed into a corner. "I forgave and forgave and forgave to the point that it wasn't healthy at all," she shared. "I did love Mick very much, but after years and years of being hopeful, you finally give up."
In May 1999, Morad gave birth to a son, per New York Post, and a DNA test proved that Jagger was indeed the father. Morad later revealed to the Daily Mail she had written a letter to Hall to apologize, but maintained, "I never saw myself as a home-wrecker."
Jerry Hall and Mick Jagger didn't actually get divorced
When Jerry Hall and Mick Jagger finally called it quits, they didn't technically get a divorce. The pair announced the end of their union through a joint statement issued in July 1999, which confirmed, per The Guardian, "Mick Jagger and Jerry Hall have today amicably and formally agreed to separate after more than two decades as a couple and to obtain an annulment." Why an annulment and not a divorce? Well, when they tied the knot in Bali in 1990, they apparently didn't file the right paperwork, per People. That, in turn, meant they technically were not married and so they couldn't actually get a divorce, per The Guardian. That's because, as ABC Legal Services outlines, "A divorce ends a marriage [while] an annulment asserts that no valid marriage ever existed in the first place."
As Hall later told The Guardian, this technicality rubbed her the wrong way. "I didn't like the idea of annulling after 23 years and four children [because] it seemed a bit rude," she explained. However, she and Jagger did what they needed to do to separate and agreed to the annulment, all while remaining amicable for the sake of their four kids.
Mick Jagger wasn't happy about Jerry Hall's next husband
Following their split, both Mick Jagger and Jerry Hall didn't waste any time getting back on the dating scene. While the rocker dated late fashion designer L'Wren Scott and then ballet dancer Melanie Hamrick (with whom he had son Deveraux Octavian Basil in 2016), his model ex was linked to a slew of high-profile names. Hall dated everyone from Microsoft co-founder Paul Allen to film producer George Waud before settling into a serious relationship with Rupert Murdoch in the summer of 2015. A whirlwind romance followed as the pair got engaged in January 2016 and tied the knot that March. Taking to Twitter, the billionaire media tycoon gushed, "[I] feel like the luckiest AND happiest man in [the] world."
It was Hall's first legal marriage and, according to Daily Mail, Jagger was none too pleased. "This means that Rupert Murdoch is going to become a part of his extended family, and Mick has a real problem with that," an insider claimed. Perhaps those negative feelings had to do with the fact that, as Hall told the Evening Standard in 2005, there would always be a strong connection between them. "I still love him," she said, revealing that she and Jagger talk on the phone almost daily. She gushed, "He's a great father, and a great friend."
In the end, it wasn't meant to be and Hall filed for divorce from Murdoch in July 2022.