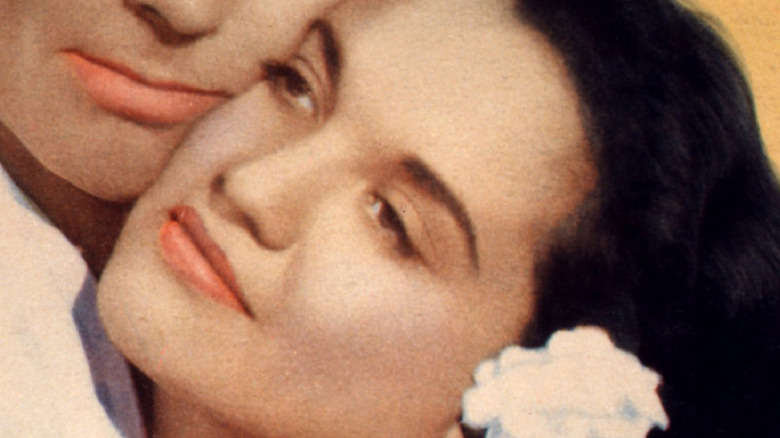 Marlon Brando is considered one of the most talented actors who ever lived, but he was no stranger to drama in his personal life. Brando had three marriages, and his second marriage, to Movita Castaneda, was considered very mysterious — since the couple was incredibly private about their relationship (via The Hollywood Reporter).
According to her obituary in the Los Angeles Times, Movita Castaneda was born in either 1916 or 1921 while her family was traveling from Mexico to settle in Los Angeles, California. She loved singing and dancing even from a young age. An RKO producer was impressed by Castaneda when he saw her perform in a musical group called "Rosita and Moreno."
Castaneda claims that MGM studios wanted her to work as an actress starting at age 14, but told her to pretend that she was 19 years old. By 1933, Castaneda had gotten her first Hollywood role, a singing part in "Flying Down to Rio." MGM also influenced Castaneda's name, changing it to sound more like a Polynesian moniker. So at their bequest, she changed from her birth name of Maria Luisa to Movita (via IMDb).
The start of Castaneda's acting career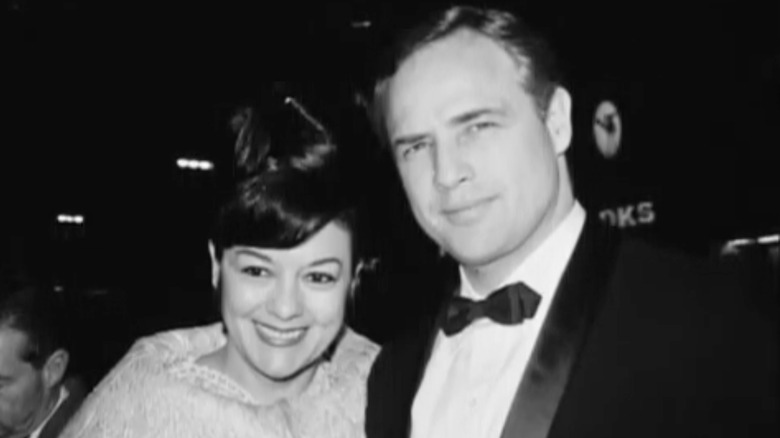 The name change seemed help promote her acting skills, because for the following decades, Movita Castaneda was cast in a number of movies, such as playing a cabaret dancer in the 1935 movie "The Tia Juana Kid" (via IMDb). But Castaneda's true claim to fame was her role in the 1935 production of "Mutiny on the Bounty." She also performed under her stage name Movita in other movies, such as 1949's "The Mysterious Desperado." Through the 1950s, Castaneda was taking background roles in films, such as "The Furies," and an episode of "The Adventures of Kit Carson." She was on set all the time, sometimes starring in five or six movies each year through the 1950s.
Meanwhile, Marlon Brando starred in fewer movies, making just three over three years — he starred in "The Men" in 1950, then acted in the dramatic classic "A Streetcar Named Desire" in 1951, followed by "Viva Zapata!" in 1952 (via IMDb).
Romance on the set of 'Viva Zapata!'
Both actors had been in marriages before: Castaneda had married prizefighter Jack Doyle, in a relationship that lasted from 1939 to 1944 (via The Washington Post). Brando was formerly married to actress Anna Kashfi, and they divorced in 1959, after just two years together, according to the New York Daily News.
As he was coming out of one relationship, Brando quickly began a romance with Movita Castaneda. When Castaneda and Brando met on the set of the film "Viva Zapata!" they originally didn't get along too well. During their affair, Brando insisted on proposing to Castaneda. But Castaneda told him unequivocally that the answer was no, and she kicked him out of her room.
When he continued to bang on her door, she even threw the engagement ring at him. Brando famously had a hot temper, and Castaneda ended up threatening to call the police on Brando for her own safety. But their fights didn't last. Castaneda and Brando got married in a very private wedding ceremony on June 4, 1960. And, according to The Hollywood Reporter, Brando and Castaneda tried very hard to keep their relationship out of the public eye for one important reason.
Brando meets Tarita Teri'ipaia
Brando and Castaneda were so tight-lipped about their relationship that they didn't reveal it publicly until they were forced to in a 1961 court hearing (per Philadelphia Daily News). Brando revealed that they married in 1960, but only after the court required him to talk about it during hearings with his former wife, Anna Kashfi. The Washington Post reports that they kept the relationship quiet because Kashfi and Brando had a heated relationship after the breakup, and would often argue about money.
Very soon after they married, in October of 1960, Brando and Castaneda had their first child, their son Sergio (per the New York Daily News.) About five years later, Castaneda gave birth to their daughter, Rebecca (via Philadelphia Daily News).
But Brando was not faithful to Castaneda during their relationship, according to The Washington Post. While the actor was on the set of the 1962 remake of the film "Mutiny on the Bounty," he met his next wife, Tarita Teri'ipaia. She was just 19 years old when she played his love interest in the movie. They began an affair and were married in the same year, per Yahoo, even though Brando was supposedly still with Castaneda for several years after.
A 'mysterious' marriage ends
According to Biography, Teri'ipaia wasn't even the only person with whom Brando cheated on Castaneda — he was in an on-again-off-again style of relationship with actress Rita Moreno. Per New York Daily News, Brando had a constant stream of women and men with whom he was having affairs, and he didn't let his marriage get in the way of these arrangements.
Philadelphia Daily News reports that in 1968, Castaneda decided she wanted to get out of her relationship with Brando. She claimed the split was over "mental cruelty." Castaneda sued him to seek a divorce, and the marriage was easily annulled, since she had never actually divorced her first husband before marrying Brando. Per The Hollywood Reporter, the Los Angeles Times described the annulment proceedings by reporting that their "​​eight-year marriage … has ended as it began: mysteriously."
Their marriage was legally annulled in private proceedings, without turning into a lawsuit (via Philadelphia Daily News). Castaneda got custody of their kids — 2-year-old Rebecca and 7-year-old Sergio.
The aftermath of the split
As for their various homes or properties, the details are limited (via The Hollywood Reporter). But Castaneda did also ask for Marlon Brando to pay $8,000 every month in alimony. That would be the equivalent of about $67,000 per month in today's dollars, according to the Inflation Calculator. It was a huge request, but Brando was making over a million dollars on some of his movies by this point in his career, per Guinness World Records, more than any actor had ever asked for a single movie before.
After their split, Brando took Castaneda's Mercedes-Benz away, and had it replaced with an older model station wagon (via Los Angeles Times). Castaneda cared for Sergio and Rebecca, while also juggling acting roles and a delivery job for an auto parts store. As IMDb reports, Castaneda continued to have a successful acting career, and was generally typecast as an "exotic woman" or a singer. In her final role, Castaneda starred in a primetime TV soap opera, "Knot's Landing," from 1987 to 1989.
The Los Angeles Times reports that after their own kids grew up, Castaneda and Brando would end up with four grandkids. Movita Castaneda lived to be about 98 years old, and died of a neck injury in 2015.