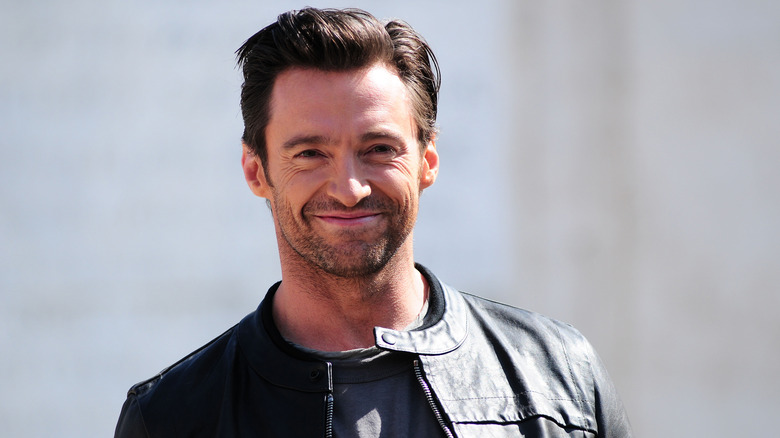 Several actors have played Bruce Wayne/Batman, Peter Parker/Spider-Man, and Clark Kent/Superman on the big screen. However, there's been only one Logan/Wolverine. Hugh Jackman played the iconic mutant in the "X-Men" franchise for almost two decades. While many of his co-stars were recast in the subsequent films, Jackman stuck with the part. If a new actor is cast as Wolverine in a rebooted "X-Men" franchise within the Marvel Cinematic Universe, they will have to live up to the legacy that Jackman left behind.
What's ironic is that prior to being cast in the original 2000 film "X-Men," Jackman was hardly an action star. He was best known for his stage work. Jackman starred in many productions in his home country of Australia, including "The Season at Sarsaparilla," "Thark," "Beauty and the Beast," and "Sunset Boulevard." However, it was his performance as Curly McLain in the West End production of "Oklahoma!" that made him a worldwide sensation. A filmed version of "Oklahoma!" aired in 1999, introducing Jackman to an even broader audience.
Even though many Marvel fans want to see him return, Jackman has said that he's done playing Wolverine. It is exciting to see what he will do next, as Jackman has many interesting projects in his future.
Here are the 15 best Hugh Jackman movies, ranked.
15. Flushed Away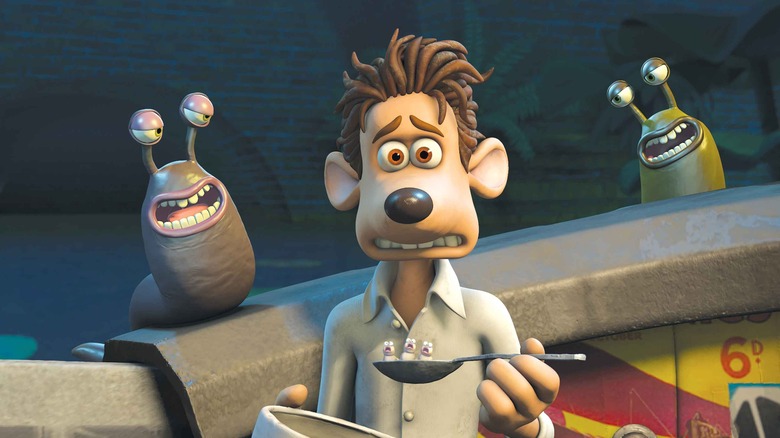 The 2006 family animated film "Flushed Away" is absolutely bonkers. Nothing about the film's story makes any sense, and the tonal shifts make it even stranger. Were you asking for a toilet-themed adventure movie that contains commentary on restrictive societal roles? Well, you're in luck, because "Flushed Away" actually exists. After "Shrek," there were many animated films that attempted to combine humor for both adults and kids. "Flushed Away" tried to do this, but failed to find the right balance.
"Flushed Away" is one of the craziest animated films of the 21st Century, and Jackman got to be part of it. It's impossible to doubt his commitment to voicing Roddy St. James. Roddy is a pitiful sewer rat, who is literally "flushed away" into the sewers and must fight to return home safely to his family. Hugh Jackman's spirited delivery of the strange jokes is the only reason to watch the film.
14. Les Miserables
The epic period musical "Les Misérables" is one of the most beloved stage shows of all time. The musical has earned countless prizes in its various iterations since the original 1980 performance in Paris. It is an emotionally devastating story of a man's life through the eyes of both God and the law. Any film that attempted to bring the iconic story to the big screen had a lot to live up to.
Tom Hooper's 2012 cinematic adaptation was not entirely successful. The amazing songs aren't quite as impactful when they're not performed live in front of an audience, and the film is over-reliant on computer-generated imagery. Despite the film's failings, Jackman is absolutely captivating as Jean Valjean. Many great actors have played the part, but Jackman had the right background in both theater and film to pull it off. His rendition of the beautiful song "Bring Him Home" is incredible.
13. Rise of the Guardians
The 2012 animated film "Rise of the Guardians" is one of the most underrated holiday films of the past decade. Instead of telling a traditional fairy tale story, the movie brings together various holiday characters in a team-up adventure. Essentially, it's "The Avengers" with Santa Claus (Alec Baldwin), the Easter Bunny (Hugh Jackman), the Tooth Fairy (Isla Fisher), and Sandy the Sandman. Santa decides to recruit Jack Frost (Chris Pine) to the team when the evil Nightmare King (Jude Law) threatens to erase children's happy memories of the holiday season.
If you've never heard the brooding voice of Jackman's Easter Bunny, you're seriously missing out. It's a hilarious version of the character. It also feels like Jackman is lampooning his role as Wolverine. The animation in "Rise of the Guardians" is beautiful. Even though it is obviously aimed at children, the action sequences are surprisingly exciting.
12. The Wolverine
2009's "X-Men Origins: Wolverine" was a complete disaster. The "X-Men" prequel somehow made Wolverine's origin story feel dull and unemotional. However, the second attempt at a standalone Wolverine film was much stronger. Director James Mangold was inspired by classic samurai films, and took the "X-Men" saga in a darker direction. Logan is haunted by his past. He is unable to forgive himself for the death of Jean Grey (Famke Janssen) in "X-Men: The Last Stand."
"The Wolverine" opens with a gripping sequence set during the bombing of Nagasaki, Japan, at the end of World War II. Logan saves the life of the Japanese soldier Ichirō Yashisa (Ken Yamamura). Many decades later, an older Yashida (Haruhiko Yamanouchi) invites Logan back to Japan. Logan learns that Yashida has developed scientific advancements that would cure him of his immortality. Logan must consider whether he could give up his powers for good. However, he's called back into action when Yashida's sinister intentions are revealed.
11. The Greatest Showman
"The Greatest Showman" became a surprising word-of-mouth hit. Despite an underwhelming opening weekend, the film gradually became a sensation, as musical fans celebrated the incredible soundtrack. "The Greatest Showman" may not be accurate to history, but it's a very entertaining musical. Director Michael Gracey did a terrific job capturing the excitement of live theater. The film wouldn't have been nearly as impactful without Hugh Jackman's performance; he was able to make even the cheesiest moments endearing.
"The Greatest Showman" follows the talented performer P.T. Barnum (Jackman), who falls in love with the wealthy girl Charity Hallett (Michelle Williams). They abandon Charity's rich upbringing, and move to New York City. Barnum decides to put his showmanship skills to good use. He gathers a group of outsiders to create a unique show, featuring music, stunts, and thrills. Barnum has empathy for those that are deemed "freaks." He gives them an opportunity that they wouldn't get otherwise due to the prejudiced people surrounding them.
10. Reminiscence
The 2021 science-fiction noir mystery "Reminiscence" is a much better film than its reputation suggests. The film received mixed-to-negative reviews when it was released in theaters and on HBO Max. While it is very similar to other sci-fi noir films, such as "Blade Runner" or "Minority Report," "Reminiscence" has a very interesting depiction of the future. "Westworld" co-creator Lisa Joy creates an eerie atmosphere with her impressive feature film directorial debut.
Jackman stars as the inventor Nick Bannister, who operates a device that can access memories. Nick and his colleague, Emily Sanders (Thandiwe Newton), have a business where people hire them to relive the past. After meeting the nightclub singer Mae (Rebecca Ferguson), Nick falls in love. When Mae goes missing, Nick searches through different memories to find her. Jackman and Ferguson make their brief romantic fling impactful; it's understandable why Nick becomes so obsessed with finding Mae.
9. Eddie the Eagle
The 2016 biographical film "Eddie the Eagle" is an endearing yet formulaic inspirational sports story. However, Jackman does not play a traditional mentor character. He co-stars as Bronson Peary, a former American champion ski jumper who left the sport in disgrace. Peary suffers from alcoholism and was never able to reconnect with his mentor, Warren Sharp (Christopher Walken).
However, Peary gets one last shot at redemption. The British skier Michael Edwards (Taron Egerton) has wanted to represent his country in the Olympics for his entire life. He has always been mocked for his meekness. Peary reluctantly agrees to train Edwards for the 1988 Winter Olympic Games, but his training program is fairly unusual. Peary doesn't adhere to any traditional methods, and offers Edwards his insights about the perils of competition. Their relationship is both heartfelt and hilarious. As Edwards begins to succeed, Peary finally begins to heal and forgive himself.
8. X2
While Hugh Jackman first appeared as Logan/Wolverine in the original 2000 film "X-Men," the 2003 sequel "X2" was the comic book film that fans had been waiting for. It was a deeper, darker, and more emotional film than its predecessor. Wolverine's storyline is one of the highlights of the film. "X2" explores the character's origins, and features some of the best Wolverine action ever seen on screen.
Mutants everywhere are in danger. After the German mutant Kurt Wagner/Nightcrawler (Alan Cumming) attacks the President of the United States (Cotter Smith) in the White House, the American government agrees to let the evil scientist Colonel William Stryker (Brian Cox) seize Charles Xavier's mutant academy. Stryker has no interest in a peaceful transition. He orders his men to attack the school. Wolverine defends the younger mutants in a gripping sequence. He learns that Stryker experimented on him in the past. Jackman captures Wolverine's confusion. He struggles to remember the painful events.
7. The Front Runner
Unfortunately, many people missed out on one of Jackman's best performances to date. Jason Reitman's historical drama "The Front Runner" was a massive box office bomb. The film was released on Election Day in 2018; perhaps, audiences were just sick of hearing about politics. Even though it takes place in the late 1980s, the themes of "The Front Runner" are more timely than ever. The film explores how media sensationalism can drastically impact political campaigns. Jackman does a terrific job capturing the essence of Senator Gary Hart.
Hart is naturally appealing to voters. He is able to explain complex political topics in a way that voters can understand. After narrowly finishing second to Walter Mondale in the 1984 Democratic Party presidential primary, Hart sets his sights on 1988. His presidential ambitions gain traction once he starts campaigning. However, there are rumors that Hart has been having an extramarital affair that his wife, Lee Hart (Vera Farmiga), does not know about. He is cornered by the Miami Herald reporter Tom Fiedler (Steve Zissis). Fielder catches Hart leaving the apartment of Donna Rice (Sara Paxton), a young woman he had been having an affair with.
After the Herald breaks the story about Hart's infidelity, his campaign falls apart. Although Hart tries to talk about the issues that he cares about, he is only asked about the scandal. Jackman captures his sense of confusion and embarrassment.
6. X-Men: Days of Future Past
Although many of the actors from the original "X-Men" trilogy were recast for the 2011 prequel film "X-Men: First Class," Hugh Jackman appeared in a surprise cameo. He returned to the prequel series for the next film, 2014's "X-Men: Days of Future Past." "Days of Future Past" featured a time-travel storyline, which allowed both casts to appear. Logan/Wolverine is the heart of the story.
In the future, mutants are being hunted by powerful androids called "Sentinels." The X-Men's numbers are dwindling, and Charles Xavier fears for their survival. He plans to go back in time to 1973, and stop Mystique (Jennifer Lawrence) from killing the military scientist Dr. Bolivar Trask (Peter Dinklage). Trask had invented the Sentinel technology. His death turned the public against the X-Men. Xavier learns that his body wouldn't be able to sustain the trip back in time. However, Logan is almost indestructible. He agrees to travel back to his younger body, and recruit the younger X-Men.
Once he reaches 1973, Logan tracks down a young Xavier (James McAvoy). Xavier was overwhelmed by the voices in his head and began taking medications to block his telepathy powers. The X-Men are essentially disbanded. Logan has to convince Xavier to be hopeful again. It is very emotional to see Logan explain to Xavier that the future is worth fighting for. Xavier sees all of the pain that Logan has endured.
5. The Prestige
Christopher Nolan's 2006 film "The Prestige" is all about the art of deception. The film explores how all-encompassing a performance can be. Jackman was perfectly cast as a charismatic stage performer who is always able to win over a crowd. He showed how difficult it becomes for an actor to separate their stage personality from reality.
"The Prestige" takes place in the 1890s. The illusionists Robert Angier (Jackman) and Alfred Borden (Christian Bale) work together to create a magic show. They learn the art of conning an audience from their mentor, John Cutter (Michael Caine). Borden encourages Angier to help him perform a dangerous trick. Angier reluctantly agrees, but their show goes horribly wrong — Angier's wife, Julia (Piper Perabo), drowns in a water tank in front of an audience. Angier blames Borden for the incident. The two former friends become bitter rivals. They attempt to outdo each other with dueling shows.
Jackman brings out Angier's competitive personality. While he's heartbroken by the tragedy, he isn't chasing Borden just to give his wife justice. He's infuriated by the idea that Borden's show is becoming more popular than his. Angier is confused by a specific trick that Borden has mastered, in which he appears to teleport. This introduces a mystery that isn't explained until the film's jaw-dropping final moments.
4. Logan
One of the issues with many modern superhero movies is the lack of stakes. If a character can be brought back from the dead or reintroduced in a different universe, what are the consequences of killing them off? James Mangold's 2017 film "Logan" was the rare comic book adaptation that had a sense of finality. It concluded the story of Wolverine, which had begun way back in 2000 with the original "X-Men." Hugh Jackman has always been fantastic in the part, but he gave his most emotional performance in "Logan."
"Logan" takes place in 2029. Logan takes care of his mentor, Charles Xavier (Patrick Stewart), at his ranch in El Paso, Texas. Xavier's health is failing as he suffers from dementia and epilepsy. Logan has decided to live off the grid. However, the nurse Gabriela López (Elizabeth Rodriguez) asks him to help transport her daughter, Laura (Dafne Keen), across the border to Mexico. Laura is a very powerful mutant. A cyborg gang called the "Reavers" is trying to track her down. Logan is forced to protect Laura when the Reavers' ruthless leader, Pierce (Boyd Holbrook), locates her.
Director James Mangold was inspired by classic westerns, including "Shane" and "The Cowboys." This made the film distinct from all the prior installments. "Logan" is the darkest chapter in the "X-Men" saga, but it has a hopeful ending.
3. The Fountain
Darren Aronofsky's metaphorical drama "The Fountain" continues to divide audiences. Some cinephiles consider it to be one of Aronofsky's worst films, while others cite it among their favorite movies of all-time. Aronofsky has claimed that there was a significant amount of footage that was cut before the film's theatrical release. While it would be interesting to see a director's cut, "The Fountain" is already a gripping and emotionally devastating film.
"The Fountain" has an unusual narrative structure. The film is divided into three timelines, each featuring the same actors cast as different characters. The stories are interwoven, and Aronofsky explores how they relate to each other thematically. In the 16th century, the Spanish conquistador Tomás Verde (Jackman) searches for the Fountain of Youth in the South American jungle. He finds a mythical tree at the center of a Mayan pyramid. 500 years later, the American surgeon Thomas Creo (Jackman) discovers the same tree during his research. This storyline is the heart of the film. Thomas has dedicated his life to helping people, but he can't save his wife, Izzi (Rachel Weisz), from brain cancer.
Thomas cannot accept Izzi's impending death. He becomes convinced that his research will save her life by unlocking immortality. His efforts are in vain; in the third storyline, Izzi's grave is mounted on the same tree stump. The astronaut Tommy (Jackman) travels through deep space to save the tree from being engulfed by a supernova.
2. Bad Education
It is unfortunate that "Bad Education" didn't play in theaters, because Hugh Jackman's performance was Oscar-worthy. He starred as Dr. Frank Tassone, the former superintendent of the Roslyn Union Free School District on Long Island. Tassone's administration was involved in the largest public school embezzlement scandal in history. Before the story broke, Tassone was beloved by the parents within his district. He appeared to be tirelessly working to make Roslyn the best in the country.
Jackman is an inherently charismatic person, and "Bad Education" weaponizes his charm. Tassone's magnetic personality allows him to mask his true intentions. Although the film explores the extent of his lies, it doesn't present Tassone as a clear-cut villain. It's hard not to believe him when he claims to be stealing millions of dollars for the sake of the students. Tassone also has secrets that even his co-conspirators don't know about, including a secret relationship with his former student, Kyle Contreras (Rafael Casal). Jackman does a great job at making Tassone's motivations unclear.
1. Prisoners
Even though Wolverine is one of the signature anti-heroes in Marvel history, Keller Dover is the darkest role of Hugh Jackman's career. Jackman has never been more terrifying onscreen than he was in Denis Villeneuve's 2013 thriller "Prisoners." The film questions what people are capable of in their darkest moments.
"Prisoners" takes place over the Thanksgiving holiday in a small town in Pennsylvania. The Dover and Birch families spend the day together. In the evening, the young girls Anna Dover (Erin Gerasimovich) and Joy Birch (Kyla-Drew Simmons) go missing. Their parents begin to panic. Keller notices that there was a mysterious RV parked nearby before the girls disappear. He suspects that the RV's driver, Alex Jones (Paul Dano), may have kidnapped the children.
When Detective Loki (Jake Gyllenhaal) arrives to investigate the girls' disappearance, Keller grows frustrated by the police officer's tactics. Loki tries to explain to him that they can't arrest Alex without evidence, but Keller insists that they question Alex more thoroughly. Infuriated by the lack of answers, Keller decides to take the law into his own hands. He kidnaps Alex and tortures him.
Keller is a complex character. His love for his family causes him to do terrible things. Whether the ends justify the means is something viewers will have to ask themselves after watching "Prisoners."