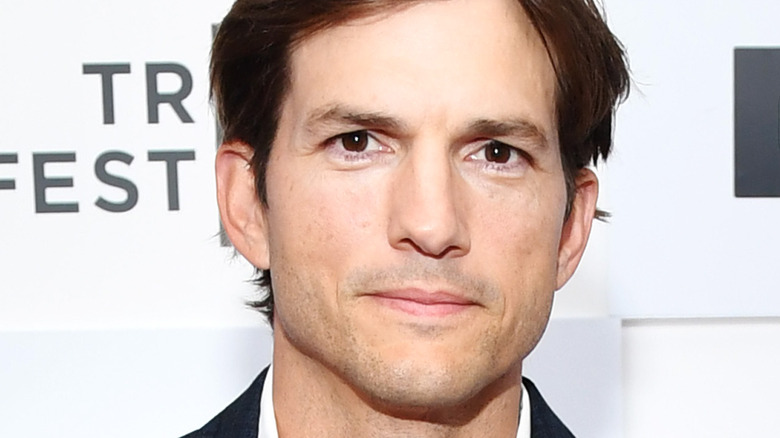 Like something straight out of our TV-loving dreams, Ashton Kutcher has been happily married to Mila Kunis since 2015. The couple, who are parents to two children, met on the set of the beloved sitcom "That '70s Show" back in 1998, starring as on-screen love interests but remaining close friends off-screen. The "Bad Moms" actor even shared that her first kiss was with Kutcher for the show. "I was like, 'Oh, he's so cute; it's the Calvin Klein model!' Then I was like, 'I have to kiss him?' I was so nervous and uncomfortable. I had the biggest crush on him,'" she gushed to People in 2001. In 2012, about six years after "That '70s Show" drew to a close, the former co-stars reconnected. And the rest was Hollywood love story history.
But, before Kutcher and Kunis found love off-screen, Kutcher previously dated a few women in and out of Hollywood. From another famous co-star to an A-lister who was 15 years older than him, the puckish actor has had a few very memorable romances… and yes, there have been some alleged affairs, too. The many women in his life were not shy about discussing their time with the actor, even if that meant sharing some not-so-nice things about him.
So, what have Kutcher's former flames said? Let's get into the spilled deets.
Nelly Furtado dished on Ashton Kutcher's kissing abilities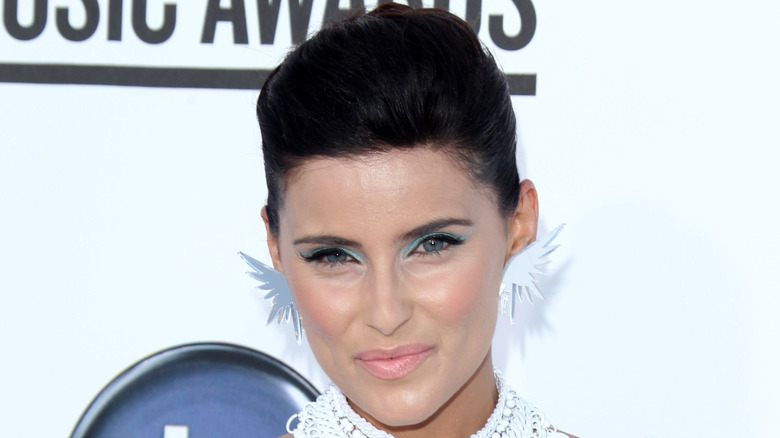 Fans of Ashton Kutcher may not know that he had a thing with Nelly Furtado before he became a household name. The singer, who rose to fame in the 2000s with songs like "I'm Like a Bird" and "Promiscuous," and the "Two and a Half Men" actor had a brief romance that involved some horsing around — but not the kind you're thinking of.
In 2006, Furtado shared details of their short-lived thing with Australian radio show 2DayFM's "Hot with Lowie" (via PopDirt). She told the host, "Before he was really big. Yeah, we kissed like once or twice. It was good." Their little fling came up again when Furtado appeared on a 2007 episode of "Punk'd." Ahead of her segment, Kutcher acknowledged their romantic history, dishing, "We made out once while horseback riding." Lest anyone think there's any bad blood, the two gave each other a big hug at the end of the prank.
In July 2008, Furtado married sound engineer Demacio Castellon, but in 2017, revealed on the British talk show "Loose Women" that she and Castellon had split during the summer of 2016. However, getting back to music with her sixth album helped her cope with their separation. "I would sing to myself while I drove on these long drives and I thought to myself, 'I'm so lucky that I can write songs because I can soothe myself with them,'" she said.
January Jones claimed an ex didn't want her to be an actor
Ashton Kutcher and actor January Jones, who is best known for her role as Betty Draper in "Mad Men," dated from 1998 to 2001. Their relationship was short-lived, but Jones shared with GQ in 2009 that the cause of their split may have been Kutcher's disapproval of her working as an actor. Although she didn't name Kutcher, the two were dating when she starred in her first film, 1999's "All the Rage."
She shared, "The guy I was dating when I first got to L.A. was not supportive of my acting. He was like, 'I don't think you're going to be good at this.' So — f*** you! He only has nice things to say now — if anything, I should thank him. Because the minute you tell me I can't do something, that's when I'm most motivated.'"
Demi Moore, who was married to Kutcher from 2005 to 2013, revealed more about her ex's relationship with Jones in her memoir "Inside Out." According to Radar, Kutcher was reportedly jealous of Jones' growing friendship with Bruce Willis when she co-starred with him in the 2001 film "Bandits." Willis was Moore's second husband, whom she split with in 2000. She wrote, "Ashton was convinced they'd had a fling on set." Jones denied any affair when Moore asked her about it, stating, "Are you serious? I told him a hundred times I didn't want to f*** that old man!"
Brittany Murphy called him 'extraordinary'
Many actors have fallen in love with colleagues, and that's precisely what happened when Ashton Kutcher and the late Brittany Murphy worked together on the romantic comedy "Just Married." The pair began dating in October 2002, with Kutcher telling People, "When we were doing the movie, we were just friends. We just kind of started hanging out more. And now we've been hanging out a lot more."
Before they even made it official, both stars gushed about one another to MTV News in July 2002. The "Two and a Half Men" actor stated, "She makes me smile every day. She shows me something about my job every day. She's the best, man. I'll do anything with her, any movie, hands down." Clearly, the feeling was mutual. "He's one of the kindest humans I've ever met," Murphy told the outlet. "He's really like Forrest Gump or something. He's an extraordinary person."
The duo split in the spring of 2003, and shortly after, Kutcher moved on with Demi Moore. However, Murphy wasn't going to let her ex have the last laugh when she joked on the "Late Show with David Letterman" in August 2003 (via The New York Times), "I suppose the crux of their relationship basically means to him that age doesn't matter and to her size doesn't matter." Following the tragic news of Murphy's unexpected death in 2009, Kutcher tweeted, "2day the world lost a little piece of sunshine."
Demi Moore felt responsible for their failed marriage
Demi Moore and Ashton Kutcher made headlines when they began dating in 2003, especially since the couple had a 15-year age gap, with Kutcher being 25 at the time and Moore, 40, per InStyle. Their relationship began just three years after Moore finalized her divorce from Bruce Willis, with whom she shares three daughters.
Their relationship turned serious when Moore was pregnant with their child. Sadly, she suffered a miscarriage about six months into the pregnancy. The couple took the next big step and wed in September 2005, with Willis in attendance. Before they got married, Moore gushed about Kutcher to Harper's Bazaar (via Today), "Talk about meeting your soulmate. I truly feel I have been given that gift." However, their marriage would come to an end in 2011, and their divorce finalized in November 2013.
In her memoir "Inside Out" (via People), Moore wrote that she believed her marriage to Kutcher fell apart because she gave him too much freedom. "I put him first. So when he expressed his fantasy of bringing a third person into our bed, I didn't say no," she recalled. "Because we had brought in a third party into our relationship, Ashton said, that blurred the lines and, to some extent, justified what he's done." Evidently, the dust has since settled. On a 2020 episode of the "WTF with Marc Maron" podcast (via People), Kutcher shared, "It's all good, we don't hang out. … There's no badness."
The cheating allegations involving a woman named Brittney Jones
Following some cheating allegations that made their way to the tabloids, Ashton Kutcher and Demi Moore ended their marriage in 2011. In 2010, a woman named Brittney Jones claimed to Star (via HuffPost) that Kutcher not only hit on her in front of Moore and Rumer Willis, but invited her over to his and Moore's home when the latter was not there. Jones alleged to Star, "I did all the suggesting in the texts, it was like he was paranoid and didn't want to text anything that would get him in trouble. I asked him if he wanted to meet, that's how we made plans." She continued, "He's a great lover. And it was very special to me. I felt totally comfortable in his arms."
In a statement to Us Weekly, Kutcher's lawyers slammed the publication. "Star Magazine continuously publishes lies about Ashton Kutcher and many other celebrities," they stated. "This is not the first, nor will it be the last time they engage in reckless conduct." Moore also stuck up for her then-husband.
When Jones learned about Kutcher's separation from Moore, she told TMZ, "For so long people have thought that I was dishonest or just making up my passionate nights with Ashton, when in fact I was being used."
A woman named Sara Leal said he stepped out with her too
Brittney Jones wouldn't be the last person to come forward and say she had an affair with a married Ashton Kutcher. In September 2011, a woman named Sara Leal told Us Weekly she had a one-night stand with the actor after they crossed paths at the San Diego Hard Rock Hotel. She alleged Kutcher told her he and Demi Moore were no longer together; Kutcher and Moore did not announce their separation until November of that year.
Leal claimed to the outlet, "He was like, 'I enjoy things like this because I'm an actor 90 percent of the time and it's fake. It's nice to have moments that are real.'" After this story surfaced, Kutcher tweeted, "When you ASSUME to know that which you know nothing of you make an A** out of U and ME"
While speaking with Diane Sawyer to promote her 2019 memoir "Inside Out," Moore shared that she learned of the alleged affair from a Google alert. "I think my response was, 'Are you f******* me?' That was it. And I think I could barely take a breath,'" she said. After Moore's book dropped and the aforementioned interview aired, Kutcher tweeted, "I was about to push the button on a really snarky tweet. Then I saw my son, daughter, and wife and I deleted it."