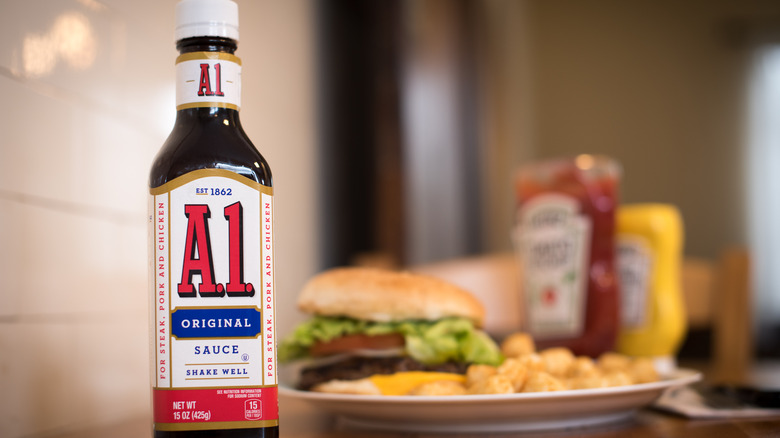 We may receive a commission on purchases made from links.
There's nothing like a grilled, tender, and charred piece of steak for dinner. While you might get some raised eyebrows by ordering your steak with sauce out in restaurants when you're cooking yourself, you can do whatever you want to your steak, including putting whatever you want on it. A good steak sauce enhances the dish by making the meat all the more flavorful and adding an extra spin on what is generally an already fantastic dish. While we don't recommend you drown your steak in toppings, adding a good bit of sauce to your dinner more often than not makes it all the better.
One brand of steak sauce you may often come across while shopping in a grocery store is the A1 Steak Sauce. You may be most familiar with their original steak sauce flavor, or maybe another one of their sauce flavors here or there. The A1 Steak sauce brand has eight flavors of sauce available for purchase. While most steak sauces are a wonderful way to amp up your evening meal, some of A.1.'s sauces are better than others. Here is a list of A.1.'s steak sauces ranked from worst to best, so the next time you're looking for a great flavor of steak sauce, you'll know which kind to get.
8. Cracked Peppercorn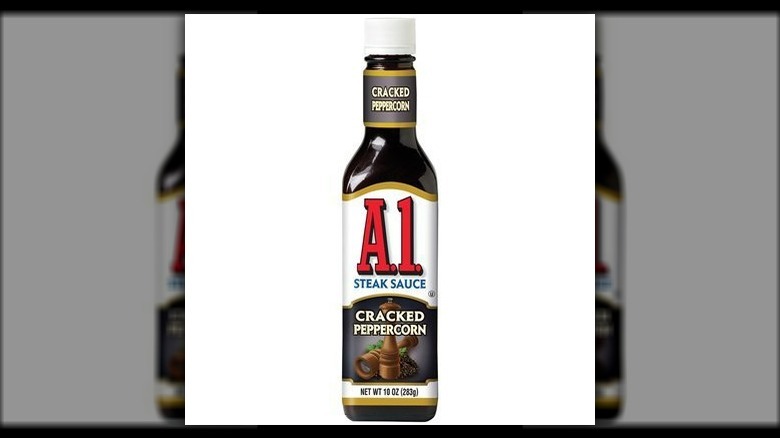 The first flavor on this list is A1's Cracked Peppercorn steak sauce. This condiment is infused with the flavors of cracked peppercorn, the small black spice that you commonly find used as a season on many a dish, though more grated up. You won't find any whole peppercorns in this A1 steak sauce, but you will find black pepper in it. Black pepper is frequently found paired as a shaker next to a thing of salt, and it's pretty easy to find in restaurants, stores, and on kitchen tables. Unfortunately, the same thing can't be said about this sauce flavor.
The A1 Cracked Peppercorn sauce, flavor aside, isn't as easy to find as the rest of these A1 condiments. It's supposedly still being sold (via Mejier), but if you go onto other online websites, you won't have an easy time finding somewhere this product is still in stock. In fact, it's so hard to find this sauce, that the Kraft brand had to clarify that this product is still being sold, despite a customer thinking it was discontinued (via Kroger). To make matters worse for this flavor, A1 has another steak sauce very similarly flavored to Cracked Peppercorn, making the search for this particular flavor all the less necessary if you want the taste of peppercorn on your steak.
7. Spicy Chipotle Sauce
There's nothing like adding a bit of spice to your life, and whether you choose to do so through seasoning or sauce, there are numerous ways to do so. The A.1. brand has several spicier sauces among its featured condiments, one of them being the A.1. Spicy Chipotle Sauce (via Kroger). Of course, when we say chipotle, we aren't talking about the restaurant chain. Instead, we're referring to the jalapeño chipotle pepper commonly used in Mexican dishes. The pepper is spicy, with an earthy and smoky flavor to it (via PepperScale), so it's the perfect spice to add to sauce and get an extra kick out of your steak.
A.1.'s spicy sauce isn't overwhelmingly spicy like many peppers. Still, many consumers agree that the hot pepper sauce adds a smoky, earthy flavor to whatever meat it's added to (via Amazon). There are a lot of people who love this flavor, but there's one thing holding this sauce back — accessibility. Unlike some of the other A.1. flavors, this sauce isn't that easy to find in stores or online shopping sites, with one Amazon reviewer noting that the only way they can find this flavor is by ordering it online. Other than that, it's a solid sauce.
6. Smoky Black Pepper
The next product on this list is A.1.'s Smoky Black Pepper sauce. This sauce is a lot like the Cracked Peppercorn flavor, as it is made with black peppers and attempts to take on the nice, light flavor that a sprinkle of pepper brings to meat. Right off the bat, this is already better than the other pepper flavor because it's a lot easier to find both online and in stores, so it's much easier to purchase and try. This gives it a much higher placement than the cracked peppercorn flavored sauce, but you might be wondering how this product compares to the other A.1. sauces.
While this steak sauce flavor is better than the cracked peppercorn sauce, the public's opinion on this product is rather mixed. Some Amazon reviewers find that the sauce is too peppery, while others felt it had the right amount of spice and enjoyed the smokey, peppery flavor. However, even these reviews compare the sauce to something more like a BBQ sauce and less like a pepper-flavored steak sauce (via Amazon). As a result, this sauce will likely be a hit or miss for you, depending on how much you like the taste of pepper.
5. Bold & Spicy Sauce with Tabasco Sauce
There are many ways to add spice to your meals, and a popular hot sauce used to do so is tabasco sauce. Perhaps you grew up fearing the sauce when your parents would threaten to pour you a spoonful if you uttered a bad word, but it's more than likely you grew out of that fear and grew to appreciate the extra kick the sauce brought. With all the cooking sauces one has at their disposal, it's hard to imagine tabasco sauce would be at the top of one's list as a topping for steak, but A.1. does have a sauce that gets a hot, spicy not from tabasco sauce, as well.
A.1.'s Bold & Spicy Sauce is a condiment made with the popular tabasco sauce created by the McIlhenny Company (via Tabasco). This steak sauce brings a spicier kick than some of the other products A.1. has, and you can lightly taste the tabasco sauce in it. However, it isn't as spicy as we feel it should be. If you're someone who likes things hot, Bold and Spicy may come off as a little disappointing, but other than that, it's a wonderful sauce, especially if you're someone who can't handle too much heat.
4. Sweet Hickory
Many sauces are sweet and tangy, while others have a sharp kick, which pairs wonderfully with some savory meat. Condiments like tabasco and hot sauce do this, though some sauces, this next A.1. sauce, attempt to balance this hot spiciness with a sweeter note. The Sweet Hickory steak sauce the A.1. brand sells blends the flavors of savory garlic and onions with some sweeter, acidic, and wonderful tomato puree.
This makes for a wonderful blend of vegetables and forms a sweet, smooth, and delicious sauce, great to use on your next grilled steak dinner. The product doesn't have as strong of a flavor as the original A.1. sauce, according to some consumers, but it's still a light, nice sauce to add to any dish. It's sweet, smoky, and savory all at once, so you get a complex, enticing blend of flavors with each bite. This sauce is more like a barbeque sauce, and we'd see this being used on ribs and steaks more so than on other meals, but if that's what you're looking for, then you'll be happy to hear that the Sweet Hickory sauce is one of the better sauces A.1. has to offer.
3. Thick & Hearty
The original A.1. steak sauce is good and has an indescribably wonderful flavor. But have you ever wanted a sauce for your steak with a little more substance? Well, there's good news for you: A.1. carries a sauce much like their original, except that it's much thicker. A.1.'s Thick and Hearty steak sauce takes on the flavor of the original A.1. sauce but holds its shape much better than the other sauce. So, if you've felt unsatisfied with your steak sauce, and wanted something that's just a little more, then this sauce is just the one you need.
In regards to flavor, the Thick and Hearty Sauce tastes a whole lot like the original — so if you've ever had the original A.1. sauce, then you know that you're in for a good condiment. The only difference between this sauce and the original is, like the name suggests, its thickness. We could easily see ourselves using this steak sauce to top a hamburger or the occasional piece of steak. There is a scattered review here or there that feels as though the thicker sauce is also a little sweeter than the original, but other than that, this sauce is a wonderful addition to any meal that calls for a flavorful addition to some meat.
2. Sweet Chili Garlic
Ah, sweet chili sauce. Spicy, sweet, and a wonderful addition to not just Asian, but any dish you want an extra kick to. From egg rolls to a nice pork roast, a good sauce to dip or pour onto your food is crucial. While the A.1. sauces are branded towards steaks, you can use them for just about anything, and that includes the brand's Sweet Chili Garlic Sauce. This product is listed as being made with juicy tomatoes, cayenne and red bell peppers, and of course, garlic. It's a sweet-but-hot take on the classic steak sauce, and it definitely delivers on that front.
This flavor of steak sauce is absolutely fantastic. The sweet tomatoes balance out the hotness of the cayenne and red peppers wonderfully, and create a balanced, tasteful sauce. The garlic also adds more to this sauce, and overall, really brings out the flavor of the condiment as a whole. Many reviews on Amazon claim that this particular A.1. sauce is the best of the bunch, and we couldn't agree more. While there are other flavors that we feel embody the A.1. flavor a bit better, if you're looking for something spicy from the steak sauce brand, the Sweet Chili Garlic sauce is one of the best.
1. Original
At the top of the list, we have the Original A.1. steak sauce. Honestly, how could we not? If you've ever seen an A.1. steak sauce in stores, there's a good chance it was their original flavor. The classic condiment is a staple for many steak lovers, which is why this is the case. The taste is tangy thanks to the use of orange puree, and the addition of tomato, garlic, and other spices makes for an incredibly flavorful experience when it's added to not just steak but anything you choose to add the sauce to. It even works well with non-meat dishes and can be used on vegetables and salads as a marinade.
Not only is this sauce extremely versatile in what you can use it on, but it's also super easy to find. You can find it online or at just about any store you walk into that sells condiments and sauces. With its ease of access, unforgettable, unmatchable savory flavor, and versatility, there's no reason why the original A.1. steak sauce shouldn't be at the top of this list, so we'd be crazy not to put it at our number one top. Just as this sauce is a good thing to finish off a cut of steak with, we couldn't think of another sauce to finish off this list.