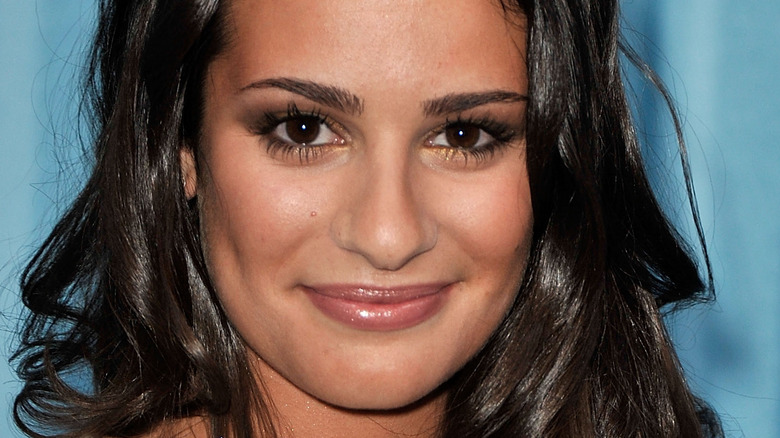 Lea Michele has been acting since she was a young child, but for most audiences, she'll be remembered first and foremost as Rachel Berry, the character on the television series "Glee" that she brought to life in 2009. And that's for good reason, as Michele enjoyed an enormously popular run on the show and looks back on her time fondly.
In addition to starring in "Glee," Michele has a long history of performing on stage and has also added numerous other titles, including author. She's also a wife and mom, after having survived the surprise overdose of her "Glee" co-star and boyfriend Cory Monteith in 2013.
In 2022, Michele finally landed her dream role: performing as Fanny Brice in "Funny Girl" on Broadway. As Michele wrote on Instagram, "A dream come true is an understatement." Here's a look at everything Michele has accomplished in her career, and what she might be looking at next.
Lea Michlele began acting as a child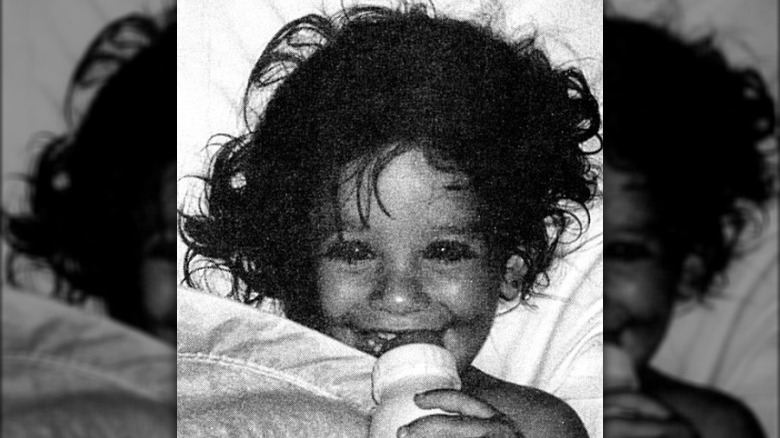 Lea Michele was born in the Bronx, New York City, and she began acting as a young child. Friends and classmates have recalled being aware of the fact that Michele had a thriving career in the entertainment arts even from elementary school. A former classmate at the Rockland Country Day School told Radar Online in 2010 that by the time she became a student at the school, Michele was already modeling professionally.
The classmate, Laura Kanaplue, added that she acted alongside Michele. She said, "She and I were really good friends and we were both in plays. She was a really sweet girl. Everyone liked her, she definitely wasn't shy."
When she was 8 years old, Michele scored her first role on Broadway when she was cast as young Cosette in "Les Misérables" (via Us Weekly). Michele later told Teen Vogue that she only went to the audition because a friend was going. She explained, "I'd never sung before. My friend was auditioning, and I was like, 'I want to go too!' I just took to it."
Lea Michele built a career on Broadway as a tween
Lea Michele's role in "Les Misérables" was only the beginning. From there, she steadily built a career on Broadway, earning roles in productions of "Ragtime" and "Fiddler on the Roof" before snagging the lead in "Spring Awakening" at the age of 14 (per Teen Vogue).
While Michele has spoken about her time on Broadway fondly, it seems that not everyone who worked with her shares those feelings. In June 2020, a woman who says she was Michele's understudy in "Ragtime" spoke to the Metro about Michele's behavior during production and revealed that she doesn't have the best memories of the star. She said, "She demeaned the crew and threatened to have people fired if she was in anyway displeased. I used to cry every night from the mean and manipulative things she would do. She was 12."
In interviews, Michele has indicated that the period of time wasn't all smooth sailing for her, and that she was also bullied at school and professionally for her last name. In an interview with Jay Leno, Michele said that she began using her middle name as her last name at her first audition in response to this treatment, and explained, "Sarfati. That's my real last name. I don't use it a lot because I got 'Lea So-fatty,' 'Lea So-farty' at school."
She only acted during the summer while in high school
Once Lea Michele turned 14, she decided to take a break from performing for a while. In a June 2018 interview, she explained to New Jersey Monthly that it was important for her to take time to just be a student and enjoy high school. She said the decision was the right one at the same because it gave her the chance to just exist like a regular teen. She explained, "I did the plays. I was on the volleyball team. I was a varsity debater. It was a really positive and great time of my life where I got a great education, but was also able to just be a normal girl."
In the summers, Michele attended theatre camp at Stagedoor Manor in the Catskills in upstate New York. She's only had positive things to say about this period in her life, and told Playbill in February 2011 that the opportunities she took advantage of at the camp were one of a kind. As she put it, "I looked up to the older kids. Going to the hotels to perform? We felt so cool!"
Lea Michele joined the cast of Glee in 2008
In 2008 Lea Michele made a career pivot that would alter the course of her career when she signed on to join the cast of Ryan Murphy's "Glee." Michele took on the role of Rachel Berry, which The Hollywood Reporter described as "the club's self-obsessed 'star female singer.'"
The show was a hit with fans and critics alike early on, racking up numerous award nominations (and wins at the 2010 People's Choice Awards, Screen Actors Guild Awards, and Golden Globe Awards). Murphy reportedly wanted Michele to play the role of Berry badly, to the point of essentially having "summoned her" to the audition, as told by Women's Health. Unfortunately, Michele got into a car accident as she pulled into the studio lot. As she wrote in her book "Brunette Ambition," "The only thing I remember is leaving my totaled car in the middle of the street and running up the lot and straight into my audition, where word of what just happened had already reached the casting director" (via Cheatsheet).
Obviously, no one held the car accident against her, and Michele got the role that she so badly wanted ⁠— and she got a new best friend, named Stephanie, in the process. As she went on to write in her book, when an intern from Fox walked in and asked if she needed help, the two worked together to pull glass from her hair so she could land the "job of my life."
Lea Michele received several nominations for her Glee role
The show "Glee" definitely received plenty of its own awards nominations throughout its run, and many of the show's stars received their own nominations, too. In fact, Lea Michele received a massive number of nominations and wins for her turn as Rachel Berry (per IMDB). Michele earned back-to-back Golden Globes nominations for Best Actress in a Musical or Comedy TV Series in 2010 and 2011, and in 2010 she also snagged an Emmy nomination for Outstanding Lead Actress In A Comedy Series.
While it might be easy to assume that Michele thought she had a good shot at being nominated for an Emmy in 2010, she told The New York Times that she actually had no idea she was a contender. As she put it, "I knew this was coming up, but I haven't felt I was in it. Maybe that was good, because I woke up this morning and it was such an awesome shock."
Michele wasn't the only one at "Glee" celebrating a nomination that year. In fact, the show earned a staggering 19 nominations in total, including the nod for Outstanding Comedy Series (via Playbill).
She made her film debut in 2011
Three years after she joined the cast of "Glee" and two years after the show debuted on Fox, Lea Michele crossed another career milestone off her list when she made her cinematic debut in "New Year's Eve." The cast was legitimately stacked, as heavyweights such as Michelle Pfeiffer, Ashton Kutcher, and Hilary Swank also came on board (via Collider).
Michele spent a lot of her time playing opposite Kutcher, which meant the pair spent most of a span of two weeks together while they were filming. She explained to Collider that Kutcher is just as funny in real life as he seems to be on the screen, and that he's also well-read and up to date on world events, often bringing the topics to work to discuss. The catch? Michele wouldn't have described herself as particularly knowledgeable about what he was talking about, so she came up with a solution. As she explained, "So, I would go home and Google everything, and try to brush up on everything that was going on in the world, to come in the next day and try to have a conversation."
In 2012, Lea Michele recorded a solo album
By 2012 both theater and television audiences were used to seeing Lea Michele sing, but she hadn't yet put together an album of her own. That all changed in September 2012, when Michele announced on Twitter that she was putting together songs for her first ever record. As she tweeted, "Just had a very exciting music meeting and am proud to announce that im officially on the road to making my first album! I'm so excited!" (via MTV News).
The news came as her character on "Glee" was getting ready to make strides on her own. Michele announced her upcoming album during the show's fourth season, which is also when her character Rachel Berry graduated high school and decided to move to New York.
The resulting album was titled "Louder" and released in February 2014. Michele told Billboard that the collection of songs meant a lot to her when she explained, "It's a piece of my life that I'm so glad is here for me to have for the rest of my life. Now that it's coming out, it's unbelievable." However, the publication didn't exactly share her enthusiasm, and described the record as "rather one-sided" and noted that Michele "sings about the perils of relationships, over and over, in ways that we've all heard many times at this point."
Lea Michele lost her boyfriend Cory Monteith in 2013
Lea Michele and the rest of the cast of "Glee" had to weather unexpected heartbreak in 2013 when Michele's boyfriend and "Glee" co-star Cory Monteith unexpectedly passed away. Monteith's body was found in his hotel room in Vancouver, Canada, after he died of a heroin overdose. Monteith had only just completed a stay at rehab, and the news of his passing caught a lot of people off guard. At the time, his representative simply explained, "We are so saddened to confirm that the reports on the death of Cory Monteith are accurate. We are in shock and mourning this tragic loss" (via People).
Michele and Monteith met on the set of "Glee" and quickly became friends. They began dating two years after meeting in 2009, and Michele once told People, "He really, really inspires me and he motivates me and I think he's just so talented" (via Business Insider). Things between the two got serious quickly. In an interview with Marie Claire, Michele explained, "No one knows me better than Cory. No one knows what it's been like to go through this more than he does" (via Business Insider).
Michele has always found a way to honor Monteith's memory in the years that have followed his death. In 2022, on the 9th anniversary of Monteith's passing, Michele shared a photo in an Instagram Story. In the photo, the two are pictured smiling at one another while on the set of "Glee" (via People).
She added author to her growing list of jobs
In the year that followed her decision to join the cast of "Glee" Lea Michele made sure she capitalized on her popularity as much as she could. In May 2013, Michele's team announced that she was preparing to write her first book, announcing that the 2014 release "Brunette Ambition" would be "part memoir, part how-to, part style guide" and would chronicle "Michele from her Bronx upbringing to Broadway to her breakout role on Glee" (via The Hollywood Reporter).
That's not all Michele was busy doing. In 2017, she made the move to join a comedy written by "Hamilton" star Daveed Diggs, which was also announced as her first comedic role since she left "Glee" (per The Hollywood Reporter).
Two years later, Michele joined Ellen DeGeneres' eponymous network, the Ellen Digital Network, to launch a wellness program titled "Well, Well, Well With Lea Michele." The general manager of Ellen Digital Ventures explained the concept of the program and the partnership with Michele to Adweek, saying, "We lead with comedy, we lead with authenticity and we always, always, always talk about kindness."
Lea Michele married Zandy Reich in 2017
Four years after the public loss of Cory Monteith, Lea Michele celebrated new love in a major way when she married Zandy Reich. The couple couldn't help but gush about their wedding day, telling People, "We are so excited to be married and grateful to be surrounded by our friends and family. And most of all, we're so happy to spend the rest of our lives together."
People also reported that the two got married after a two-year relationship. They became engaged in April 2018, and Michele told People at the time that she didn't see the proposal coming at all. As she put it, "I think the first thing I said to him was, 'Stop joking around!' So I was super surprised."
In 2020, Michele and Reich welcomed their first baby together, a son they named Ever Leo. Michele told Entertainment Weekly that she "had a very intense pregnancy" — and then a global health crisis didn't make things any better. She said, "We were pregnant during a pandemic dealing with those complications. And then my son was born, we were in quarantine for almost a year altogether with him, so it's been pretty wild."
She has apologized for past wrongs
No transformation is complete without learning from the past. And, apparently, Lea Michele had a lot to own up to in 2020 when her former "Glee" co-star Samantha Ware exposed bullying behavior she said was inflicted on her by Michele while the two were on the Fox show. Ware brought up her allegations on Twitter when she wrote, "LMAO REMEMBER WHEN YOU MADE MY FIRST TELEVISON GIG A LIVING HELL?!?! CAUSE ILL NEVER FORGET. I BELIEVE YOU TOLD EVERYONE THAT IF TOU HAD THE OPPORTUNITY YOU WOULD 'S*** IN MY WIG!'" (via Entertainment Weekly). The allegations quickly gained traction, and Michele was soon attempting to apologize for what Ware deemed racial microaggressions.
Ware wasn't the only person on the set of "Glee" who felt like Michele took things way too far. In an interview on Danny Pellegrino's "Everything Iconic" podcast, Michele's former co-star Heather Morris explained that while many of her fellow actors knew about Michele's behavior, no one tried to do anything about it. As she put it, "We absolutely could have stepped up and gone to the Fox execs and said how we felt about the situation, and nobody really did."
Michele issued an apology after the fallout, but it's unclear if it did any good. Michele said, in part, "While I don't remember ever making this specific statement and I have never judged others by their background or color of their skin, that's not really the point. What matters is that I clearly acted in ways which hurt other people" (via Variety).
Lea Michele finally landed her dream role in 2022
In July 2022, Broadway theatre goers and fans of "Glee" alike were thrilled when it was announced that Lea Michele would be replacing Beanie Feldstein to play Fanny Brice in the newest production of "Funny Face" on the storied theatrical stage. Michele herself took to Instagram to address the casting. She wrote that landing the role was one of her biggest dreams realized, adding, "I'm so incredibly honored to join this amazing cast and production and return to the stage playing Fanny Brice on Broadway."
Michele's casting announcement was also mired in controversy, as Feldstein had originally been slated to stick with the production until September 2022 but claimed in a post on Instagram that she decided to leave early because "the production decided to take the show in a different direction."
Despite how some feel about the decision, it seems that Broadway audiences are excited about seeing Michele perform the role. Variety reported that ticket sales for the show began "surging" following the announcement and that event website SeatGeek began selling some seats priced at $2,500 each.