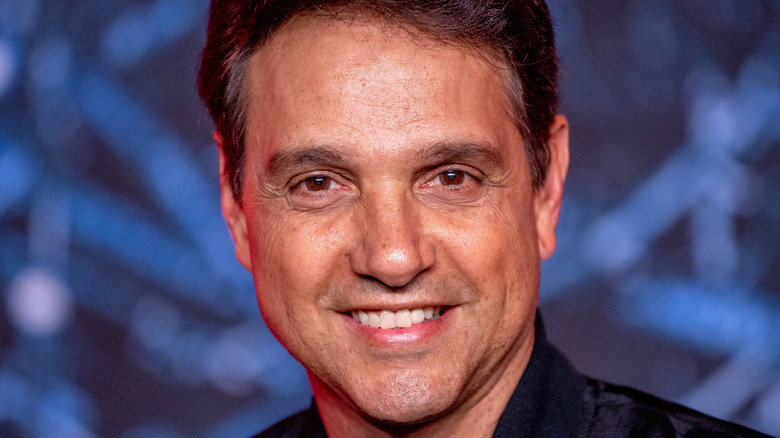 One of the most enduring stars of the '80s, Ralph Macchio rose to fame in 1984's "The Karate Kid." Actually, Macchio didn't just rise to fame — he shot across screens around the world, embedding himself firmly in '80s culture and film history. This warm-hearted, sincere coming-of-age film was an unexpected success, earning over $100 million and becoming one of the highest-grossing films of 1984. The film launched dozens of iconic phrases, like "Wax on, wax off" and, of course, "Sweep the leg!" The 1947 yellow Ford convertible given to Daniel LaRusso by Mr. Miyagi in the film became so popular that, according to Top Gear, Hot Wheels actually released a toy model of the car. Incidentally, Columbia Pictures gifted the car to Ralph Macchio after "The Karate Kid III" finished filming.
That's right, there were several sequels, "The Karate Kid II" in 1988 and another in 1989, all of which featured Pat Morita and Ralph Macchio. Yet, it was the original film and all its quirky, dramatic moments that have become iconic. For instance, that classic scene with the fly and a pair of chopsticks? According to an interview with The Guardian, Ralph Macchio still has to be careful in Japanese restaurants since if there's a fly in the building, he said, "I've got about nine seconds to get out there." Yet, even after the sequels and endless spoofs, "The Karate Kid" has found new life with old and new fans alike in the popular Netflix series, "Cobra Kai." While Ralph Macchio might have aged a bit since the '80s, he's managed to keep a beloved classic alive for families everywhere. Here's a look at the actor's journey from "Karate Kid" stardom to "Cobra Kai."
Macchio's first big role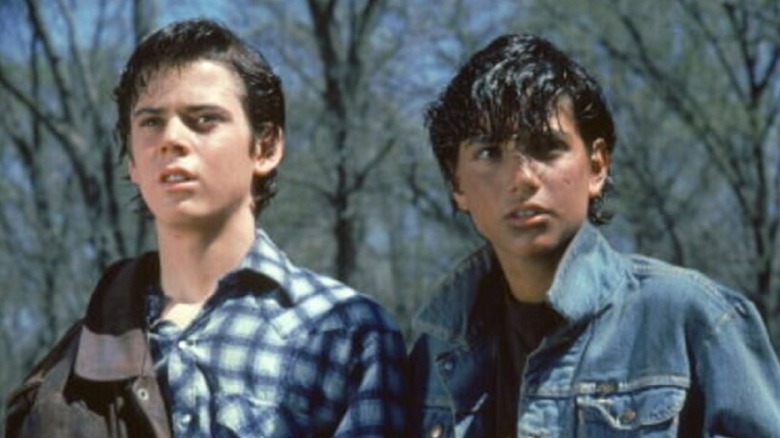 Before there was "The Karate Kid," there was "The Outsiders." While children of the '80s and '90s will always think of Ralph Macchio as Daniel LaRusso, the truth is that the actor had already achieved a large measure of recognition for his acting chops in 1983. In fact, at first glance, "The Outsiders," with all its Oscar-bait spirit, feels like the movie for which Macchio would be most famous. Directed by Francis Ford Coppola, the film starred A-listers Tom Cruise and Patrick Swayze and went on to launch the careers of many of the '80s infamous Brat Pack, such as Emilio Estevez and Matt Dillon.
It's no surprise that Macchio's strong performance as the angsty Johnny Cade helped to put him in front of casting directors for "The Karate Kid." Due to its young and energetic cast, pranks abounded on "The Outsiders" set; however, Macchio didn't participate in many of the hijinks (even if he was always up for a good joke). Later, in an interview with Variety, Macchio would credit that commitment to his role, and the acclaim it received after, for helping him land the part of his most definitive character.
He was once the dancing kid
While it might be hard to picture New Jersey-born Daniel LaRusso tripping the light fantastic, Ralph Macchio is a different story. Macchio told Playbill he was once known as the "Dancing Kid," not only due to his tap-dancing abilities, which he started learning at the age of 3, but also through his high school performance of the musical "How to Succeed in Business Without Really Trying." Almost 15 years later, in 1996, he reprised that role for a U.S. tour revival of the same play, for which he received favorable reviews.
In 2011, Macchio would bring his signature athletic flair to the stage yet again for a turn on "Dancing with the Stars." While audience members must have been hoping for a crane kick to appear in one of his foxtrot routines, producers couldn't convince the reluctant Macchio to give the people what they wanted. As he told ESPN, "'Dancing with the Stars' asked me like 20 times to do the crane kick," and his response was, "If you give me the mirror ball trophy, then we'll talk about it." Even if he never caved to peer pressure during "DWTS," Macchio's experience as a dancer helped him to learn the basics of karate as well as the films' extensive catalog of fight choreography.
He's not afraid to parody himself
So much of the imagery of "The Karate Kid," and the endlessly-quotable one-liners, have become a part of the cultural landscape, and Ralph Macchio is not only completely aware of that influence, but he's happily and hilariously parodied himself and the Daniel LaRusso character multiple times. Did you know that William Zabka, who plays Johnny in both "The Karate Kid" and "Cobra Kai" directed and starred in a music video for No More Kings titled "Sweep the Leg?" Oh, and just to make it even better, many of the male "The Karate Kid" actors showed up for that video, including — you guessed it — Macchio (Macchio and Zabka famously maintain a friendship to this day). Basically, it's meta, it's hilarious, and it's pretty awesome.
Then, in 2010 comedy fans might have seen him attempt to become a Hollywood bad boy in "Wax on, F*** off" for "Funny or Die," in order to reignite his acting career after "The Karate Kid." The bit works since Macchio notoriously escaped the scandals and raucous behavior of his Brat Pack co-stars, retaining a squeaky-clean image. Watch it, it's brilliant. And last, but not least, Macchio and Zabka reunited again for guest spots on "How I Met Your Mother" where, of course, Barney asserts that Zabka is the "true" karate kid, instead of the "monster" Macchio. Not only is Barney's response perfect, but the role reversal of Macchio and Zabka from underdog to bully, respectively, has been mirrored years later in "Cobra Kai."
Macchio's not ready to let go of the past
One of the central themes of "Cobra Kai" is Daniel and Johnny's inability to move past what happened to them as teenagers. Even as Johnny's role becomes more sympathetic, the series parrots a similar theme from real life: Ralph Macchio will forever be the karate kid. In an interview with The Guardian, Macchio acknowledged how much he personally has become associated with the character, discussing the specific type of fame he's achieved, one that is nostalgically tied to a certain role (in much the same way that Carrie Fisher will always be Princess Leia).
In fact, one of the great things about "Cobra Kai" is its ability to reflect on ideas from the '80s, exploring long-standing cultural influences of "The Karate Kid," while updating that rivalry for a modern audience. Even the advertising for "Cobra Kai" has leaned into the deep sense of nostalgia the series evokes. For instance, the marketing for Season 3 featured a clever spoof of ESPN's "30 for 30" segments, wherein a sportscaster brings viewers back to the "dirtiest moment in sports history" by breaking down the 1984 fight between Daniel and Johnny.
His views on Pat Morita shocked fans
Mr. Miyagi was an essential ingredient in the success of "The Karate Kid," and Pat Morita became instantly recognizable to an entire generation after the film's release. Yet, despite their palpable on-screen chemistry setting a benchmark for mentors everywhere, Pat Morita and Ralph Macchio's real-life relationship was purely professional. In a 2021 interview on the "Sway" podcast (via the New York Times), Macchio shocked fans of the film when he revealed that he and Morita were not personally close.
However, Macchio did want to pay tribute to Morita (who passed away in 2005) in "Cobra Kai" for both his professionalism on set and the enduring legacy of his character on screen. Macchio revealed to the Guardian that he found an unexpected depth in their relationship while filming certain scenes in "Cobra Kai." As the actor explained, "There's a montage scene in series two in which I'm teaching a younger kid, just as Miyagi taught LaRusso, and that brought a real rush of emotion for me. Every time we shoot I hearken back to those early days of rehearsal with Pat."
Even if Morita and Macchio didn't embody a mentor and protégé relationship off-screen, it's heart-warming to see how much tribute is being paid to Morita and his legacy in "Cobra Kai."
He's a family man on-screen and off
Ralph Macchio is known to be a humble and hard-working actor who famously maintained a stable, long-term relationship with his teenage sweetheart, Phyllis Fierro (a nurse practitioner). The pair have been married for an unusual-for-Hollywood 35 years and have two children.
Not only is Ralph Macchio a real-life father of two, but he also plays a father on "Cobra Kai" to Samantha LaRusso, played by Mary Mouser, and Anthony LaRusso, portrayed by Griffin Santopietro. However, audiences might be surprised to learn that he is not the only Macchio to play a LaRusso in the "Miyagi-verse" "Karate Kid" films. In Season 4, Macchio's character is chastised by his real-life daughter, actress Julia Macchio, playing Daniel's cousin, Vanessa Russo. In this scene, Vanessa gives Daniel and Amanda (Courtney Hengeller) some much-needed parenting advice — perhaps she spoke from personal experience?
Trying to mentally separate Macchio (and his family) from the character of Daniel LaRusso sometimes feels like an impossible task. In fact, with family cameos like these, you could argue that Macchio has intentionally entwined his life with Daniel LaRusso, bringing together a beloved character and a great actor into one unforgettable figure.
He had a role in My Cousin Vinny
One of 1992's critical and financial successes, "My Cousin Vinny" co-starred Ralph Macchio as Bill Gambini, the one with a cousin named Vinny. The film is an enduring classic, notable for starring Joe Pesci, who won an Oscar for "Goodfellas" the previous year, and launching the career of Marisa Tomei, who was rewarded with an Oscar of her own.
Even today, Macchio reflects often on his time making the movie, particularly working with the talented ensemble cast. And while his number one credit will always be "The Karate Kid," there are certainly plenty of fans who identify him with "My Cousin Vinny," even asking him to sign cans of tuna with perhaps his most famous line, "I shot the clerk."
Sadly, Ralph Macchio spends most of the time in "My Cousin Vinny" in jail, leaving the talented actor with little to do. Nowadays, many forget that their favorite karate underdog was even in the cult classic.
He's been a fixture of the theater world
Not only is he willing to show off his dancing abilities in the odd musical, but Macchio has also been on-and-off-Broadway several times over the years. Most notably, in 1986, Macchio starred as Teddy in "Cuba and His Teddy Bear," playing the son of Joseph Cuba, portrayed by Robert De Niro. At the time, Macchio was only 25 years old and fresh from his "Karate Kid" fame. Due to the surprising star power of the production, "Cuba and his Teddy Bear" had a sold-out run, though theater critics were tepid in their reviews.
He was back again in 2016, this time for the off-Broadway comedy-drama hit, "A Room of my Own," in which Macchio stars as the play's narrator, Carl Moretti, a writer steeped in nostalgia, reminiscing about his childhood. "A Room of My Own" also starred the great Mario Cantone as the author's outrageous uncle, a reminder that Macchio's name has often been associated with talent. While New York Times critics were, again, critical of Macchio's performance, others declared the show, including Macchio, to be a hilarious and moving success.
He's tried his hand at directing
Not many are aware that Macchio has directed several short films, one of which went on to win best drama short film at the American Short Film Awards. His most acclaimed short film, "Across Grace Alley," which he both wrote and directed, is a poignant coming-of-age drama of a young boy dealing with his parent's recent divorce, becoming infatuated with a woman he sees from his window. The film was born from his experience on "Dancing with the Stars" with Karina Smirnoff, and he wrote the titular role for her. The evocative dance scenes, as well as its emotional resonance, have resulted in "Across Grace Alley" being widely reviewed as a beautiful piece of cinema.
There was also a mysterious TV pilot, directed by and starring Ralph Macchio, called "The Ties that Bind" from 1994. Tapes of the series pilot were allegedly sent to women between the ages of 18-34, and were designed to erase themselves after one viewing. While six episodes of the sitcom were originally filmed, with at least some episodes being directed by Ralph Macchio, the series has faded into TV obscurity and VHS legend.
He's no stranger to HBO
"The Deuce," HBO's gritty social commentary drama about the legalization of the porn industry during the 1970s, wouldn't be complete without a corrupt vice cop: Enter Ralph Macchio. The Deuce, an awards season darling, stars James Franco and Maggie Gyllenhaal and ran for three seasons to much critical acclaim. Ralph Macchio played a recurring role as Officer Haddix, allowing him to explore the gray areas of a morally ambiguous character. In fact, in the words of Macchio himself in an interview with Celebrity Page, "It's great to be a crooked cop, so much fun."
But "The Deuce" wasn't Macchio's first time in an HBO drama: Fans of the actor can find him in the 2005 "Entourage" episode, "Aquamansion." Again, Macchio returns to one of his best roles — himself. Here, Ralph Macchio's cameo has him arguing with Johnny Drama (Kevin Dillon) about an incident at the Playboy mansion and ends, of course, with Macchio dropping into a karate stance when Johnny Drama threatens violence. Naturally, Johnny Drama scampers and Macchio gives a smirk worthy of Daniel LaRusso.
He was a teen heartthrob in the '80s
The mid-1980s were a busy time for Ralph Macchio, juggling filming for "The Karate Kid II," "Crossroads," and his Broadway debut. This period would see Macchio become a teenage heartthrob, with his Daniel LaRusso swagger and confidence. Despite his quieter, more mature roles, he's now seeing a resurgence with "Cobra Kai" and fans of the new show might not realize just how popular he was: More than one person had a cardboard cutout (headband and all) of Daniel LaRusso in their childhood bedroom. Mary Mouser, who plays Daniel LaRusso's daughter in "Cobra Kai," said in a 2021 interview with Dewey Singleton, "The idea that somebody would have a Ralph Macchio cardboard cutout, that's incredible."
In 1986, during his run in "Cuba and His Teddy Bear," "The Karate Kid II" was also in theaters. According to an interview with Rolling Stone, this meant that Macchio would emerge from the Broadway theater to a street crowded with moviegoers from the cinema just up the road who had just watched him on the silver screen. "I was at the Longacre theater, and then just up the street the movie was playing, so when I would come out to the street, that was like … I'm not saying the Beatles at Shea Stadium, but it was crazy."
He's an indie star
"Whatever happened to the karate kid?" This question was heard a lot in the '90s, but the thing is Ralph Macchio didn't go anywhere: Audiences have seen him in dozens of films and TV series, cameos, and recurring parts throughout the years. Fans can watch Macchio on popular sitcoms, such as "Ugly Betty," where he played Hilda's love interest, Archie Rodriguez, for 11 episodes in 2009. And like all great actors of our time, he also had a guest role, alongside Jeff Goldblum and Michael B. Jordan, on "Law and Order: Criminal Intent" in 2010.
He's also been a fixture in independent films, like 1993's "Naked in New York," which featured a major ensemble cast, including Tony Curtis, Kathleen Turner, Mary-Louis Parker, and even Whoopi Goldberg. Macchio plays the main character's best friend, as he reviews his earlier relationships.
However, the great surprise on Macchio's film list might be 1999's slightly less-creepy sequel to "The Secret of Nimh," aptly named, "The Secret of Nimh 2: Timmy to the Rescue." Ralph Macchio voices Timmy Brisby on the direct-to-video film and even sang several of the songs from the musical soundtrack. This varied filmography shouldn't surprise fans of the multi-talented Ralph Macchio, who's earned his status as a cultural icon.