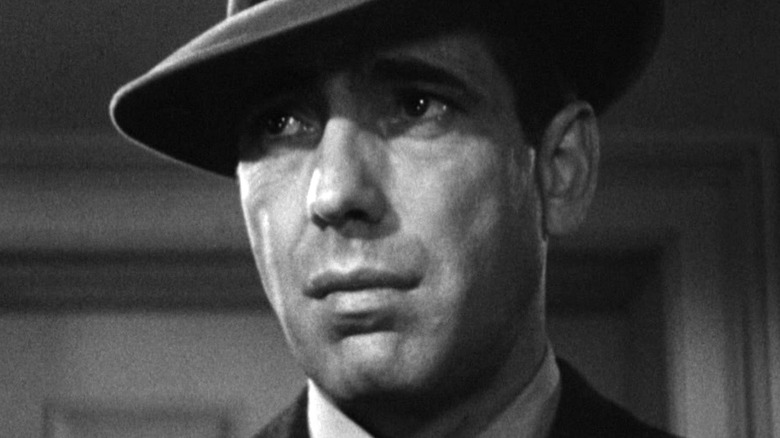 One of the most iconic actors from Hollywood's Golden Age in the 1930s and '40s is Humphrey Bogart, who appeared in 77 films across his career before his death in 1957. From portraying gangsters and detectives to boat captains and bar owners, Bogart became a darling to critics and audiences alike, earning the Academy Award for Best Actor in 1952 along with two other nominations. He was later named by the American Film Institute the biggest male screen legend of the 1900s. With such a prolific career, Bogart has several acclaimed performances that stand out amongst his impressive body of work and several that are perhaps best left to the history books.
Here are the seven best feature films starring Bogart, along with the seven worst, showcasing why exactly Bogart became such an enduring Hollywood figure who personified a new brand of cool. From his character actor roots to his big-time leading roles, Bogart brought a different kind of swagger to the big screen and redefined what a Hollywood movie star could truly be.
Best: The Maltese Falcon (1941)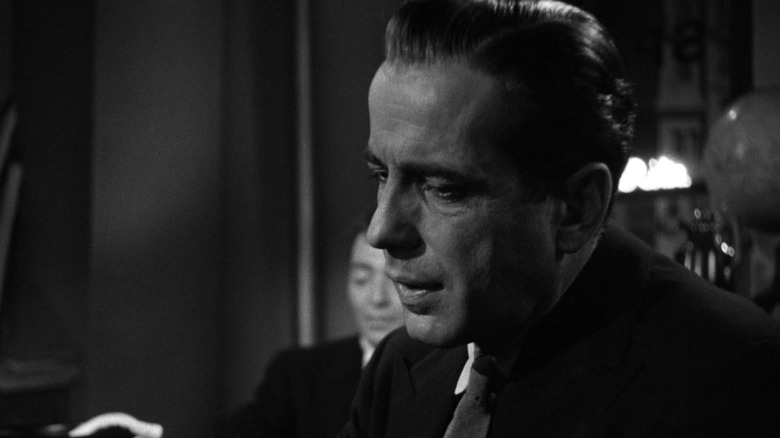 One of Bogart's most enduring creative relationships was with filmmaker John Huston, who made his directorial debut with the 1941 noir film "The Maltese Falcon." In the adaptation of the 1930 crime novel of the same name by Dashiell Hammett, Bogart plays wily private investigator Sam Spade, who learns his colleague Miles Archer (Jerome Cowan) has been murdered. Investigating what happened to Archer, Spade becomes embroiled in the hunt for the eponymous jewel-encrusted falcon statuette as he faces off against several nefarious figures across San Francisco.
While Sam Spade would go on to become one of Bogart's most iconic roles, the production originally approached actor George Raft to star as Spade instead, with Raft turning the offer down rather than work with a first-time director on a remake (this was Hollywood's third crack at the Hammett story). Bogart was eager to accept the role in his place, finding the character to be a complex one, honorable but conflicted, world-weary but not without pathos. A critical and commercial success, "The Maltese Falcon" helped cemented the noir genre in Hollywood while establishing the private investigator archetype Bogart would continue to portray throughout his career.
Worst: It All Came True (1940)
While Humphrey Bogart was a steady presence in gangster movies throughout the 1930s, he was the third-billed actor in the 1940 musical comedy "It All Came True," starring Ann Sheridan as aspiring singer Sarah Jane Ryan. Bogart plays Chips Maguire, a mobster who seeks refuge in Sarah Jane's boarding house and competes with his landlord, Tommy Taylor (Jeffrey Lynn), for Sarah Jane's affections. (Another role, as it happens, that George Raft turned down first.) As this love triangle escalates, the three work together to raise the funds necessary to save their boarding house from foreclosure.
Critics were not impressed by "It All Came True" (per Turner Classic Movies), feeling that the film was a mismatch of conflicting genres and cliches that were as befuddling as much as they were hackneyed and that the cast, though stacked, didn't always measure up. Reception to Bogart's deadpan performance as a tough guy caught in the middle of the musical antics was slightly better received and helped end his trend of starring in gangster movies. Following "It All Came True," Bogart only rarely returned to comedy, mostly inhabiting serious roles.
Best: Casablanca (1942)
One film that looms larger than any other film in Humphrey Bogart's entire career is the 1942 classic "Casablanca," which paired him with co-star Ingrid Bergman and director Michael Curtiz. Set in the eponymous Moroccan city after the invasion of France by the Axis Powers during World War II, "Casablanca" stars Bogart as the disillusioned American expatriate Rick Blaine, who runs a nightclub frequented by Allied and Axis clientele alike. Rick reunites with old flame Ilsa Lund (Bergman), learning that she and her husband Victor Laszlo (Paul Henreid) are now working with the Allied resistance against the Nazi war machine in Europe and North Africa.
With the rekindled forbidden romance between Rick and Ilsa framed against the shadowy cat-and-mouse game between Allied and Axis operatives and sympathizers, "Casablanca" was an instant classic. As a character straddling the two sides of the conflict, Bogart's Rick isn't quite an outright hero but instead embodies the fallacy of neutrality while trying to determine his relationship with Ilsa. Widely acclaimed, "Casablanca" went on to win the Academy Award for Best Picture, with Bogart nominated for Best Actor, his first such distinction. "Casablanca" has influenced countless films since, including several starring Bogart in a similar role himself.
Worst: The Two Mrs. Carrolls (1947)
Humphrey Bogart took on a rare antagonist role for the 1947 mystery drama "The Two Mrs. Carrolls," playing a painter, Geoffrey Carroll, who holds a dark secret in an adaptation of the 1935 play of the same name by Martin Vale. After a young heiress named Sally Morton (Barbara Stanwyck) marries Geoffrey, she discovers her new husband is not all he appears, with suspicious circumstances surrounding his previous wife's death. With Sally's health mysteriously beginning to fail her, she becomes determined to learn Geoffrey's true intentions before it's too late.
Contemporary and modern reviewers alike deem Bogart miscast in his role as the murderous Geoffrey, with some critics describing him as visibly uncomfortable in his performance (per Turner Classic Movies). Bogart's discomfort with the role extended to his character's wardrobe in the film, with the actor firmly opposing that he wear painter's clothing that would compromise his tough-guy image. The transition to a big-screen villain failed to stick, and Bogart returned to largely heroic roles for the remainder of his career.
Best: To Have and Have Not (1944)
Of all of Humphrey Bogart's co-stars, one who loomed large both on the big screen and in Bogart's personal life was Lauren Bacall, with whom he first worked on the 1944 Howard Hawks film "To Have and Have Not." Based on the 1937 novel by Ernest Hemingway, the film stars Bogart as American fisherman Harry Morgan on the French colony of Martinique as the island is divided by competing stances regarding World War II. As Harry is drawn into the conflict between the French Resistance and pro-German Vichy government, he falls for a young drifter named Marie "Slim" Browning (Bacall).
A real-life romance between Bogart and Bacall sparked during principal photography on "To Have and Have Not," adding more depth and truth to their on-screen chemistry in the film. While some critics felt the plot and Bogart's role hewed too closely to his previous work in "Casablanca," his and Bacall's performances were praised (per a New York Times review from 1944). Following production, Bogart and Bacall married and proceeded to star together in an additional three films, building on that natural chemistry.
Worst: Knock on Any Door (1949)
In 1948, Humphrey Bogart founded his own production company Santana Productions in an effort to self-produce his own projects free of larger studio interference. Santana Productions' first project was the 1949 Nicholas Ray film "Knock on Any Door," blending noir elements with courtroom drama stakes as it adapted Willard Motley's 1947 novel. Bogart plays lawyer Andrew Morton, who agrees to defend a troubled youth, Nick Romano (John Derek), facing capital punishment after being accused of murdering a police officer.
While Derek's fiery performance as Nick was praised by the critics, the overall film was regarded as a largely pretentious social commentary at the time of its release (per a 1949 New York Times review). Comparatively, some modern reviewers found Bogart's performance as Andrew, a smooth lawyer with his own personal history tied to Nick and his rough upbringing, heavy-handed but compelling. Permeated with overwrought melodrama and courtroom grandstanding, "Knock on Any Door" stands among Bogart's less memorable performances as his career took a new direction.
Best: The Big Sleep (1946)
After working together for the first time on "To Have and Have Not," filmmaker Howard Hawks reunited with Humphrey Bogart and Lauren Bacall for the 1946 noir "The Big Sleep." In the adaptation of the 1939 Raymond Chandler novel, Bogart takes on the classic role of private investigator Philip Marlowe, hired to help a wealthy family targeted by blackmailers. As Marlowe becomes more deeply involved with the case, including developing a romance with heiress Vivian (Bacall), the matter escalates to full-blown murder and criminal conspiracy.
Because Bogart and Bacall's personal relationship was popular with the public at the time, additional material was filmed and the film recut months after the initial wrap on production to capitalize on their chemistry (per The New York Times), which might explain why the film is famously incomprehensible. As Marlowe, Bogart is at the height of his powers portraying a cool and cocky investigator and feels right in his element with the self-assured dialogue and clever detective work. Marlowe was a role that fit perfectly in Bogart's wheelhouse as an actor and one that he played to the hilt, paired with his most effective co-star.
Worst: Chain Lightning (1950)
As test pilots pushed the boundaries of contemporary aviation in experimental aircraft, Humphrey Bogart took cues from this growing national interest in aeronautics for the 1950 film "Chain Lightning." Bogart plays veteran bomber pilot Matt Brennan who is approached to test fly an experimental jet fighter from Nome, Alaska to Washington, D.C. in record time. As Matt prepares for his fateful flight, he recalls his past military service during World War II and rekindles his romance with his wartime girlfriend Jo Holloway (Eleanor Parker).
"Chain Lightning" was criticized for its relatively bare-bones plot, with critics complimenting the aerial sequences while lambasting the lack of character development when its leads were back on terra firma. Bogart's turn as a cinematic test pilot was deemed satisfactory by contemporary critics, while veteran stunt pilot Paul Mantz served as the aerial director of photography on the film. "Chain Lightning" would be the final film Bogart starred in for Warner Bros., ending his 20-year partnership with the studio upon the project's completion.
Best: The Treasure of the Sierra Madre (1949)
Based on the 1927 novel by B. Traven, "The Treasure of the Sierra Madre" took a darker and more morally complex approach to the action-adventure genre at the time. Written and directed by John Huston, the 1948 film starred Humphrey Bogart as a drifter named Fred C. Dobbs who finds himself in a coastal town in Mexico. Dobbs and his friend Bob Curtin (Tim Holt) begin digging for gold in the hills along with an old man named Howard (Walter Huston), finding enough to strike it rich.
One of the more striking things about "The Treasure of the Sierra Madre" is that the greatest threat to the main characters' gold isn't a roving band of bandits — it's one another. The sudden fortune the three miners discover rapidly sows the seeds of murderous greed and distrust between them. Bogart's Dobbs steadily progresses from an irascible hero to someone more conflicted, with Bogart proudly calling his character "the worst s— you ever saw." An enormous success upon its release, "The Treasure of the Sierra Madre" would go on to earn four Academy Award nominations, including Best Picture.
Worst: Sirocco (1951)
While "Casablanca" quickly became one of Humphrey Bogart's biggest successes and a career-defining role for the celebrated actor, the subsequent movie "Sirocco" would fail to recapture the same cinematic magic. Bogart stars in the 1951 film as a war profiteer named Harry Smith who works as a black market arms dealer in 1925 Damascus providing weapons to Syrian freedom fighters against French colonial rule. As Smith becomes more deeply drawn into the bloody war for Syrian independence, he grows close to a local woman, Violetta (Märta Torén), who is romantically involved with French military officer Colonel Feroud (Lee J. Cobb).
With a local nightclub serving as the hotbed of wartime intrigue, "Sirocco" was read by many critics as a derivative attempt to take what made "Casablanca" work so well with significantly diminished returns. Bogart's performance was criticized as being repetitive and without the same level of emotional investment evident in his more popular roles. Formulaic and turgidly paced, "Sirocco" remains firmly in the shadow of "Casablanca," underscoring how special Bogart's previous classic truly was.
Best: The African Queen (1951)
Humphrey Bogart reunited with his friend and longtime collaborator John Huston for the 1951 action-adventure romance "The African Queen," with Bogart portraying a more grizzled character than his usual suave, smooth-talking roles. Adapting the 1935 novel by C.S. Forester, Bogart plays coarse riverboat captain Charlie Allnut, who teams up with British missionary Rose Sayer (Katharine Hepburn) to sink a German warship during World War I. As Charlie and Rose work together, navigating the perilous East African waters, the seemingly mismatched pair begins to fall in love with each other.
Filmed on location along the Ruki River in Congo and Uganda, "The African Queen" wisely puts the focus on Bogart and Hepburn, with the movie fueled by their natural on-screen chemistry and charisma. Critics praised the lead actors' performances, crediting the two with effectively carrying the story through the film's occasional more uneven moments. For their work on "The African Queen," both Bogart and Hepburn would receive Academy Award nominations, with Bogart winning his sole award for his role in the movie.
Worst: Battle Circus (1953)
Though "M*A*S*H*" may be the most celebrated exploration of the Korean War from the perspective of a mobile army surgical hospital, it is predated in its subject matter over a decade by the 1953 film "Battle Circus." Humphrey Bogart stars as Major Jed Webbe, a chief surgeon who constantly places his life in harm's way to rescue and deliver crucial medical care to the wounded during the devastating war. Webbe is immediately smitten by a new nurse, Lieutenant Ruth McCara (June Allyson), though McCara is put off by Webbe's reputation and nebulous personal life back home.
While the wartime stakes and depiction of the bravery shown by U.S. Army medical personnel in the face of danger were praised by critics, the central love story was less warmly received (via a 1953 New York Times review). Critics felt the romance distracted from the story's stakes while also singling out Allyson as being miscast opposite Bogart amidst the wartime peril. For his part, Bogart got injured during the filming, severely burning his hand, with the incident left in the final film. "Battle Circus" would be the actor's sole project with MGM.
Best: The Caine Mutiny (1954)
For years, Humphrey Bogart embodied a sense of self-assured confidence on the big screen, often in memorable roles as gangsters and private investigators. For the 1954 film "The Caine Mutiny," Bogart effectively played against type as the unstably paranoid U.S. Navy officer Philip Francis Queeg, who quickly is deemed by his crew as unsuitable in commanding their minesweeper during World War II. As Queeg's behavior becomes increasingly bizarre and morale on the ship steadily declines, the executive officer (Van Johnson) relieves Queeg of command and is court-martialed for mutiny.
As the paranoid Queeg, Bogart delivers one of the most nuanced performances of his career, portraying mental illness and the effects of trauma in a way that hadn't really been depicted by Hollywood before. Bogart was deeply invested in taking on the role of Queeg, winning the role over actor Richard Widmark with the support of the film's producer, filmmaker Stanley Kramer, to join the adaptation of Herman Wouk's Pulitzer Prize-winning novel. Bogart's casting paid off, with "The Caine Mutiny" becoming a critical and commercial success, earning Bogart his third and final Academy Award nomination for Best Actor.
Worst: Beat the Devil (1953)
Humphrey Bogart's final collaboration with filmmaker John Huston was the 1953 movie "Beat the Devil," made as a sort of self-effacing parody in a nod to the duo's past work together on "The Maltese Falcon." Bogart plays Billy Dannreuther, a man struggling on hard times who falls in with a group of criminals to acquire uranium-rich land in East Africa in a scheme to restore his personal fortunes. However, before Billy and his illicit team can even make it to Africa, deception and betrayal threaten to derail their plans, replete with comedic overtones.
Bogart underplays the humor throughout "Beat the Devil," as Billy finds himself falling into one misunderstanding after the other as he carries out his harebrained scheme. Critics were relatively unimpressed with the movie, feeling its antics quickly wore thin and questioning the decision to veer from the literary source material by James Helvick. Bogart himself reportedly disliked the final film, having lost some of his own money towards financing it, claiming, "Only phonies like it" (per Roger Ebert). But even in "Beat the Devil," far from the highest caliber of Bogart performance, the actor exudes hard charisma and stoic charm, as he does in the best of them.