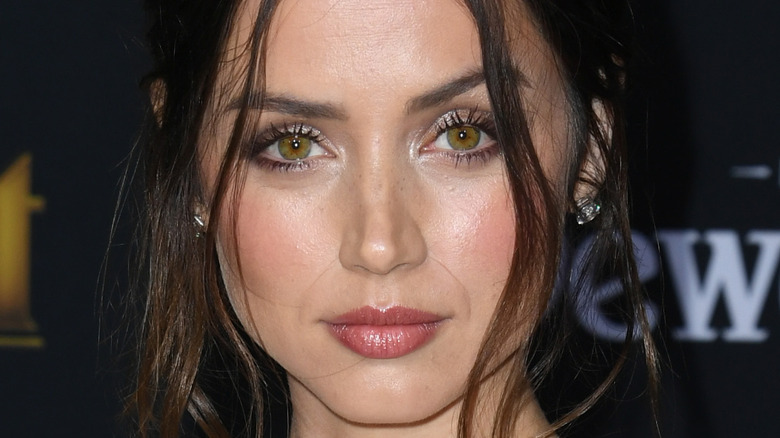 When Ana De Armas made her American film debut in Eli Roth's 2015 thriller "Knock Knock," Hollywood noticed the Cuban-Spanish star's unmistakable je ne sais quoi. Even with her phonetically delivered lines, her performance held promise. A year later, Variety gave her an honorable shoutout by including her name in their annual "Actors to Watch" list. Come 2017, the world was already enamored by the actor's stunning AI avatar, Joi, in "Blade Runner 2049." De Armas' incredible performance in Rian Johnson's 2019 movie "Knives Out" earned her a Golden Globe nomination. In less than a decade, the actor is already thought to be the next big thing in entertainment, a burgeoning A-lister well on her way to taking over showbiz.
Jamie Lee Curtis instantly recognized her co-star's talent when she saw de Armas on the set of "Knives Out." "I immediately wanted to try to do anything I could to help this young actor from Cuba on her journey, though I quickly realized she didn't need it. Her gifts were evident," she wrote of their first meeting for the Time100 Next list in 2021. "We will all get to remember the moment we first set eyes on her, and watch in wonder and delight as she ascends to the greatest heights our industry offers."
As of this writing, Ana de Armas is ready to steal the limelight with 2022's Marilyn Monroe biopic "Blonde," and with other notable films on the way, it seems like the perfect time to get to know her a little better.
Ana de Armas had an ordinary childhood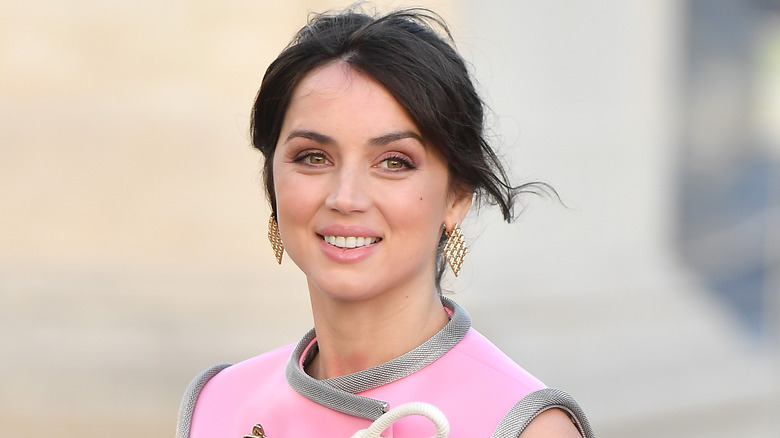 Ana de Armas, full name Ana Celia de Armas Caso, was born in Santa Cruz del Norte, Cuba, on April 30, 1988. In case you were wondering, she does not hail from a family of entertainers, nor does she come from money. According to de Armas, her background is quite humble. "I come from a modest family in Cuba, both my parents are workers, we're no one's children, no one's cousins, we don't know anyone," she told the Golden Globes website in 2016. "Of course, we lived like any other Cuban family, with the food we were given and however we could." De Armas also has an older brother, Javier Caso, who works as a photographer and sound engineer.
Life in Cuba was not too shabby for de Armas, and although she later moved to the United States, her heart is still in her hometown where her parents live. "I grew up in nature, at the beach, and playing on the streets with friends. I felt very free. Just going wild out there and coming back home to have dinner and watch cartoons," she reminisced about her life in Havana in an interview with Men's Journal. She would also watch American movies, noting, "I remember looking up to Julia Roberts and Tom Hanks because they had all these movies on TV."
De Armas eventually realized acting was her calling when she was a tween, so at 14 years old, she enrolled in Cuba's National Theater School. There, she worked on her acting chops for four years.
Before Hollywood, she was already a big deal in Spain
"Knock Knock" was not Ana de Armas' first-ever film. Before she made it to Hollywood, she actually dominated the Spanish movie industry. "In about my second year of school Spanish director Manuel Gutiérrez Aragón cast me and that was my first movie," she told the Golden Globes of 2006's "Una rosa de Francia," which kicked off her career and led de Armas to move to Spain when she was 18 years old. When asked about why she decided to leave her promising theater career in her home country behind, de Armas explained, "I knew that the amount of movies made in Cuba weren't many and that I had a ceiling as an actress. That was the only reason why I left."
For the next three years, she starred in a TV thriller called "El Internado," which became a huge hit and propelled her to stardom. "Once you've worked in TV you really understand what it means to be famous, to be recognized by every single person on the street," the actor told the Independent in 2017. However, de Armas realized she would have to earn her accolades again after moving to Hollywood, saying, "After having a career in Spain for eight years, I went back to being anonymous again, having to prove myself to the industry and myself, to prove I was capable of acting in a different language."
Not only did she prove herself, but de Armas also showed great promise in becoming a prominent Hollywood actor.
She didn't know English when she came to Los Angeles
Leaving a good life behind to chase her Hollywood dreams is one thing, but Ana de Armas is braver than you think. Although she'd learned basic English words as a kid in Cuba, she didn't know the language proficiently until she moved to Los Angeles in 2014. What's more, she couldn't even communicate in English when she landed her first stateside gig in "Knock Knock," later admitting to The Hollywood Reporter, "I wasn't really sure what I was saying." In her interview with the Golden Globes, the star revealed how she didn't expect to book prominent roles very quickly as a newcomer in Tinseltown who didn't speak the language. However, she noted, "I also happened to be lucky enough to be in the right place at the right time."
As strenuous as it would be to learn a second language from scratch, de Armas loved the challenge and made it a point to do it quickly. She knew it wouldn't be easy for her to land roles, but she persisted — and de Armas was determined not to settle for stereotypical roles, either. "I don't want to limit myself to Latina characters, I want to have a much broader range," she told OnCuba Travel.
As for whether the star was discouraged by the language situation, de Armas said it was not one of her biggest worries. "If I've come to the place where there's access to the best projects in the world," she explained, "it's not going to be my accent that stops me."
Ana de Armas has supported her family since she was 18
Ana de Armas left her family in Havana to chase her dreams when she was a teenager, but she has not forgotten her roots. She likes living in New York City, her new home as of 2022, but she understandably misses her home country sometimes. After all, the star's retired mother and father, Ana Caso and Ramon de Armas, still live there. Being the most financially successful one in the brood, daughter Ana has taken care of her family's economic needs since leaving home at 18, per NPR. While her parents were incredibly supportive of her decision to make that leap at such a young age, the actor admitted to Net-A-Porter, "I put myself in their shoes and realize now what they were thinking, and how terrifying it must have been."
She's also lucky to have friends and family who keep her grounded: Despite becoming a popular actor in Hollywood, Ana de Armas has never let the fame get to her head. "I always stayed connected with my parents and friends and the many visits I've made to Cuba have kept me close to reality," the star explained to OnCuba Travel. "My family is what makes me think every day about what's really important in my life."
When on the red carpet, Ana de Armas appears as a bewitching diva, but in real life, she's a down-to-earth woman who relishes the joy of giving back, telling Vanity Fair, "My suitcases go full of clothing or medicine or supplies — whatever people need — and come back empty."
She has an impressive net worth
Landing coveted gigs in Hollywood, as well as industry acclaim, usually pays off — and Ana De Armas has her bank balance to show for it. As of this writing, the actor is worth an estimated $6 million, per Celebrity Net Worth. While de Armas has worked in many Tinseltown movies since making her stateside acting debut alongside Keanu Reeves in "Knock Knock," including appearances in "Blade Runner 2049," "Knives Out," and "No Time to Die," she has also amassed her fortune by landing lucrative brand deals.
In 2021, for example, de Armas was named a Global Ambassador for reputed beauty brand Estee Lauder. A year prior, she became the first celebrity to become a Global Ambassador for Only Natural Diamonds by the Natural Diamond Council, and the "Blonde" star is proud to be associated with a brand that not only makes stunning diamond jewelry but also empowers BIPOC jewelry designers and helps these rising artists and artisans to gain exposure.
"As a minority myself, I remember the days when I just wanted the chance to be in the room," de Armas told Harper's Bazaar in June 2022. "I wanted to just be there. Give me the opportunity and I'll show you what I can offer." She added of the NDC's goal of inclusivity, "The fact that they're mentoring and supporting and opening the doors to relationships and careers and resources for these guys and giving them the credit is incredible."
Ana de Armas was once married to a Spanish actor
The first two years of the coronavirus pandemic were not only about sourdough bread and dalgona coffee — pandemic weddings and romances took center stage as most of the world stayed indoors with nothing much to do. For her part, Ana de Armas was dating her "Deep Water" onscreen hubby Ben Affleck back then, and it was perhaps one of the most talked about relationships of the quarantine era. They dated for around 10 months and broke up in January 2021 — and unless you live under a rock, we assume you already know what Affleck has been up to since their split. After reconciling with ex Jennifer Lopez, the two tied the knot in July 2022.
For her part, de Armas' relationship with Affleck was the most publicized of all of her romances. Calling the heightened paparazzi and tabloid attention "horrible," she admitted to Elle, "Which is good. That's one of the reasons why I left L.A." That said, this celeb pairing was certainly not the most serious in her dating history. Years before she met Affleck, de Armas was married to Marc Clotet, a Spanish actor and model. In a 2013 interview with Spanish magazine Diez Minutos, Clotet confirmed that they had mutually decided to end their union after about three years together, but remained friends.
After the divorce, Clotet has welcomed two kids, Lia and Neo, with his partner, actor Natalia Sánchez. Meanwhile, de Armas resides in the Big Apple with her Tinder executive boyfriend, Paul Boukadakis (more on this below).
This star is a private person
Ana de Armas might have come to Tinseltown to find more success and fame, but unlike other celebs, she keeps her life under the wraps for the most part. As previously mentioned, the star hated how the paparazzi hounded her when she was dating Ben Affleck, which was one of the reasons she relocated to the East coast. De Armas even deactivated her Twitter after their high-profile breakup. "It became a little bit too much. There's no escape. There's no way out in Los Angeles," she told Elle in July 2022. "It's always the feeling of something that you don't have, something missing. It's a city that keeps you anxious."
These days, de Armas has moved on with tech entrepreneur Paul Boukadakis, and she seems to be feeling much more settled sharing her more low-key New York City-based life with her new man. Per Page Six, the two met through a mutual pal and started dating in June 2021. By that September, de Armas reportedly met some of Boukadakis' family members. The couple even celebrated her 34th birthday the following April while she worked on "Ghosted," de Armas' upcoming movie with Chris Evans.
"I had everybody with me: my man, my dogs, Chris, and the crew. I wasn't home having a romantic dinner; I was on set with my people doing what I love and at the beach and having a shot of Fireball," she told Elle, adding. "And it is the happiest I've been." We love to see it!
Ana de Armas didn't actually go blonde to play Marilyn Monroe
Ana de Armas is set to portray Marilyn Monroe in Netflix's "Blonde." The biographical drama, set for a September 2022 release, is based on Joyce Carol Oates' novel of the same name, and de Armas was thoroughly impressed by director and writer Andrew Dominik's vision for the movie. "He wanted the world to experience what it actually felt like to not only be Marilyn, but also Norma Jeane. I found that to be the most daring, unapologetic, and feminist take on her story that I had ever seen," she told Netflix's Queue that June.
As "Knives Out" co-star Jamie Lee Curtis suggested in her article for the 2021 Time100 Next list, de Armas' performance as Monroe is expected to be truly captivating. "During production, she showed me a photo of her screen test … and I couldn't see Ana anywhere. Just Marilyn in all her fragile glory," Curtis wrote.
From Monroe's iconic dresses to her mesmerizing smile, de Armas seemingly nailed her character in the film. However, she didn't actually bleach her hair to get the icon's famous golden locks. Instead, the actor would wear wigs. "It was like, three and a half hours every day of makeup. I think I actually cried the first time I saw [the wigs] on. Probably because I was terrified," de Armas she told Byrdie with a laugh. "But, I'm so proud." Perhaps unsurprisingly, she killed the look — and "Blonde" has become one of 2022's most anticipated movies.