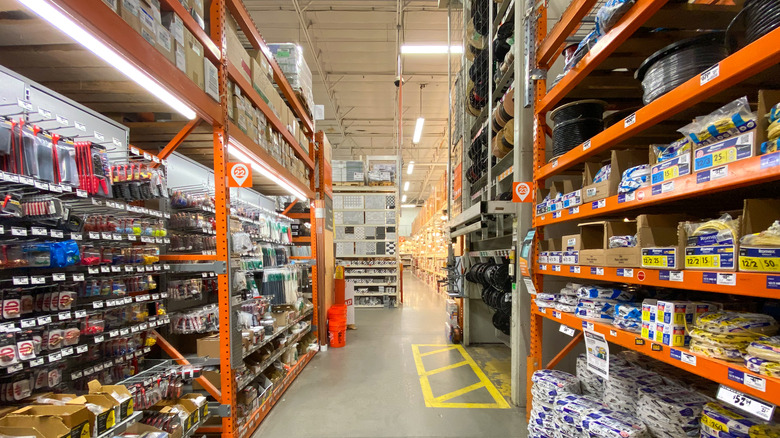 For the avid DIY enthusiast, there's nothing like the feeling of finding the best deal so you can save big on your next project. Whether it's repurposing free materials such as wooden pallets to build new items around your home or making your own rain barrel to save on additional water expenses, it helps to have the inside scoop when it comes to saving money. However, just because you want to cut a few costs doesn't mean you have to stay clear of these big box home improvement stores. There are some savvy ways to make the most of your purchases if you know where and how to look for them.
Major retailers — such as Lowe's and Home Depot — tend to focus their marketing strategies on professional builders. According to CNBC, about 25% to upwards of 45% of their total sales can be attributed to these professional builders and tradespeople purchasing materials in bulk and returning for future projects. However, just because these larger companies may not make the DIYer their target market doesn't mean you can't share in some of the perks other customers take advantage of. Aside from the day-to-day discounts offered to the general public, you might be entitled to a little more. So before you plan your next trip to Home Depot and grab supplies for your latest DIY project, let's take a look at some of the secrets you should know to make the most out of your budget.
1. Sign up for subscription savings perks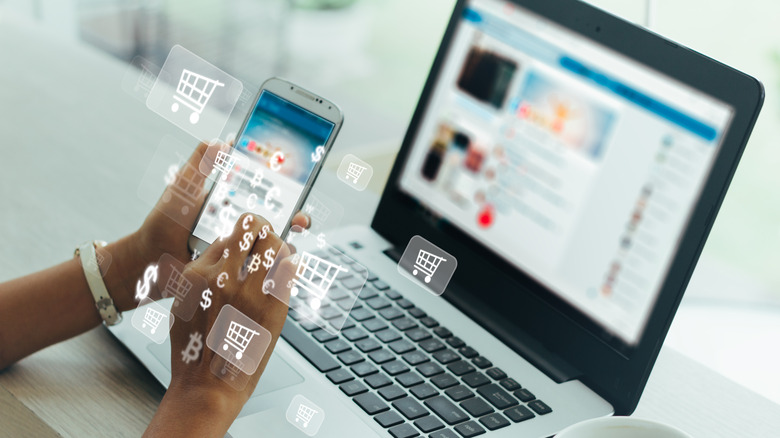 There is a way to save money on your subsequent purchases without stepping foot into a Home Depot. If you're a backyard DIYer and regularly spend money on gardening gloves, fertilizers, or other gardening supplies, then a particular service could be excellent for you. Home Depot offers a subscription option that saves you 5% of the costs of a wide variety of items when you sign up for regularly scheduled purchases. What this means is that if you constantly buy things such as lightbulbs, hardware, or power tool accessories, for example, then the next time you're online, keep an eye out for the "Subscribe and get 5% off every order" button in the description. You could receive a steady stream of savings.
There are plenty of products available for this subscription service that can be done completely online and set up for home delivery or sent to the Home Depot nearest you, without any membership fees, according to Home Depot. Once you find an item available for subscription, you simply choose to subscribe; then, through the checkout, you can schedule how often you would like to receive the product and save your 5%. The company boasts that returns are easy, and you can also end your subscription whenever you want. It would be wise to check the fine print for more details, but this is one helpful way to save costs on products you get regularly.
2. Save when you buy more
Home Depot wants you to shop in its stores as often as possible. To ensure it, it spends large amounts of money annually on advertising — about $1.09 billion in 2019, according to Statista. The retailer can entice you in many ways, like offering daily discounts, making products easily accessible to everyone, and having helpful staff available. But, if you need no coercion to get you to the aisles of Home Depot and you regularly shop for materials at the megastore, there might be a way to make your spending habits work for you. According to its website, Home Depot has a membership program called "Pro Xtra" that could earn you some bonus savings when you buy in bulk.
This volume-based purchasing program may seem geared toward the professional builder; however, it is free to join, and if you plan to DIY your home projects, this could save you big-time. Not only can you cut the cost of major expenses on bulk building materials such as wood, shingles, and drywall, but the Pro Desk can also help you price out everything you need for the project. Some additional benefits include rewards when buying paint, exclusive offers, purchase tracking with text confirmations, as well as other perks. Although you may not be building like a pro, these advantages can have you saving just like them for when you are planning a bunch of DIY home renovations.
3. Repair or rent your tools
As a DIY aficionado, you probably have a dedicated rotation of power tools, big or small, to help you with your many activities. But what if one of these tools breaks down or isn't running at maximum efficiency? Before you think of spending hundreds of dollars on buying a new tool, you might have a few options that could save you some major bucks. Home Depot offers tool repair and maintenance services that could help you to revive those thought-to-be-dead instruments. Its professionals can service power tools still under warranty at no cost to you or have a look at some devices that might need minor fixing, according to the retailer's website.
From power tools and lawn equipment to more oversized items, this could be a way to save on the costs of purchasing a new product while also being less wasteful. The service is backed by a 90-day guarantee and could take anywhere from two weeks to six to complete, depending on the severity of the problem. If you don't have the money to spend on tools, especially for one-off projects like sanding floors, then you could always rent them from Home Depot. From chainsaws, generators, tile cutters, vacuums, and anything in between, you can easily rent these items to help you out on your project for a fraction of the price of buying new. According to Home Depot, fees range depending on the tool and how long you need to borrow it.
4. Save on your paint costs
Painting the interior and exterior of the home yourself can be one of the many ways you can save money. Although professional painting services can be incredibly convenient and the results look stunning, they come at a price. Not only are you paying for the cost of the materials, but also the labor it takes to get the job done. According to HomeGuide, hiring a professional painter to paint your home's interior could run you anywhere from $20 to $50 an hour or up to $6 per square foot. If you're looking to cut those costs and DIY the work, then getting your supplies at Home Depot at the right time could help you out.
Every year Home Depot runs special sales around the Fourth of July and Memorial Day, where shoppers can save big on various items, including paint. So it pays to keep on the lookout for these types of discounts. Another way to save on paint prices is to visit their paint center and ask about any cans made by mistake. Sometimes when customers come in to have a particular shade of paint made by Home Depot, it doesn't turn out exactly how they wanted it. Home Depot may offer these cans at a deep discount if they cannot be used or sold. This could be an affordable way of painting smaller rooms in the house yourself.
5. Other ways to save at Home Depot
There are several other ways to save while shopping at Home Depot for your DIY projects. When perusing the aisles, make sure to check out their discount rack. This could contain end-of-season items or even products that have slightly damaged packaging. According to The U.S. Sun, you could get around 10% off just for ripped packaging. As long as the item itself isn't broken, this could be a great way to pinch pennies while gathering the needed materials. It might even help to inspire future projects, depending on what's available. If you don't have time to visit a Home Depot, they also have a clearance item page on its website. These items can range from drill bits to desk lamps and other options that can be purchased at a deep discount and either picked up or delivered conveniently to your door.
When you're strolling around the garden center, make sure to look for plants or flowers that may be on sale. Especially near the end of the season, you could find plenty of excellent plants you can purchase at a fraction of the price. Also, if you need bags of dirt, mulch, or even small stones for any backyard projects, be on the lookout for ripped bags around Home Depot. They could be willing to sell it to you for a discount as other customers might be unwilling to buy them.