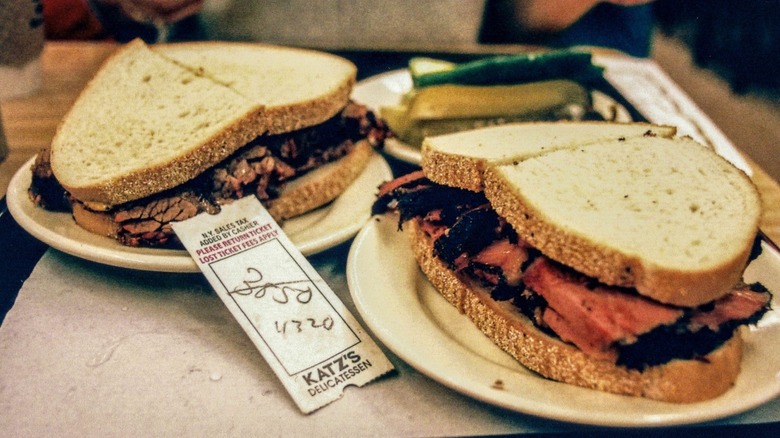 Delicatessens were brought to the United States by Jewish European immigrants in the later half of the 19th century, who were mostly from Germany where the word "delikatessen" was used which, according to Macmillan Dictionary, means "a delicacy, fine food." As Ted Merwin explains in "Pastrami on Rye: An Overstuffed History of the Jewish Deli" (via The World), Jewish American delicatessens were first popularized in New York in the 1920s and specialized in providing high-quality cooked meats and other prepared foods to everyone in the community. They served as a place where the Jewish immigrants and their families could feel at home and have a sense of safety. Delis thus became well-rooted in family tradition and menus have rarely been changed to this day. They've become synonymous with the New York lifestyle and have been representative of the rich, Jewish cultural traditions that have integrated into part of almost every New Yorker's life.
What makes a good deli? They're not like the ones you'll encounter at your local grocery store. An authentic deli is all about manned counters of fresh cold cuts (especially pastrami and corned beef), cheeses, and made-to-order sandwiches, with rye bread being the cornerstone. Over the years, the menus have expanded to include all sorts of ready-made products, such as soups, salads, olives, and beyond. They're still widely found all across the United States and some stand out more than others for their long history, valued traditions, and never-changing menus full of delectable eats. Here are just some of the absolute best.
Katz's Delicatessen – New York City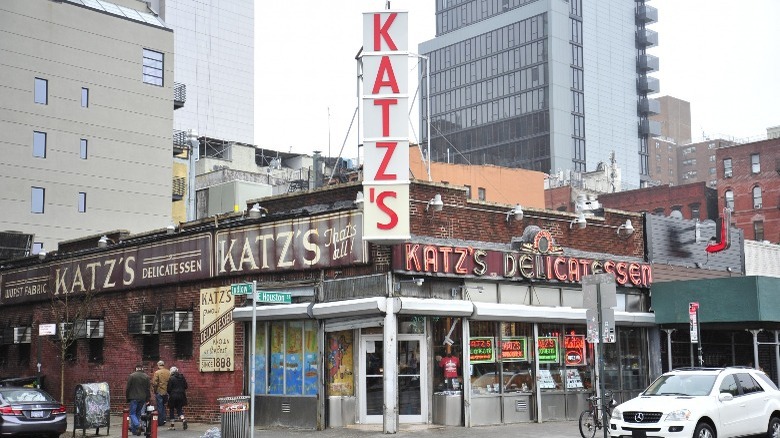 Opened in 1888 on New York's Lower East Side, and after a few name changes, Katz's Delicatessen has become as iconic to the culture of New York City as much as the Statue of Liberty or Broadway. Family owned and operated, Katz's is a deli like none other in the country. Diners from near and far trek out to the deli for the famous slow-cured pastrami and corned beef, which is served on rye bread. Unlike a typical 36 hour curing method, Katz's cures their meats for 30 days to preserve every essence of pure flavor.
The mammoth pastrami sandwiches are the most famous staple at this oldest deli in town, and they always carefully hand-slice the meats for each customer who successfully navigates their chaotic, yet truly-New York-style, deli. As per the instructions of New York Magazine, customers must grab a paper ticket to secure their spot in line and have cash ready if they're paying at the register. If you're lucky enough to snag a table seat in this tight-knit yet well-organized dining area, the waiter will accept a credit card. Whichever way you pay, you won't be displeased with this iconic Jewish deli, symbolic of everything it means to be a New Yorker — fast, no-frills, and proud of every timeless tradition.
Slyman's Restaurant – Cleveland
Located on the corner of St. Clair Avenue, Slyman's Restaurant has been highly successful in serving the Cleveland community all of the best, premium-quality delicatessen foods. According to Slyman's website, they're "the Home of the Biggest and Best Corned Beef." Family-owned since it's beginning in 1964 and passed on through the generations, Slyman's is famous in Cleveland for those enormous-stacked corned beef sandwiches on rye bread, especially when St. Patrick's Day rolls around. As per the owner's comments to Cleveland Magazine, the restaurant dishes out up to 3,000 sandwiches to the feasting celebrators. While corned beef is consumed all over the U.S. on St. Patrick's Day, it isn't exactly an Irish tradition and fits more into the Jewish culture. Either way, Slyman's is the choice meal of the day for Clevelanders.
But they're a hit all year round — just ask any of their 34,000 fans on their official Facebook page. Over on Tripadvisor, they're rated No. 1 of over 1,000 restaurants in Cleveland and hold a 4.5 rating out of 5. One Tripadvisor reviewer even totes it as being the "Best Sandwich I've EVER had!", clarifying it was the corned beef sandwich with Swiss cheese on rye, although the pastrami Reuben was excellent too. Because of their colossal following (as massive as their sandwiches), it's safe to say that Slyman's is one of the best delis in the U.S.
Gioia's Deli – St. Louis
Opened in 1918 by Italian immigrants who have called St. Louis home for four generations, Gioia's Deli distinguishes themselves from others with their unique and savory hot salami sandwich. The thick-cut Italian salami is made in-house using the same process for over 100 years. Many of its fans love to pair it with their mouth-watering Garlic Cheese Bread to craft a truly sensational meal. We think it's pretty great too, placing the famous hot salami sandwich on our list of The 15 Absolute Best Italian Subs In The US.
Gioia's was a recipient of the 2017 America's Classics Award by the James Beard Foundation, a non-profit organization that focuses on supporting a premium food culture in the U.S based on overall high standards, quality ingredients, and leadership. In 2021 Gioia's hot salami sandwich was awarded the "Best Sandwich in Missouri" by Food and Wine Magazine, as well as having landed on a Food Network list of best sandwiches in the nation. As co-owner Alex Donley shared with local NBC affiliate KSDK, they currently keep the longtime secret recipe for their salami in a locked safe on display in the restaurant, however, Gioia's is definitely not a secret in St. Louis or the rest of the U.S., and are one of the best delis you can visit.
Zaftigs Delicatessen – Brookline, Massachusetts
Delis are not just a place to grab a stellar corned beef on rye sandwich, a cup of coffee, and a chat with the locals, and they wouldn't want to be limited as such. Many delicatessens are also known for their homemade soups like matzo ball, which is what Zaftigs Delicatessen in Brookline, Massachusetts, specializes in. They also make an incredible turkey chili that's flavored with Massachusetts-favorite Sam Adams beer, a recipe that's been in the family for several generations. According to Boston Magazine, the chili has just enough of a spicy kick and features a gooey topping of melted cheddar cheese and scallions.
Their Brookline location opened in 1997 and they have made it a priority to keep their family recipes going strong, upholding decades-long traditions like any good deli. Just take a glance at their current all-day menu on the Zaftigs website that lists farm fresh eggs in their breakfast dishes, classic latkes (potato pancakes), and a selection of smoked fish such as salmon. One Yelp reviewer reports that the matzo balls are "fluffy" and the soup itself includes "chunks of chicken and vegetables." The latkes are served with applesauce and sour cream, "as they should be." Zaftigs Delicatessen has done everything right in a shorter existence than most other top delis, but they've quickly proven that they deserve a spot all the same.
Gonella's – Detroit
Proudly operating for more than 75 years and providing one-of-a-kind Italian subs to Detroit's society of hard workers, Gonella's is a valued staple in the Motor City. Per their website, they're an original eatery, famous for freshly made, layered submarine sandwiches that use "only the finest ingredients" as well as offering a full-service deli counter complete with an assortment of meats that include steaks, sirloin, and veal.
Their layered subs come in a variety of sizes, from six all the way up to 18 layers, piled high with ham, salami, capicola, and many other choice cold cuts, cheeses, and vegetables to satisfy any type of hunger. Their modest brick establishment includes wine and olive bars, as well as a generous selection of grocery items. When owner Peter Hanni spoke with Daily Detroit, he said that Gonella's can normally "sell between 800 and 1000 subs" per day. It's easy to see when you look at their 4.8 out of 5-star rating on Google, amassing nearly 2,000 reviews. Reviewer Jacob Davis says that Gonella's is "top notch" and has to visit for one of their Italian subs whenever they're in Detroit. And why not? Gonella's is always a must.
Sarge's Delicatessen & Diner – New York City
If you're in search of one of the best pastrami sandwiches in New York, you'll find it on 3rd Avenue at Sarge's Delicatessen and Diner. According to their official website, they've been in business since 1964, serving up quality homemade foods such as hot sandwiches, cold cut platters, and "The Monster" — New York's "BIGGEST" sandwich, according to their menu. It's described as being stacked high with "Corned Beef, Pastrami, Roast Beef, Fresh Turkey, Salami, Sliced Tomato, Lettuce, Coleslaw & Russian Dressing" in between thick-sliced rye bread.
If you hadn't already expected, all of their meats are cured in-house, making each sandwich, no matter how grandiose, specially hand-crafted. And as Grub Street reported in 2020, they added a plant-based vegan corned beef to their menu, supplied by Mrs. Goldfarb's Unreal Deli based out of California. Their classic style and cozy restaurant setting complete with burgundy diner booths and walls of celebrity-visitor photos helps to make Sarge's a place to sit and stay awhile. If you stop by to take on the challenge of a Monster sandwich or to share a platter of cold cuts with friends, Sarge's is an experience of undeniable tradition.
Harold's New York Deli – Edison, New Jersey
This deli in Edison, New Jersey, is the epitome of a classic Jersey diner atmosphere with a compact yet warm setting and plenty of homemade eats. The sandwiches at Harold's Deli are hand-crafted with heavenly and perfectly tender, juicy meats (the pastrami is made on the premises) and served up with a hefty side of coleslaw that makes for a more than generous portion. Their desserts, such as cheesecakes and pies, are all homemade. As Only In Your State notes, Harold's claims to have the World's Largest Pickle bar where patrons can self-serve a massive variety of pickles, buffet-style.
The bigger the better when it comes to the pastrami and corned beef sandwiches served at Harold's, where they pile on the meats, making one sandwich big enough to feed multiple people. The pastrami is slow cooked for over two days in order to preserve the full amount of flavors. But it's not just the sandwiches —pancakes, matzo ball soup, knishes, ribs, and slices of cake — almost everything on the menu is gigantic, according to Saveur. It's become a place where locals enjoy celebrating holidays, birthdays, and other special occasions, marking the events with a memorable meal. What better way to celebrate traditions than at a traditional deli like Harold's?
Langer's Delicatessen-Restaurant – Los Angeles
Opened in 1947 and currently located in the Westlake neighborhood of Los Angeles, this Jewish deli has been well beloved and affectionately regarded as the best hot pastrami sandwich in Los Angeles. The generations of patrons who have enjoyed Langer's Deli would argue that the sandwich is the best in the world, suggests David Shaw for the James Beard Foundation. In a piece for The New Yorker, the late Nora Ephron praised the already-acclaimed sandwich for its "exquisite combination of textures and tastes" and with highest commendation said it is "a work of art."
If you read the Langer's menu, you'll find their famous #19 sandwich has "Pastrami, Swiss Cheese and Cole Slaw Russian Style Dressing," a deli classic. As Tasting Table notes, Langer's cuts each slice of peppered brisket meat with tremendous care to ensure quality texture and preserve the robust outer crust. Other specialties include traditional Jewish fare such as cheese blintzes (thin, rolled pancakes similar to crepes) and Kasha Varnishkes. On Yelp, they have nearly 4,000 reviews with an overall 4.5 rating out of 5. One reviewer credits Langer's as "The best pastrami in Southern California" because of its thick-cut and tender meat, fresh rye bread "with the proper crunch of the crust", and an old-world, no-frills atmosphere. Langer's is a true gem to SoCal.
Famous 4th Street Delicatessen – New York City
For the Radin siblings, much of their lives were spent working in Jewish-style delis around New York City and its surrounding boroughs. According to the deli's website, after the family expanded through marriages, the family business grew to further include coffee shops and lunchrooms. But it was their own delicatessen that opened in 1923 on 4th Street that became a staple in the city of Philadelphia — Famous 4th Street Delicatessen. Like many other traditional delis, they cure their meats in-house, as well as bake all of their tasty desserts to stock their own bakery.
Apart from the crowd of daily customers who range from local regulars to curious travelers enjoying their vacation, Famous has served, well, the famous, including nationwide news anchors and politicians, such as President Barack Obama in 2010. As WHYY notes, the deli gets especially busy when the U.S. election season rolls around and politicians, staff, poll workers, and the media stop in for a bite to eat and a chance to interact with the public. Condé Nast Traveler recommends ordering any one of their "overstuffed delicatessen sandwiches" and something yummy from the "smoked fish department", but you must not forget about the extensive glass case array of knishes, lox, bagels, and cold cuts to take home. Famous 4th Street Deli is one of those places steeped in nostalgia and tradition that you just can't miss if you ever tour the City of Brotherly Love.
Manny's Cafeteria & Delicatessen – Chicago
As proven already, the secret to a successful delicatessen is not to change a thing, which is exactly how Manny's Cafeteria and Delicatessen has operated since 1942. Over the years, the Chicago eatery has added a traditional meat counter and moved from their original location, but that's it. The business has been in the same family for four generations and apart from their famous pastrami and corned beef classics, they also specialize in fish that includes varieties of salmon and trout, and homemade bakery items that are courtesy of longtime-cherished family recipes, per Chicago Tribune.
Walking into Manny's, you'll feel like you've stepped back in time when your feet hit the black and white tiled floor and you search for an open table within the massive cafeteria-style dining area, complete with old-school, dark wooden chairs. Due to the fluctuating population of Jewish communities in the Chicago area over the decades, Manny's has grown to become one of the most well-loved delis in the city. As owner Dan Raskin told DNAinfo, they've kept customers happy throughout the years by providing the same scrumptious eats that have always been found at traditional Jewish-delis and households alike.
Molinari Delicatessen – San Francisco
Molinari does Italian-style delicatessen right and they've been going strong in San Francisco since 1896. For starters, as Secret San Francisco noted December 2021, it was ranked as the second-highest-rated restaurant in the city and they've achieved success because of their homemade products and imported goodies from Italy. The sandwiches on the menu feature a wide variety of quality prosciutto, salame, mortadella, and other delectable meats, each topped with fresh vegetables, cheeses, and dressings. Customers are guaranteed to find something to please their palette, whether through their own custom-made sandwich or a gourmet, crafted one listed on the menu.
Local reviewers on Yelp remind tourists to be sure to grab a paper ticket in order to be served, just like any old school-run deli. One recommends numerous products including their Molinari's Combo for a classic Italian sandwich as well as the imported pastas, tomatoes, and wines to create your own Italian feast at home. Whatever your stomach is in the mood for, now or later, Molinari Delicatessen has it all.
Tat's Delicatessen – Seattle
Delicatessens are more common in the eastern and midwestern portions of the U.S., so it might be surprising to hear of one that's located all the way in Seattle, Washington. It's true! They're not just about Starbucks and local craft breweries. In the Emerald City, you'll find a classic East Coast-style deli at Tat's Delicatessen. They've only been in business since 2004 but have quickly proven themselves worthy of providing quality foods just like any other old school establishment. As the Tat's Deli website shares, it is all thanks to two Philadelphia and New Jersey natives: owners Brian Tatman and Jason Simodejka. They offer up a tremendous menu of breakfast dishes, Philly Steak sandwiches, hoagies (the Philly way of referring to a submarine sandwich) and soups such as their famous Tat's Stout Chili.
Tat's has accumulated over 1,100 reviews on Yelp and one reviewer writes that their enormous pastrami sandwich is "Philly-style" and "amazing" because it includes an "absolutely brilliant and addictive" combination of Russian dressing and coleslaw. If you have a hankering for an authentic East Coast-style deli lunch while in Emerald City, look no further than Tat's Delicatessen.
A Taste of Italy – Wilmington, North Carolina
North Carolina is another place that you would never automatically think about in correlation to an old-world delicatessen. The state is better known for their fried chicken fast food chain Bojangles and vinegar-based barbecue, such as pulled pork. Amongst all that, the city of Wilmington is home to a well-loved authentic Italian delicatessen called A Taste of Italy. This deli was started in 1994 by a duo of brothers with an Italian American heritage from the Bronx, bringing with them the high standards of quality, fresh ingredients and ideals that food was a way to bring people together. According to their official website, they are the No. 1 deli in Port City (aka Wilmington).
A Taste of Italy offers made-to-order Italian classics such as grilled sandwiches, breakfast meals, sautés, and as many cold cuts as your heart desires—salami, mortadella, capicola, pastrami, Parma prosciutto, and so many more. Cheese and specialty deli salads can also be purchased by the pound, as per their menu. They also feature a market stocked with wines that you can buy to-go as a way to top off your at-home Italian treats, notes Wilmington and Beaches. If you're not into the rib-sticking barbecue and fried chicken food culture of North Carolina, A Taste of Italy will provide a culinary escape to a world of traditional delicatessen fare.
Kenny & Ziggy's New York Delicatessen – Houston
Ziggy Gruber is a third generation deli owner who's owned a few eateries across the country, but his New York-style delicatessen located in Houston, Texas, currently does an outstanding job at bringing Jewish deli traditions to the Lone Star state, where otherwise a hearty chili and barbecue are most beloved. While the family deli business began in 1927 in New York, it found its way to Houston in 1999, becoming the best in the state, and according to their official website, "one of the top delis in the nation." Whether you're in the mood for fresh matzo ball soup, a multi-stacked pastrami sandwich on rye, or "K&Z handcrafted, all beef, natural casing franks," Kenny & Ziggy's will fill you up with any of their hundreds of menu items.
Even when you visit the restaurant, notes My Jewish Learning, the ambience of a classic, old-world-style deli and the Yiddish lingo that's tossed back and forth between staff will make you feel like you're in any authentic New York joint back east. Per Jewish Herald-Voice, in January 2022, Kenny & Ziggy's began a move to a new and bigger location in Houston where they will add indoor and outdoor dining spaces, a classic soda fountain for milkshakes, a coffee bar, and even a cocktail bar, but they ensure not a thing will change in regards to their iconic delicatessen offerings, because they don't need to—just ask any of their 13,000 Facebook fans.
Shapiro's Delicatessen – Indianapolis
Last but not least, a list of the best delis in the U.S. would not be complete without Shapiro's Delicatessen. Their restaurant has been operating in the family since 1905 and has solidified their place as one of Indianapolis's favorite kosher deli eateries. Pastrami sandwiches piled high? Check. Slow-cooked brisket? Check. Fresh rye bread? Of course! Homemade matzo ball soup, desserts, bagels — Shapiro's is a one-stop shop for quality handcrafted and locally sourced ingredients.
They stay true to tradition with classic-style cafeteria dining, open-area seating, and recipes that haven't changed in well over 100 years, such as their delectable Reuben sandwich or meatloaf. According to CBS4Indy, the city has been growing as "one of the hottest food cities in America" as of 2019 and they raved about Shapiro's impact on such a designation. The news station suggests that the "can't miss dessert" is the poppy seed cake. But whatever you choose for breakfast, lunch, dinner, or dessert, it will be authentic and excellent at this kosher-style delicatessen called Shapiro's.