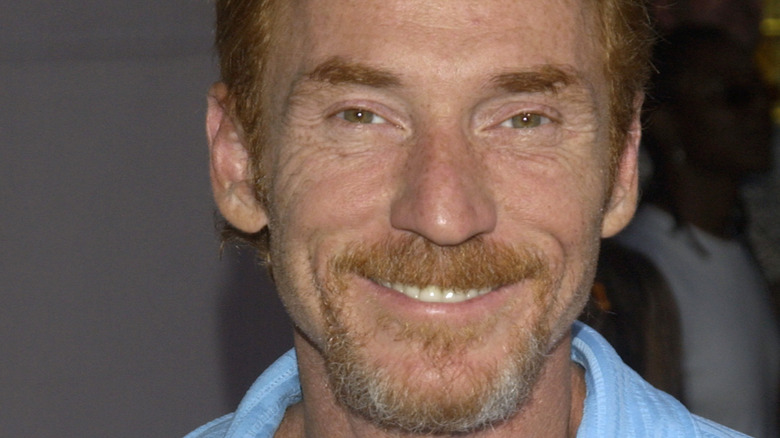 It wouldn't be far-fetched to say that Danny Partridge carried the 1970s sitcom "The Partridge Family" with his humor. The mischievous middle child single-handedly got his family a record deal with his clever, conniving ways while routinely providing comic relief with his precocious and witty remarks (via Classic TV Rewind). He said a lot of things a 10-year-old shouldn't have said, and everyone enjoyed it. The man behind the iconic sitcom character, Danny Bonaduce, is pretty interesting himself. Although Danny Partridge ended up being his biggest acting role, Bonaduce made a name for himself in headlines elsewhere, for better or for worse. From boxing celebrities to shocking viewers in his eye-opening reality TV show, Bonaduce has lived a very full life, and hardly anyone can say otherwise.
He is now three decades into a steady career in deejaying for a morning radio show in Seattle, where he dishes out life advice and uses his trademark gravelly voice to discuss the news of the day, per Good Morning America. But a recent health scare put his name back into the headlines and made people all over the country wonder, "What's that redhead been up to?" Read on for some facts you didn't know about Danny Bonaduce.
His dad was banned from The Partridge Family set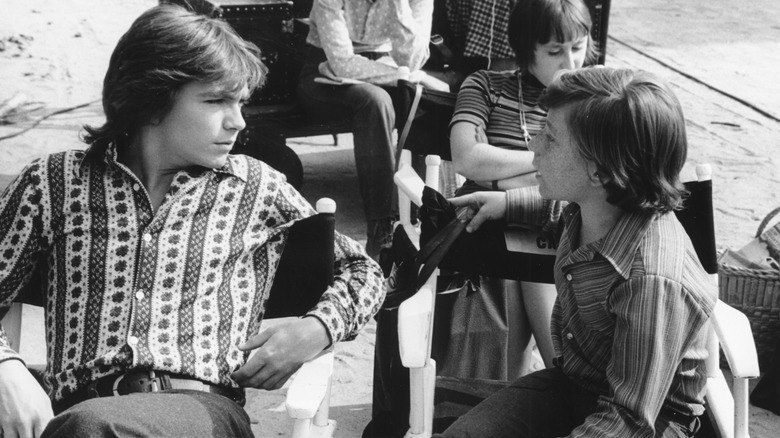 The domestic felicity embodied by the fictional Partridge family and their "get happy" positivity wasn't one shared by Danny Bonaduce and his own family. His father disciplined his children by hitting them. But Danny wasn't disciplined like his siblings, and the reason why is pretty dismal: his father, Joseph, didn't like Danny enough to hit him. The two were at odds since Danny's birth, and in response to a question about what his hobbies were as a kid, Danny answered, "ducking my father." His mother was largely the one who accompanied him to the set. And if Joseph visited Danny's workplace at all, he didn't after season 2; he was banned from the set.
It began with one inexplicable occasion: co-star David Cassidy decided to physically attack Danny and choke him. After the brawl, a shocked Danny called his father to tell him about the incident. Despite their cold relationship, Joseph Bonaduce was determined to defend his son and stormed onto set, threatening Cassidy. The producers rushed to hide Cassidy and close down production, and Joseph was no longer welcome, per C'mon Get Happy.
Joseph was the catalyst for the family's move to California. He had some type of employment opportunity with Dick Clark that didn't come to fruition. The Bonaduces struggled, forcing them to reconsider moving back to Philadelphia before Joseph sold a spec script for "The Dick Van Dyke Show," per his interview with C'mon Get Happy.
He's played himself at least three times on TV
Before his breakthrough role on "The Partridge Family," young Danny Bonaduce boasted appearances on "The Andy Griffith Show" and "Bewitched." Danny had even been in show business before his family moved to California when he was 4 years old, per C'mon Get Happy. But when "The Partridge Family" went off the air, no subsequent role of his was able to eclipse it. In fact, when he guest-starred in other shows, he often appeared as none other than himself. According to his IMDb page, there have been at least five non-Partridge Family-related productions in which he played himself, relying on his own image and likeness as Danny Partridge. These include the TV series "Monk" and "Girlfriends." On an episode of "Sabrina the Teenage Witch," Bonaduce appeared in a pear tree, as a comical visual reference to the Partridge name. He joked about it on Twitter, saying that he's taken part in that visual metaphor for paid guest appearances 100 times.
Unlike other child actors, Bonaduce isn't resentful of the role that made him famous. In an interview with C'mon Get Happy, Bonaduce refused to say he was typecasted or "stereotyped" as Danny Partridge. Even though there were many jobs he didn't land afterwards, he kept in mind there were many jobs he didn't land before "The Partridge Family."
He resurrected his career as a deejay and radio host
Danny Bonaduce's foray into radio originated as a favor to David Cassidy, who was probably also doing a favor for him. Cassidy, motivated to get Bonaduce out of his post-Partridge rut, pushed him to go on tour with him and appear in radio interviews. Bonaduce was reluctant, but by their fifth radio interview, Bonaduce had revealed his natural talent as a radio personality. He was hired on the spot and so began his lasting career in radio. He went on air in December 1988 for Philadelphia's WEGX-FM, which ran from 10 p.m. to 2 a.m, per People. At 29, he took his well-known wit to more mature and crude places, making a name for himself but still using the theme song "C'mon Get Happy."
Bonaduce found his true calling, and he now considers his role on "The Partridge Family" as a relatively strange divergence, per Seattle Refined. He's currently the host of "The Danny Bonaduce and Sarah Morning Show on 102.5 KZOK FM in Seattle, per KIRO7.
He has a stint as a stand-up comedian
Danny Bonaduce's acting career took a dive in his post-Danny Partridge days. At one point, he was homeless and lived in his car before moving in with his mother, per C'mon Get Happy. He then took to drugs and alcohol. His salvation came in the form of former co-star David Cassidy, who played Keith on "The Partridge Family." Cassidy was on tour as a musician and invited Bonaduce to come with him, urging him to take his comedic talents to the stage. He figured that if Bonaduce was funny enough, he'd land himself a job. Indeed, it landed him a radio jockey career, but Bonaduce continued to make people laugh on stage. One of his first stand-up acts occurred at Chicago's Funny Firm. He also performed at the Laugh Factory in Aurora, Illinois.
Bonaduce's comedic timing came naturally to him since he was a kid, and it's arguably what drove the comedy in "The Partridge Family." As a stand-up comedian, Bonaduce broke new ground and had to find his style. His earliest bits involved funny observations about things, but after realizing that people wanted to know about his personal life and struggles with drugs, he made his jokes more personal. Before his shows were over, he invited questions from guests, which probed all areas of his life, per the Chicago Tribune.
He had his own talk show
The story of Danny Bonaduce's short-lived talk show began with his business partner, Jon Denny, who convinced Disney that Bonaduce was funny enough to have his own show. They agreed, and the aptly named "Danny!" was born. It debuted in September 1995 when Bonaduce was 35 years old. He found the experience difficult because of the show's daytime slot and the rules of behavior that came along with it. In one instance, he offended a guest who had 78 body piercings, and she didn't react well to his comments. Bonaduce defended himself by saying that it was his show and they both had a platform to speak, which earned him applause. But the guys in suits didn't approve since it appeared he was being combative toward a female guest. All talk shows at the time were being scrutinized, triggered mainly by the Jerry Springer Show, so Bonaduce was expected to soften his edges, per C'mon Get Happy.
One highlight of the show, however, was when the cast of "The Partridge Family" reunited. Most of the family members made appearances: Shirley Jones, Dave Madden, Suzanne Crough, Jeremy Gelbwaks, Brian Forster, Rick Segal, and a phone call from Susan Dey (via YouTube).
He's no stranger to spontaneous marriage
Danny Bonaduce's first marriage was a fake one. He met a Japanese woman who was looking to get an immigration card so that she could live and work in the United States. He married her only three days later to help her out, and they ended up living together for six months, per People. But his first real marriage began the night of a blind date, which was set up by a radio station, per C'mon Get Happy. After their date, they went to Bonaduce's apartment, where he expected to have sex with her. She refused, citing her Christian faith, per The New York Times. In response, Bonaduce flipped through the yellow pages for a minister who would marry them that same day, per NPR. Their marriage lasted 16 years and a reality TV show, per The Hollywood Reporter.
His next wedding was also a doozy. Bonaduce and girlfriend Amy Railsback had already dated and known each other quite well before tying the knot, like most people. In fact, Bonaduce reassured Railsback for three years that he was willing to marry her and had even bought her ring. However, he wanted to leave the paperwork up to her. But Railsback managed to surprise him when a wedding planner called and Bonaduce inadvertently answered the phone. A complete stranger informed him he was about to get married, and Bonaduce agreed it was a good idea, per People.
He's been arrested twice
Danny Bonaduce has had a few run-ins with the law. His first arrest occurred in Daytona Beach, Florida, in 1990. He was charged with buying cocaine in a street known as "crack alley." He was in town for an appearance on the USA cable network show "Youthquake" and had hung out with other guests afterwards. The arrest led to his indefinite suspension from his WEGX-FM radio show in Philadelphia, per Philly.com.
A second arrest occurred a year later after assaulting a sex worker, Darius Barney, in Phoenix, Arizona, per AP. The charges included a robbery, and the victim suffered a broken nose and a cut to the face. Bonaduce was sentenced to three-years probation, 750 hours of community service, and $4,500 in restitution (via The Buffalo News). The police said that Bonaduce attacked Barney when he realized he was a male, but in an interview with "C'mon Get Happy," Bonaduce said he didn't attack Barney because he was gay. He said Barney was being an "a**hole" and demanded money after getting in his car, even after Bonaduce urged him to leave. In 2013, Bonaduce expressed regret over both arrests after a terrifying experience in jail (via HLN). He also lost his job and various relationships in the aftermath.
He's brawled with a reality star during an awards show
Danny Bonaduce is probably not someone you want to tussle with. He's received a second-degree black belt and once received a Fight Coordinator credit in a film, per C'mon Get Happy. He was also trained by Chuck Norris himself, per C'mon Get Happy. So when Jonny Fairplay decided to leap onto Bonaduce on stage during the FOX Reality Really Channel awards, clinging onto his torso, Bonaduce only had to toss Fairplay over his shoulder to get rid of him. The incident occurred after Fairplay was bantering with the audience on stage, to which he received boos. Bonaduce came over and told Fairplay the audience was booing because they hated him and light-heartedly patted his side. Bonaduce turned to leave, but Fairplay called him over, halting him and then jumped on him. Moments later, Fairplay landed awkwardly after what must have been a really painful fall and hurried off stage (via YouTube).
Fairplay sued Bonaduce a week later for battery and emotional distress, and the loss of several teeth. This came after police declined to press charges, saying that Bonaduce's actions amounted to self-defense, per People.
He's boxed various celebrities, including Donny Osmond
Danny Bonaduce has brought his fighting prowess to the ring in the name of charity and in the name of beating other celebrities. It began when Bonaduce and Donny Osmond met each other at the gym and lightheartedly brawled. Osmond talked about their encounter on the radio show of Bonaduce's friend, Jonathan Brandmeier, who then asked Osmond if he could win against Bonaduce in a fight. One thing led to another and the two former child stars decided to battle it out in a boxing match at Chicago's China Club, per C'mon Get Happy. The match ended in a close call, with Osmond demanding a fourth round and Bonaduce jeering at his opponent's disappointment, per the Chicago Tribune.
Then, in 2008, Bonaduce fought comedian Reverend Bob Levy. The event's promoter was later charged with six counts of fixing fights and operating without a license, but Bonaduce's fight might not have been impacted by the rigging, per ESPN. Bonaduce's celebrity boxing career might have reached its peak when he fought former outfielder Jose Canseco. Bonaduce managed to stay on his feet, causing the fight to end in a draw, even though Canseco was 80 pounds heavier and a foot taller. The fight was available on Pay-Per-View, and both fighters were paid $2 per viewer, per the New York Daily News.
He nearly committed suicide on TV
In 2005, Danny Bonaduce starred in an ill-advised reality show on VH1 called "Breaking Bonaduce." It followed his tormented marriage to first wife, Gretchen Bonaduce, and documented some low moments of Danny's life. It's hard to believe that cameras captured as much as they did and that producers kept the show going. "Breaking Bonaduce" began at a low point in the Bonaduces' marriage, a period after Danny had an affair. The show progressively captured his descent into alcoholism, steroid use, and behavioral issues, sometimes verbally attacking his wife and their marriage counselor, per The New York Times. The show probed private conversations between Gretchen and her friends and between the couple during their counseling sessions, per NPR.
The lack of privacy probably wasn't doing Danny any favors, and by the fifth episode, he erupted. After Gretchen asked for a divorce, Danny became suicidal. Gretchen had the foresight to ask the cameras to leave, so the show didn't capture when Danny slit his wrists and was later hospitalized at a psychiatric ward. When his 10-year-old daughter asked what happened to his wrists, Danny said he cut himself while installing windows, per The New York Times. Gretchen filed for divorce two years later in 2007, per The Hollywood Reporter.
If you or anyone you know is having suicidal thoughts, please call the National Suicide Prevention Lifeline by dialing 988 or by calling 1-800-273-TALK (8255)​.
He's no stranger to controversial takes
Jane Fonda has made some enemies over the years, and you can probably count Danny Bonaduce among them. Fonda's public controversy stems from her 1972 visit to North Vietnam where she protested against U.S. military efforts in the war. A photograph was taken of her on an anti-aircraft gun, which appeared as if she were shooting down American planes. Fonda later said the pose was inadvertent, but the damage was done. She was dubbed "Hanoi Jane" and considered a traitor by many U.S. veterans, per Time. During a 2007 guest appearance on "The Big Story with John Gibson" (via Fox), Bonaduce said he hadn't seen the photo in 20 years, but he still couldn't forget it. The infamous photo made an "indelible mark" on him. Although Bonaduce respected her free speech rights during her later anti-war protests, he believed she should've been tried for treason in 1972 and killed by a firing squad.
She wasn't the only actress Bonaduce thought should be tried for treason. That same year, Rosie O'Donnell made controversial comments about reports that Iran had captured British soldiers and held them hostage. She dismissed it as a false flag operation, comparing it to the Gulf of Tonkin incident. In an appearance on MSNBC, Bonaduce told Joe Scarborough that O'Donnell was a "raving lunatic" who should have been hanged for treason, per Telegram & Gazette.
He's battled a mysterious illness
In April 2022, Danny Bonaduce suffered a health scare that made him fear the worst. The symptoms would frighten anyone: He couldn't walk or balance on his feet, and his speech was unintelligible. His wife Amy Railsback told him that he wasn't making any sense while he spoke, and he was immediately rushed to the hospital. He stayed there for five days, per GMA. Bonaduce took a temporary medical leave from his radio show, Seattle's "The Danny Bonaduce and Sarah Morning Show." He announced his decision on Twitter, adding a photo of himself with a cane and saying he was now in the company of Charlie Chaplin and Willy Wonka (via KIRO7).
Perhaps the scariest aspect of his affliction was that he never received answers. He underwent testing, but doctors never reached a diagnosis and ruled out a stroke. Bonaduce recognized the symptoms of a stroke since his father suffered one. He assumed he also had a stroke, but his doctors couldn't identify it in his x-rays. He returned to work in June after his symptoms disappeared and urged fans to pay attention to their health, per GMA.