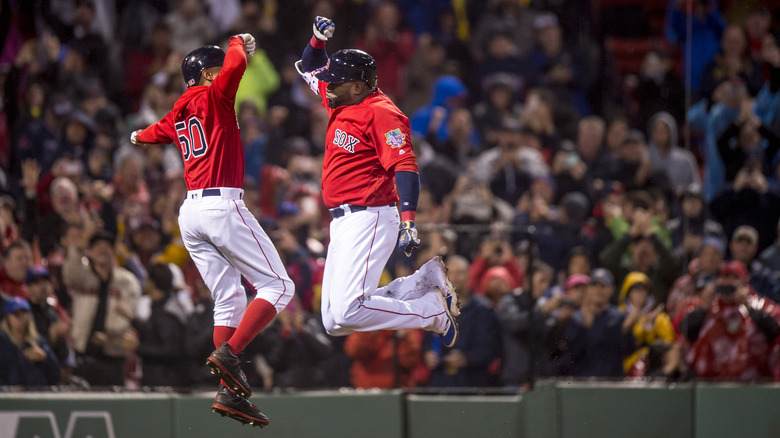 For some sports stars, it seems like the game just comes easy. They can make all the plays, win the awards, and excel in the clutch moments. Then there are others; those who struggle with consistency and have a tough time making their name. Though star athletes can make it seem simple, playing professional sports is no small task. Sometimes we can forget how difficult it really is to catch a flyball, throw a touchdown pass, or stop a slapshot.
Not only does their physical conditioning have to be second to none, but the mental aspect of pro sports has become much harder. It's not surprising then, that many young athletes struggle on their way to superstardom. While some stars are famous for excelling at a young age, like Bryce Harper, Patrick Mahomes, and Wayne Gretzky, for others it takes far longer.
Which player was retired for nearly a decade before making it to the major leagues? Who was cut four times and still worked his way to be a defensive player of the year, and which UFC star did not start fighting until he was in his mid-30s? Read on to find out, these are the athletes who peaked later in life.
Jim Morris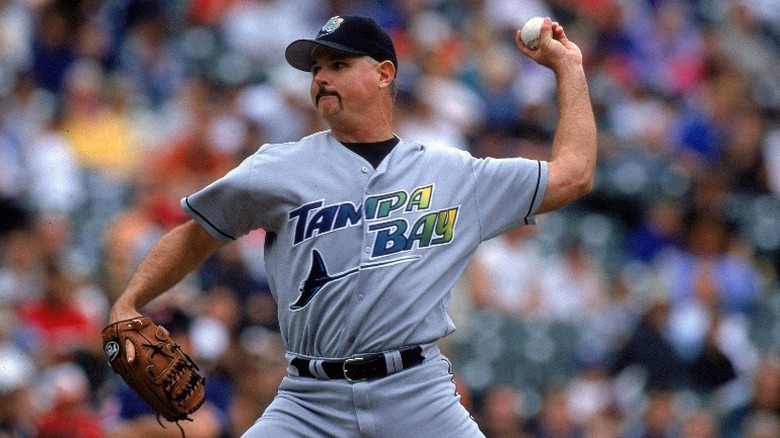 In the January 1983 MLB draft, the Milwaukee Brewers selected left-handed pitcher Jim Morris with their first-round pick. He was a young hurler with a lot of promise, but he struggled heavily during his minor league career. His arm was plagued by injuries, and he never advanced above Single-A ball — the lowest level in the minors. By 1989, most of his deltoid muscle had been removed through surgeries, and doctors told him he would never pitch again (per MLB). Morris' career was over.
Or was it? In 1999, after a total of five arm surgeries, Morris started teaching high school science in Texas. He also started coaching the school's baseball team that season, and that was the unlikely catalyst to restart his pro career. Morris promised his team that if they won the championship, he would try out for the Tampa Bay Devil Rays, who were holding tryouts nearby in Texas.
His team won and his tryout went sensationally. He threw 98 mph on 12 consecutive pitches, and he was quickly signed to a minor league deal. Finally, on Sept 18, 1999, 16 ½ years after he was drafted, Jim Morris made his major league debut for the Devil Rays. He pitched in front of his wife and three kids, striking out the only batter he faced. Pure baseball nirvana. Morris pitched for part of the next two years for the Tampa Bay and their Triple-A affiliate, before retiring for good from injuries in 2000.
Kurt Warner
Former quarterback Kurt Warner's career is one of the most distinguished in NFL history. Yet, his path to the pros was anything but quick. The top football colleges ignored Warner coming out of high school, and he settled for the University of Northern Iowa, a Division I-AA school (via Biography). He didn't start until his senior season, and despite some success, he went undrafted after he graduated in 1994. Warner signed with the Green Bay Packers as a free agent, but they cut him after barely a month. Dejected, he eventually got a job at a supermarket, but still practiced in his free time at his old college.
In 1995, Kurt Warner started playing again in the Arena Football League, and by 1998, he was playing in the NFL Europe league for the St. Louis Rams' affiliate. After performing well in Europe, Warner was selected for the Rams' NFL roster that August.
He gained the starting job the next year in 1999, when he was 28 — and his career was never the same. That season, he went on to win the league MVP, Super Bowl XXXIV, and was named Super Bowl MVP (per the Pro Football Hall of Fame). During his playing days, Kurt Warner was also named to two All-Pro teams, won another league MVP in 2001, and was elected to the Hall of Fame in 2017. He played in two more Super Bowls in his 30s, retiring after the 2008 season.
R.A. Dickey
Famous knuckleballer Robert Allen Dickey, better known as R.A. Dickey, had one of the more unusual career paths to sports superstardom. Originally born in 1974 in Nashville, Tennessee, Dickey was drafted by the Texas Rangers with the 18th overall pick in the 1996 MLB draft (per the Society for American Baseball Research). Thinking he was quickly headed for the majors, disaster soon struck. Doctors informed Dickey and the Rangers that he shockingly had no ulnar collateral ligament in his pitching arm, and he needed surgery immediately.
The Rangers offered to stick with him, which Dickey accepted, but it took him another five years until he made his big league debut in 2001. Yet, Dickey's inconsistency plagued him, and after struggling for years, he was released in 2006. In 2007, he signed with the Seattle Mariners, and a conversation with fellow pitcher Tim Wakefield was the key to turning his career around. Dickey was known as a knuckleballer, but Wakefield, a knuckleball specialist, taught him how to refine his grip and throw the pitch more effectively.
In 2010, when he was 35 years old, R.A. Dickey signed with the Mets and his MLB career took off, immediately becoming a top pitcher in the league — thanks to his knuckleball. In 2012, Dickey won the Cy Young Award, given to the best pitcher in each league in Major League Baseball. He was 37 years old and he had won 20 games: It was his finest season. Dickey retired in 2018, after six straight seasons of posting double-digit wins (per Baseball-Reference).
Brandon Weeden
It's the rare athlete who can claim they were selected as top draft picks in both the NFL and MLB drafts, but if you're Brandon Weeden, you're one of the few. According to Cleveland.com, Weeden was drafted by the New York Yankees as their top draft pick in the 2002 MLB draft, and 10 years later, he was selected by the Cleveland Browns as the 22nd overall pick in the first round. He was a dual-threat athlete in high school, both as a pitcher and quarterback, but it was the Yankees that drafted him during his senior year — giving him over $500,000 to sign with them.
Weeden did indeed sign with New York, but he struggled during his five seasons in the minors and never advanced above rookie ball, becoming frustrated and discouraged during the process. In 2007, he decided to quit baseball and try out for the Oklahoma State football team. He put up big numbers at Oklahoma State, and the Cleveland Browns took him as the 22nd overall pick in 2012. He had finally made it to the pros as a 29-year-old rookie.
Weeden started almost every game for the Browns that season, throwing for over 3,000 yards and 14 touchdowns (per Pro-Football-Reference.com). Though he was never a highly prolific passer, Weeden appeared in parts of four more NFL seasons, also playing for the Dallas Cowboys and Houston Texans.
Nelson Cruz
In 1998, when Nelson Cruz was just 18 years old, he made his debut for the New York Mets organization in the Dominican Republic's Summer League. Three years later, Cruz made it stateside, but he was traded from the Mets to the Oakland Athletics (per MLB). In 2005, now with the Milwaukee Brewers, Cruz finally made his debut — seven years after signing with the Mets. However, he struggled in the majors and was not able to establish a role as an everyday player until he was 28 years old in 2009.
Cruz started to perform well in the majors in his late-20s and early-30s, but he was suspended for 50 games for using steroids in 2013 (per the Los Angeles Times). However, Nelson served his suspension during the second half of the 2013 season, and when he came back in 2014, he picked up right where he left off — and then some. He was voted to the All-Star game that season and in 2015, and was in the top 15 for MVP voting for six seasons between 2014-2020 (per Baseball-Reference).
Though it took him a while, Cruz was able to establish himself as one of the top power threats in Major League Baseball in his 30s. From ages 33-38, he hit 37 or more home runs each season, something he had never done in his 20s. When he was 38 years old, Nelson Cruz hit the second most home runs in his career, with 41.
Tim Thomas
Legendary former goaltender Tim Thomas is the definition of a late bloomer in sports. Originally drafted by the Quebec Nordiques in 1994, Thomas decided instead to go to school at the University of Vermont and would go undrafted after his graduation in 1997 (per the U.S. Hockey Hall of Fame). After bouncing around in a few European leagues, including in Sweden and Finland, Thomas finally made his debut in the NHL during the 2002-2003 season, when he was 28 years old (per Hockey-Reference.com). Yet, it still took him a few more seasons to become a starting goalie — at age 33. From there, however, Thomas' career took off like a rocket.
He won the Stanley Cup as a starting goalie twice, in 2009 and 2011. In those same seasons, he also won the Vezina Trophy as the league's best goalie. By the end of his career, Tim Thomas was also a four-time NHL All-Star. For the 2008-2009 season, he would lead the league with the fewest goals allowed, also winning the William M. Jennings Trophy.
Thomas is the second-oldest goalie to have won the Conn Smythe award, the award given to the most valuable player in the playoffs, winning it when he was 37 years old. He finished his career with 31 shutouts; his personal best being nine in a single season — when he was 36 years old.
Randy Couture
Conventional wisdom would say that mixed martial arts, or MMA, is a young man's game, but no one told that to six-time UFC champion Randy "the Natural" Couture. Growing up, he was a state champion wrestler in Washington and immediately joined the Army after graduating high school, serving for six years.
After discharging from the military, Couture attended the University of Oklahoma, where he was a three-time All-American and a two-time Academic All-American (via the National Wrestling Hall of Fame). After graduating college, Couture continued to pursue wrestling, competing in the World Championships in Greco-Roman wrestling every other year from 1991 to 1997. He was also an Olympic alternate three times, and in 2000, he was a runner-up at the Olympic trials.
However, as hard as he tried, Couture could never actually crack the Olympics to become a champion at the professional level. After decades of wrestling, in 1997, at age 33, Couture decided to try his hand at MMA. He fought in the heavyweight division of the UFC and won the heavyweight championship at UFC 17 later that year (per his official website).
Couture went on to hold the belt for six separate reigns, fighting in both the heavyweight and light heavyweight divisions. In 2006, he became just the fourth fighter inducted into the UFC Hall of Fame. Incredibly, he still continued to fight for another five years, finishing his career in 2011 against Lyoto Machida (per the UFC).
James Harrison
Today, linebacker James Harrison is synonymous with quite a few things, among them bone-crushing tackles and an impeccable work ethic. However, it took a while for that talent to shine through, and he struggled heavily during the early part of his football career. Harrison attended Kent State University and played well during his senior season. Still, he went unclaimed in the 2002 NFL draft because teams worried he didn't have a position he could play (via "Biography Today").
Harrison signed with the Pittsburgh Steelers as a free agent in 2002 but was cut three times in his first year and a half with the team. Coaches and teammates alike felt he couldn't quite master the mental aspects of the game. While he briefly caught on with the Baltimore Ravens and played for the organization's NFL Europe affiliate, he left after just a few months.
After an injury to one of their veteran players, the Steelers invited Harrison back for their 2004 training camp, and he made a good impression. For the next three seasons, he was a "valuable but mostly anonymous role player" for the team, never becoming a starter. However, in 2007 that changed, and he became a full-time starter for the first time at 29 years old. The following season, Harrison was named the Defensive Player of the Year (per ESPN). He won two Super Bowls and was elected to five Pro Bowls during his career, and two times, he was voted All-Pro (per Pro-Football-Reference.com).
José Bautista
While José Bautista now is remembered as one of the great power hitters of the early 2010s, the beginning years of his baseball career were much less prolific. He made his major league debut in 2004 and had quite the roller coaster season — being on five separate teams. Struggling to hit for both average and power, Bautista was released by the Baltimore Orioles and the then-Tampa Bay Devil Rays and was traded two other times — once by the New York Mets before he could even play a game, per his MLB bio.
Bautista played with the Pittsburgh Pirates from the end of 2004 to 2008, when he was traded to the Toronto Blue Jays — his sixth team in five seasons. However, it wasn't until the 2010 season, when Bautista was 29 years old, that he started to shine. He more than tripled his previous home run total that year, smashing 54 bombs and driving in over 120 runs. He was also named to his first of six consecutive All-Star games and finished fourth in the AL MVP race (via Baseball-Reference).
Bautista also won the first of his three Silver Slugger awards, which are given to the best offensive player at each position. He might've saved his best seasons for his early to mid-30s, but he certainly made his mark as an outstanding player.
Elston Howard
By the time he was just 16 years old in 1945, Elston Howard had already established himself as one of the top talents in his hometown in Missouri (via the Society for American Baseball Research). When he was 18, he tried out for the St. Louis Cardinals, but he was rejected — partly because Howard was an African American and the Cardinals were not an integrated team at that point. Instead, Howard ended up signing with the Kansas City Monarchs of the Negro Leagues, playing in 20 games for them in 1948 as an outfielder (per Baseball-Reference).
In 1950, Howard was traded to the New York Yankees, and he made his debut in their minor league system that year. By the end of the 1950 season, it looked as though Howard was on a fast track to the majors, but the Korean War broke out that June, and he was drafted into military service. Back in baseball by 1953, Howard picked up where he left off, excelling as a hitter.
He finally made it back to the major leagues again in 1955, but it wasn't until 1957 — when he was 28 years old — that Howard started to make his mark. From that year until age 35, Howard was selected to the All-Star team every year, and he won two Gold Gloves and four World Series. His best season was in 1963, when the 34-year-old won the AL MVP award — the first African American to win the award (via SABR).
Joe Nathan
It seems strange to look back now, but when former All-Star MLB closer Joe Nathan was playing baseball as a kid, he hated pitching. Playing in college, Nathan excelled as a hitter, with a high average and good power numbers, but it was his brief pitching stints that really intrigued the scouts (per the Society for American Baseball Research).
The San Francisco Giants took a chance on Nathan in 1995, but within a year, he went back to school to finish his degree after he refused to try pitching. In 1997, Nathan finally decided to give in, and he rejoined the Giants as a pitcher. He made it to the major leagues in 1999 but was only average over the next two years — failing to make the Giants postseason roster in 2000. His career bottomed out in 2001 when he struggled heavily in the minor leagues while recovering from surgery.
Finally, in 2003, at 28 years old, things started to click for Nathan. After an immensely successful season as a set-up man for the Giants, he was traded to the Minnesota Twins, where he became one of the best closers in the league over the next seven seasons.
Joe Nathan's best season was when he was 34 years old; he would set the Twins record with 47 saves that year. He also pitched incredibly successful seasons with the Houston Texans and Detroit Tigers in his late-30s, and he was elected to the Twins' Hall of Fame in 2017.
David Big Papi Ortiz
Among Boston sports stars, few are bigger or more revered than David "Big Papi" Ortiz. His career stats are fodder for baseball aficionados: 541 home runs, 1,768 RBI, 2,472 hits; numbers only a rarified few can claim to have even come close to (via Baseball-Reference). Yet, for all his accolades and success in Boston, it actually took Ortiz quite a few years to get going on his Hall of Fame career.
The Seattle Mariners signed him as a free agent in 1994 and sent him to Arizona to play rookie ball (via the Society for American Baseball Research). He made his major league debut for the Minnesota Twins in 1997, but Ortiz struggled to stay around, and they released him in 2002 after six average seasons.
The Boston Red Sox took a chance on Ortiz after his release, and he more than rewarded them. After a slow start to the 2003 season, Ortiz lit up during the summer, and by the end of the season, he was a top-five MVP candidate — which he would remain for the next four years straight. Ortiz dominated during the second half of his career, being named to 10 All-Star teams and winning seven Silver Sluggers, on top of his three World Series titles. He even won the World Series MVP in 2013, when he was 37.