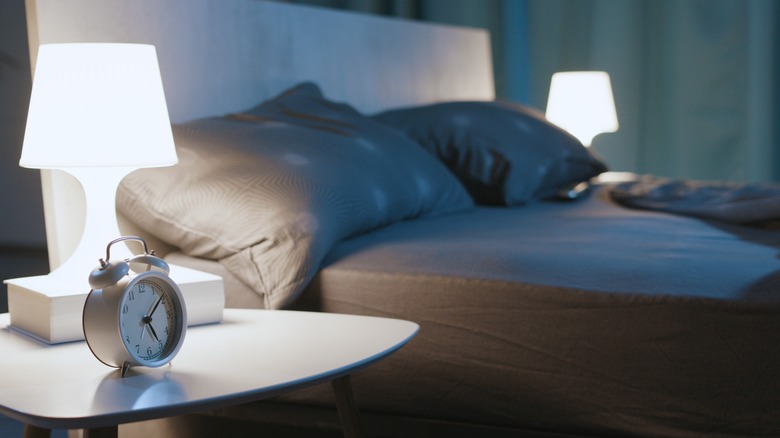 Since its inception in 1976, Costco has taken the warehouse shopping world by storm. Its impressive revenue growth, along with its customer-first approach to service, has led to a following that's over 111 million members wide. With 825 worldwide locations, Costco has made its way to being the sixth-largest retailer in the world and a recognizable part of pop culture, as per Zippia.
The company is known for its great deals on bulk paper towels, gourmet frozen foods, and, of course, $1.50 food court hot dogs. However, many novice decorators and interior designers flock to the store for awesome home product finds. Here, you'll find everything from well-built furniture items to plushy textiles. Costco also offers a competitive selection of appliances and electronics that rivals specialty retailers.
One big highlight of purchasing home products at Costco is the great customer service, return policy, and warranties offered. This, paired with a wide range of inventory at various price points, makes it a good place to invest your home and decor dollars. Check out these items you should browse online or keep an eye out for on your next Costco run.
Costco is a great place to buy furniture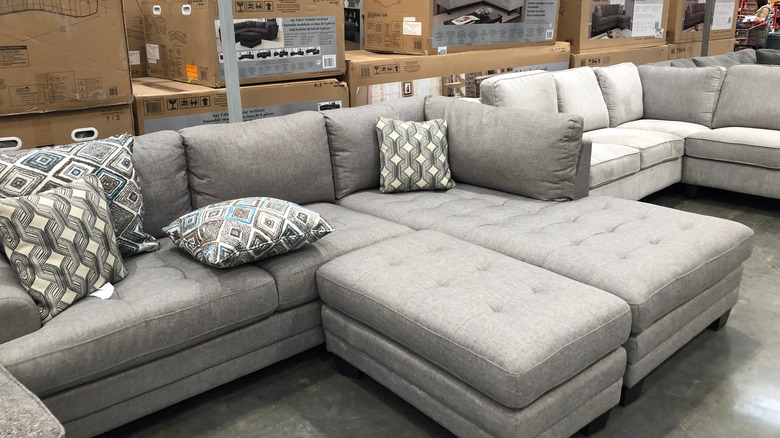 If you walk into Costco when the floor is set with the latest furniture, you're in luck. The retailer offers two major furniture events each year. Make sure to visit near the 4th of July or Christmas to see some of its best offerings in person. Not only are the items of great quality, but they are also typically a phenomenal deal. Money expert Clark Howard tells Clark.com, "Furniture at traditional furniture stores is usually very heavily marked up, often by 100% to 200%. Those retailers make their money not just from the sale of furniture, but from the financing and the delivery costs built into making a purchase. But with Costco furniture, they strip all that bare. You know you're getting a real deal if you like what they have."
However, if you miss the two furniture sales events, you can still reap the benefits of buying from Costco. Its website features a wide range of bedroom, living room, and dining room furniture to browse online. The selection also includes pieces designed with kids' rooms and nurseries in mind. Plus, it makes having your new furniture delivered a piece of cake. Select the "Room of Choice" delivery option, and your new furniture will be placed in your desired room. Or, splurge for "White Glove Delivery." This full-service option includes unpacking your furniture, setting it up, and removing all packaging, all at your selected appointment time (via Costco).
Buying kitchen appliances at Costco can be a smart move
When looking for kitchen appliances, it can be easy to get overwhelmed. There are seemingly endless choices on the market at tons of price points. Your goal is likely to find the best quality appliances at the best deal. Costco has a small store selection of appliances that you can check out in person. However, its online selection is where the retailer really shines.
The Costco website features major appliance brands for both kitchen and laundry. You can purchase pieces individually or save some serious cash on an appliance package. The best part is the warranty coverage that you receive. Depending on your membership and method of payment, you could receive a two-year extended warranty and up to 4% back in rewards (via Costco).
Plus, Costco's pricing is super competitive. A LendEDU study found that shopping on Amazon — the go-to for many online shoppers — was an average of 39% more expensive than purchasing from Costco. This great pricing, combined with Costco's warranties, makes buying appliances from the wholesaler your best bet.
Costco is an awesome store for TV shopping
If you're looking for a new state-of-the-art flatscreen, Costco's got you covered. The store has tons of options in stock, both in-store and online. It offers a helpful TV buying guide to help shoppers narrow their choices from its overwhelming inventory. This can help you determine your ideal screen size, the best refresh rate for your needs, and whether you should go with OLED or LED. The store also tacks an extra two years of warranty on to the manufacturer's original term with Costco Concierge Services Technical Support (via Costco).
For these reasons, CreditDonkey rates Costco the best combination of value and service when TV shopping. When comparing identical models with other retailers, Costco consistently offered the best prices. The site also rates the Costco service experience as 5/5. The retailer earns this mark with its industry-best 90-day return policy and high customer service standards. So, whether you purchase your new TV online or at a Costco store, you're likely to have a seamless experience.
Look for home textiles and bed linens on your next Costco run
Costco has an impressive rotating inventory of home textiles. Check them out when you are at your local store to get a feel for their quality. Online you can find everything from duvet covers and quilts to throw pillows and comforter sets in a wide variety of styles. With its 100% satisfaction guarantee, you can purchase items confidently. You can conveniently return them online or in-store if they don't work in your space.
Costco's sales model allows you to get high-end quality items at a fraction of the price. One popular product is its high thread count sheets. Interior designer Michelle Harrison-McAllister explains to Insider why she picks up bed linens at the warehouse retailer. "Luxury sheets are key for a perfect sleep," she says, "and this 800-thread count Supima cotton set has an exceptional feel."
The bath and beach towels are also great values. GoBankingRates points out that the store's 100 Hygro cotton luxury Charisma bath towels are a great value at a fraction of the Amazon sales price. And SheKnows touts the features of the store's cult favorite beach towels that are thick, absorbent, and a generous size at a competitive price.
Costco is a great place to buy a new mattress
Costco is a great retailer to try if you are looking for a new mattress. First, it offers a wide range of price points to choose from. According to Terry Cralle, the retailer has options anywhere from $300 to $3,000 to cover nearly every budget. It carries plenty of well-known brands with great reputations, and the generous return policy is an ideal option when making a significant investment in your comfort and sleep.
You can take the guesswork out of purchasing your new mattress with Costco's step-by-step Buying Guide. Narrow the selection down by size and learn what type of mattress is best for your sleeping position. The guide also offers solutions for specific sleep problems and breaks down the types of mattresses and their benefits. This makes it much easier to select and order the perfect mattress for your specific needs.
Shop for rugs for every area of your home
Kanika Design points out that area rugs are an important part of your decor for adding warmth and harmony to a space. It's also no secret that area rugs can come with a big price tag. Fortunately, Costco can help you search its vast selection and find a great rug that fits your space and budget. First, its guide can help you determine the correct rug size for your area. Breaking down the styles it carries, as well as the various rug materials, can help you discover the right features for your needs. Then, add one of its recommended rug pads to add extra cushion and protect your purchase.
UpHomely reports that the retailer also focuses on quality control, selling pieces with either natural fibers or premium materials. The store also carries accent and bath rugs both online and in-store. These come at a great value, allowing you to place them in high-traffic areas without worry.
Buy floor care items at Costco for great deals
Keep your home clean with the store's selection of floor care items. Costco has various in-store selections, while online offers everything from upright and robot vacuums to steam and hard floor cleaners. Plus, you can find yourself an awesome deal. Insider reports that one popular Dyson Animal vacuum sold for $299 at Costco — over $150 less than the competitors. Those savings are significant, and you can usually find them when the product is on sale.
Investing in a vacuum only for it to fail can be a frustrating experience. However, First Quarter Finance verified that you could return your vacuum to Costco at any point even if it's been opened, used, and the packaging has been discarded. This generous policy makes investing a few hundred dollars in that new high-end vacuum a risk-free move. If you find it doesn't work well or meet your expectations, you can easily get your money back.
Shop for smart home devices at Costco
Take your home into the future with intuitive smart home devices. Costco has a wide selection of doorbell cameras, garage door openers, and smart appliances. It also carries smart carbon monoxide detectors, cameras, and door locks to keep your home safe and secure. Its website offers a wide range of items one would need to upgrade their home.
There are some specific smart home products that experts recommend that you buy from the retailer. History-Computer recommends that you buy everything from your smart thermostat to your new robot vacuum from the retailer for its competitive prices. The store is also a great place to overhaul your lighting. Consumer analyst Julie Ramhold tells GoBankingRates, "Philips Hue lights are definitely pricey; but, if you're a Costco member, you can actually get some excellent deals on Feit kits for a fraction of the cost." These alternatives are budget-friendly while still being fully functional and compatible with Google and Alexa.
Choose from Costco's wide variety of custom window treatments
Ordering custom window treatments can be overwhelming, not to mention super pricey. However, well-planned window coverings can bring your home together and create a polished look. According to The Interior Design Advocate, a room without curtains seems unfinished and cold since blinds and curtains help tie an aesthetic together.
Costco has a streamlined system and a partnership with Graber, a window covering company with decades of expertise. The website highlights the multiple choices when it comes to shades, blinds, curtains, and shutters. Learn about the best window treatments for your needs, including UV protection and kid-friendly control mechanisms. Use its virtual tool to visualize its curated collections on your actual windows. Then, schedule a consultation with a Graber window treatment consultant. You can then order your custom window coverings and receive a Costco reward card for your purchase.
Buy small kitchen appliances and gadgets at Costco
Costco carries a wide variety of small kitchen appliances. So if you're looking for a new air fryer or the latest coffee maker, it's the place to go. The best part is that your purchase can be a low-risk investment. Costco's generous return policy and satisfaction guarantee mean that you won't be stuck with a dud kitchen gadget a year later. According to The Sun U.S., money guru and TikTok star BougieCheapskate returned an approximately five-year-old coffee maker to the store with success.
Aside from the satisfaction guarantee, the prices make shopping for small kitchen items at Costco a win. The Ktchn recommends picking up a 6-Quart Instant Pot due to the store's impressive price tag. It also points out versatile tools like food processors, Nutribullets, and Keurig coffee makers that the warehouse sells with competitive pricing and top-of-the-line service.
Costco is a one-stop-shop for seasonal decor
If you walk into a Costco warehouse as the holiday season rolls around, you're in for a treat. You're greeted with a freshly-rotated festive inventory. The center aisles are filled with cheery lawn sculptures, twinkling lights, and towering faux trees. The Costco website also features a variety of Christmas greenery and Halloween decorations, and these collections usually come out months before the holiday begins, allowing you to plan your decor accordingly.
The range of products offered, especially during the peak season, makes Costco a one-stop shop for Christmas prep. DebtHammer CEO Jake Hill tells GoBankingRates, "Costco has a great selection of Christmas lights and decor. I have personally bought all of my outside lights and my Christmas tree there. The prices are good, and there is a lot to choose from so you don't feel limited in your choices." Costco's great selection at a great value will certainly add to your festive season.
Why you can be confident in your Costco home product purchases
No matter what home product you buy, purchasing it at Costco can give you peace of mind. The store offers a 100% satisfaction guarantee, a rarity in the retail world. This applies to both your membership fee and the products it sells. If you aren't completely satisfied with your membership, you can request a cancellation and refund at any time, as per Costco.
Products may also be returned at any time for any reason, with a few exceptions. Electronics like televisions, cell phones, and kitchen appliances are bound by a 90-day return limitation. However, this is still a generous timeline compared to the 15-day policy of Best Buy. The store makes returns easy by providing a dedicated return window at the warehouse. Items purchased in-store must be returned in-store, but online purchases can be processed online or in person. You can also complete a request online to replace a damaged or defective item (via Costco).
Another awesome feature of the Costco purchase process is the price adjustment guarantee. If you walk into the warehouse and see that the regular price of an item you bought in the last 30 days has dropped, simply request an adjustment. The same policy applies online. Complete the online price adjustment request to easily have the difference refunded to your original form of payment.
You'll have a great experience shopping Costco's home inventory
A visit to a Costco warehouse can be a fun and welcoming experience. The company places its employees as a high priority, which is reflected in the customer service and transparent culture. According to the American Customer Satisfaction Index, Costco received first place among general merchandise brands for the sixth year in a row. The wholesaler scored an 81, beating other retail giants Target, Kohl's, and direct competitor Sam's Club. These high marks make it likely your Costco shopping experience will be a positive one.
These superior standings are a result of several factors. Employee satisfaction is often a direct correlation to customer satisfaction. As Wall St. Watchdog points out, Costco employees are thrilled to be there. The above-average wages, employee retention, and promote-from-within culture combine to create stellar service. In-store employees have all of the tools they need to help customers efficiently. The store keeps its inventory to a reasonable number of products so employees can remain helpful and knowledgeable. Plus, the intuitive website allows you to find information easily whether you are looking to self-serve or speak to customer service.
All of these factors serve to enhance your home product shopping experience. Maybe you need help ordering your furniture delivery, or you're looking for the newest air fryer model. Or, perhaps you are just looking to return the sheets that didn't quite work. No matter your needs, Costco employees will make it a great experience. And you can even grab a few free in-store snack samples along the way.