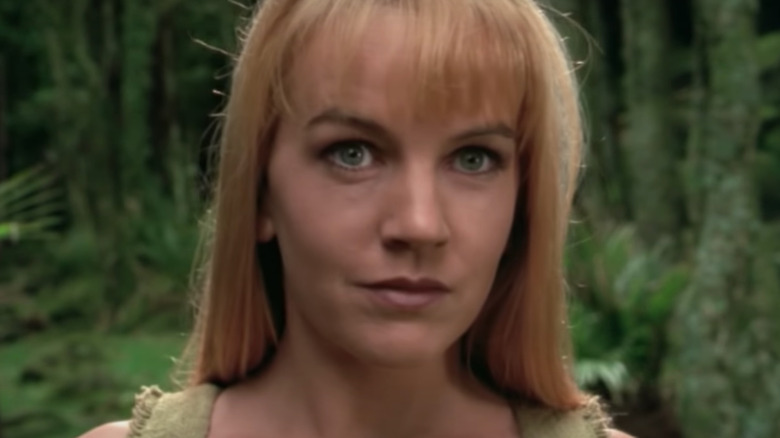 No one could have known when the "Hercules: The Legendary Journeys" spinoff series "Xena: Warrior Princess" was in the beginning stages of development that it would end up becoming such a worldwide hit — and eventually become even more popular than its predecessor. Lucy Lawless and Renée O'Connor were cast as Xena and her equally fierce partner Gabrielle, respectively, and in the years since their series' debut, both have since become beloved cult classic figures.
O'Connor starred opposite Lawless throughout the 134 episodes that made up the six seasons of "Xena: Warrior Princess." She secured the role in the spinoff by impressing with her performance in the Hercules TV movie "Hercules and the Lost Kingdom," in which she played a different character. Her role of Gabrielle set her apart as an actor who could play a strong and groundbreaking character who was ahead of her time.
After becoming so renowned she was even made into her own Gabrielle Barbie doll, what's actually happened to Renée O'Connor since she first starred in "Xena: Warrior Princess" over 25 years ago? As it turns out, the fan favorite actor has kept a busy yet low-key life since hanging up Gabrielle's Amazonian fighting staff.
She sat in the director's chair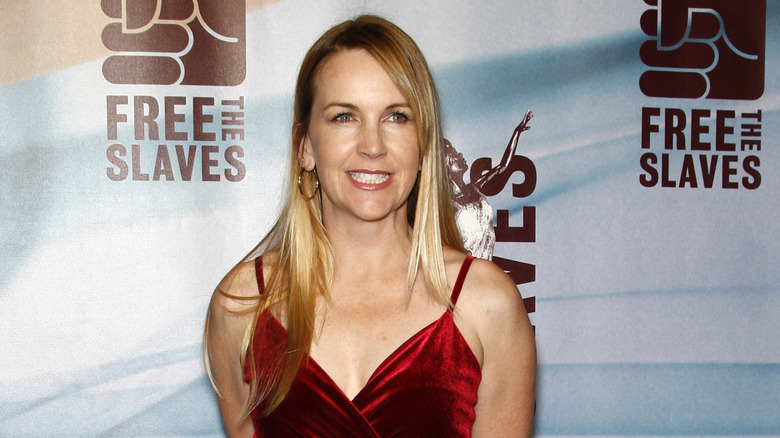 Just as "Xena: Warrior Princess" helped put Renée O'Connor on the map, it also seemingly kickstarted her love for directing. The actor got the opportunity to direct the "Xena" Season 4 finale episode and then later directed an episode in Season 6. After her time on "Xena: Warrior Princess," O'Connor remained behind the camera, going on to direct award-winning shorts as well as some lesser-known full-length films.
Reneé O'Connor co-directed "Diamonds and Guns" as her first full-length film director credit, also starring in the project and acting as executive producer. Later she went on to direct "Words Unspoken," for which she won the awards for Best Short Film and Best Actress at the West Hollywood International Film Festival.
"I wanted to direct something where I didn't have to compromise to a studio, such as to a television show. I could really just be authentic in my own voice and in my own visions," O'Connor told Film Nut when asked what inspired her to direct "Words Unspoken." It seems like she ran with that wish, as O'Connor went on to direct her second full-length film, "Broken Things," a few years later in 2015.
Renée O'Connor started her own film production company
Shortly after the series finale of "Xena: Warrior Princess" aired, Renée O'Connor founded ROC Productions. "Diamonds and Guns" was the first film produced under the new banner, and O'Connor had heavy involvement in the project. According to O'Connor in an interview she gave to Slice of SciFi, the learning curve from moving to acting onscreen in a TV show for six years to the production side of things was steep. Even so, O'Connor continued her journey with ROC Productions and added more producing credits to her name.
Following the production of a number of shorts that included "Words Unspoken," the second feature film from ROC Productions, "Watch the Sky," was released in 2017. O'Connor played a dual role in the family sci-fi film, appearing onscreen while also acting as executive producer.
Over the years Renée O'Connor built a team of talent she tended to work with on projects that fell under ROC Productions' umbrella of works. A lot of the same names pop up from project to project, like "Diamonds and Guns" writer Dawn Higginbotham, who was also involved in the majority of the company's productions. Randy Crowder, Jed Sura, and Andrew Pinon are among the many individuals who have frequently collaborated with O'Connor on projects.
She built a beautiful family
Somewhere between beasting out as Gabrielle on "Xena: Warrior Princess" and diving into different roles on movie sets, Renée O'Connor tackled the biggest job of all: creating and raising a family. She married her first husband Steve Muir while still playing Gabrielle and gave birth to their first child, Miles Muir, shortly after the series ended in 2001. In fact, due to the timing of Miles being born shortly after Season 6 finished airing, it's reasonable to believe she was pregnant while filming part of the last season — no easy feat, even for an Amazonian warrior.
In fact, the transition to motherhood wasn't an easy one. In an interview with Camera Conversations, O'Connor relayed the difficulty she had when ending the phase of her life that was "Xena: Warrior Princess" and shifting her focus to family. "I had been busy for so many years," O'Connor told the storytelling digital series. "For six years, working 80 to 90 hours a week, and then suddenly that was all gone and it was just a baby and myself."
After her marriage to Muir ended, O'Connor would later go on to marry Jed Sura, who she has partnered with in many projects. The two share a daughter, Iris Sura O'Connor.
Both of her children inherited the acting bug: Miles Muir and Iris Sura O'Connor acted in her production "Watch the Sky" alongside their mom. Iris also had a role in ROC Productions' "Infinity" and Miles has a number of acting credits to his name.
She became a B-movie queen opposite Bruce Campbell
After the finale of "Xena: Warrior Princess," Renée O'Connor acted in a number of low budget B-movies and monster films. One such film was "Alien Apocalypse," in which she starred opposite horror and B-movie legend Bruce Campbell.
It isn't at all surprising that fans were graced with this union of cult icons, because the two have a pretty solid connection in the form of one Mr. Sam Raimi. Raimi acted as an executive producer on "Hercules: The Legendary Journeys" and "Xena: Warrior Princess" and he also has an extensive history with Campbell, who landed the recurring role of Autolycus in both series thanks to his long professional relationship with Raimi.
Both O'Connor and Lucy Lawless went on to work with Campbell after "Xena" ended, with O'Connor doing so in "Alien Apocalypse," which is exactly what it sounds like: An apocalypse movie that takes place after aliens have taken over Earth. The two stars shared a kiss in the film, which Campbell deemed "Sa-weet!" in a tweet.
In addition to "Alien Apocalypse," O'Connor also starred in a few other low-budget films in the 2000s, including "Monster Arch" and her own "Diamonds and Guns."
Renée O'Connor moved to the live theater
After she explored the film industry more heavily once her role as Gabrielle on "Xena: Warrior Princess" was over, Renée O'Connor also branched out into live theater. According to Broadway World, although she took on the role of Lady Macbeth (a role she would later take back up opposite her husband Jed Sura) onstage in "Macbeth" in 2002, she wouldn't fully get into a theater career until around 15 years later.
In addition to playing Lady Macbeth more than once, O'Connor has also played the Nurse in a production of "Romeo and Juliet," in which her son Miles Muir held the role of Romeo. As reported by The Tallahassee Democrat, the casting of mother and son was purely coincidental.
Though she's had roles in multiple Shakespearean plays and older classics like "Annie," "Mary Poppins," and "The Wizard of Oz," she's also starred in more modern dramas. In 2017, O'Connor joined the cast of "Dinner with Friends" at Little Fish Theatre, a venue where she's played a number of roles, including the lead in Steven Dietz's "On Clover Road."
Just as with her Hollywood career, O'Connor expanded her live theater career by sitting in the director's chair. She directed a production of "Romeo and Juliet," sharing the experience with fans with an Instagram post of herself in action and directing onstage.
Renée O'Connor founded her own theater company
Further echoing the way she went about building her career in filmmaking, after exploring the live stage as an actor and director, Renée O'Connor founded her own nonprofit theater company, House of Bards, in San Pedro. In addition to producing, she typically takes a dual role, either acting in or directing the productions.
According to Broadway World, House of Bards Theatre Company's first production was "Macbeth" in 2019, starring O'Connor and her husband Jed Sura as the leads. Sura co-founded the theater company with O'Connor, and he's been partnering on projects since well before its conception.
After opening not long before the COVID-19 pandemic and having to most likely delay proposed productions after its initial first run of "Macbeth," House of Bards presented its second play with "Romeo and Juliet." This is the same production of the play that O'Connor directed, which had its last show in May of 2022.
She's a painter
Renée O'Connor is clearly a very creative person — and her artistic ability goes further than the screen or stage, which she's demonstrated by branching out into mixed media paintings. During the COVID-19 pandemic she updated her official website with an art page full of paintings she created during lockdown, using a mixture of beeswax and resin crystals combined with pigments to create layers of light-allowing colors that form an overall image.
While she used the pandemic to get creative with her visual art, that wasn't the first time O'Connor has demonstrated her love of painting. In a interview with Hobo Trash Can, O'Connor revealed that she used the money earned by selling paintings to help fund her first production venture, "Diamonds and Guns." That film came out in 2008, so it's clear that painting has been another creative outlet for the former "Xena: Warrior Princess" star for quite some time.
Renée O'Connor and Lucy Lawless have stayed close
If you assumed that spending six years opposite each other on a world-renowned hit TV series would make Renée O'Connor and Lucy Lawless pretty tight, you aren't wrong. While the "Xena: Warrior Princess" stars can go years at a time without seeing each other, they have nonetheless stayed good friends over the years following the series.
When asked about their relationship in an interview with the Toronto Star, Lawless revealed that, very much like their "Xena: Warrior Princess" roles, their relationship goes beyond friendship. "It's a sisterhood," Lawless said. "It's beyond friends, forged in the heat of battle."
"Xena: Warrior Princess" was filmed in New Zealand, Lawless' home country and where she still resides. O'Connor, on the other hand, is an American and relocated to transform into Gabrielle for the series. O'Connor came back to the States after the series was finished, which put quite the physical distance between the two stars, but they've found ways over the years to continually reconnect.
O'Connor reunited with Lawless in another series
Renée O'Connor traveled to New Zealand to reunite with her former "Xena: Warrior Princess" co-star during the COVID-19 pandemic by taking a one-off role in "My Life Is Murder," Lawless' Acorn TV mystery series. In 2021, O'Connor appeared in an episode as the wife of a health guru who ends up dead. The "Xena: Warrior Princess" alums found themselves going head to head in "My Life is Murder" rather than fighting together like the good old days — a refreshing change for the two friends.
According to an interview the reunited stars gave to Entertainment Weekly, it had been a while since the two had seen each other, and that — combined with O'Connor wearing a mask — made it so Lawless didn't even recognize her at first. Despite that and the fact that O'Connor hadn't been on a TV set in quite some time, the onscreen reunion was easygoing. "It just felt like walking into Lucy's living room and having friends over. It was so charming and loving. And it was like that all the way to the very end," O'Connor said in the interview. "I actually had a little withdrawal when I finished filming."
O'Connor reminisced with Lucy Lawless on a Xena podcast
"My Life Is Murder" isn't the only recent example of a collaboration between the former "Xena: Warrior Princess" stars. Prior to their reunion on Lucy Lawless' show, Renée O'Connor and Lawless reunited remotely for their series' 25th anniversary. Syfy Fangrrls put together a five-episode podcast that was a total blast from the past for both fans and those involved in "Xena."
Just as stars like Bruce Campbell and Ted Raimi returned to talk about their time on the show and working with the two leads of the series, O'Connor and Lawless have their own episode together; in Episode 2 of the "Xena: Warrior Princess" 25th Anniversary Podcast, the two reminisce about all the less-than-ideal conditions of filming the series in New Zealand.
Lucy Lawless recounts the time rats were dumped on her while filming an uncomfortable scene, saying she had them up her Xena skirt and spiders in her mouth. While that might sound like a horrifying day, looking back on the situation together sounds like it was a lot more fun for Lawless and O'Connor.
Renée O'Connor became a queer icon
Renée O'Connor and Lucy Lawless seem to have gone through the wringer when they were filming "Xena: Warrior Princess," but you wouldn't expect anything less from two killer Amazonian warriors — and their characters have also left a legacy with fans, including becoming lesbian icons after they appeared as Xena and Gabrielle. O'Connor was voted LesbiaNation's Most Loved Woman in 2006 (via Hobo Trash Can), beating out Lawless, who was second place. In 2007, their places swapped.
The series hints at a romantic relationship between Xena and Gabrielle, even though it never made it canon that the two were together. However, after the series ended, Lawless made the truth about the relationship between Xena and Gabrielle clear, telling SiriusXM in 2010 that "Xena and Gabrielle were a couple."
When speaking to Page Six about the lesbian undertones of "Xena: Warrior Princess," O'Connor said she felt that if the show were on today, the characters would have no need to only hint at their relationship. Although it was only implied, it was still groundbreaking for the time and something that the LGBTQ community could latch onto as a kind of representation in mainstream media.
Attending fan events for 'Xena: Warrior Princess'
Renée O'Connor's Gabrielle and the relationship she had with Xena was a hot topic back when the show was on the air and fans were speculating about its exact nature — and all these years, the characters are still very much beloved by their loyal fanbase. O'Connor and Lawless have both attended their fair share of fan events and conventions for "Xena: Warrior Princess" over the years, and they seem to use the events to catch up with one another as well as their fans.
Fan events and conventions take O'Connor and Lawless all over the map, but for two people who live thousands of miles away from each other, they're pretty much the perfect excuse to be in the same city. During multi-day events, the two former co-stars tend to appear on the same day to greet fans and answer questions, exemplified by Creation Entertainment's 2022 Salute to Xena event, which celebrated the series' quarter-century milestone.
Both actors really seem to enjoy interacting with the convention crowds, such as the 2018 appearance at Fan Expo Canada in Toronto (via Convention Junkies) when Lawless thrilled attendees by calling O'Connor her "screen wife." All these years post-"Xena," the two stars still have a great time together — and with their fans.