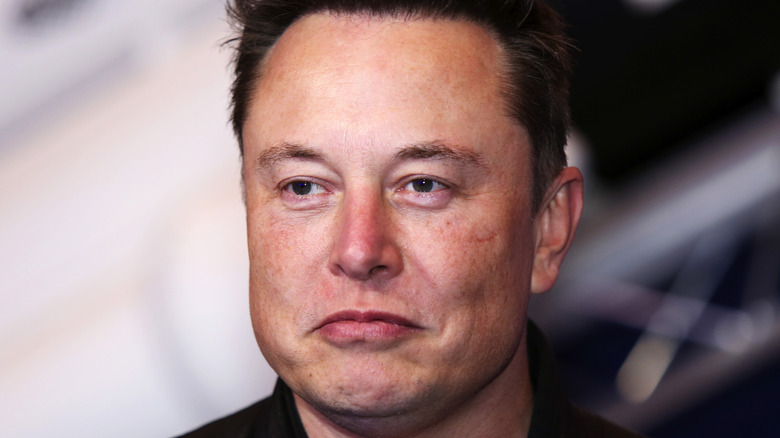 Elon Musk is constantly finding new ways to surprise people — from attaching a Tesla roadster to a SpaceX rocket and sending it into space (via CNN) to creating and selling flamethrowers. And, of course, we can't forget when he and wife Grimes confusingly named their child "X Æ A-12" (via The Washington Post). But the enigmatic billionaire doesn't stop there, with Business Insider reporting various other odd discussions that Musk has had, such as one in which he speculated that humans are all living in a simulation. But it would appear that he's gone ahead and surprised us all again in a way that we never could have predicted from the billionaire.
His impressive entrepreneurship and business ventures made him one of the richest men in the world. But despite his incredible wealth, according to the UK's Independent, Musk is living in a house that is worth a modest $50,000. Get the details below.
Elon Musk is worth a mind-blowing amount of money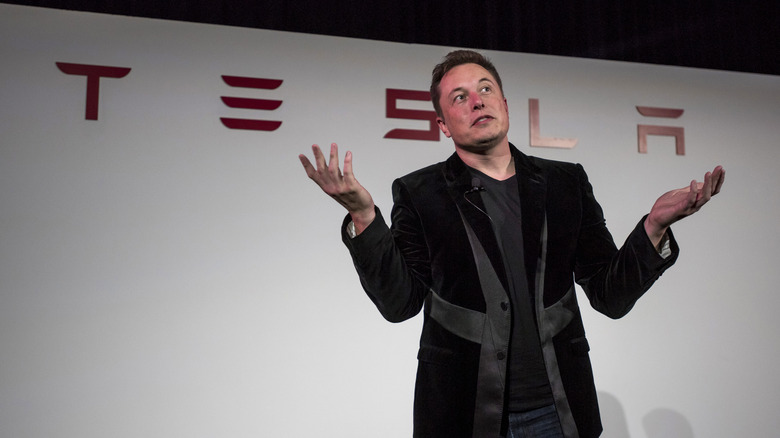 Elon Musk has amassed so much wealth that it can be difficult to wrap your brain around. According CNBC, Musk is worth $185 billion — an amount so high Insider shared a graph of Musk's wealth in order to help visualize the sheer extent of it, and describes it by using the analogy of distance. And this was when his wealth was just estimated at $176 billion. "Traveling one million miles would get Elon Musk 1/34 of the way to Mars, even at its closest point in orbit. One billion would get you there 29 times, but this is just one billion. Musk's current 176 billion in miles would be 5,104 trips."
And his wealth is only continuing to grow. The majority of Musk's wealth appears to come from his position as the CEO of Tesla and SpaceX, with Film Daily reporting that just since 2020, his wealth has increased $150 billion. Most of that financial growth he has seen has come from Tesla stocks, which have reportedly increased 720% in 2020.
Elon Musk's house costs less than most Tesla models
The uncharacteristic modesty of Elon Musk's $50,000 home is shocking for several reasons, but the public can't help but note that this tiny home costs less than most of his Tesla models.
According to Motor Trend, buying a Tesla will cost you a pretty penny. The Model 3 is the cheapest available version of the car and is the only one with the capability to come in at less than Musk's tiny home. While the car starts at $41,190, pretty much any additional features will bring the total cost up to higher than $50,000. The Tesla Model S is significantly more expensive, starting at $86,190. If you're interested in the tri-motor Plaid variant of the Model S, you'll be paying around $131,190. And finally, as for the Model X SUV — which is known for its "Falcon Wing" doors, or the doors that you would imagine the cars of the future to look like — starts at a whopping $96,190. You might even pay up to $121,190 if you want to add customizations.
Of course, this doesn't even cover some of the other models — like the Roadster, which starts near $200,000.
Elon Musk promised to sell everything he owns
In a tweet from May 2020, Elon Musk announced that he would be selling all of his "physical possessions" and would "own no house." According to Vanity Fair, he followed through with this promise and sold "a contemporary 9.309-square-foot mansion with six bedrooms and seven bathrooms for $29.72 million." The publication noted that he sold a second home for $6.77 million and a third for $4.43 million.
Many believe that Musk's goal of selling his possessions was a way to show his dedication to eventually colonizing Mars, per Business Insider. "I think it is important for humanity to become a spacefaring civilization and a multiplanet species," the billionaire explained. "And it's going to take a lot of resources to build a city on Mars. I want to be able to contribute as much as possible to the city on Mars. That means just a lot of capital."
Now, let's dive into the details about the home he does live in, as seen in the photo above (and the pictures below).
The tiny home is the size of a studio apartment
And now, after selling most of his possessions and all of his houses, the Tesla founder is left with a modest home that he doesn't even own. Musk wrote in a tweet that his "primary home is literally a ~$50k house in Boca Chica / Starbase that I rent from SpaceX. It's kinda awesome though." The New York Post reported that the tiny home is just that: tiny. At just 375-square-feet, the space looks like a pretty standard studio apartment, with nothing more than a kitchen, a bathroom, and a living area with space for a couch and a bed. That's right: it's essentially a 20-foot by 20-foot box. The price doesn't include the cost of utilities or landscaping, however (via BGR).
The billionaire later clarified, however, that after the renovations and additions, the house is a little more than $50,000. "Now that I have made some improvements, I'm pretty sure it's worth $69k haha," he tweeted. Hey, that's still less than the Tesla Model S.
Elon Musk's tiny home was towed to his land by a Tesla
But maybe Musk is onto something with this tiny home, which is reportedly from the compact home company Boxabl. Musk is residing in the tiny home in Boca Chica, Texas, where the SpaceX headquarters are located (via The Atlantic).
These kinds of homes are prefab — or prefabricated — homes, meaning they are typically cheaper, quick build homes with a focus on sustainability, per Curbed. Founded by Paolo Tiramani in 2017, the company boasts being able to ship homes anywhere in the world, and the company has a goal of mass-producing houses at an affordable cost, per The New York Post. "[Paolo] had built a modular home back in Connecticut, dealt with all the oversize shipping issues, and came up with the folding solution," Galiano explained, adding that it was clear after time that their product had "huge potential."
According to The Real Deal, Musk had decided on the "Casita" unit, otherwise known as an ADU, or Accessory Dwelling Unit. Boxabl delivers the units "to your backyard," and only need one day to finish the set up, per their website. The Casita units are known for being especially durable due to their steel and concrete panels, yet are easy to install and light enough to be towed — and The Tech Times says Musk's was towed by a Tesla Model X.