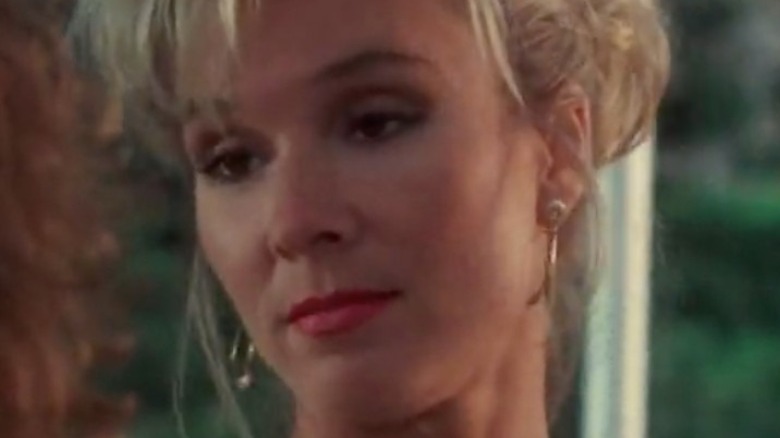 For as long as she performed, the world knew Cynthia Rhodes as "the girl from those dance films." The standout in her oeuvre, of course, remains the one in which she played the pink-dress clad, twinkle-toed dance instructor who left audiences both charmed and scandalized. For the 1987 movie classic "Dirty Dancing," starring Patrick Swayze and Jennifer Grey, Rhodes stepped into the shoes of Penny Johnson, the role in which she's best known.
The film was a defining moment in the careers of all three actors. But it was Rhodes who stood at the epicenter of what emerged as the romantic film's most socially relevant subplot — that of reproductive rights. An unfaithful partner leaves Penny, a dance instructor at a posh resort in New York's Catskill Mountains, pregnant. Alone and strapped for cash, Penny desperately seeks an abortion, ending up with a botched operation by an illegal quack. So, while Rhodes' dancing prowess is on flamboyant display in "Dirty Dancing," her character simultaneously pushes a bold conversation regarding women's rights.
It took Rhodes only seven screen appearances and a handful of music videos to make her mark as a skilled artiste. And, then, when she had her fill of Hollywood, she bowed out as gracefully as she had entered. These days, Rhodes seems to have nearly withdrawn from public life. Though she hasn't performed in decades, Rhodes' legacy will forever continue to sparkle on screen. Here's looking at her life as Penny and beyond.
Cynthia Rhodes began dancing at age 3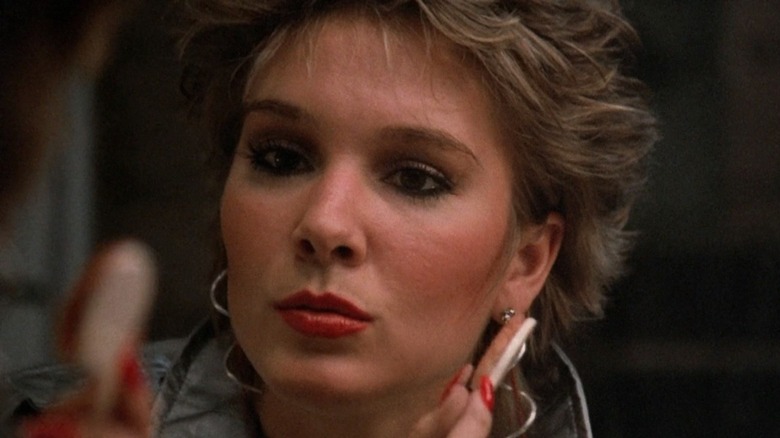 Cynthia Rhodes' tryst with dance began quite early on in life. At only 3 years old, the Nashville, Tennessee, native took a keen interest in the art form. And she was inspired by who else but Hollywood's top-billed, best-known child actor: Shirley Temple.
In an interview she gave to writer Kevin Courrier in 1987, Rhodes said that watching golden-locked Temple during her childhood was her cue to think, "I've got to go to Hollywood and see if I can do something with my life, my career." Fun fact: Temple's career kickstarted at age 3 when she began training for dance (via Britannica), the same age Rhodes began her own training. The two actors, however, were set apart by a two-decade age gap.
Rhodes explained in the interview that she danced her way through her teens before landing a job as a performer at the Opryland theme park, where she worked for five years. Rhodes used the platform to make her mark by appearing in minor roles in television specials, as per the interview – the most notable among them being "Music Hall America," a variety show that ran from 1976 to 1977. She called Opryland her "best training ground," recommending it for anyone looking to break into the entertainment industry.
She moved to LA, where her film career took off
Cynthia Rhodes changed course from countryside Tennessee by making the big move to Los Angeles, where she hoped to pursue her dream of a film career. The blonde beauty earned her first big-screen role as an ensemble dancer in Robert Greenwald's 1980 musical fantasy "Xanadu." Though not a box office success, it proved to be a successful springboard for Rhodes — just a couple of years later, she was picked as a background dancer for a music short directed by Kenny Ortega for the band The Tubes. She later appeared in videos for Toto and the Bee Gees, too, per IMDb.
Rhodes' accomplishments as a dancer positioned her for the dance-musical genre, which formed the bulk of her most notable film credits: 1983's "Flashdance" and "Staying Alive" and, of course, 1987's "Dirty Dancing." Her one non-dance film is the 1984 sci-fi action movie "Runaway," in which she co-starred with Tom Selleck.
In an interview from 1987, Rhodes said that, while she loved doing dance films, she longed for roles that focused only on acting. "It seems like every time I say, 'That's it, I don't want to dance anymore,' I get another film. I'm not going to turn down work!" she said. "I feel very fortunate to be in films that are dancing. But it's like, give me a chance to do some dramatic work without dancing … Just give me a straight acting part."