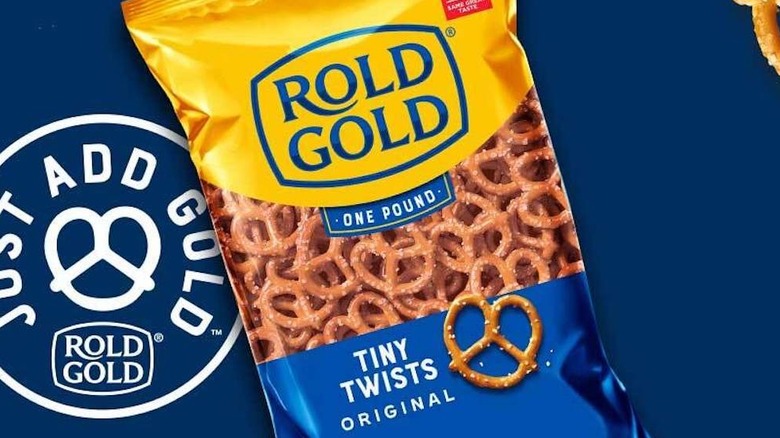 The world of snack foods is vast and ever-changing. There are new munchies, in a seemingly boundless array of flavors, constantly shaking up the shelves at the grocery store. And yet, there are a few snack stalwarts that we always turn to — the classic standbys that have held our hearts as times (and finger foods) continue to change. One such snack is, undeniably, pretzels. And if you consider yourself partial to pretzels, chances are you've reached for a bag of Rold Gold a time or two.
Rold Gold is more than 100 years old, and is practically synonymous with pretzels at this point. The company prides itself (and named itself) for the baked, golden glow it achieves on each one of its salty, crunchy pretzel pieces. And while Rold Gold may have changed in certain ways over the decades, the quality and character of its pretzels has not. Each new bag is like reaching into a treasure trove of tasty treats — whether you like them plain and unencumbered, paired with your favorite dip, or crushed up in a recipe.
So grab yourself a bag, get crunching, and read on for all the ins and outs of Rold Gold and what's made this brand so beloved after more than a century.
Rold Gold was born in the pretzel capital of America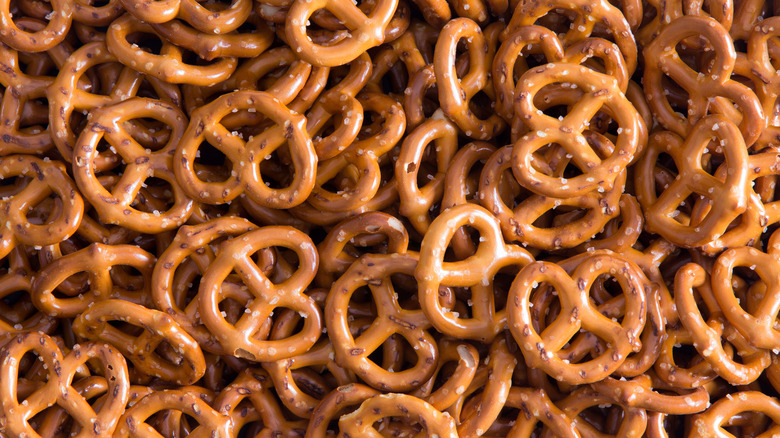 The story of Rold Gold pretzels begins more than 100 years ago in Philadelphia, Pennsylvania. It started out as the American Cone and Pretzel Company, founded in 1917 by L.J. Schumaker (via Hidden City Philadelphia).
If there were anywhere to plant the seeds for a future pretzel empire, it would be the Keystone State. It was already home to the first commercial pretzel bakery in America (where the first hard pretzel was invented), which opened in Lancaster in 1861 (per the National Archives). Schumaker's new company opened up shop just an hour away from Lancaster and quickly took the pretzel business by storm. Pretty soon, American Cone and Pretzel Co. was the top pretzel-maker in the country, producing 16 million pounds of the crunchy snack every year — accounting for about 80% of America's pretzel production.
While Rold Gold itself has expanded well beyond the state borders, Pennsylvania still reigns as the pretzel capital of America (and possibly the world) a century later, with 80% of American-made pretzels still being produced there today.
The name actually comes from one of the brand's original products
The company that we know and love as Rold Gold started out as the American Cone and Pretzel Company. So how did we come to know it by its lustrous moniker?
By 1920, the American Cone and Pretzel Company was seeing great success as a national pretzel and snack manufacturer and producing all kinds of new product patents. That year, it also rolled out its newest product line, called Rold Gold Butter Pretzels (via Hidden City Philadelphia). Why Rold Gold? Well, if you ask the company today, they say it's because "that's what it tastes like in your mouth" (via Food Network).
It's safe to assume that Rold Gold pretzels become one of the company's most successful products — and by the time the company's founder, L.J. Schumaker, died in 1948, the American Cone and Pretzel Company was already colloquially known as Rold Gold (via Hidden City Philadelphia). We can admit that, at the very least, it does roll off the tongue a little easier. Eventually, the name change was made official, and the rest is pretzel history.
It's one of the oldest snack brands in the country still popular today
The number of snack brands out there today is way too high to count. And even just looking at pretzels alone, there are dozens, if not hundreds, of companies out there making this popular product today (via Snack History). Considering the competition, it's no small feat that Rold Gold has managed to hold on to its claim as one of the most well-known pretzel brands on the market. It is one of the oldest snack brands in America that we're still munching on today, preceding the likes of Lay's Potato Chips, Fritos, and Twinkies (via Mental Floss). Rold Gold is also older than other classic brands like Pepperidge Farm, Utz, Wise, Slim Jim, Velveeta, and Hostess (via Yardbarker and The Daily Meal).
However, it is worth noting that Rold Gold isn't the oldest pretzel brand in the country that is still widely consumed today. That title actually goes to Snyder's of Hanover, which was established in 1909 in — you guessed it — Hanover, Pennsylvania.
Rold Gold has been owned by snack giant Frito-Lay since the 1960s
Rold Gold may have started out as a family-owned company, but it was corporate ownership that launched the brand to the global success it enjoys today. For more than 60 years, Rold Gold has operated under the umbrella of snack giant Frito-Lay (a division of PepsiCo, Inc.), which also owns iconic brands like Doritos, Tostitos, Cheetos, and more. Frito-Lay is arguably the top salty snack brand in the world, controlling more than a third of the global market for snack chips (via Encyclopedia.com).
Frito-Lay purchased ownership of Rold Gold in 1961. At that time, the news didn't make a huge splash, as pretzels weren't quite a nationally-beloved snack phenomenon yet (via Chicago Tribune). Over the next few decades, that started to change, as more and more people turned to pretzels as a healthier snack option, and innovation led to new flavors (via Orlando Sentinel). Combine that with the marketing power and brand recognition that a company like Frito-Lay can conjure, and by the '90s, pretzels were the best-selling snack food on the market.
It has since become the top-selling U.S. pretzel brand
After joining the Frito-Lay family, Rold Gold pretzels vaulted to national prominence, and have remained at the top of the snack game ever since. By the early '90s, when pretzels were really seeing their heyday, Rold Gold was the number one brand in the United States, reaching nearly $200 million in annual sales (via Chicago Tribune).
These days, Rold Gold remains among the top selling pretzel brands in the U.S., although it has seemingly settled into a solid second place behind its biggest competitor, Snyder's of Hanover. In FY2020, Rold Gold raked in more than $130 million in sales, compared to Snyder's nearly $500 million (via Snack Food & Wholesale Bakery). However, it's worth noting that, according to market research from Statista, Rold Gold was the most eaten pretzel brand in the U.S., with nearly 62 million Americans munching on the crunchy snack.
The pretzel-making process involves lots of equipment and a salt water bath
Ever wonder how Rold Gold pretzels get their signature golden glow and perfectly salty crunch? It's the result of a very specific and involved pretzel-making process designed to pump out more than 100 million pounds of uniformly crispy twists, rods, and sticks every year. Rold Gold gave Food Network a sneak peak inside one of their factories and explained exactly how all those pretzels get made.
First, the pretzel dough is made with flour, corn syrup, and oil. Once the huge batches of dough are mixed and formed (using bulk-sized equipment), a machine rolls the dough out into sheets. Another set of machines cuts, measures, and forms the pretzel shapes. Next, all those pretzels get sprayed with a salt water bath. This is what gives Rold Golds their signature golden color, and apparently also helps the final outer coating of rock salt stick to the pretzels. Finally, the pretzels head through a giant industrial oven to bake. The hot and fresh hard pretzels are then weighed out, packed, and sealed.
The company once gave a scare to those with peanut allergies
Rold Gold pretzels are certified Kosher, dairy-free, and (in the case of most, but not all varieties) vegan, making them a readily available snack that falls within most dietary restrictions. And a quick peek at the ingredients list shows that Rold Gold pretzels don't contain most typical allergens (with the exception of wheat). However, the company caused quite a scare for those with peanut allergies in 2016.
Rold Gold had to recall several of its products, including its Tiny Twists, Thins, Sticks and Honey Wheat Braided pretzels (via CNN). The company announced that some of those products may contain peanut residue that wasn't identified on the nutrition labels. This was apparently the result of a recall by the company that produces flour for Rold Gold, and affected products in grocery stores and vending machines across the country. Luckily, Frito-Lay said that it didn't receive any reports of customers suffering an allergic reaction at the time of the recall.
Rold Gold won a lawsuit against one of its biggest competitors
The snack food industry, much like any other, is a cutthroat world of competition and innovation. Brands are always looking to come up with the next big thing, and keep everyone else from stealing their market thunder — and sometimes, things can get messy. Pretzels are no exception. And as recently as 2021, Rold Gold was locked in a legal battle against one of its biggest competitors, Snyder's of Hanover.
As Reuters reported, the issue started back in 2012 when Snyder's applied to trademark the term "Pretzel Crisps" for one of its products. Rold Gold sued, arguing that it was too generic of a term to be eligible for a trademark. After all, any flat, crunchy pretzel can be described as a pretzel crisp, right? Rold Gold certainly wouldn't want consumers associating such a broad term with Snyder's specifically. In 2014, and again in 2017, the courts ruled in Rold Gold's favor, and Snyder's appealed the ruling. Then again in 2021, a federal court ruled in favor of Rold Gold, saying that Snyder's cannot "monopolize the common name." It's a win for Rold Gold, and hopefully a win for fans of pretzel crisps everywhere.
You can find Rold Gold all throughout pop culture
As a brand that's more than 100 years old, Rold Gold has carved out a special place for itself over the years — and not just in our pantries and party snack rotation. Rold Gold has also found itself a part of several pop culture moments over the years, including films and TV shows. You might have seen a bag or two in movies like "Knocked Up" and "Rain Man," a few episodes of "Seinfeld," and more (via Product Placement Blog).
In fact, Rold Gold is celebrating its pop culture prominence while celebrating its most recent anniversary. The brand is hosting a Rold Gold Gold Hunters Campaign to memorialize "the iconicity of the Rold Gold® brand by reminding pretzel lovers everywhere of the countless ways Rold Gold has shown up in culture over the last 106 years." The brand is posting clues on social media, and eager fans can enter to win real gold by finding Rold Gold products in the media.
Rold Gold has partnered with some of your favorite celebs
While Rold Gold has established itself as a beloved brand through years of consistent salty goodness and crunch, a few celebrity endorsements certainly haven't hurt the brand's notoriety, either. Rold Gold has partnered with several well-known and well-regarded celebrities to boost its name and really drive home the point that, when it comes down to it, almost everyone loves pretzels.
It all started with the one and only Jason Alexander. The "Seinfeld" star became the face of Rold Gold's first ever national commercials after the brand was bought by Frito-Lay. He was featured in a series of TV ads for the brand, which executives point to as a reason for booming sales at the time (via The New York Times).
More recently, Rold Gold has signed on Joel McHale, star of "Community" and former host of E!'s "The Soup," as its newest ambassador. McHale, in an exclusive interview with Mashed, shared his favorite ways to eat pretzels (which is usually paired with a really good IPA) and praised Rold Gold for being "so ubiquitous in a really good way, because people love eating them."
Rold Gold continues to see new flavors come and go
When you think of Rold Gold, chances are you immediately think of the brand's classic, golden, and salty Original Tiny Twists. However, if that's the only Rold Gold flavor you settle on, then you're definitely missing out. The brand has seen dozens of flavors come and go over the years, with a few favorites hopefully sticking around for the long haul.
More recently, Rold Gold has rolled out a new flavor called "Recipe No. 5 Savory Butter Pretzels." That adds to their current lineup of original flavored twists, rods, and thins, along with cheddar-flavored pretzels and honey wheat pretzel twists. Not to mention Rold Gold's holiday flavors like peppermint dipped pretzels and chocolate pretzel rings, which come and go seasonally.
And of course, we all can't forget the Rold Gold Honey Mustard Pretzel Twists. Apparently, no one really knows why this beloved flavor disappeared from shelves (via Buzzfeed). These salty and oh-so-tangy treats were a fan favorite, and there are literally thousands of fans who are petitioning Rold Gold to bring this crave-inducing snack back.